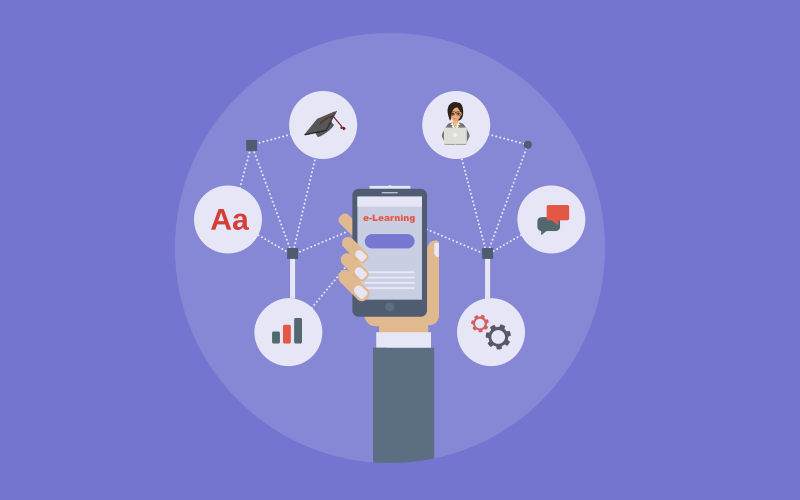 The growth of mobile devices has successfully changed varied aspects of our lives, from how we function and communicate to the way we acquire knowledge. It would be more appropriate to say that the rise of smart devices (tablets, smartphones etc) has been responsible for revolutionizing the mobile learning space. And, there is ample evidence that proves mobile platforms are proficient to support all type of elearning experiences, offering a wide range of advantages.
Report suggests that the mobile learning market will be worth $325 billion in 2025. While the US remains the top buyer of mobile learning technology, it is expected that mobile learning will grow further in the coming months because this learning medium is preferred by all.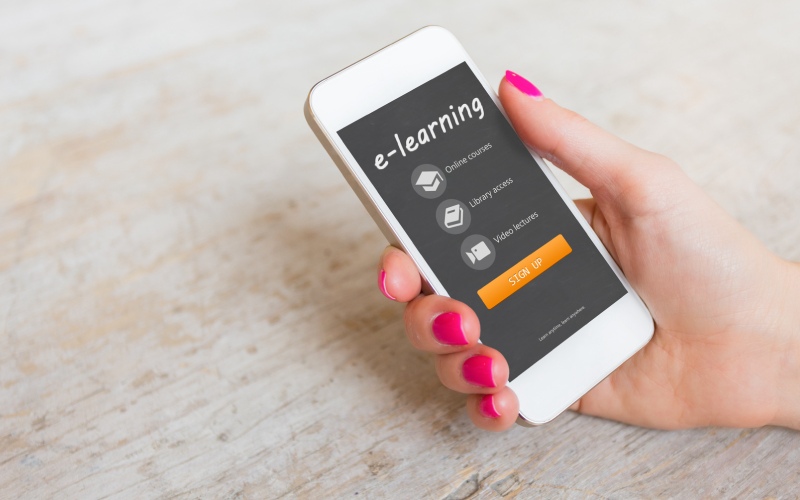 Despite all the positivity that mobile learning brings to the fore, it has been observed that instructors are not fully aware how Sharable Content Object Reference Model (SCORM) content can work on mobile devices.
Since SCORM continues to be the industry standard for eLearning (despite the arrival of Tin Can API), we will discuss what it is about and answer some of the common questions that arise in regard to delivering SCORM content on mobile.
What is SCORM
It is a set of technical standards and specifications for digital learning that decides the norms that ensures interoperability between digital learning software products. In other words, SCORM acts as a bridge by helping the learning tool and course content to work together. SCORM ensures that the instructors are able to migrate course content from one system to another effortlessly.
---
Read More:- Top 5 Benefits of SCORM in eLearning
---
The use of SCORM compliant LMS ensures that you are creating a digital learning ecosystem that is universally compatible.
What It Takes To Deliver SCORM Content On Mobile
One of the key challenges that elearning faces is when delivering content which was designed for a desktop PC /laptop on a smart device (phone, tablet etc). Trying to make it fit the mobile device is a cumbersome task because it needs to be ensured that it offers the same experience (in regard to "look and feel") as the desktop PC offers.
Here are some of the common questions that arise when it comes to delivering SCORM content on mobile.
Does reporting get affected when SCORM content is viewed on smart phones?
This is a common question which many course creators often ask. Reporting is done via a learning management system (LMS), which is capable of monitoring the learner's progression.
When you are using a SCORM-compliant LMS (such as ProProfs Training Maker), all you need is an Internet connection for the data to communicate. If the mobile device (where the SCORM content is being viewed) is connected to the Internet, the reporting functionality will work without any problem.
Do mobile devices support SCORM content?
Yes, they do. In the existing learning conditions, students prefer to learn using smartphones and tablets. In such a scenario, it is key to ensure that your training supports mobile learning.
With a SCORM-compliant LMS tool in place, the learning experiences will be better, training completion rates will rise and higher returns can be expected on the training investments.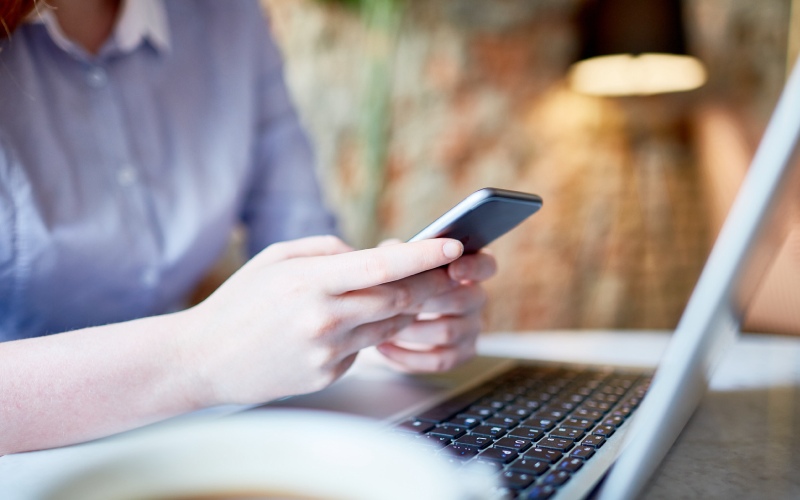 Does Flash effect the use of SCORM content on mobile devices?
Say for instance, you have SCORM courses that were built using Adobe Flash. If you are using ProProfs Training Maker, then these courses will run without any problem on your mobile devices.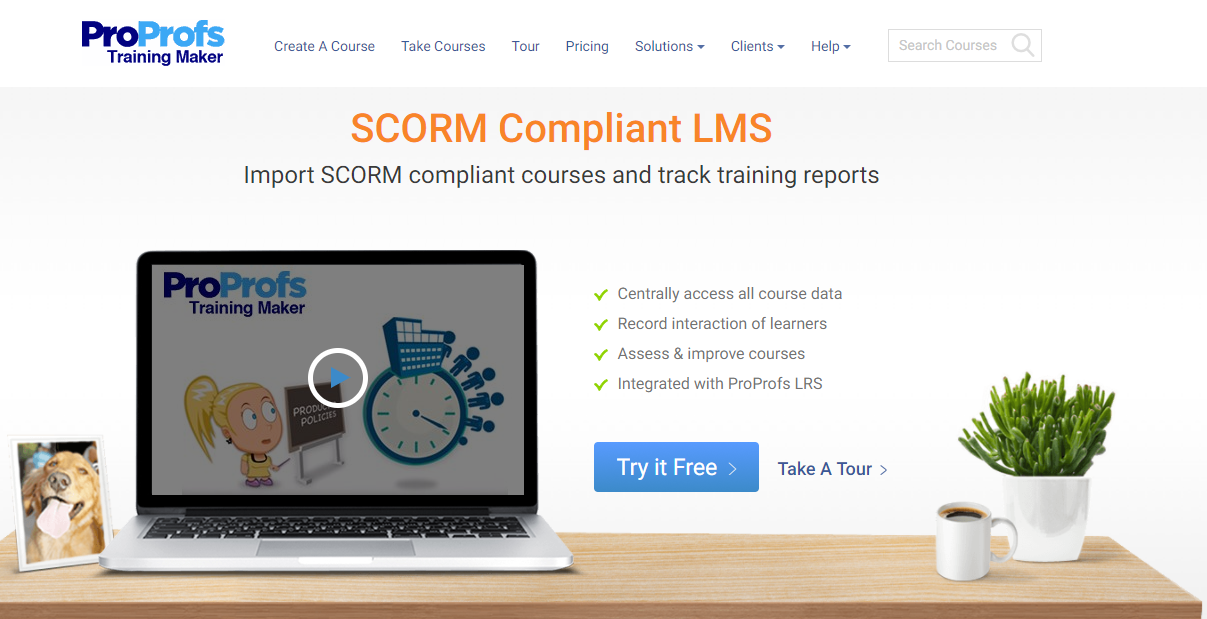 You can easily use your repository of Flash-based SCORM courses in ProProfs Training Maker. It means that you don't need to convert any of your Flash-based courses and use them directly.
What criteria should be followed to select the right online authoring tool?
Here are some of the key factors that should be taken into account-

Responsive design
While there are many eAuthoring tools that will let you create mobile compliant online courses, some may support only a fixed screen. You should go for a tool (like ProProfs Training Maker) that will automatically fit the browser.
Responsive design should be favored because it allows the instructors to create online courses that can adapt to any browser or device automatically on its own. This makes it easy for the learners to access the course from a device of their choice because they won't be worried about the screen size and resolution.
Select a SCORM-compliant LMS tool that supports responsive design because nowadays learners use multiple devices.
Create bite-sized content
If you want your SCORM courses to be consumed by all (sales, marketing etc), then ensure that they are provided in smaller chunks, anything that can be consumed between 5-15 minutes. You should use a SCORM-compliant LMS that will let your learners download courses and support offline viewing.
Smaller content modules load faster and ensure better learning experiences for the students even with a slow Internet connection.
What are the advantages of developing SCORM-compliant mobile learning content
– By creating courses in SCORM, the instructors can ensure higher interactivity. A SCORM-compliant LMS allows the learners to directly engage with the different content elements (such as letting them click on images etc).
– With SCORM, instructors can control the time spent by a student on a mobile learning content before it is marked as complete. When you choose a SCORM-compliant elearning software, the instructor can ensure that the students spend a significant amount of time on a particular course before they proceed to the next step. This feature is excellent for creating minimum duration accreditation courses.
Read More: 10 Best eLearning Authoring Tools
– With SCORM, content migration isn't a tough task. Reason? A SCORM elearning software allows content import on any LMS that's compliant with the same. This means you can re-purpose content without wasting resources.
Summing up
Based on how important SCORM is for mobile learning, one can say that businesses will continue to rely on this technical standard for elearning software in the coming days as well. Making your mobile learning SCORM compliant is a good idea because it opens up innumerable opportunities to augment the user experience.
Have you tried SCORM implementation on mobile platforms? Do share your experience with us in the comments section below.
Do you want free Training Software?
We have the #1 Learning Management Software for complete learning solution starting at $0