Which InuYasha Character Are You? Find Out
9 Questions
| Total Attempts: 183
---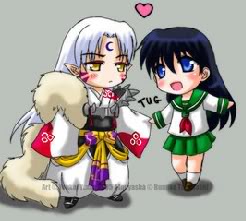 My 1st quiz, it determines what inu chara u are! Have fun! ;)
---
You May Get
You are Inuyasha!
you are straight forward, easily irritated,and naiive. You are half demon, half human. Your wish is to become fully demon, but changes after spending time with kagome. You love Kikyou and Kagome... (two-timer) At the end of the final act, u chose Kagome and unofficialy marry her.
You are Kagome
Congrats! Ur Kagome! U r strong, brave, and passionate. U love Inuyasha, but tend tot to show it. U dont give up easily. Ur weapon is the bow and arrow, and ur greatist enemy is naraku, but Kikyou is pretty high on ur list too. U know Inuyasha loves Kikyo more than u, but dont give up hope. In reality, he already loves you more! Have some faith!
Boyo the cat
Buyo is a calico cat of the Higurashi residence. He is a cat who will take anything...even a kappa foot! He is extremely lazy and is found clutching a blanket, (episode 11.) sitting at a table, (episode 11.) and found playing with a replica of the sacred jewel. He also understands what people say. (example: episode 11.) theres not much more to say about you...
Sota!
Ur Kagome's younger brother. He respects Inuyasha deeply and is well protected by Kagome. Sota is awesome!
Jaken
Sesshomaru's servant. Like Myoga the Flea, Jaken's not very brave either, but at least, he stays at the battle scene most of the time. Rin annoys u, and u wish shed go away. It was better when it was just you and Lord sesshoumaru. Daa!
You are Kanna
ur extremely quiet, you have a mirror that can suck in any human's soul, then using it to manipulate the human's body. You are devoid of all emotion and cannot feel pain.
Kikyo
ur quiet and serious. Kikyo is a powerful maiden who was assigned tasks to guard the shikon stone 50 years ago. She fell in love with Inuyasha and wanted to use the Shikon stone to turn Inuyasha into a full human. Unfortunately, she fell into Naraku's trap and died.She still loves inuyasha, but wants to bring him to hell with her at the beginning. Near the end she accepts that he loves Kagome and still loves him, but is at peace.
Kouga
The leader of a wolf demon gang. Since Kagura killed most of his gang in their first fight, he swore to kill Kagura. Kouga has Shikon stones embeded in his legs and can run faster than the speed of wind. Kouga and Inuyasha are rivals for Kagome. Kouga's gang members all respects Kagome and refers to her as the "gang lady - Kouga's girlfriend".
Miroku - you perv!
A monk who likes women very much. Miroku is known as the indecent monk with an air hole in his hand, Naraku gave that hole to Miroku's grandfather, who is also indecent as well. This airhole will eventually suck Miroku in and make him disappear. Miroku wants to find Naraku, defeat him, in order to save himself and his future generations.
Sango
wow, ur serious, stong, and hot. U love Miroku deeep down... way deep down. ur village was slaughterd. Ur best friend is Kagome and weapon is ur boomerang.
Seshoumaru
cold, serious, determined. Sesshomaru is Inuyasha's older brother. Unlike Inuyasha, Sesshomaru is a full demon. In the beginning of the series, Sesshomaru fought with Inuyasha for a sword that their father, a powerfull demon, left for them. Sessmaru lost.U have a scarf... the fangirls named it Fluffy.