Quiz On Green Terminologies
---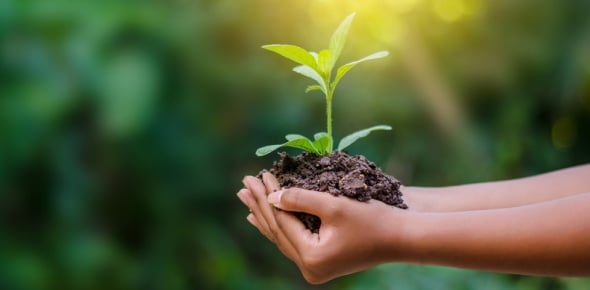 A General Science test on different types of Green terminologies
---
1.

Affordable housing means:

A.

B.

C.

D.

Correct Answer

A. Housing Under 1/3 Income

Explanation

Affordable housing refers to housing options that are priced at a level that is considered affordable for individuals or families with low to moderate incomes. The term "Housing Under 1/3 Income" accurately describes this concept, as it suggests that affordable housing should cost no more than one-third of a person's income. This ensures that individuals and families can allocate their income towards other essential expenses, such as food, healthcare, and education, without being burdened by excessive housing costs.

2.

Meaning Of Brownfield

A.

B.

C.

D.

Correct Answer

D. Abandoned Facilities

Explanation

The term "brownfield" refers to abandoned facilities, which are typically old industrial or commercial sites that are no longer in use. These sites may be contaminated or have potential environmental hazards due to previous activities. The term "landfill" refers to a designated area for disposing of waste materials. "Graveyard" typically refers to a burial ground for the deceased. "Dirt field" generally refers to an open area covered in soil or dirt. Therefore, the correct answer for the meaning of brownfield is "abandoned facilities."

3.

Paraesthesia meaning

A.

B.

C.

D.

Correct Answer

D. Abnormal Sensation

Explanation

The correct answer is "Abnormal Sensation." Paraesthesia refers to an abnormal sensation in the body, such as tingling, numbness, or a "pins and needles" feeling. It is often described as a sensation that is different from the normal feeling. This can be caused by various factors, including nerve damage, compression, or irritation. It is important to note that paraesthesia is not a specific medical condition, but rather a symptom of an underlying issue.

4.

Which of these is Direct provision?

A.

B.

C.

D.

Support For Asylum-Seeker

Correct Answer

D. Support For Asylum-Seeker

Explanation

Direct provision refers to the support provided to asylum-seekers, which can include accommodation, food, and other basic necessities. It is a system implemented by some countries to provide temporary housing and support to individuals who have applied for asylum and are awaiting a decision on their refugee status. This support is crucial in ensuring the well-being and safety of asylum-seekers during their asylum process.

5.

Meaning Of Term Consistent poverty

A.

B.

C.

D.

Correct Answer

B. Lack Of Basic Items

Explanation

The term "consistent poverty" refers to a state where individuals or households lack access to basic items necessary for their well-being and survival. This means that they do not have enough resources to meet their basic needs such as food, clothing, healthcare, and education. It implies a chronic condition of poverty where individuals are unable to escape poverty due to a persistent lack of basic items. This term does not specifically refer to the lack of luxuries or inadequate housing, but rather focuses on the absence of essential items required for a decent standard of living.

6.

ABW meaning

A.

B.

C.

D.

Correct Answer

A. Arctic Bottom Water

Explanation

The correct answer is Arctic Bottom Water. This term refers to the cold and dense water that forms in the Arctic region and sinks to the bottom of the ocean. It plays a crucial role in the global ocean circulation and helps to transport heat and nutrients around the world.

7.

All About Complete community

A.

Homes And Stores Together

B.

C.

Range Of Incomes Together

D.

Correct Answer

C. Range Of Incomes Together

Explanation

The correct answer is "Range Of Incomes Together". This suggests that a complete community should have a diverse range of incomes, indicating a mix of different socioeconomic backgrounds. This is important for creating a balanced and inclusive community where people from various income levels can live and thrive together. It promotes social cohesion and reduces the risk of segregation or inequality within the community.

8.

City planning define

A.

B.

C.

D.

Correct Answer

C. Community Design Job

Explanation

The correct answer is Community Design Job. City planning involves various aspects such as mapmaking, building houses, and surveying. However, the term "community design job" encompasses all these activities and goes beyond them. It refers to the process of designing and creating communities that are functional, sustainable, and aesthetically pleasing. This includes considering factors such as transportation, infrastructure, public spaces, and the overall well-being of the community. Therefore, community design job is the most comprehensive and accurate description among the given options.

9.

What does Compact development mean?

A.

B.

C.

D.

Correct Answer

B. Less Land Use

Explanation

Compact development refers to a planning and design approach that aims to minimize the amount of land used for development. It focuses on creating more efficient and sustainable land use patterns by promoting higher densities and mixed land uses. This approach encourages the development of compact, walkable, and transit-oriented communities, which reduce the need for extensive land consumption and promote more efficient land utilization. By minimizing land use, compact development helps preserve open spaces, protect natural resources, and promote more sustainable urban growth.

10.

Meaning of Aerial tramway

A.

B.

C.

D.

Correct Answer

B. Cable-Moved Vehicles

Explanation

The term "aerial tramway" refers to a transportation system that uses cables to move vehicles or cabins through the air. This can include various types of cable-moved vehicles such as cable cars, gondolas, or chairlifts. These vehicles are typically suspended from an overhead cable and are used to transport people or goods across difficult terrains or over long distances. While helicopters and flying cars also operate in the air, they do not rely on cables for movement like cable-moved vehicles do. Therefore, the correct answer is cable-moved vehicles.

11.

Do You know the definition of Apportionment?

A.

B.

C.

D.

Explanation

Apportionment refers to the allocation or distribution of funds or resources among different individuals or entities. It involves dividing a certain amount of money or resources in a fair and equitable manner to meet various needs or obligations. In this context, funding is the most relevant term as it directly relates to the allocation of financial resources. Groceries, fuel supply, and division of labor do not specifically pertain to the concept of apportionment.

12.

Definition Of Alternative fibers

A.

B.

C.

Telecommunications Cables

D.

Correct Answer

A. Paper Not Made From Wood

Explanation

The correct answer is "Paper Not Made From Wood." This refers to a type of paper that is made from alternative fibers, such as bamboo, cotton, or hemp, instead of traditional wood pulp. These alternative fibers are often considered more sustainable and environmentally friendly options for paper production. They can help reduce deforestation and minimize the impact on natural resources. Additionally, paper made from alternative fibers can have unique properties and textures, making it suitable for various applications like specialty papers, art prints, and packaging materials.

13.

Do you know the meaning of Knudsen's tables means:

A.

B.

C.

D.

Correct Answer

C. Sea Water Density Charts

Explanation

Knudsen's tables refer to Sea Water Density Charts. These charts provide information about the density of sea water at different depths and temperatures. They are used by oceanographers and marine scientists to study ocean currents, circulation patterns, and the behavior of marine organisms. The density of sea water is influenced by factors such as temperature, salinity, and pressure, and these charts help in understanding these variations.

14.

What is the meaning of Obligate chemotroph?

A.

B.

Unphotosynthetic Plankton

C.

D.

Correct Answer

B. Unphotosynthetic Plankton

Explanation

Obligate chemotrophs are organisms that are unable to perform photosynthesis and rely on obtaining energy from chemical compounds in their environment. Unphotosynthetic plankton refers to plankton that cannot carry out photosynthesis and must obtain energy from chemical sources. Thus, the answer "Unphotosynthetic Plankton" accurately describes the meaning of Obligate chemotroph.

15.

Libeccio definition

A.

B.

C.

D.

Correct Answer

B. Mediterranean Wind

Explanation

The correct answer is "Mediterranean Wind". Libeccio refers to a strong southwest wind that blows in the Mediterranean region, particularly in the western part. It is characterized by warm and dry air, often bringing dusty conditions. This wind is most prevalent during the summer months and is known to affect areas such as Italy, Corsica, and Sardinia.