Test Your Geology Basic Knowledge! Trivia Quiz
---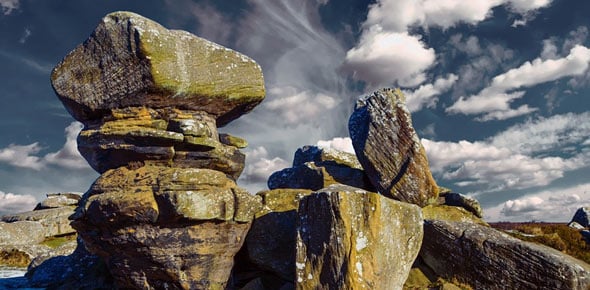 Are you looking for a way to test your geology basic knowledge? Some of the basic things that you need to know as a geologists are the characteristics of the layers of the earth, the minerals found within them and how some features came to be. Give the trivia quiz below a shot and get to see just how knowledgeable you actuary are when it comes to this study. All the best!
---
1.

Where is the type location for the Mississippian Period?

A.

B.

C.

D.

Correct Answer

B. The United States

Explanation

The Mississippian Period is a geological time period that occurred in North America, specifically in the region that is now the United States. During this period, a vast inland sea covered much of the central part of the continent, which is now known as the Mississippi Valley. This sea left behind sedimentary rocks and fossils that provide evidence of the Mississippian Period. Therefore, the correct answer is the United States.

2.

Yosemite National Park is an easily recognizable part of what batholiths?

A.

B.

C.

D.

Correct Answer

A. Sierra Nevada

Explanation

Yosemite National Park is located in the Sierra Nevada mountain range. Batholiths are large underground rock formations, and the Sierra Nevada is known for its extensive batholiths. Therefore, it can be inferred that Yosemite National Park is part of the Sierra Nevada batholiths.

3.

Which is NOT a type of drainage pattern?

A.

B.

C.

D.

Correct Answer

C. Octagonal

Explanation

The given options describe different types of drainage patterns. Radial drainage pattern is characterized by streams radiating outwards from a central high point, Trellis drainage pattern is characterized by parallel main streams with shorter tributaries joining them at right angles, Dendritic drainage pattern is characterized by a tree-like branching pattern, while Octagonal drainage pattern does not exist.

4.

What is the most photographed, painted, and scaled mountain in the world?

A.

B.

C.

D.

Correct Answer

C. Mt. Fuji

Explanation

Mt. Fuji is the most photographed, painted, and scaled mountain in the world. This is because Mt. Fuji is not only the highest mountain in Japan, but it also holds great cultural and spiritual significance in the country. Its iconic symmetrical cone shape and stunning beauty have attracted artists, photographers, and climbers from all over the world. The mountain's accessibility and popularity make it a favorite subject for artistic and photographic endeavors, resulting in it being the most captured and depicted mountain globally.

5.

What percentage of the earth's water is drinkable?

Explanation

Only 1% of the earth's water is drinkable. The majority of the earth's water is saltwater found in the oceans, which is not suitable for drinking. The remaining freshwater is mostly locked up in glaciers, ice caps, and underground sources, making it inaccessible for human use. This highlights the scarcity of clean and drinkable water on our planet.

6.

What is another name for permanently frozen ground?

A.

B.

C.

D.

Correct Answer

B. Permafrost

Explanation

Permafrost is the correct answer because it refers to permanently frozen ground. It is a layer of soil, sediment, or rock that remains at or below freezing point for at least two consecutive years. This frozen ground is found in polar regions and high-altitude mountainous areas, and it plays a crucial role in shaping the landscape and influencing ecosystems.

7.

What mountains separate Europe from Asia?

A.

B.

C.

D.

Explanation

The Ural mountains separate Europe from Asia. These mountains stretch from the Arctic Ocean to the Ural River and form a natural boundary between the two continents. They are considered the traditional dividing line between Europe and Asia, with Europe located to the west and Asia to the east of the Ural mountains.

8.

Which rock would test positive to an acid test?

A.

B.

C.

D.

Correct Answer

B. Limestone

Explanation

Limestone would test positive in an acid test because it is primarily composed of calcium carbonate, which reacts with acid to produce carbon dioxide gas. This reaction is commonly used to identify limestone, as the release of gas creates visible bubbles. Gneiss, sandstone, and greywacke do not contain significant amounts of calcium carbonate, so they would not produce the same reaction and would test negative in the acid test.

9.

Although beaches can be comprised of any particle, the majority of them consist of what?

A.

B.

C.

D.

Explanation

Beaches are primarily made up of quartz particles. Quartz is a common mineral found in many rocks and is resistant to weathering, making it a durable component of beach sediments. It is often sourced from nearby mountains and rivers and transported to the coast through erosion and natural processes. The rounded shape of quartz grains is a result of the constant action of waves, which smooth and polish the particles over time. Due to its abundance and physical properties, quartz is the main constituent of most beaches around the world.

10.

Fluids with a high viscosity resist what?

A.

B.

C.

D.

Explanation

Fluids with a high viscosity resist flow because viscosity is a measure of a fluid's resistance to flow or its internal friction. When a fluid has a high viscosity, its molecules are more tightly packed together, resulting in greater friction between them. This friction impedes the movement of the fluid, making it more difficult for it to flow. Therefore, fluids with high viscosity resist flow.

11.

Mary Anning was the first to discover complete fossils of which prehistoric marine reptile?

A.

B.

C.

D.

Correct Answer

C. Ichthyosaur

Explanation

Mary Anning is known for her significant contributions to paleontology, particularly in the discovery of complete fossils of ichthyosaurs. Ichthyosaurs were prehistoric marine reptiles that lived during the Mesozoic era. They resembled modern-day dolphins and were adapted for a fully aquatic lifestyle. Mary Anning's discoveries of ichthyosaur fossils in the early 19th century greatly expanded our understanding of prehistoric marine life.

12.

How many geysers is Yellowstone National Park home to?

A.

B.

C.

D.

Explanation

Yellowstone National Park is home to approximately 500 geysers. This makes it the largest concentration of geysers in the world. The park's geothermal features, including geysers, hot springs, and mud pots, are a result of the volcanic activity in the area. The most famous geyser in the park is Old Faithful, which erupts regularly and attracts millions of visitors each year.

13.

In which U.S. state was the prehistoric proglacial lake Glacial Lake Missoula located?

A.

B.

C.

D.

Explanation

Glacial Lake Missoula was located in Montana. This prehistoric proglacial lake was formed by the damming of the Clark Fork River by the Cordilleran Ice Sheet during the last ice age. The lake was massive, covering over 3,000 square miles and containing more water than Lake Erie and Lake Ontario combined. As the ice dam periodically broke, cataclysmic floods known as the Missoula Floods would rush across the landscape, causing significant erosion and shaping the landforms of the Pacific Northwest.

14.

What is the Hawaiian name for smooth-flowing basaltic lava, often appearing twisted and rope-like?

A.

B.

C.

D.

Correct Answer

A. Pahoehoe

Explanation

Pahoehoe is the correct answer because it is the Hawaiian name for smooth-flowing basaltic lava that often appears twisted and rope-like. This type of lava has a low viscosity, allowing it to flow smoothly and form unique shapes as it cools. It is characterized by its smooth, ropy texture, which is why it is called "pahoehoe." Pillow lava, aa, and rope lava are not the correct names for this type of lava.

15.

What is the length, in miles, of the San Andreas Fault?

A.

B.

C.

D.

Explanation

The length of the San Andreas Fault is 800 miles.