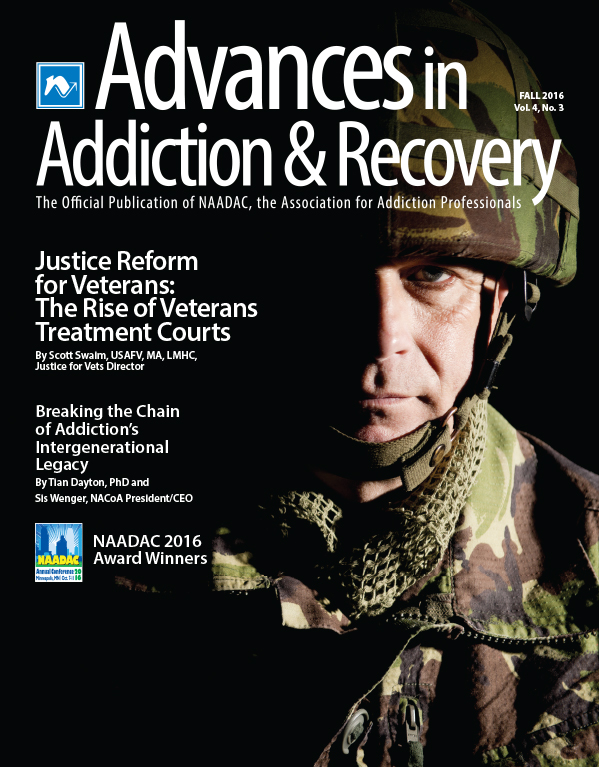 Advances in Addiction & Recovery, NAADAC's official magazine, is focused on providing useful, innovative, and timely information on trends and best practices in the profession that are useful and beneficial for practitioners.
Readers may earn one continuing education hour (CE) for reading the magazine and successfully passing a quiz on its full content.

Instructions:
1.)
Read the entire Fall 2016 issue of Advances in Addiction & Recovery.
By completing this quiz, you are attesting that you have received this education.
2.) Click "Buy" below to enter your billing information and submit payment of $15 via credit card. A receipt of your purchase will be emailed to you.
3.) Proceed to the online CE quiz by clicking "Continue to My Purchase" and selecting the title of this CE quiz.
A link to take the CE quiz will also be emailed to you. (Note: Forwarding this link to anyone who has not paid for the quiz is an ethical violation.)
4.) Enter your contact information again (as it may be different than billing information) and click "Start."
(Note: Type your name exactly as you wish for it to appear on your CE certificate. Please, no special characters or periods.)
5.) Take the CE quiz and successfully pass it with a score of 80% or above.

6.) After passing the online CE quiz, you will automatically view a Certificate of Completion for one nationally certified continuing education hour (CE). Download and print this certificate for your records.
A copy of your CE certificate will also be emailed to you.
Questions? Contact NAADAC at naadac@naadac.org or 703.741.7686.