Do You Actually Know Basketball?
30 Questions
| Total Attempts: 100
---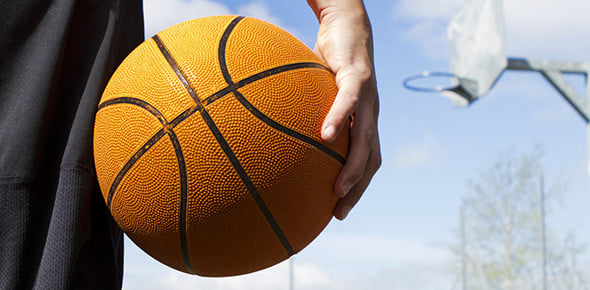 You might enjoy watching the NBA or NCAAB every now and again, you probably have a favorite team or maybe you even play a little basketball in your free time, but do you really know all there is to know about the sport? Take the following fun quiz on the topic of basketball to find out just how good your knowledge is when it comes to one of the world's most popular sports games!
---
1.

A.&nbsp

B.&nbsp

C.&nbsp

D.&nbsp

2.

A.&nbsp

B.&nbsp

C.&nbsp

D.&nbsp

3.

A.&nbsp

B.&nbsp

C.&nbsp

D.&nbsp

4.

A.&nbsp

B.&nbsp

C.&nbsp

D.&nbsp

5.

A.&nbsp

B.&nbsp

C.&nbsp

D.&nbsp

The Round Mound of Rebound

6.

A.&nbsp

B.&nbsp

C.&nbsp

D.&nbsp

7.

A.&nbsp

B.&nbsp

C.&nbsp

D.&nbsp

8.

A.&nbsp

B.&nbsp

C.&nbsp

D.&nbsp

9.

A.&nbsp

B.&nbsp

C.&nbsp

D.&nbsp

10.

A.&nbsp

B.&nbsp

C.&nbsp

D.&nbsp

11.

Which of these former NBA stars has scored more points in the NBA?

A.&nbsp

B.&nbsp

C.&nbsp

D.&nbsp

12.

A.&nbsp

B.&nbsp

C.&nbsp

D.&nbsp

13.

Which of these retired NBA stars has more lifetime NBA points?

A.&nbsp

B.&nbsp

C.&nbsp

D.&nbsp

14.

Which of these former NBA stars has scored more points in the NBA?

A.&nbsp

B.&nbsp

C.&nbsp

D.&nbsp

15.

Who has scored more total points over their NBA career?

A.&nbsp

B.&nbsp

C.&nbsp

D.&nbsp

16.

Which of these retired NBA stars has more lifetime NBA points?

A.&nbsp

B.&nbsp

C.&nbsp

D.&nbsp

17.

Which of these former NBA stars has scored more points in the NBA?

A.&nbsp

B.&nbsp

C.&nbsp

D.&nbsp

18.

Who has scored more total points over their NBA career?

A.&nbsp

B.&nbsp

C.&nbsp

D.&nbsp

19.

Which of these retired NBA stars has more lifetime NBA points?

A.&nbsp

B.&nbsp

C.&nbsp

D.&nbsp

20.

Which of these former NBA stars has scored more points in the NBA?

A.&nbsp

B.&nbsp

C.&nbsp

D.&nbsp

21.

Who has scored more total points over their NBA career?

A.&nbsp

B.&nbsp

C.&nbsp

D.&nbsp

22.

Which of these retired NBA stars has more lifetime NBA points?

A.&nbsp

B.&nbsp

C.&nbsp

D.&nbsp

23.

A.&nbsp

B.&nbsp

Lost Conference Semifinals

C.&nbsp

D.&nbsp

24.

A.&nbsp

B.&nbsp

C.&nbsp

D.&nbsp

Lost Conference Semifinals

25.

A.&nbsp

B.&nbsp

C.&nbsp

D.&nbsp

Lost Conference Semifinals

26.

A.&nbsp

B.&nbsp

C.&nbsp

D.&nbsp

Lost Conference Semifinals

27.

A.&nbsp

B.&nbsp

C.&nbsp

D.&nbsp

Lost Conference Semifinals

28.

A.&nbsp

B.&nbsp

C.&nbsp

Lost Conference Semifinals

D.&nbsp

29.

A.&nbsp

B.&nbsp

C.&nbsp

Lost Conference Semifinals

D.&nbsp

30.

A.&nbsp

B.&nbsp

C.&nbsp

Lost Conference Semifinals

D.&nbsp