A Decade Of Trivia - Central Oregon
---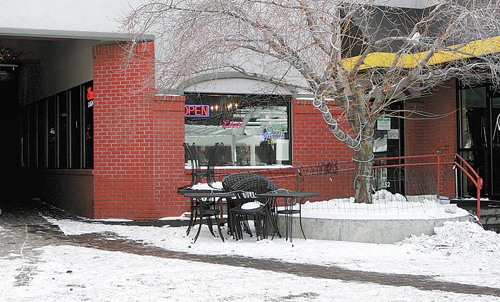 Think you know Central Oregon? Take The Bulletin's quiz and enter to win a limited-edition prize. Contest deadline is Jan. 29.
---
1.

What four restaurants have operated out of the space in the picture above since the turn of the decade?For an extra point, give the correct name of the breezeway that houses this restaurant.And for yet one more point, what's the official name of the circular plaza at Drake Park that that this breezeway leads to?

2.

How many roundabouts have been constructed in Deschutes County since the dawn of 2000?For extra points, name the locations of the roundabout art shown below.A) B) C)D)

3.

How many times did the 4th of July fireworks show catch Pilot Butte on fire during the past decade?

5.

What winter in the decade brought the most snow to Mt. Bachelor? And the least?(Answer example: 2002-2003)

6.

How many new parks has the Bend Park & Recreation District built in this decade?

7.

What three breweries have opened in Deschutes County during the 2000 decade?For extra points, name the two new year-round beers that Deschutes Brewery offered in six-packs in this time period.