All Over Albany Weekly Quiz, March 11, 2011.
10 Questions
| Total Attempts: 75
---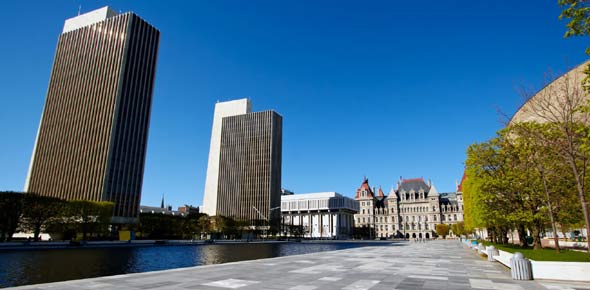 Hello! You should be able to answer all these questions by reading AOA this week. One person drawn at random from the pool of high scorers will get a prize (please include your email address so we can contact you)!
---
1.

Some of the systems at the Northeastern Association of the Blind's factory were designed by whom?

A.&nbsp

B.&nbsp

C.&nbsp

The Association's members

D.&nbsp

2.

L'esperance Tile Works makes a set of tiles based on New York state fossils. What provided the artist with inspiration for the images?

A.&nbsp

Visits to the New York State Museum

B.&nbsp

The state Regents study guide

C.&nbsp

Fossils she'd found on the Helderberg Escarpment

3.

The prices paid for electricity in the Capital Region are often among the lowest in the state.

A.&nbsp

B.&nbsp

4.

Where did Jen Hunold -- the artist behind the Be Nice. Project -- grow up?

A.&nbsp

B.&nbsp

C.&nbsp

D.&nbsp

5.

Which of these Pulitzer Prize-winning poets spent time at the Watervliet Arsenal?

A.&nbsp

B.&nbsp

C.&nbsp

D.&nbsp

6.

In a recent Siena poll, 40 percent of New Yorkers said what?

A.&nbsp

Their quality of life had gotten better during the past 10 years.

B.&nbsp

Their quality of life was about the same.

C.&nbsp

Their quality of life had gotten worse during the past 10 years.

7.

The party for All Over Albany's third birthday will be where?

8.

About how long does it take the Zamboni to resurface the ice at the Times Union Center?

A.&nbsp

B.&nbsp

C.&nbsp

D.&nbsp

9.

Which of these is not a highway that Albany planners proposed but never constructed?

A.&nbsp

The Northside-Northway Connection

B.&nbsp

The Jennings Memorial Parkway

C.&nbsp

The Mid-Crosstown Arterial

D.&nbsp

10.

The giant sandwich at McIntyres Pub shares a name with which mountain?

A.&nbsp

B.&nbsp

C.&nbsp

D.&nbsp