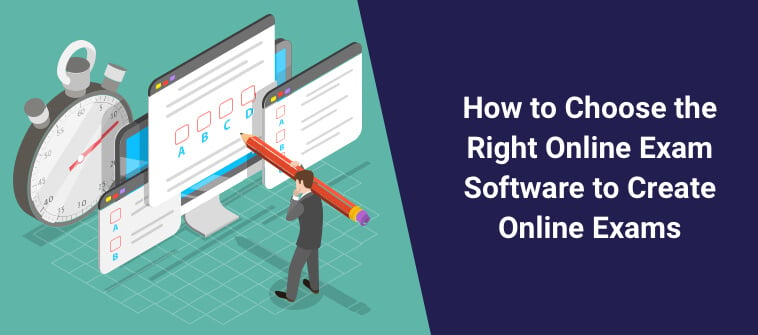 Dealing with the responsibility of building your learners' future, handling the administrative stuff, and working long hours means that when you reach home, you want to just let go and relax.
Grading exam papers is not a task that is at the top of your mind at that time.
Seriously, when was the last time you graded exam papers 'enthusiastically' and were confident about the 'accuracy' of the results?
Let's be honest.
Grading papers is not the most incredible job on earth and conducting paper-based exams is obsolete.
Right from the point of adding questions, distributing, and collecting exams, to grading, analyzing results, and adding feedback, the entire process drains you of your energy and time and still doesn't guarantee accuracy.
If you clicked on this article, you probably know that conducting online exams can solve this problem for you. But, if you are someone who's relatively new to the whole concept of creating online exams, you might find the whole process a bit overwhelming.
Does it have to be that way though?
Absolutely not!
All you need to do is choose the right online exam software. However, not all online exam software tools are equally capable. Buying the wrong software can cost you lots of money and time.
Watch How to Choose the Best Exam Software

So, the question is – how to know which software is right for creating online exams?
Well, you just need to check a few boxes!
In this article, we have shared some of the top features and benefits of a good online exam software that you should keep in mind while choosing an online exam builder. Let's take a quick look at all of them:
Ease-of-Use
It's kind of obvious, but you must see if the tool you choose doesn't require any installation, has a simple user-interface, and is super-easy-to-use. After all, that's the whole point of switching to an online platform, isn't it?
Creating and sharing exams with online exam software shouldn't feel like a task; rather, it should be a delightful experience. The software must be easy enough to be used by a person possessing any level of skill.
---
Read More:- How to Create an Assessment Online

---
Exam Templates
The next feature you should be looking for in a good online software is- templates.
Imagine this- You just finished a teaching lesson and are now ready to assign your learners a test based on it. But, you're kind of short on time to jot down questions and decide your exams' structure. Wouldn't it be great if you could just find a ready-to-use exam template that you could use right away in such a situation?
We are assuming your answer to that is a loud 'yes.'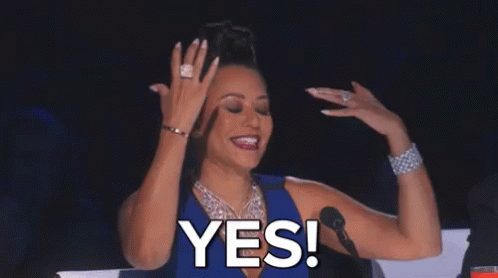 With templates, the job of creating online exams is half done. The whole idea of using online exam software is to create the most accurate online exam within the least amount of time. So, what better option than templates?

Many online exam builders like ProProfs offer professionally designed scored quiz templates that can be used to create online exams within minutes. You can, of course, make changes to it like the background images, themes, add or modify questions, and more.
Question Library
We understand that the hardest part of creating an online exam is thinking of the right questions to use.
A good exam software won't just provide a template to add questions to; it will also offer a question library that helps you create an assessment in minutes.
A question library or a question bank offers a collection of ready-to-use questions across many different topics.
Therefore, don't forget to check for a question library while looking for the right tool so that, instead of spending long hours researching, selecting, and writing questions for an exam, you can simply import the questions to your exam.
Below is an image of ProProfs Quiz Maker's question library that offers 100,000 ready-to-use questions on thousands of topics.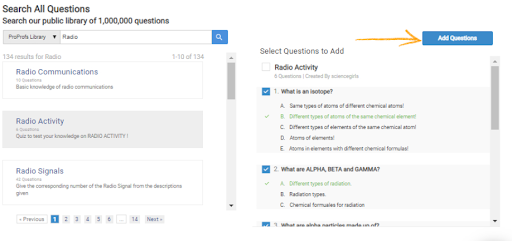 Automated Grading
The next important feature to look for in a good online exam tool is automated grading. If you've never created an online exam before, the idea of enabling automated grading might seem a little complicated to you.
But, trust us on this- once you've experienced the accuracy of automated grading, you'd never want to sit down and grade hundreds of exam papers manually. It won't just let you nail the accuracy but also save you lots of time and effort.
This is why, when choosing an online exam software, make sure it lets you pre-assign grades and scores to the questions so they can be graded automatically while being attempted.
Watch how to automate grading of quizzes in this quick tutorial:

Anti-Cheating Features
Don't settle for online exam software if it doesn't offer anti-cheating features! Just don't.

No matter how careful you are preventing cheating on exams, there are always a few who are ready to use whatever means necessary in getting that perfect score. And, the chances of doing so increases, even more, when the exam is being conducted online as-
The questions are the same

The order of answers is the same

Answers can be looked up
In a study conducted from 2002 to 2015 on 70,000 high school students across the United States found that 58% had plagiarized papers.
And Donald L. McCabe, the founding father of research on academic integrity and the man behind this study, rightly said that "cheating trends aren't likely to shift".
So, make sure that the software you're choosing has all the features to make it impossible during the examination
For example, the ProProfs online exam software lets you do the following to prevent cheating:
randomize the order of questions

shuffle answer options

disable tab switching to prevent cheating
You can also protect your online exams with a unique password.
Robust Reporting
As a teacher, your learners' holistic performance is of primary importance to you. It is often not just your learners' scores that you'd want to know to analyze their performance. You might also want to look at details, such as:
The number of wrong attempts

The number of correct answers

Time spent per question

Time spent to complete the exam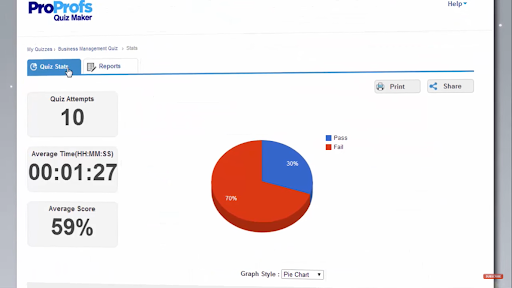 When you have access to such details, you can identify knowledge gaps and then try improving the instructions for your learners.
That's why when selecting your exam software, you should look out for a robust reporting feature that will give you an in-depth analysis of the overall learner performance. Also, the software should allow you to view as well as download reports anytime, anywhere.
Here's an easy way to review such reports and stats:

Compatibility with Mobile Devices
The first thing that strikes a learner's mind when thinking about 'online exams' is the flexibility that comes with it. The ability to access exams from the comfort of their home (or anywhere, for that matter) and at a time that suits them is very convenient.
This certainly plays in your favor when creating exams online. How? Well, because the students are motivated to perform better and score higher on exams.
So, while choosing an online exam software, make sure that the exams you create on it can be easily viewed on mobile devices such as laptops, smartphones, and tablets so that your learners can access them anytime, anywhere via an internet connection.
---
Read More:- How to Create a Perfect Online Test- Rules To Follow
---
Solid Customer Support
It is possible for you to get stuck at any point or experience a glitch even if you have the necessary technical know-how on how to create and conduct these exams online.
To make sure that the process is smooth for you and the learners, also check if the software you're selecting is backed by solid customer support to assist you with downtime and help you use the tool to its fullest potential.
The Possibilities Are Limitless…
You can't compromise on any of the above-mentioned features if you're looking for the best online exam software. You'll obviously want to navigate academic integrity issues, but once you're convinced, you'll find that the right online examination system can help you:
Assess learners in multiple time zones

Enable self-assessment

Save hours of your time

Analyze individual learner progress
So when you're looking, make sure you've checked all the boxes before selecting one. Access to the right online exam software can pave the way for more effective and efficient ways of taking examinations and help users with a lot of logistical problems, not to mention helping them save time and money, which would otherwise be wasted.
Also, here is a video guide on How to Choose the Best Exam Software
Do you want free Quiz Software?
We have the #1 Online Quiz Maker Software for complete learning & assessment