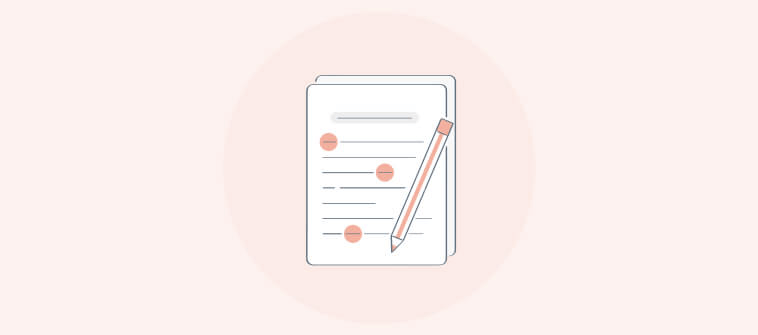 How amazing would it be if you could create an online assessment in 5 minutes that would allow you to:
-Identify knowledge gaps
-Help learners assess themselves and track their progress
-Assess and screen candidates for a profile
-Measure employee performance
-Train anyone no matter what their learning style
Pretty amazing, isn't it?
Well, by the time you end reading this blog, you'll know the A to Z of online assessments, what they are, how to create them, how to use the best software, and more.
Let's quickly dive in and begin with the basics!
What Is an Online Assessment?
In simple words, an online assessment is a set of questions that aims to evaluate a person's knowledge, abilities, behaviors, or characteristics. When conducted online with the help of software, it becomes an online assessment.
The meaning of an online assessment may vary depending on the requirements of the person creating it. For example, HRs may use it to train their employees, and recruiters may use it to assess the candidates appearing for a job role, teachers may use it for assessing their students' knowledge on a particular topic, and more.
What Is an Online Assessment Software?
As the name suggests, an online assessment software is basically any software or tool used to create and conduct an online assessment. In simple words, an online assessment creator is a tool that is used to create any type of assessment like a test, exam, training assessment, a quiz, and more.
It is used to create a type of assessment, the results of which can help in assessing knowledge, screening applicants, engagement marketing, and more.
Watch: How to Create an Assessment Online

Now, let's look at the two broad types of online assessments in the next segment of this article.
Types of Online Assessments
Broadly, online assessments can be categorized into two different categories, which are- formative and summative.
1. Formative Assessments
Formative assessments are carried out to evaluate the level of knowledge the learners possess about a certain topic, subject, or lesson before introducing it to them.

Formative assessments help the instructors by giving a direction to the instructions.

The results of formative assessments help them in evaluating the weak points and strong points of learners according to which they can plan their instructions.

Formative assessments are generally low-stake assessments meaning they don't have a low-point value.

The aim of formative assessments is to evaluate the existing knowledge levels, and based on their results, taking measures to alleviate those levels.
Examples: Group discussions, group project work, concept maps, weekly quizzes, homework assignments, etc.
2. Summative Assessments
Summative assessments, unlike formative, are carried out after the instructions have been given to the learners to identify the knowledge gaps.

The evaluation of knowledge is done by comparing the knowledge retained at the end of the instruction with the knowledge possessed prior to the instructions.

Unlike formative assessments, they are high-stake assessments meaning they have a high-point value.

The aim of summative assessments is to assess if the instruction's learning objectives have been met.
Examples: Mid-term exams, end-term assessments, final projects, final essays, class presentations, reports, etc.
Moving on, let's look at the top benefits of online assessment software.
---
Read More: What Is an Assessment Tool?
---
Benefits of Using an Online Assessment Software
Online assessments, as compared to offline assessments, are easier, faster, and more accurate. In a nutshell, they offer the following benefits to their users:
1. Save Time
Whether you're a teacher, trainer, or recruiter, creating assessments online with online assessment software can save you hours of your precious time. It is easy-to-use and offers templates for the creation of assessments. You simply have to explore and choose a template to go with.
Even if you wish to create an assessment from scratch, you can cut out the most time-consuming task, which is coming up with the right questions with the help of a question library.
In addition to that, the online assessment software provides automated grading and instant feedback features, using which you can save time on grading individual questions and giving feedback.
2. Give Accurate Results
With the automated grading process of online assessment software, the chances of inaccurate results in an online assessment are almost negligible. With the help of the automated grading system, you can pre-assign scores to correct answers so that they're graded automatically when attempted, and you get instant results.
3. Store Data for Longer Periods
Since the online assessment software is cloud-run, the reports, responses, and information of those taking the assessments remain stored on the cloud for longer periods of time until removed. This way, it is easier to retrieve the reports or other information whenever required.
4. Ensure Security
While you create online assessments using online assessment software, it is natural to be a little worried about the security factor. This is why some online assessment software offer a set of settings & configurations that help ensure the security and authenticity of your online assessments.
These may include:
Settings to prevent cheating such as question randomization, answer shuffling, and disabling tab switching to prevent cheating.
Settings to ensure authenticity such as password-protection, unique login, and more.
5. Mobile-Responsive
Assessments created using online assessment software are highly compatible with mobile devices, such as laptops, smartphones, and tablets and are perfectly responsive.
This way the recipients of online assessments can access them anytime, anywhere. This functionality comes in handy when the assessments are for hiring as the recruiters can share assessments with the candidates so that they can access them anytime, anywhere, while the recruiters receive real-time reports.
Now that you know about the benefits, it would be great to explore how businesses, as well as educational institutions, can make the most of an online assessment creator. Hop on to the next section to read.
Ways to Use an Online Assessment Software
Out of the many ways that an online assessment software can be put to use, these are the top ones:
For Education
1. Easily Create Online Tests and Exams
If you're a teacher, you'll find that an online assessment creator is excellent for creating all kinds of assessments, including unit or chapter tests and midterm and final exams.
With the ability to write many types of questions, from objective questions like matching to subjective ones like essays, as well as the automatic grading functions, an online assessment creator is your one-stop-shop for developing all of the test-type evaluations you need for your course.
2. Curate and Create Learning Material
Using the same methods to create exams offline, you can also create practice tests and other learning materials for your learners to use. As an even bigger time saver, when you sign up for an account with an online assessment tool provider, you will also usually gain access to a database of existing quizzes, tests, and exams that other people have created.
Many of these materials are either free to use or available for a very low price. Rather than developing all of your materials from scratch, you can find content that has already been created for your learners to use.
3. Increase Student Engagement
Student engagement is the backbone of effective learning. An online assessment creator can help you to continue the learning process in the most engaging manner by creating short pop quizzes, comprehension tests, and hotspot quizzes.
Such types of assessments are interesting and keep the students looking forward to more. It may be just one question per day, but it will increase the time your students spend actively thinking about and engaging with the material in your course.
4. Promote Self-Assessment
As you are aware, one of the most powerful ways to learn new material is by teaching that material to others. Using an online assessment creator, you can have your students create their own tests and then distribute those tests to other students in the course.
By providing feedback for wrong answers, your students will solidify their learning as well as identify any gaps in their own understanding, which you can then address in class.
5. Create Online Classrooms
Using an online assessment creator, you can create different groups of learners in an online classroom and then centrally assign them courses and quizzes. Online classrooms or team assessments are a great way to promote group learning and team building.
6. Use Reports to Track Progress
How do you currently track the progress of students in your class? What about the class as a whole? If your method is some combination of a spreadsheet and your intuition, then it may be working okay for you, but an online assessment creator does it way better!
An online assessment creator can instantly provide you with meaningful progress reports for individuals or subsets of learners or for the class as a whole. This data can help you adjust the instructional level or style as necessary to ensure you are meeting the learning needs of everyone in your class.
For Businesses
1. Make Hiring Easy
Did you know that businesses that use assessment software are 36% more likely to be satisfied with their new hire? For a business to be successful, it needs to be able to accurately assess the skills of new hires, existing employees and, at times, even assess its customers to understand their needs.
A skill assessment test can help you assess the skills, personalities & abilities of your employees. It's easy to create online tests and easier to share.
2. Assess Your Employees
For any business, its employees are no less than a monetary investment. Given the time, effort, and money that you put into training a new employee, retention becomes a priority. But how do you decide if an employee is worth retaining? You run an assessment!
It's advisable to use an online assessment creator when it comes to training employees and testing how much knowledge they've retained so far. Such assessments created with online assessment software tend to give more accurate results than a paper-based test.
3. Improve Lead Generation
Whether you have a brick-and-mortar store or a huge online business, there is one common goal – generating leads and growing the top-line. There are about 4 billion people online either for shopping, entertainment, or information. That's a massive customer pool that's just waiting for you to draw their attention.
But how can you make your business stand out online?
What can you use to grab attention, generate more leads, and drive sales?
The answer is very simple – Quizzes.
Yes, lead quizzes are factual and informative pieces of content and are shared the most on social media platforms.
With an online assessment creator, lead quizzes are easy to create without a single line of code. They are interactive, lucrative, and engaging. With lead quizzes, marketers can save time, increase sales conversion rates, and get more leads.
---
Read More: 10 Best Features You Need in Your Online Assessment Software
---
4. Engage Your Audience
Create fun personality quizzes that your audience would love to take and share. Personality quizzes are easy to create using the templates and tend to grab the attention of your audience on social media. People love taking quizzes as quizzes tell them something about themselves.
With a good online assessment creator, you can create an online quiz in almost no time at all. You can use a lot of engaging questions and create upbeat results that they'd love to share with their websites. This, in turn, shall give you more audience.
Isn't it a great way to engage your audience and keep them hooked on your brand? You can also use such quizzes to lead them back to your website.
Watch: How to Create a Personality Quiz

How to Create an Online Assessment?
Creating an online assessment is easier than it sounds, given that you have the right online assessment software and know all the steps to create one.
In this section, we're going to walk you through all the steps you need to create an online assessment.
Steps to Create an Online Assessment
As it happens with most online assessment software like ProProfs, you can either choose to create an online assessment using templates to save time or create one from scratch.
Creating an Online Assessment Using Templates
With the ProProfs Assessment Library, using templates is the best way to create online assessments.
The assessment library has templates for the standard skill assessment tests that you can use to create skill assessments for hiring. Take a look at the steps.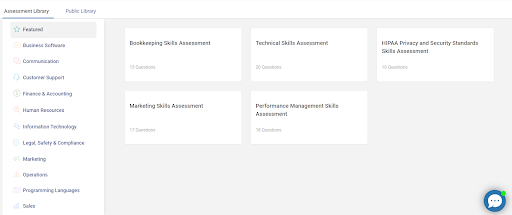 Step-1: On your quiz dashboard, click on 'Create a Quiz.'
Step-2: You'll land on the templates page from where you can choose either 'scored templates' or 'personality templates.'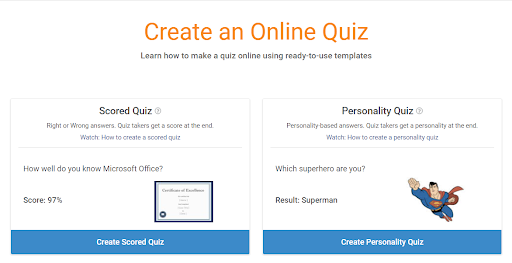 Step3: Now you can choose the type of template you want and then move ahead with your choice.

If you're creating a pre-hiring assessment, it is better to pick a template from the Assessment Library.
Step-6: Explore all the categories and click on the View button to choose your template.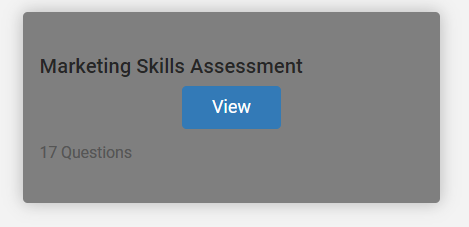 Step-7: Click on "Use this assessment" to use it as it is or make some adjustments as you prefer, and you're good to go.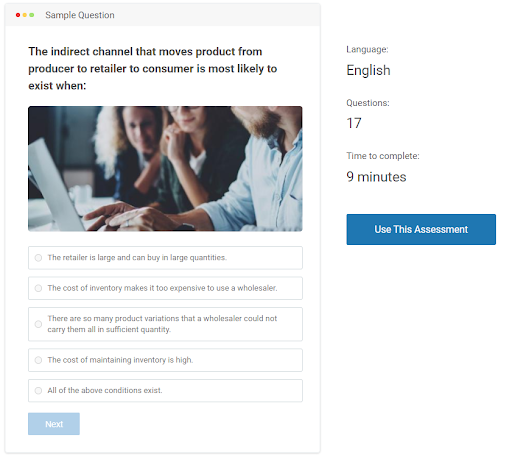 Creating an Online Assessment From Scratch
Step-1: Click on 'create from scratch,' to open the 'create a quiz' window.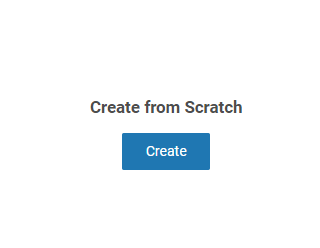 Step-2: Click on "Untitled Quiz" to add a title and description to your quiz.

Step-3: Type a description for the assessment in the box that appears. Hit save to land on a page that displays your assessment title, image, and description.
Give your assessment a name in the top right column, and then you can upload an image, use our library of images, search for an image, or embed a link.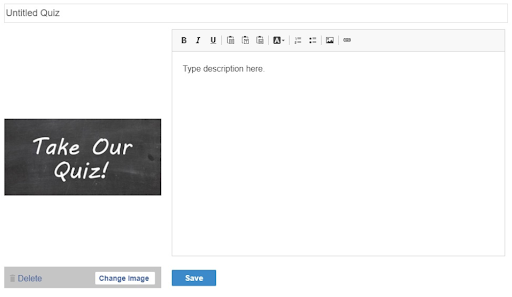 After saving, go back to the previous window.
Step-4: Add Questions
On the left side, you'll see a question box from which you can add questions.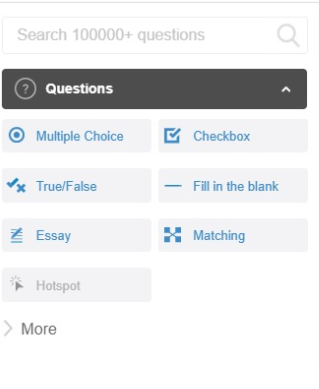 You can add questions in two different ways:
A) Use Question Library: You can simply import questions from the ProProfs question library that has more than 100,000 ready-to-use questions.
Just go to the question bank, choose one assessment topic, and select questions that you want to add. You can later edit those questions if you want to. It's the easiest way to keep adding questions.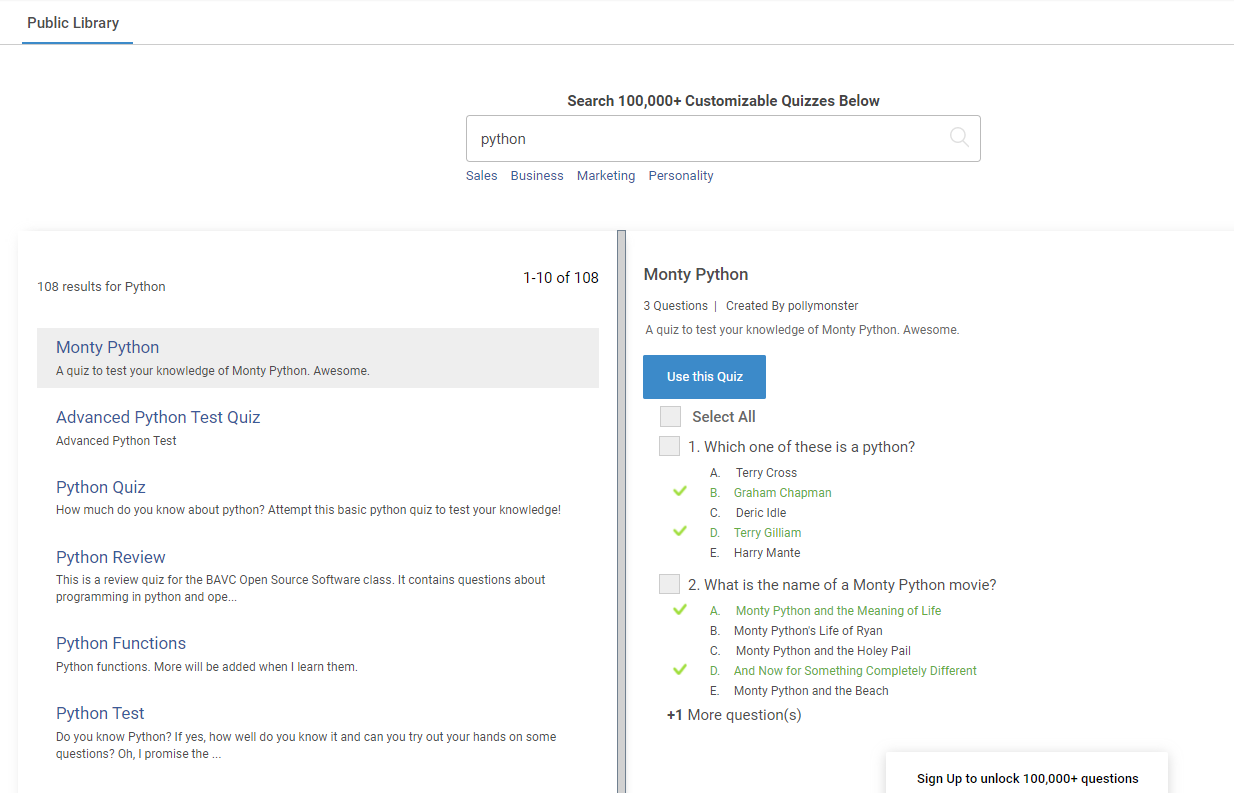 B) Create your own questions: We have more than 10 question types that you can choose from.
Choose from multiple-choice questions, fill-in-the-blanks, true or false questions, matching questions, hotspot questions, and more.
Selecting a question type will take you to the editor. Enter question text, add options, mark the right answer, and click "Save" or "Save & Add New."
Repeat the process until you get the desired number of questions for your assessment.
Step-5: Add Multimedia
Add relevant images and videos to questions and answer options to make your assessment more appealing.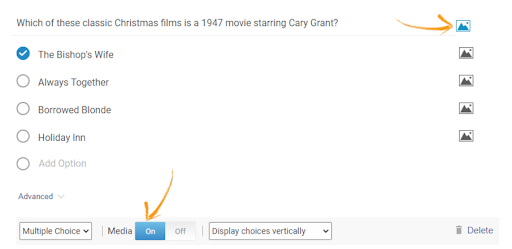 Step-6: Automate Grading and Feedback
Automating the grades for questions is the most important step in the process of quiz creation.
By automating the grades, the questions get automatically graded when they're attempted,
Similarly, you can assign feedback to your answers that will be displayed instantly after the question is answered.

Step-7: Configure Settings and Publish
After you're done creating your assessment, it is advisable to configure a few settings to ensure compliance and security of the assessments. These include-
Question Randomization:

This setting ensures that learners do not get the same set of questions. Say bye-bye to cheating!

Disabling Tab Switching:

To ensure that the answers are genuine and not copied, disable tab switching during an online assessment.

Password Protection: Secure your online assessments with a password so that only those with unique login credentials can access the assessments.
After you've configured your settings, hit Save. Then, go back to your quiz dashboard and click Publish.
Watch: How to Configure ProProfs Quiz Settings

Once you've created and saved your assessment, you can easily share it via email, links, social media, or embed it on your website or blog.
The best part about online assessments is – all the reports are AI-generated. This way, it becomes easier to review individual and group performances such as the number of attempts, total time spent to complete the assessment, number of right or wrong answers, and more.
You can view these reports anytime, anywhere, and even download these reports in CSV/Excel formats or share via email.
Now if you really want to have the best experience, follow the tips that we've shared in the next section to create an assessment.
---
Read More: Educational Assessment Software: The Evolution of Evaluation
---
Tips to Conduct a Successful Online Assessment
Following the steps mentioned above will have you create the online assessments easily, but these tips will make sure you create the best ones. Let's take a look.
1. Automate Scoring
Creating an online assessment without automated scoring is just as good as an offline assessment. If you've got to sit down and grade each question manually or provide feedback, you're missing the whole point of building online assessments.
With automated scoring, you can pre-assign scores to the questions, so they are automatically graded when attempted. It helps save hours of time that can go into manual grading.
2. White-Label Your Assessments
Whether you're creating an assessment for the purpose of training, teaching, or hiring, giving your online assessments a touch of your branding is always a good idea. Some online assessment software like ProProfs lets you do just that.
You can add your logo to your assessments, use your brand's theme, set a background image, choose fonts, and more. You can give your online assessments a look and feel to resonate with your brand.
Here's an example of a quiz that has been white-labeled: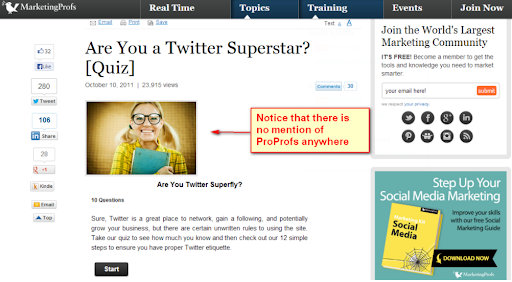 3. Create Customized Results Page
Honestly, getting results that speak volume is way better than knowing if you passed or failed. Make sure that when a person completes the assessment, they not only get to know their final scores but also know where they stand in terms of knowledge retention.
For instance, if it's a scored assessment, you can create a few customized messages to be displayed along with the scores. If it's a personality assessment, you can create a custom message that shines a light on the traits and characteristics of the personality they get as a result.
4. Configure Availability
Even though online assessments can be accessed anytime and anywhere, configuring their availability can help bring in a little more compliance. You can limit the time in which the assessment is supposed to be completed and also set the availability upto a certain date and time.

This is important when you're conducting an assessment for educational purposes so that the learners don't pause and resume the assessment. Similarly, setting a date and time for availability will help speed up the hiring process as the candidates will only have a certain amount of time to complete the assessment.
Customize your own certificates that will be issued to your learners after they've completed the assessment. Here's a preview of a completion certificate: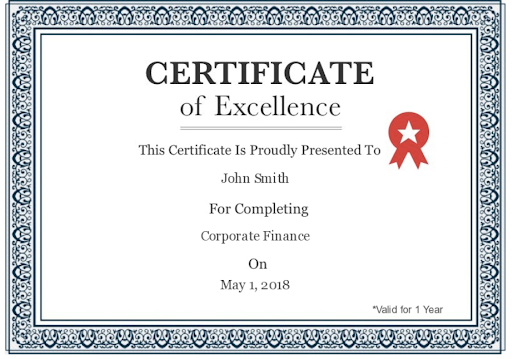 As we come to a close, here's a little something about the ProProfs online assessment software and why you can choose it as your go-to online assessment software.
Why Use ProProfs Online Assessment Tool?
ProProfs is definitely the best online assessment platform with its ability to create assessments within a few minutes and the option to explore a huge variety of assessments from the assessment library. It is primarily a quiz generator that works perfectly as a test generator, online assessment software, exam software, and more.
Easy-to-use:

With all the features aimed at saving your time & effort, a no-installation setup, and a super simple user-interface, ProProfs can be a great choice for building online assessments.

Delightful reports & analytics:

With ProProfs' AI-enabled reports & analytics, you're not just confined to the scores. Instead, you get a detailed summary of activities, such as track who took the assessment and when, statistics to help learners improve their performance, individual & group reports, and more.

Free trial:

No matter which plan you choose, you're entitled to try out the software absolutely free for 15 days.

24×7 support:

The support team at ProProfs is available round the clock. If at any point at all, you find yourself stuck, you can reach out for support on live chat, phone, or email, and they'll be ready to assist you anytime.
Watch: How to Choose the Best Assessment Software

Get set to assess the right way!
Online assessment creators are easy to use, a feature that makes them ideal for a variety of activities. You don't need to download software or take a course to learn how to use them. In many cases, it's as simple as typing into a word processing program without the associated formatting headaches.
Rather than limiting yourself to just writing quizzes and tests, start experimenting with other ways you can put your online assessment creator to work.
We're here to help if you need help choosing or using online assessment creators! We have a live chat, phone help, and a huge knowledge base, so it's easy to get started.
Do you want free Quiz Software?
We have the #1 Online Quiz Maker Software for complete learning & assessment