To create an assessment for hiring, you must remember that it should accurately assess the skills of new hires, their competencies, their compatibility with the job role, and more.
To achieve this goal, every online assessment should go through a standard creation process and ensure quality and consistency. But what about the accuracy? Well, that comes with an online assessment software.
It is a less known fact that businesses that use online assessment tools are 36% more likely to be satisfied with their new hire.
So, using an online assessment system to build your online assessments or a personality quiz is not such a bad idea after all. With ProProfs, it becomes super easy to create an online assessment.
In this article, we'll tell you how easily you can create an online assessment using the ProProfs online assessment software.
Watch: How to Create an Assessment Online

ProProfs is definitely the best online assessment platform with its ability to create assessments within a few minutes and the option to explore a huge variety of assessments from the assessment library. It is primarily a quiz generator that works perfectly as a test generator, education assessment software, and exam software,
So, real quick - let's look at the steps.
To start off, you can create your assessment online in two different ways-
Using the templates

From scratch
---
Read More:- A Guide to Using Online Assessment Tools
---
Creating an Online Assessment Using Templates
With the ProProfs Assessment Library, using templates is the best way to create online assessments.
The assessment library has templates for the standard skill assessment tests that you can use to create assessments for hiring. Take a look at the steps.
Step-1: On your quiz dashboard, click on 'Create a Quiz.'
Step-2: You'll land on the templates page from where you can choose either 'scored templates' or 'personality templates.'
Step3: From either of the templates that you choose, you'll have a table of options to choose from.

Step-4:
From this table, you can choose the type of template you want and then move ahead with your choice.
Step-5: If you're creating a pre-hiring assessment, it is better to pick a template from the Assessment Library.
Step-6: Explore from all the categories and place a cursor on the one that you wish to use.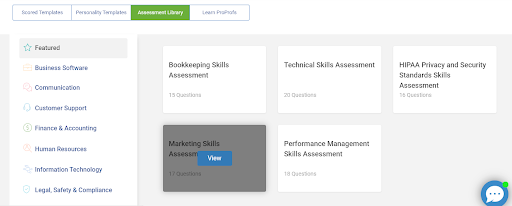 For example, when you place the cursor on Marketing Skills Assessment or Sales Skill Assessment, a tab "
View
" will appear. Click on "
View
", and you'll be taken to the assessment template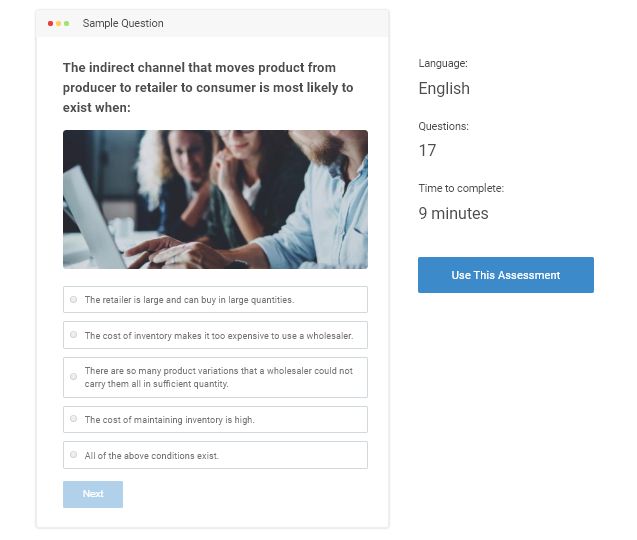 Step-7:
Click on "Use this assessment." Use the assessment as it is or make some adjustments as you prefer, and you're good to go.
Creating an Online Assessment From Scratch
Step-1: To create an assessment this way, just click on 'create from scratch,' and you're immediately taken to the 'create a quiz' window.
Step-2: Click on "Untitled Quiz" to add a title and description to your quiz.
Step-3: Type an assessment description in the box that appears. Just as you save it, you'll be directed to a page that displays your assessment title, image, and description.
Give your assessment a name in the top right column, and then you can upload an image, use our library of images, search for an image, or embed a link.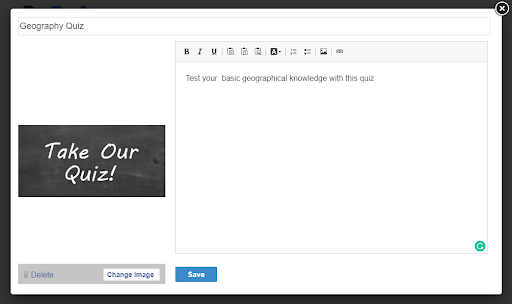 After saving, go back to the previous window.
Step-4: Add Questions
On the left side, you'll see a question box from which you can add questions.
Adding questions is the most troublesome task for most when they want to create an assessment. But we at ProProfs have made it easy for you.
You can add questions in two different ways:
---
Read More:- How to Create Exams Online with Online Exam Software
---
A) Use Question Library-
You can simply import questions from the ProProfs question library that has more than 100,000 ready-to-use questions.
Just go to the question bank, choose one assessment topic and select questions that you want to add. You can later edit those questions if you want to. It's the easiest way to keep adding questions.
B) Create your own questions- We have more than 10 question types that you can choose from.
Choose from multiple-choice questions, fill-in-the-blanks, true or false questions, matching questions, hotspot questions, and more.
Selecting a question type will take you to the editor. Enter question text, add options, mark the right answer, and click "Save" or "Save & Add New."
Repeat the process until you get the desired number of questions for your assessment.
Step-5: Add Multimedia
Add relevant images and videos to questions and answer options to make your assessment a little more appealing.
Step-6: Automate Grading and Feedback
Automating the grades for questions is the most important step in the process of quiz creation.
By automating the grades, the questions get automatically graded when they're attempted,
Similarly, you can assign feedback to your answers that will be displayed instantly after the question is answered.
Step-7: White label
Add your own logo, background, and theme to the assessment to give it a touch of your branding.
Step-8: Customize Completion Certificates
Customize your own certificates that will be issued to your assessees after they've completed the assessment.
Step-9: Configure Settings
After you're done creating your assessment, it is advisable to configure a few settings to ensure compliance and security of the assessments. These include-
Question Randomization- This setting ensures that learners do not get the same set of questions. Say bye-bye to cheating!
Disabling Tab Switching- To ensure that the answers are genuine and not copied, disable tab switching during an online assessment.
Password Protection- Secure your online assessments with a password so that only those with unique login credentials can access the assessments.
Watch: How to Configure ProProfs Quiz Settings

Step-10: Share your assessments
Once you've created and saved your assessment, you can easily share it via email, links, social media, or embed it on your website or blog.
The best part about online assessments is - all the reports are AI-generated. So, it becomes easier to review individual and group performances such as the number of attempts, total time spent to complete the assessment, number of right or wrong answers, and more.
You can view these reports anytime, anywhere, and even download these reports in CSV/Excel formats, or share via email.
See? It's that easy & quick with the best online quiz maker. In just a few steps, you can create an assessment online, share it, and analyze its results.
We're here to help if you need us with our online assessment creator! We have a live chat, phone help, and a huge knowledge base, so it's easy to get started.
Do you want a free Quiz Software?
We have the #1 Online Quiz Maker Software for complete learning and assessment starting at $0