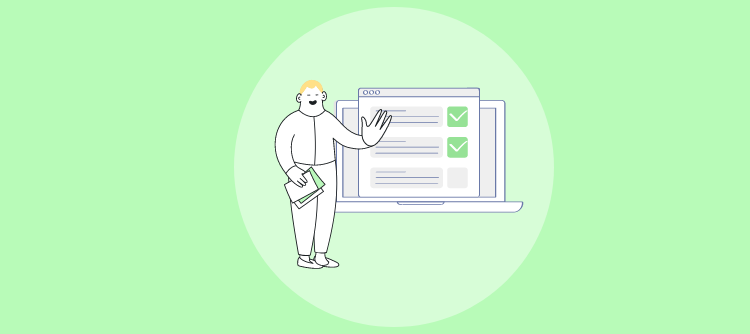 Businesses are constantly looking for new ways to improve employee training with new practices, software tools, and more.
It is a responsibility for leaders, managers, and other employers. It's not always managers who train the new employees; sometimes, older employees train them on specific tasks as well.
Do you need to train employees for a new skill to perform a task?
Then, an employee training quiz can be the weapon of your choice. We've shared top quiz hacks in this blog that will help you make your employee training more effective.
But, no matter who's doing it, these quiz maker hacks will ensure that you end up with results that exceed your expectations in terms of employee engagement.
But before we take you to the hacks, let's look at some of the benefits of using quizzes in employee training.
Why Use Employee Training Quizzes?
The answer is simple – Quizzes can help you make your employee training engaging and effective. Here's how:
1. Quizzes Help Transform Training Into a Fun Activity
Gamification is the concept of e-learning that adopts games for enhancing user experience. Although it has been around for a few years, only recently have training departments begun to take it seriously.
And why wouldn't they? Turning any activity into a game-like experience only enhances its effectiveness and encourages participation.
A similar thing happens when you use quizzes for employee training.
With various questions that compel the quiz takers to take a different approach, automated grading, instant feedback, images, videos, certificates, the whole process of taking quizzes becomes interactive and fun.
Which is one of the most important reasons why you should include quizzes in your training program.
2. Quizzes Can Be Used to Benchmark Learning
One of the best benefits of using quizzes for employee training is that you can use them to benchmark the whole learning progress.
By incorporating quizzes into your training program and analyzing their reports, you can determine what training should take the most priority. It also allows you to focus your training efforts on information that employees find harder to grasp.
You can create online classrooms and group learners to assign customized training material, including courses and quizzes tailored to their learning needs. By doing so, you can avoid a generalized training routine where some employees are bored and their time is wasted.
3. Quizzes Make Room for Microlearning
An average person's attention span is only eight seconds. Microlearning allows employers to deliver short, specific bursts of content that can hold employees' interest.
With quizzes, you can meet all three essential microlearning characteristics, which are:
Lean:

The solution should not require an "army" of trainers to implement

Scalable:

The solution must appeal to a large variety of employees across all locations

Simple:

The solution must be easy to adopt
4. Quizzes Can Be Used at Every Stage of Employee Training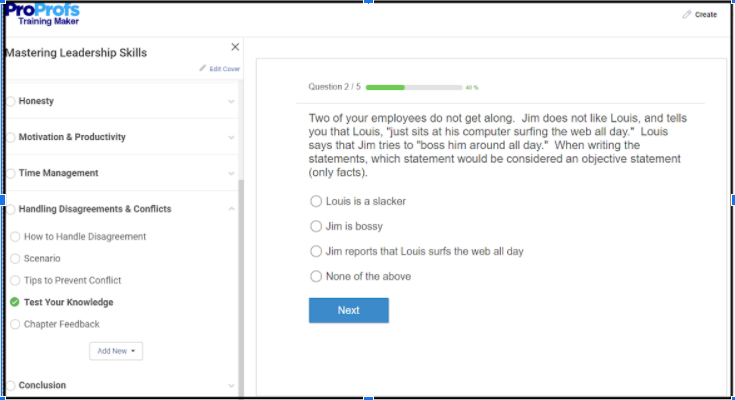 You probably know this, but if you don't, allow us to tell you how quizzes can be used at every stage of employee training.
First of all, you can build a quiz to assess your employees' current level of knowledge before beginning the training.
At this stage, a quiz helps you and your employees identify the concepts that they don't fully understand, which motivates them to take up the training to enhance their knowledge.
Then comes the training part. During the ongoing training, you can build individual chapter assessments to help employees assess if they've fully understood the topic. The quiz would encourage them to recall information that they have learned from the chapter and answer the quiz questions.
If they find that they've fully retained the information, they can move on to the next chapter. But, if they haven't, they can go back to learning the chapter again.
Similarly, you can assign your learners a quiz to assess what the team has learned and what still needs to be taught at the end of the training.
5. Quizzes Help Determine the Overall Impact of Your Training
You may be stuck with this notion that your training is perfect for helping your employees upskill and improve the quality of their work. But, your employees might feel differently.
Your employees might have insights into what you've taught that you've not thought about. For instance, they might know some new corporate laws that you forgot to include in your training material. But they may be able to tell about this through an open-response question you used in your quiz.
In this way, a quiz will help create a feedback loop that allows you to be at the forefront of knowledge.
By offering a quiz at the end of the training, you can:
analyze the quiz reports to collect valuable data

use it to determine the overall impact of your training course

assimilate the data from the reports

pass it on to your team to design future training courses.
We hope now it is clear how quizzes form an important part of your employee training process and help make it effective. And that's precisely why you can't afford to make any mistakes while creating them.
The next section talks about how you can avoid those mistakes.
Mistakes to Avoid While Creating Quizzes
Even if you have a great quiz strategy, sometimes a quiz can go wrong and be ineffective. But, this situation can be avoided if you know what mistakes to watch out for. Here are some of them:
1. Not Integrating Quizzes With Courses
First of all, not adding quizzes to your training courses but assigning them to your employees separately may cause some delay and reduce training's effectiveness.
2. Sticking to One Type of Question
Using only one type of question in your quizzes often fails to address different learning styles and makes the quiz less engaging. To avoid this, there's a majority of multiple-choice questions in most of the quiz tools available online.
3. Not Providing Room for Self-Expression
Offering only objective or subjective type questions prevents quiz takers from expressing their thoughts or sharing their insights.
4. Negative Marking
Training quizzes aren't university-grade exams, so there you must not apply negative marking. Doing so may not be so encouraging to the employees.
5. Not Providing Feedback
Training quizzes are supposed to enhance the effectiveness of your training. Not adding feedback for incorrect answers adds to the ineffectiveness in the sense that employees won't learn from their mistakes.
Now that we've told you Don'ts, it's time to tell you the Dos. Quickly move to the next section to discover some amazing hacks to make employee training more effective.
Top Ways to Make Employee Training More Effective
Of all the ways to improve your employee training, quizzes top the list for the various benefits they provide. Needless to say, using employee training and development quizzes as a part of your training process can increase its effectiveness.
Here are some of the top ways that you can use training quizzes and improve employee training:
1. Create Pre-Employee Training Quizzes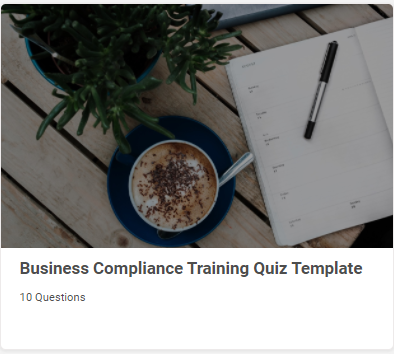 Conducting a skill assessment is the best way to determine what your employees have learned and how well they've retained the information imparted to them during the training.
This is regardless of the type of training you deploy – onboarding, product training, anti-sexual harassment training, or OSHA, and the way you deploy it – remotely or in-house.
But, what's even better is assessing what your employees already know before the training, so you know what to teach them and what areas of training to focus on.
With a pre-training quiz, you will be able to gauge your employees' current knowledge and use the data from those quizzes to set up your training course.
When it comes to employee training, you cannot rely on only the training course. You need a set of questions to check if your employees have gone through the entire training course without skipping.
But, how can you ensure that your employees are really absorbing the information in the training courses?
Simple. Conduct a quiz!
There's probably no better tool for a post-training assessment than a quiz to check how far your employees have made progress after the training.
On the other hand, a post-training assessment lets you identify who has mastered which curriculum and what segments of your training program need improvement.
3. Include Individual Chapter Assessments
Once every chapter from the training course is complete, include a brief assessment to see how much knowledge the employee has retained from individual chapters.
It'll help you measure your employees' knowledge retention in real-time and clarify confusing concepts immediately. The assessments are meant for evaluation and not grading.
4. Upload Videos in Your Quizzes
Even though you have a full-fledged training course to make your employees familiar with all the aspects of your company, you can create video questions in your quiz to show them how it's done and then quiz them!
It's a fun way to insert learning with quizzes. Not only will your employees become engaged with the video, but they'll also have fun.
5. Use a Mix of Question Types
An effective quiz uses all different types of quiz questions. Using a variety of questions will keep your employees engaged and provide for a more comprehensive assessment of their knowledge.
Use question types such as fill in the blanks, true or false, matching, hotspot, etc. You can use each question type to assess skills. For instance, hotspot questions are great for assessing if employees can identify a certain part of any device. A true or false question is great for assessing their factual knowledge.
6. Allow Open Responses
Using quizzes can help you assess your employees' knowledge and let your employees know that you care about their perspectives and insights.
But to establish that, you need to use the right types of questions in your quiz. Use open response questions such as essay-type or record video. These questions will allow the employees to
demonstrate their personal opinions and approaches.
These question types will also help you measure your employee's soft skills by presenting the most logical and analytical approach to solving a complex problem.

7. Display Immediate Feedback
The sole purpose of adding quizzes to your training courses is to enhance the effectiveness of the employee training process.
This means your goal is to train them by imparting useful information about your company and helping them retain that information for a longer time.
Adding feedback is the right way to help learners retain the information for a longer time.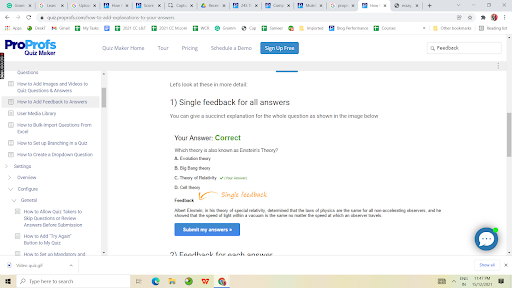 8. Allow Save & Resume
When you integrate quizzes in your course, there will be multiple times when while taking the quiz, the employees might feel they don't know the answer to a particular question.
In such an instance, they would want to go back and take the training course again. You can let them do this by enabling the Save & Resume feature in your quizzes.
The 'Save & Resume' feature allows quiz-takers to save their quiz at any point and then resume the quiz later. So, when you enable this feature, you can allow your employees to go back to the training course at any time, learn again, and then take the quiz, ultimately helping them boost retention.
9. Configure Settings to Prevent Cheating
It's hard to speculate that your employees will try to cheat in the training course, given they've got the option to save & resume the quiz at any point. But, even if that's the case, you must randomize the order of questions, shuffle answer options, and disable tab switching to keep cheating at bay.
If you want employees to take their training seriously, it is important to appreciate them undertaking the training course and completing the quiz. For this, you can issue a certificate to your employees once they've completed the quiz.
At the beginning of the training, mention to your employees that they'll be rewarded after completing the training course and the quiz. Also, mention how long the quiz is and how it is one of the criteria for passing.
Doing so will make employees stay attentive during the entire training course, and they'll feel some pride of achievement once they've completed the quiz.
Customize your certificate with your company's name, logo, and themes. You can also add more value to your certificate by adding passing marks, merit, and distinction.
Take cues from this completion certificate customized using ProProfs Quiz Maker: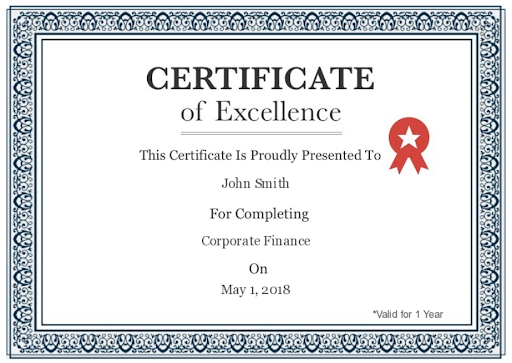 11. Add the Try Again Button
Allow learners to retake quizzes if they are not satisfied with their performance or fail to acquire the passing percentage. Learners will see the Try Again button when they complete the quiz and view the reports.

So those were all the hacks we've got for you. But, you know what's even better than learning the hack?
Reading the stories of those who've applied those hacks and benefitted from them. Find such stories in our next section and draw some inspiration for your next employee training.
Employee Training Case Studies
As we are coming to a close, we thought it'd be awesome to tell you about some companies using an online quiz maker like ProProfs to fuel employee training.
One of the tech giants, Acer, adopted an online quiz maker to train and certify their employees on new product releases. With the quiz maker, Acer was able to create a training system that includes online training, assessment, and certification for their new product releases.
Not only that, but the system also allowed the trainers to collaborate on training materials and the employees to request training when needed.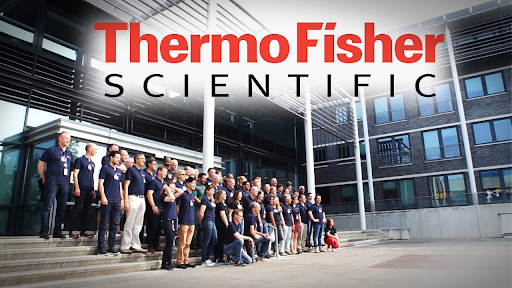 When managers at Thermo Fisher found it difficult to provide training to their global sales force, they turned to the ProProfs online quiz maker. With the software, they could create and share hundreds of online exams that were automatically graded. It helped them train and assess several 100 global employees.
What helped them improve their training was the quiz statistics generated by the software, which they used to gain insight into questions that were causing the most problems.
San Diego Fire-Rescue Department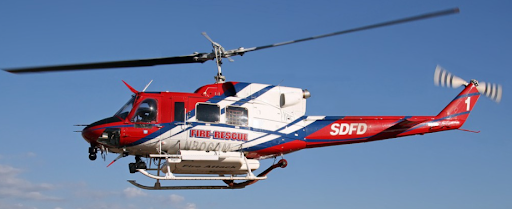 According to Brian Jensen, the Fire Dispatch Supervisor/Training Coordinator at San Diego Fire-Rescue Department, "the SDFD, in its quest for a comprehensive training platform that allowed it to digitize its training for its newly hired emergency dispatchers, discovered an online quiz maker."
They used ProProfs to create a self-study course with all their digital material and embedded quizzes. It allowed them to create a training platform that was expandable for other division members for initial entry training.
In Brian's word's "the tool made it very quick to give feedback to our trainees."
Now you know where to draw inspiration from!
These stories of trainers and managers using online quiz makers are a nod to the effectiveness of quizzes in employee training.
Raise Training Effectiveness With Quizzes
Creating well-crafted employee training quizzes can be highly effective in improving the employee training process when deployed correctly.
Follow the hacks we mentioned in this blog, and you'll notice the effectiveness of your employee training program rise a notch higher.
All you need to deploy these hacks is a good training maker software that lets you gamify the learner experience and create microlearning modules. If it comes with an assessment quiz maker, then that's a bonus.
Do you want free Quiz Software?
We have the #1 Online Quiz Maker Software for complete learning & assessment