A quiz or assessment is a powerful tool to test the understanding of a particular subject or topic and boost engagement, whether in an educational or business setting.
They can be used for various purposes, such as to evaluate employee training, assess student learning, or measure customer satisfaction.
However powerful, if the quizzes aren't impactful or helpful, they won't reap the benefits.
So, while iSpring is a popular tool for creating quizzes and assessments, users may want to consider iSpring alternatives for several reasons.
Let's discuss what makes people look for iSpring suite alternatives and the top iSpring alternatives you can consider.
Why Do You Need iSpring Alternatives?
Here are a few reasons why many look out for iSpring alternatives, and you should too:
Cost-Effective Solutions
If you're looking for a more budget-friendly option, plenty of alternatives offer similar functionality at a lower cost.
Additional Features
Some iSpring alternatives offer additional features such as built-in analytics or the ability to create interactive content that helps enhance the user experience.
Better Customer Support
Some alternatives may have better customer support or a more active user community, which can be invaluable when you need assistance or have questions.
---
Bonus Read: How to Conduct a Customer Service Assessment
---
More Integration Options
Unlike iSpring, some of its alternatives offer more third-party integration options that help manage and export cross-platform data and facilitate smooth functioning.
Ultimately, the decision to look for an iSpring alternative should be based on a thorough analysis of your needs and a consideration of the pros and cons. So, let's move on to the heart of the discussion.
Consider These Top 10 iSpring Alternatives for Your Business
Here are our top 10 recommendations for iSpring alternatives along with their features, pricing, and the reasons we picked them.
1. ProProfs Quiz Maker
One of the top iSpring alternatives, ProProfs Quiz Maker is used widely by businesses and institutions alike to create assessments, tests, and exams.
This iSpring software alternative tool is a preferred choice of teachers and instructors as it is easy to use and offers various templates to get started immediately. It has a rich library, so you can find the required quizzes and collect responses.
Pricing: Starts at $0/month
Features:
Has a rich library of 100+ pre-built assessments on various topics.
Comes with an enormous selection of 1 million+ ready-to-use questions.
Leverage 10+ question types to create engaging and interesting assessments like dichotomous, MCQs, video questions, etc.
Leverage automated grading by pre-assigning scores to correct answer options.
Help you offer feedback for correct and incorrect answers.
Allows you to create branded and customized quizzes and assessments.
Has pre-designed completion certificates that are automatically given to respondents.
Why We Picked It:
Easy to use

Has an intuitive UI

Offers automatic reporting

Has multilingual support
---
Also Read: 20 Best Online Tools for Teachers in 2023
---
2. Topgrade
Topgrade
is a powerful and user-friendly iSpring suite alternative that allows users to create and manage quizzes and assessments for various
educational
and professional settings.
This iSpring quiz alternative has the features you need to design effective and engaging assessments. Its wide range of question types and customization options makes it simple for users to create and administer quizzes tailored to their specific needs.
Price: Available on request
Features:
Has real-time reporting and analytics that makes it easy to track performance and make data-driven decisions.

Offers multiple question types to create engaging quizzes.

Helps you add media

, such as images from the camera and gallery.

Offers multiplayer or single-player functionality and score feedback.

Text-to-speech options in several different languages. Perfect for learning a second language.

Track previous quiz scores straight from the dashboard.
Why We Picked It:
Unlimited questions and quizzes

Easy to get started
3. FlexiQuiz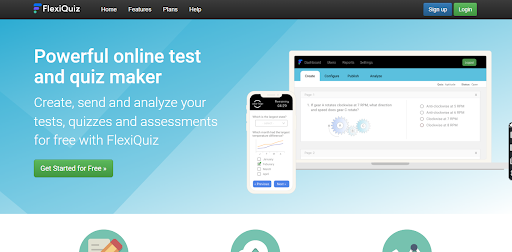 Similar to iSpring quiz tool,
FlexiQuiz
is a versatile and user-friendly online quiz maker that allows users to create, administer, and grade quizzes, exams, and assessments in various formats.
This iSpring suite alternative makes it simple for anyone to design and deliver quizzes tailored to their specific needs.
With real-time reporting and data analytics, users can easily track performance and make data-driven decisions to improve their assessments and training programs.
---
Also Read: Employee Training Assessment Guide: Train Smarter to Boost ROI
---
Pricing: Starts at $17/month
Features:
Offers 9 question types such as multiple-choice, picture choice, free format, fill-in-the-blanks, etc.

Add media such as images and videos to quizzes.

Has features like time limit, page limit, question randomization, and more.

Offers customization to personalize quizzes such as color, font, and more.

Allows you to share quizzes on social media, websites, through URLs, etc.

Has automatic grading.

Easy tracking from reports via the dashboard.

Has pre-built completion certificates.
Why We Picked It:
It is very user-friendly

Track and save data automatically

Can add videos, audio, and images to quizzes
---
Also read: How to Create Interactive Video Quizzes
---
4. Savsoft Quiz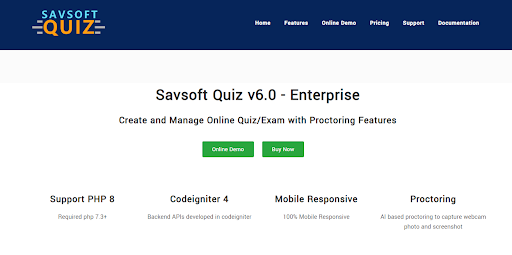 Among other alternatives to iSpring,
Savsoft
Quiz is a comprehensive and user-friendly online quiz tool that is highly mobile-responsive and offers features like proctoring, dividing users in paid groups, offline response storing, and more. Savsoft Quiz also allows users to import and export questions from various file formats.
Price: Starts at $439
Features:
Optimizes and handles thousands of concurrent users.

No server-side failure.

Manage unlimited questions from the question bank in your quizzes.

Comes with features like quiz start and end date-time, duration, maximum attempts, proctoring, etc.

Offers templates with features like marking questions to review later, switching any question, setting a timer, and more.

APIs based architecture.
Why We Picked It:
Open source software

Has AI-based proctoring
5. SurveyMonkey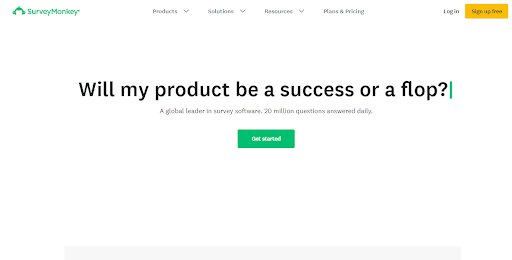 SurveyMonkey
is one of the top iSpring alternatives and is widely used to create, distribute, and analyze surveys easily. With its user-friendly interface and wide range of features, SurveyMonkey makes it simple for anyone to design and conduct surveys for a variety of research and business purposes.
Price: Starts from $31/month
Features:
Supports elements like a progress bar, scoring mechanism, question randomization, etc.

Has sentiment analysis and word cloud generator tools.

Simple visual editor

Offers pre-built templates

Comes with branching logic, skip logic, different answer types, etc.

Has an AI-based Genius engine that predicts the completion rate.

Integrates with tools like HubSpot, Salesforce, etc.
Why We Picked It:
Automatic graphs, charts, and feedback summary

Easy and quick setup

Supports anonymous feedback
6. Typeform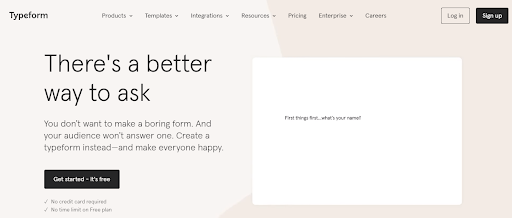 Typeform is one of the most engaging quiz builders and iSpring alternatives. It is a versatile data collection tool for professional marketers and an online quiz generator that makes asking questions easy & answering refreshing.
Using this iSpring software alternative, you can create intuitive quizzes. A responsive interface for creating attractive quizzes makes it a popular name in online quizzes and surveys.
Pricing: Starts at $25/month
Features:
Comes with templates, and a photo and video library

Displays one question at a time

Simple setup

CTA buttons are easily visible

Helps personalize user flows and filter out irrelevant questions
Why We Picked It:
Easy to deploy surveys

Add unlimited answer options and questions

Conditional logic

Personalized user flows
---
Also Read: 20 Best Online Test Maker Software of 2023
---
7. Pointerpro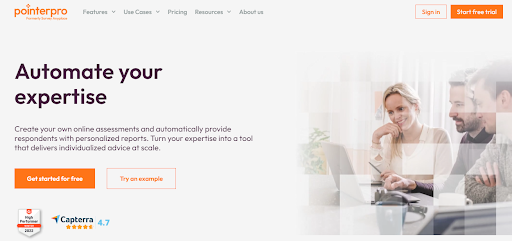 Pointerpro, formerly Survey Anyplace, is a great tool for building interactive online quizzes. Even though it is one of the lesser-known tools out there, it is more advanced, similar to Typeform, and focuses on giving its customers the best user experience.
This iSpring quiz alternative aims to be the best option for customer engagement, along with fun interactive elements and personalization features. It also lets respondents download a personalized PDF at the end of the survey based on their answers to the questions.
Pricing: Starts at $39/month
Features:
Supports widgets

Creates code-free assessments

Flexible and editable PDF reports

Surveys can be personalized

Helps embed questionnaires on websites

Offer one question at a time

Outcomes are easily understandable
Why We Picked It:
Responsive customer support

Supports a wide range of integrations
8. Alchemer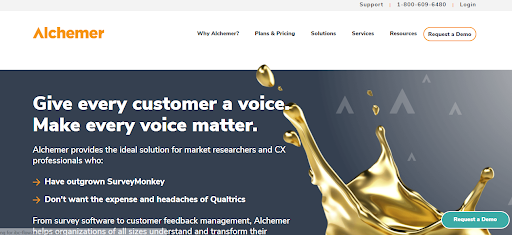 Alchemer, formerly SurveyGizmo, is another one of the top iSpring alternatives. It is a quiz and survey tool enriched with amazing features and a user-friendly interface. It offers two versions- the individual version focuses on the ease-of-use while the enterprise version focuses on customer research.
Pricing: Available on request
Features:
Supports customized branding

Comes with skip logic and branching logic

Supports mobile in-app surveys

Offers multiple question types to collect diverse feedback

Reporting and analysis functionality to drive actionable insights

Has pre-designed templates to help you collect accurate feedback

Offers multilingual and multimedia surveys

Integrates with BI tools and Webhooks, Salesforce, and more.
Why We Picked It:
Ease of use

Comes with responsive surveys

Downloadable reports in various formats
9. Wufoo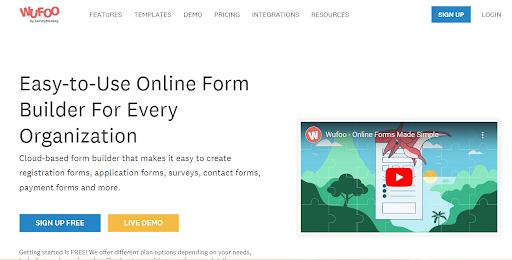 Wufoo, a cloud-based form builder from SurveyMonkey, is one of the popular iSpring alternatives to create forms, quizzes, and surveys.
This tool is trusted by Amazon and Disney and has an award-winning interface with easy customization, 400+ templates, and reporting features. This free alternative to iSpring limits the number of responses, but there are price point options, so it's a good option for fast-growing businesses.
Pricing: Starts at $14.08/month/user
Features:
Creates online forms from scratch

Comes with 400+ customizable templates

Enables you to accept online payments through the forms

You can attach files to the forms

Sends notifications for new responses

Integrates with third-party tools using Zapier

Facilitates data transferring through a CRM

Comes with branching logic
Why We Picked It:
256-Bit SSL Encryption

Reliable customer support

Smart CAPTCHA that helps avoid spam
10. AskNicely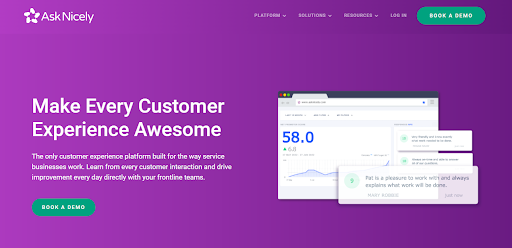 AskNicely
is a customer feedback form and survey creator that is built around the Net Promoter Score (NPS). It is an advanced marketing tool and one of the best iSpring alternatives suitable for medium to large companies that really value customer engagement.
It lets you create a customer-centric culture of continuous feedback in your business. You can automatically collect feedback from every customer at any point in the customer journey on any channel (email, web, SMS) using a flexible and short survey format.
Pricing: Available on request.
Features:
Supports multiple types of surveys like NPS, CSAT, etc

Comes with in-app, on-site, and SMS surveys

Can create short and conversational surveys

Offers features like

skip logic

, branching logic, and survey previews

Has multiple question types, customizable themes, advanced text analytics, and more

Allows you to tag team members using internal notes

Sends notifications for all survey responses
Why We Picked It:
Conversational survey cards assist in asking follow-up questions

Built-in survey templates
The Right Tool Is the Way to Accurate Assessment
This sums up the list of the best iSpring alternatives or iSpring competitors that you can explore to choose the one that matches your requirements.
Each tool brings something different to the table. So, if you want to explore more than one option, go for a free trial before committing fully and only buy a subscription for the one that works for you.
We're here to help if you need help. Call us at (855) 776-7763 (Toll-Free), and our customer success team will help you assess your requirements and make a decision.
Do you want free Quiz Software?
We have the #1 Online Quiz Maker Software for complete learning & assessment