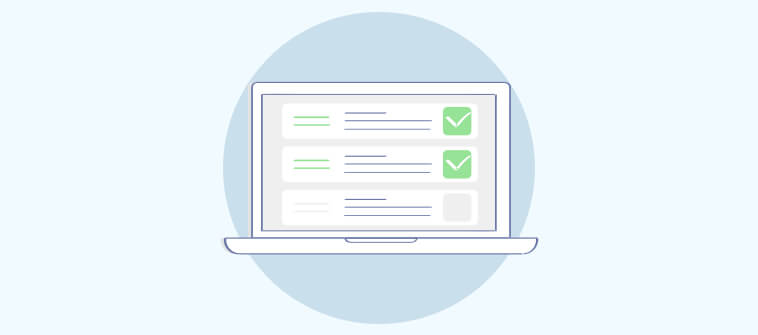 In a technology-driven world where everything is catching up with the pace of digitization, the way people look at learning is also changing. People now seek to save time and effort by opting for smart solutions even when it comes to assessing training performances. With this trend, an online quiz maker is a tool that has really grabbed attention.
Using an online quiz making tool is one of the most efficient ways to create and post a quiz. While there are numerous quiz maker tools available online, ProProfs Quiz Maker is one of the most trusted tools to create a quiz online with millions of users, 100,000 quizzes available in 72 languages, and 24/7 customer support.
Now that you have understood the most prominent details about ProProfs Quiz Maker, let's move on to the quiz creation process.
Watch: How to Create a Quiz
Prerequisites for Creating a Quiz
Create an account on ProProfs Quiz Maker and update the required details.
Have a clear picture of your quiz topic and target audience.
Take notes on what you want to achieve with the quiz or what are your end goals.
Which Type of Quiz Do You Want to Create?
Before jumping to telling you the steps to create a standard quiz, let me ask you- what exactly is the type of quiz that you're looking to create?
To help you answer this question, I'd suggest you figure out the purpose of your quiz.
You may want to-
Evaluate the performance of your learners
Check the level of knowledge retention after a training course
Grow engagement on your page
Increase website traffic
Acquire leads
Based on what your requirement is, you can either create a scored quiz or make your own personality quiz. A scored quiz will help you assess performance and knowledge retention, whereas personality quizzes will help you attract the audience.
In this article, you'll learn the steps to create both a scored quiz and a personality quiz using the ProProfs Quiz Maker.
Steps to Create a Quiz Using Templates:
1. Click on create a quiz
2. Explore the templates
3. Preview the templates
4. Edit the templates you want to use
Step 1: Click on 'Create a Quiz'
Click on 'Create a Quiz.' Navigate to the Features templates section and explore quiz templates.
Step 2: Explore the Templates
When you begin creating a quiz in ProProfs, you'll first encounter several templates that you can choose to edit and create your quiz.
You can create your own personality quiz, create your own trivia quiz, or build a scored quiz with the help of these templates.
You don't need a separate personality quiz generator.
All you have to do is choose from scored or personality quiz templates depending upon the type of quiz you want to create.
Step 3: Preview the Templates
Preview the templates under different categories. Preview will give you a fair idea of how the quiz will look.
Step 4: Edit the Chosen Template
If you like the template you viewed, click on 'Use this Template'.
You'll be taken to the template editor, where you can edit the title, description, and logo of your quiz.
But I want to make my own quiz? How do I do that?
For that, let's learn step by step how to make an online quiz from scratch.
---
Read More:- How to Make a Fun Quiz That Your Audience Will Love
---
Steps to Create a Quiz from Scratch:
1. Click on 'Create a Quiz'
2. Click on 'Create quiz from scratch'
3. Add title & description
4. Add questions
5. Automate grading
6. Add instant feedback
7. Customize your quiz
8. Set results
9. Configure Settings
Step 1: Click on Create a Quiz
Go to the ProProfs quiz dashboard and click on 'Create a Quiz'. You'll be navigated to the templates section.
Step 2: Click on 'Create from scratch'
When you click on the 'Create a Quiz' button, you'll be navigated to the quiz editor window, where you'll take the next steps to make your own quiz.
Step 3: Add Title & Description
In the quiz editor, click on 'Untitled Quiz' to add a title and description to your quiz. You can also upload an image to the quiz description or add one from our image library or Google Images.
Save your changes.
Step 4: Add Questions
In the quiz editor window, appearing on the left, select the question type. ProProfs offers more than ten different question types to choose from, including multiple-choice, fill-in-the-blank, checkboxes, true-false, and more.
You can create new questions or import questions from our question library of 1,00,000+ ready-to-use questions on thousands of topics.
To import questions from the library, type your quiz topic in the search box appearing above the question-types window.
You'll be taken to the question library from where you can choose the questions you want to import.
Select the questions you like and click on 'Add questions.'
The questions will be automatically added to your quiz, and you'll be redirected to the previous window.
Step 5: Automate Grading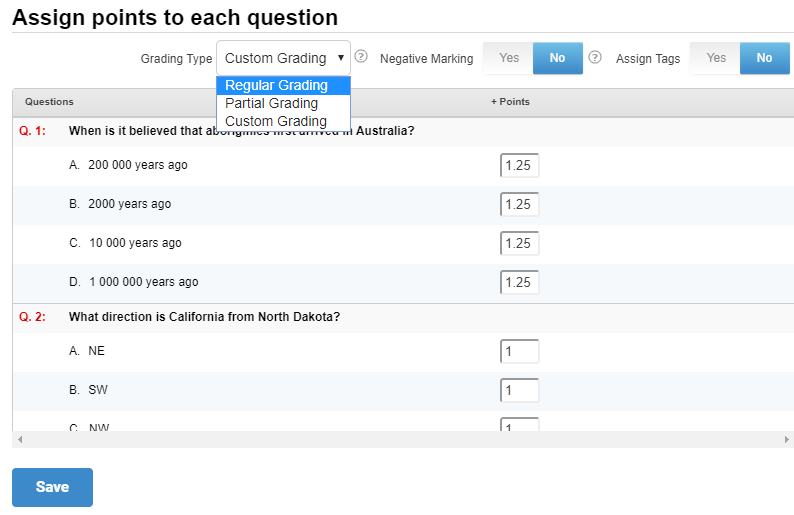 Assign scores to correct answers while adding the quiz questions to save yourself from grading each question manually.
To automate grading, go to Settings. Then, go to General Settings.
Under Score & Time, you can assign points to your questions and also limit the time to complete the quiz.
From the drop-down, select 'Assign points to each question' and then click on 'Manage Point Assignment.' The following window will appear:
As shown in the image above, assign points to each question after marking the correct answer and click on Save.
Step 6: Add Instant Feedback
To add feedback, go back to the quiz editor. Place the cursor on the question that you want to add a feedback to.
From the bottom bar that appears, click on 'Edit Question.'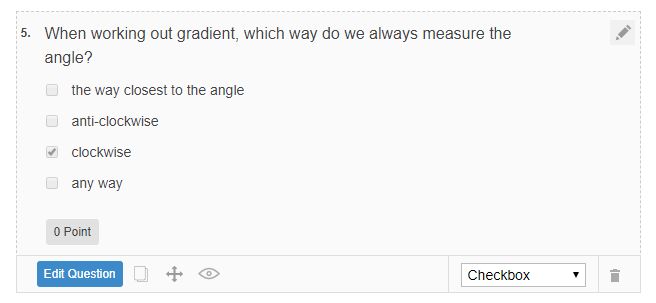 In the window that appears next, click on 'Advanced' and then choose the type of feedback you want to add.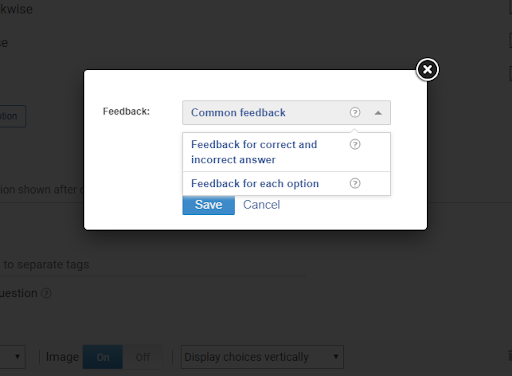 After selecting, add your feedback in the feedback box and click 'Save.'
Step 7: Customize Your Quiz
To make your quiz more appealing and interesting, you can add multimedia to your questions or answers.
You can even play around with the themes and brand your quiz by adding your own logo to the quiz. Add your own colors, background images, and more to give your quiz a unique personality.
Additionally, you can customize and issue a quiz completion certificate to your learners.

Step 8: Select the Result Type

Selecting the result type is as important as automating scores for your quiz. You can either select a simple result type like Pass or Fail, letter grading, good or excellent, or create customized results.
Here, you can customize the certificate with your logo, signature, and the fields of your choice.
Once your quiz takers have completed the quiz, the completion certificates will be automatically assigned to them. Certificates will boost their confidence and encourage them to perform better in the next quiz.
---
Read More:- Top Typeform Alternatives that You Need to Know About!
---
Step 9: Configure Settings
Before sharing your quiz, configure important quiz settings like randomizing the order of questions, limiting the time for answering questions, timing your quiz.
It will help you prevent cheating on your quiz.
You can even configure security settings to prevent your quiz from unauthorized access.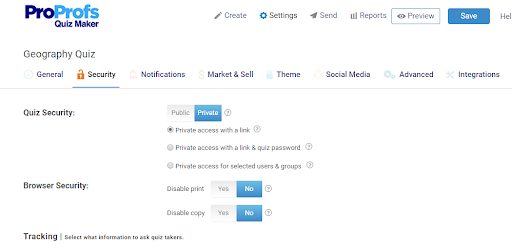 You can also set up the information you want to require before someone takes your quiz under 'tracking.'
So, in just nine steps, you can easily create a quiz.
Once you're done creating your quiz, you can very easily share it too.
You can either email your quiz, copy the quiz link and paste it and share it on your social media, or simply embed it on your website or blog.
ProProfs is definitely the most comprehensive quiz making tool with its ability to create quizzes within a few minutes and the option to explore innumerable quizzes from the online quiz library.
Watch: How to Create a Quiz Online (with ProProfs)
Not just one or two, here's a list of all the things that make ProProfs the best online quiz tool:
✔ Easy Creation
To know how to create a quiz on ProProfs Quiz Maker, you don't need any downloads or prior experience. Use our Quiz Library and find 15+ question types loaded with 100,000+ ready-made quiz questions, audio & videos, add-on images, explanations, etc. By using the user-friendly quiz templates on ProProfs, you can create quizzes, even when you don't have the questions ready. You can also create your own quizzes that carry your company brands, such as custom colors and logos.
✔ Design
You can design your own quiz certificates to reward your quiz takers and choose to beautify your quiz or add an aesthetic and eye-catching touch to its appearance using our artistic designs and customizations before embedding them on your website or blogs.
✔ Smart Configurations
Right from randomizing questions, safeguarding account security, sending alerts and API to your question bank security, you can choose to keep your quizzes either public or private. Further, you can set time limits for each question and make use of API integrations like SalesForce, LMS, HR systems, etc.
✔ Distribution
With ProProfs Quiz Maker, you can create your quiz and distribute it anytime, anywhere on all devices. You can offer your quizzes on a range of screens such as desktops, mobiles, tablets & more. Allot them to individuals or groups with password protection, share publicly or with specific people. You can either embed it on your website or blog or simply share it on social media. You can even set a price for your quiz, sell it and make money. ProProfs will handle the payment process, delivery, and the entire customer support.
✔ Reports
When you create a quiz with ProProfs Quiz Maker, you receive auto-generated reports & analysis at the end of each quiz. This tool offers insightful reports that help you track individual or group performances of quiz takers for further analysis. Further, you can even export these reports, stats, and analysis of Excel/CSV.
Watch: How to Use Online Quiz Maker for Teachers

Make the Most out of Your Quiz Maker
Not just quizzes, you can use ProProfs Quiz Maker to build:
Want to learn how to make a quiz on Facebook? Read these amazing tips. Need I say more? ProProfs Quiz Maker is an ocean of possibilities that you can dive-in and find the most treasured learning solutions.
All you need to do is explore: Take a Tour
Do you want a free Quiz Software?
We have the #1 Online Quiz Maker Software for complete learning and assessment starting at $0