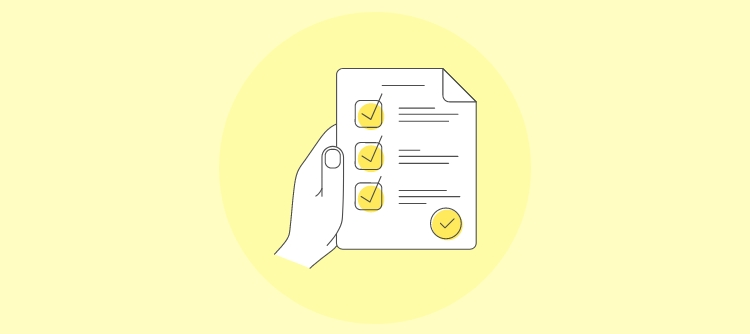 Choosing the best online teaching tool is one of the many prerequisites in today's time.
Over 1.2 billion children in 186 countries have transitioned towards online learning since 2020, which makes choosing the best virtual classroom essential for every company, school, and organization.
Which leaves us all with one unanswered question.
Which solution is going to help me teach the learners effectively and seamlessly?
Fortunately, there are ample alternatives in the market, and based on "what is easiest to use?" or "which virtual classroom is going to be the most fun to teach in?" you can easily make the right choice if you know all the details.
Not to forget, the success of this model will depend on what technology you choose and how you deploy it, so making a sound decision is equally important.
We have compiled a list of 10 of the best online teaching tools for you to choose from. Every one of these tools is highly capable of delivering on its intended purpose and will surely make your job much easier.
But before we jump into the list, let's know more about what online educational software is.
What is an Online Teaching Software?
An online teaching software lets you create, manage and deliver elearning courses to the learners via the online platform.
These tools are also known as LMS (Learning Management Systems) as they help deliver, organize and keep track of everything in one place.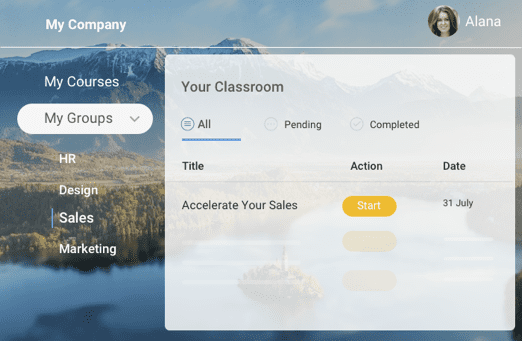 However, an online teaching tool is not just one tool that does everything. Instead, there are a number of tools that come under it that perform various functions.
Familiarizing yourself with the different types will give you a much better idea of what you should opt for. So here are the different types of LMS tools:
1. Online Communication Tools
Effective communication is the key to teaching online, and when it comes to virtual classrooms, online communication tools help bridge that gap by enabling you to communicate with a large number of people through video conferencing, instant messaging, virtual meetings, and many more.
These tools are best for:
Creating an agenda or planning online classes

Teaching online etiquettes

Cancel out the distraction by muting other members

Sharing presentations by helping everyone take down notes
2. Online Whiteboards
Online or digital whiteboards were developed to help emulate the classroom whiteboard and blackboard experience. These tools offer an infinite canvas for the teachers where they can write and draw to explain concepts and theories by visualizing them.
These tools are best for:
Collaboration between teachers and students on the same canvas

Creation of various diagrams for lectures and giving assignments

Sharing documents with students and colleagues for their input and review
3. Work Planning Tools
These tools were developed to maintain a work schedule, create a solid routine and also maximize the use of time.
These tools are best for:
Creating a schedule to use in your online classes or other tasks

Notifying everyone of the dates and times for scheduled tasks

Scheduling appointments with students and parents

Inviting people for online meetings and events

Creating lesson plans and sharing them with administrators and students
4. Document Management Tools
Everything from lesson plans to testing papers, which involve online documents, is managed regularly with the help of a document management tool. It acts as a central repository to store, manage and access all sorts of documents and keeps track of them when working online.
These tools are best for:
Cloud file storage for accessibility from anywhere

Neatly organizing documents by making folders and subfolders

Quickly sharing the documents with students and peers

Collaborating with students and other parties by working on the same piece of document
5. Online Quiz Maker
If you are teaching online, quizzes are by far one of the most efficient ways of checking the performance of your students. This is exactly what online quiz makers are built for.
These tools are best for:
Creating and sharing quizzes and assessments online

Creating answer sheets and tracking scores

Assessing the performance of students online
Now that we have looked at what online teaching systems are in detail let's move ahead and take a look at why you should choose an online teaching tool.
Related Read– To know more about how the online teaching software benefits teachers, take a look at How Does Software For Online Teaching Help Modern-day Teachers?
Why Choose an Online Teaching Tool?
E-learning has grown a lot, as we discussed above, which shouldn't come as a surprise considering how much the internet has expanded over the past few years.
In fact, the elearning industry has seen a growth of 900% since the beginning of this century alone.
With such a huge growth in the demand of elearning prospects, it needs to be balanced out by the organizations by transitioning towards online learning and delivering what the masses require.
But that's not the only reason, because LMSs also save a lot of time and money as the learners don't have to travel to the location from where the knowledge is distributed. It also makes learning and training consistent because these tools act as a centralized delivery point that ensures quality every time.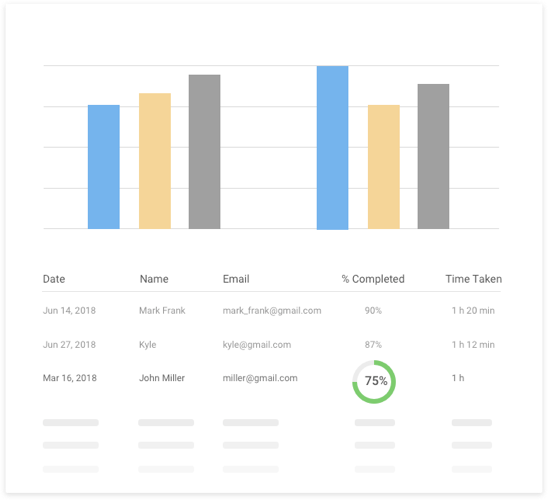 You can also track learners' performance in real-time because the assessment and grading systems are all built-in, which will give you a much better perspective of the learners anytime and anywhere.
There are several online teaching systems that managers and teachers can deploy for remote teaching. They offer useful features, including templates for online courses & quizzes, online classrooms, question banks, instant reports, mobile-friendliness, and localization.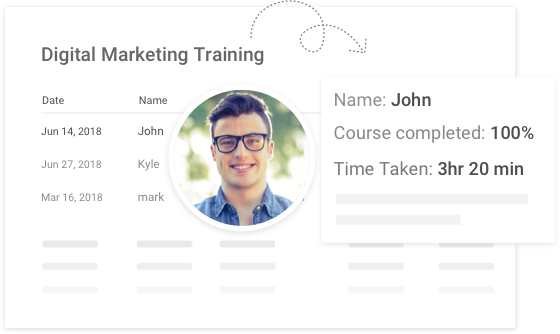 These features in online teaching software ensure that you implement an online learning & training process rapidly to successfully retaliate to the rising elearning demands.
Now to help you choose the right software for online teaching, here is a list of the 10 best online teaching software for 2021. Take a look:
Related Read– If you would like to know more about a virtual classroom, take a look at What is a Virtual Classroom? Types, Uses, Benefits
Feature & Price Comparison Table for the Best Online Teaching Software
Software
Features
Price
ProProfs Quiz Maker

100+ Ready-to-Use Templates

Questions Bank

Automated Grading

White-Label Quizzes

Completion Certificates

Lead Forms

Smart Integrations

Starts at $0.50/quiz taker/month

ProProfs LMS

Course Builder

User Administration

Self-Help

Reports & Analytics

Starts at $2/learner/month

Docebo

Audit Trail

Certifications and Re-training

Course Catalogue




E-Commerce

Labels

Gamification

Notification

White-labeling

Available on request

TutorRoom

Virtual Classroom

Scheduling

Online Courses

Online Payment

Available on request

Edmodo

Built-in assessments

Warm-up questions and polls

Automatically graded assessments

Teacher and student planner

Integrations

Available on request

AdaptiveU

Multiple Tracks

Print Reports

Everyday Learning

Share Links

Custom URL with Subdomain

Progress Tracker

Starts at $25/user/month

Trakstar Learn

Online Course Creation

Online Learning Management

Quizzes and Assessments

Reports and Dashboard

SCORM Compliant

Available on request

Blackboard Collaborate

Learning Management System

Integrations

Personalized Learning Designer

Analytics & Data Visualization

Available on request

eTrainCenter

Test Chat & Session Notes

Content Upload

Live Video Sessions

Breakout Sessions & Recordings

Starts at $151/200 registrations/month

WizIQ

High-Definition Video Conferencing

Integrated Library

API and Plugins

Easy Administration

Available on request
10 Best Online Teaching Software
There are tons of online teaching and training tools out there for targeting different approaches, catering to learners from different backgrounds. We have clubbed together 10 of the most diverse online teaching tools which will help you decide what's best for you.
1. ProProfs Quiz Maker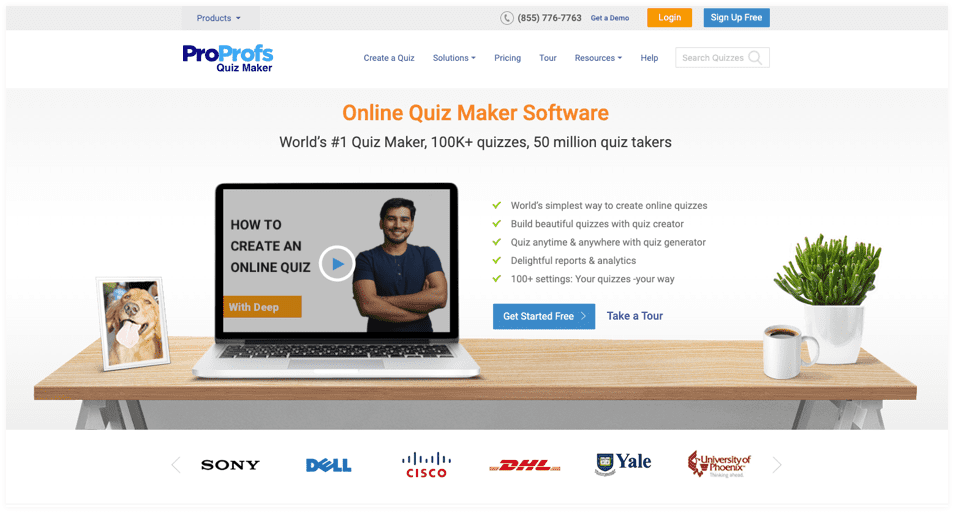 ProProfs Quiz Maker software is one of the top-rated online quiz platforms to make online quizzes. Tagged as the world's simplest online quiz software, it is known for its ease of creating and sharing quizzes.
You may use it as a math quiz creator, an Online Multiple Choice Test Maker, or a personality quiz creator based on your requirements.
It lets you reuse existing content easily and has shared folders that let multiple instructors collaborate & build quizzes simultaneously.
Features:
100+ professionally built

quiz templates

– both scored & personality to

create quizzes

in under five minutes.

A pool of 100,000+ ready-to-use questions on different topics. This feature has earned it the tag of the

best online quiz maker for teachers

.

It offers you the ability to pre-assign grades to correct answers. Saves time & effort!

Design quizzes your way with your logo, background, color themes, etc.

Automatically issue customized certificates with your company logo to quiz takers.

Capture quiz-taker information using

lead generation quizzes

,

including name, mobile number, email, etc., using a customizable lead form.
Pros:
Automatic grading and scoring

Monitor individual performance

Easily digestible and automatic reports

Grade essay questions instantly

Instant feedback

Embed quiz on a website or share privately

Test anytime and anywhere
Cons:
Could use some updated templates

Needs more flexible pricing
Pricing:
You can get started for free

Package starts at $0.50/quiz taker/month
Watch: How to create online quizzes easily with ProProfs Quiz Maker

2. ProProfs LMS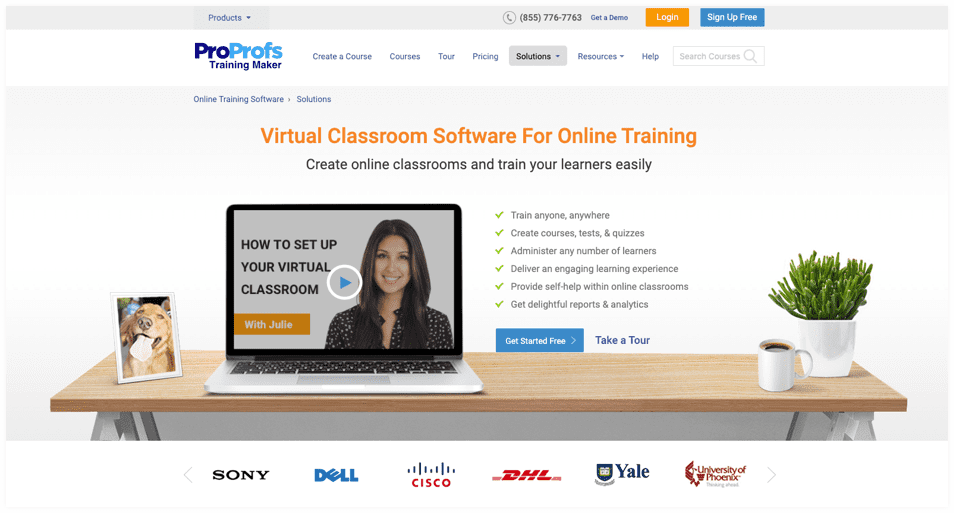 ProProfs virtual classroom software is the easiest cloud-based application for administering online learning. As a multi-purpose LMS with a virtual classroom, it can be used to deploy various types of eLearning programs, making it one of the best software for online teaching.
Add admins, enable self-enrollment of learners, share courses, track progress – all from a single executive dashboard. The classroom comes with built-in testing & assessment software such as Quiz Maker and Survey Maker.
Features:
Easily create a virtual classroom and build

online training courses

,

tests, and

exams

t

o start

training

or teaching. Use pre-existing material or choose from the ProProfs course library.

Administer any number of learners anywhere in the world.

Create multiple classrooms

,

create groups

,

and

assign courses

.

Leverage multilingual and localization support to teach in different linguistic regions using this

online teaching tool.

Provide a self-help or self-service system within the virtual classroom so that learners can easily find themselves the information they want. Integrate a

knowledge base of FAQs

,

manuals, and help centers.

Get access to delightful learner reports and statistics. View details by individual, group, or course. Use these insights to improve participation, engagement, and course quality continually.
Pros:
100+ settings and configurations

Administer individual teams and groups

Multiple virtual classrooms

Built-in quizzes and surveys

AI-powered reporting

Collaboration tools

Wide range of integrations
Cons:
Needs an updated UI

Could use some more test templates
Pricing:
Packages start at $2/learner/month
Watch: How To Set up Your Virtual Classroom in 5 Minutes

3. Docebo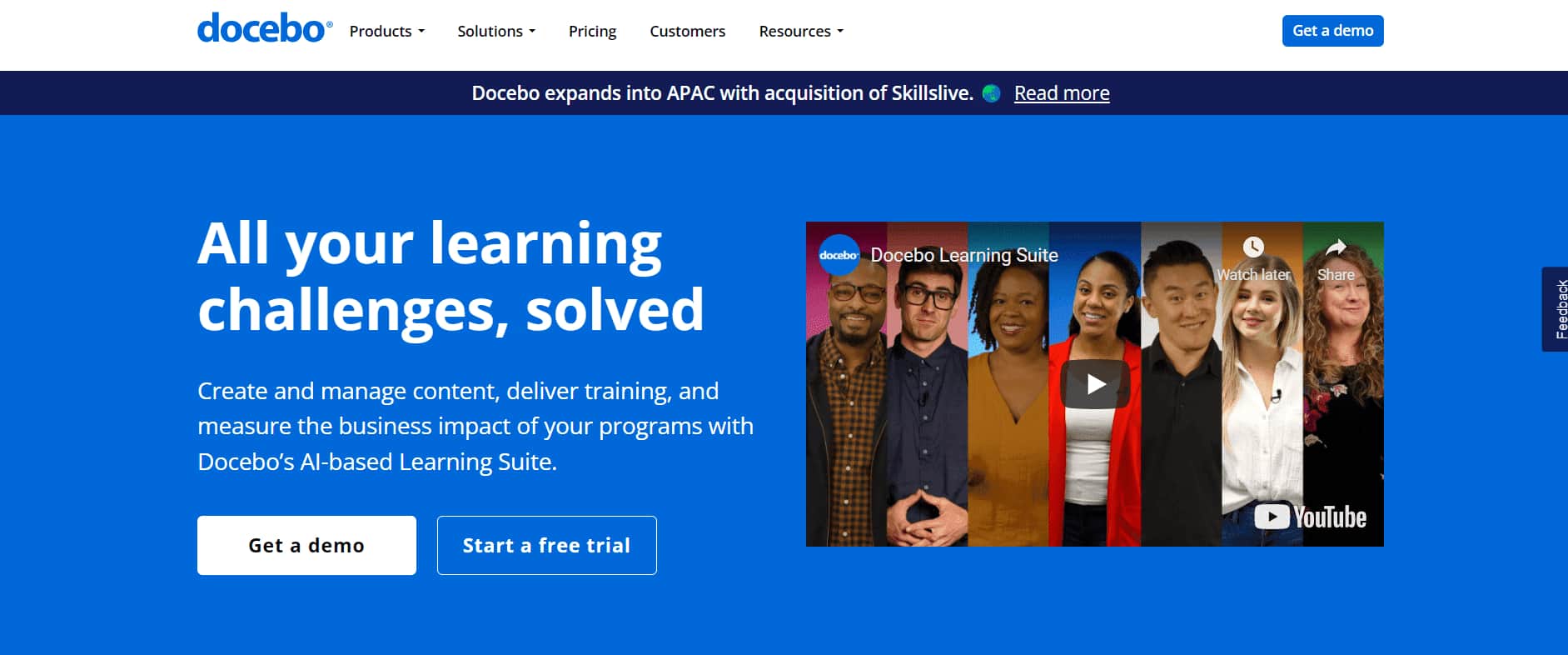 One of the software for online teaching that is known to provide a wide range of services is Docebo. This online teaching tool is widely used to create training programs across different industries such as healthcare, processing, manufacturing, consultancy, IT, and technology.
It enables users to create and manage their own training courses, exchange content, and issue certificates to their best performers. This online teaching platform is easily accessible via mobile devices, which makes it even more desirable for remote learning purposes.
Features:
Monitor your learners' performance and keep track of actions performed inside the LMS over time.

Create a certification program quickly and easily.

Let your users browse and subscribe to courses through your own course catalog.

Create labels for better organization and management of your online courses.

Create badges – or awards – that learners can win for achieving things inside the LMS.

Create automatic rules to notify your users about specific events.

Rebrand your Learning Management System by unlocking white-labeling

.
Pros:
Import PPTs

Clean and intuitive UI

Easily digestible learning analytics

LinkedIn learning inside the platform
Cons:
Expensive for small organizations

No option for live training

Limited collaboration
Pricing:
Available on request
4. TutorRoom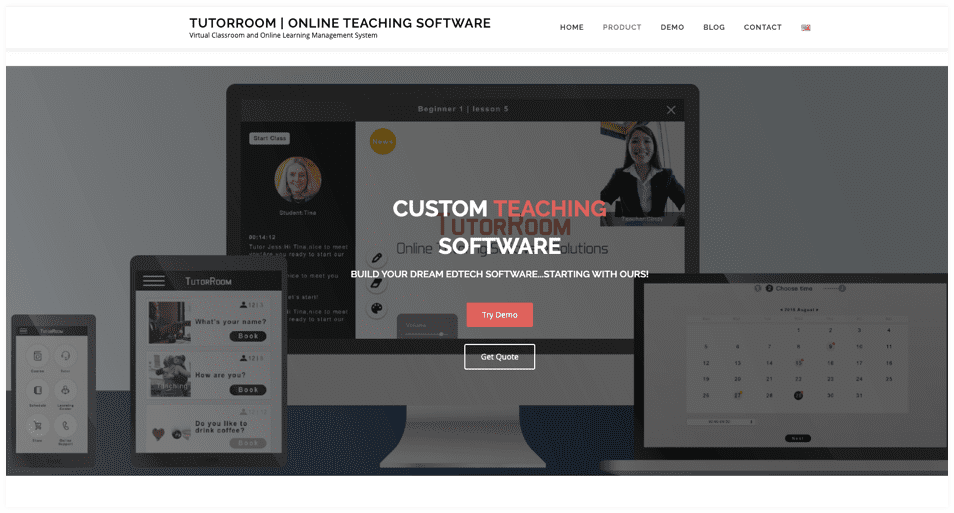 TutorRoom is yet another amazing online education software. It offers a cutting-edge level of online teaching experience with a user-friendly interface.
This interactive software for teachers enables them to upload PDFs and monitor tests through the app. They can even use collaborative tools like video chat and messaging.
This tool is highly compatible with smartphones, making it suitable for online teaching and learning.
Through their program called Custom Edtech Software, teachers can also customize the tutoring software to meet the requirements of students with specific needs. With these features, the tool has managed to become one of the best online teaching software in the market today.
Features:
Enjoy a state-of-the-art virtual classroom with video, messaging, PDF uploads, whiteboard tools, and more.

Easily schedule classes based on a tutor's availability and timezone.

Upload your PDFs and PPTs to create online courses for your students.

Easily manage students' payments using PayPal and credits.
Pros:
Easily connect with relevant tutors

Virtual classroom scheduling

Integrates with PDF, Word and PowerPoint
Cons:
Account creation takes time

Delay in customer support
Pricing:
Available on request
5. Edmodo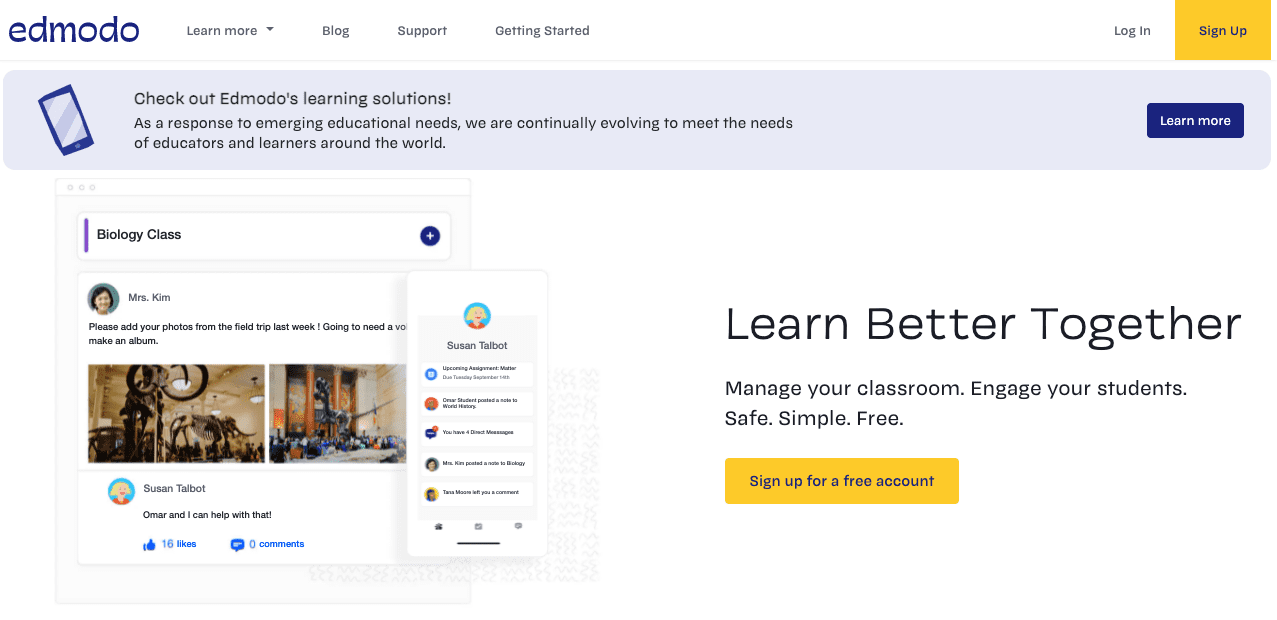 Next on the list of top 10 online teaching tools, we have Edmodo, which is a cloud-based LMS. It merges classroom content, safe communication, and assessment with social media savvy.
Teachers can create an account, classes, and assessments within minutes and easily invite students and parents by either sending the class code or through an email or handout.
Students and parents can stay up to speed with the latest class assignments and also get quick answers to their questions via student planners and discussion threads.
Once the students join, they can see and manage all the content along with interacting with the teachers and other students to participate in activities.
Features:
Post warm-up questions or take quick polls to get input from students

Built-in assessments created by Edmodo teachers can be used to save time.

Automatically graded assessments, which can be collected and returned to students virtually.

Use a teacher and student planner to easily manage assignments and deadlines.

CK-12 and Wisewire integrations to monitor student progress and personalize learning.
Pros:
Facebook style friendly interface

Easily accessed tutorials

Detailed help section

Robust community of users
Cons:
Needs to give more control over student discussions

No separate chat window to interact with students directly
Pricing:
You can get started for free

Pricing available on request
6. AdaptiveU
Another software for teaching that is designed to help a large number of teachers and students across the globe, AdaptiveU enables tutors to find and store massive amounts of data that is continuously used by the students.
This online teaching tool connects the tutors and students via interactive video. Tutors can also inspect and monitor the progress of students and assign them tests according to their performance.
Features:
Create multiple tracks and share content exclusively with specific groups.

Generate downloadable learning reports in print-friendly formats.

Pin links to your queue for personal learning

Get your own, customizable subdomain URL when you create your online university.

Track your learners' progress and compare each learners' progress with another.
Pros:
Easily watch and rate content

Simple categorization

Track progress and goals

Add your own content
Cons:
Does not display minutes left

No visualized graph tracking

Needs more content filters
Pricing:
You can get started for free

Packages start at $25/month
7. Trakstar Learn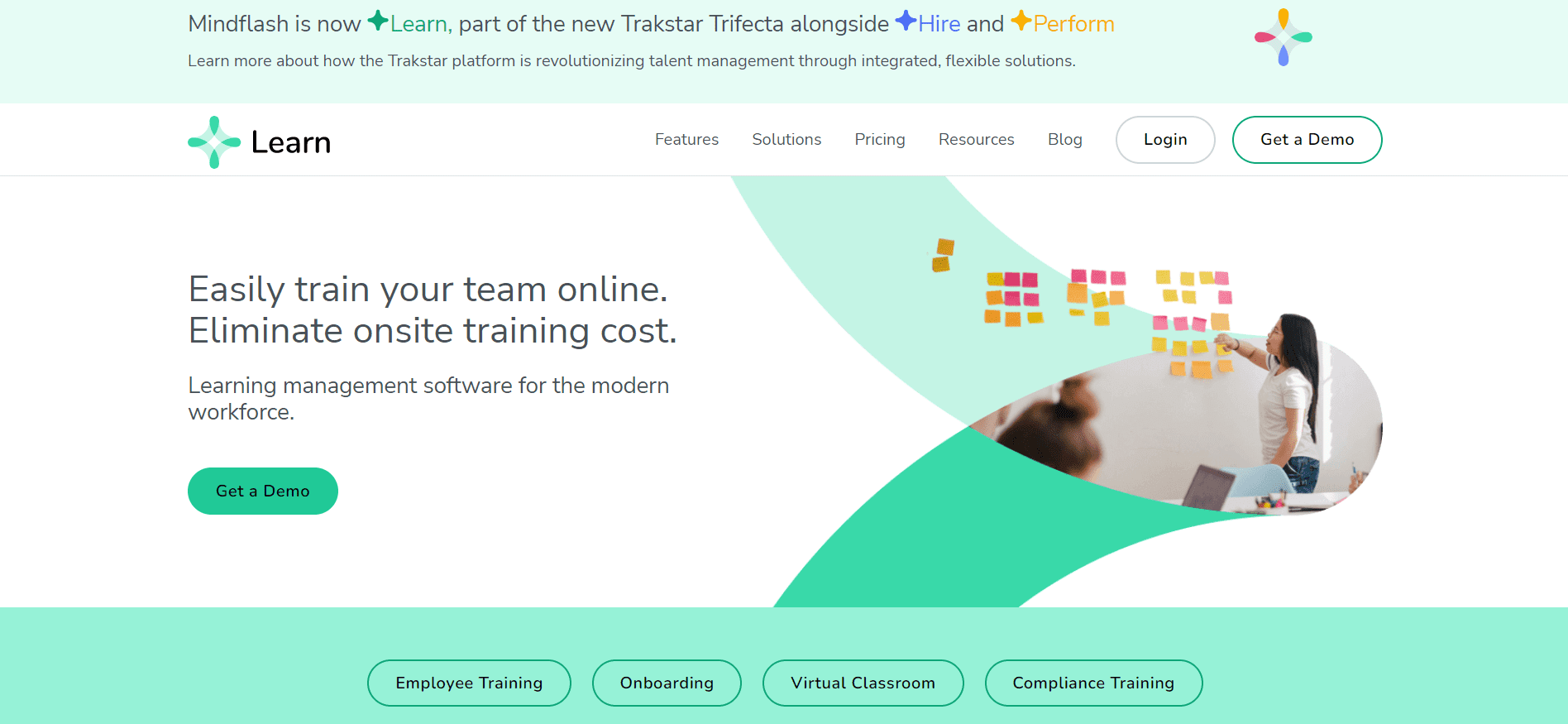 Trakstar Learn (formerly Mindflash) is a little different from other online software for teaching. It is mainly concerned with contractors and resellers. And so, it enables instructors to upload video files, PowerPoint, PDFs, MSWord, and other forms of documents.
Trakstar Learn is designed to accommodate a wide range of training programs. It lets the instructors monitor their students' progress in real-time with automated scoring.
Features:
Create and upload engaging & interactive courses to share across your organization.

Create post-learning quizzes and assessments to help learners remember better and assess learning outcomes

Get prebuilt quiz and survey options, such as Multiple Choice, Open-Ended Questions, True or False, Sequencing, and Picture Labeling.

Get reports on how many learners have passed, failed, in progress or haven't started.

Streamline the learning experience with Trakstar Learn's SCORM

compliant LMS

.
Pros:
Create groups for learners

Import training packs

Supports multiple formats

Built-in tutorials

Converts all data into presentations
Cons:
Adding voiceover in inconvenient

Cannot handle animations in PowerPoint
Pricing:
Available on request
8. Blackboard Collaborate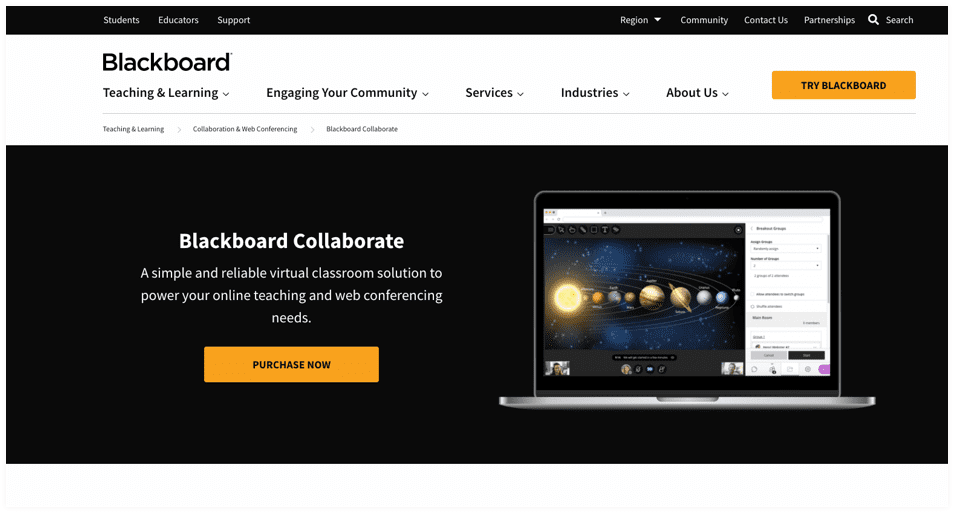 If your plan is to go for simple and reliable online teaching software, then Blackboard Collaborate is the best software for teachers out there. It's the apt software to meet all your requirements related to online teaching and video conferencing.
Thanks to its robust mechanism, it lets you connect with either one learner or the entire class, whichever you prefer.
Blackboard Collaborate is characterized by its ability to reach out to learners anytime, anywhere. This makes it one of the most popular online teaching software.
Features:
Enjoy a state-of-the-art learning management system and online classroom platform for ease of learning & development administration.

Provide unique learning experiences based on how learners are progressing

Make data-driven L&D decisions. Track and analyze classroom learning with ease.

Easily integrate with various productivity tools like Google, OneDrive, Dropbox, and more.

Fast & convenient chatting with all learners and real-time annotations for collaborative learning.
Pros:
Breakout rooms

Polls and chat

Browser or file sharing

Live captions
Cons:
No digital background support

Needs live transcription support
Pricing:
Available on request.
9. eTrainCenter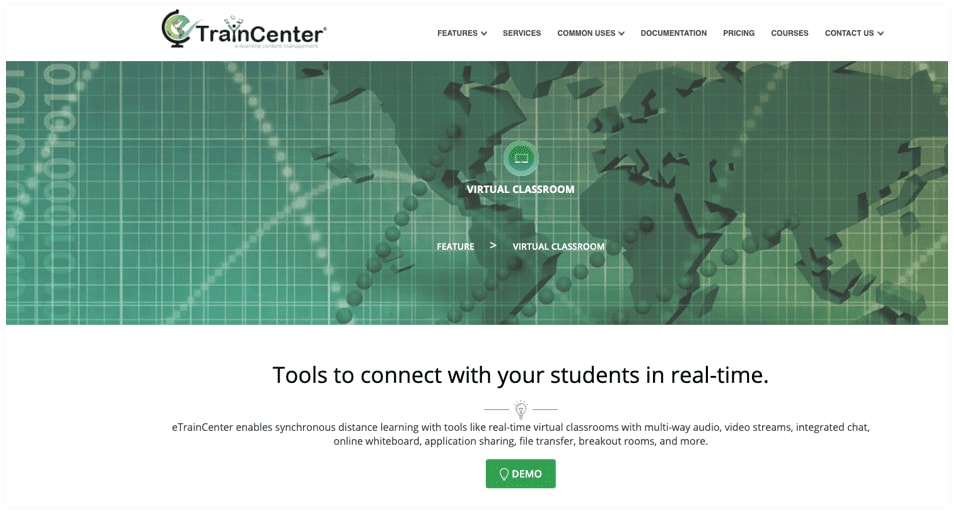 eTrainCenter literally is the online education software that provides all that you need to connect with your learners in real-time. It lets you engage in synchronized online teaching with audiovisual, online whiteboards, application sharing, breakout rooms, and more.
The built-in instant messaging lets your learners communicate with each other easily. You can even record live classes for quality control or for the purpose of archiving using this online teaching tool.
Features:
Upload and share documents, web pages, and PowerPoint slides with remote learners.

Video conferencing tools to organize live group discussions and team meetings

Instant messaging or text chat with audio for learner communication.

Breakout rooms to split a class into smaller groups for learner collaboration and individual learning.

Record live sessions and meetings for quality control or archiving purposes.
Pros:
Create and design study programs

Admin support reports

New users upload automatically
Cons:
No custom reporting system

Description and documentations need updation
Pricing:
You can get started for free

Packages start with 200 registrations at $151/month
10. WizIQ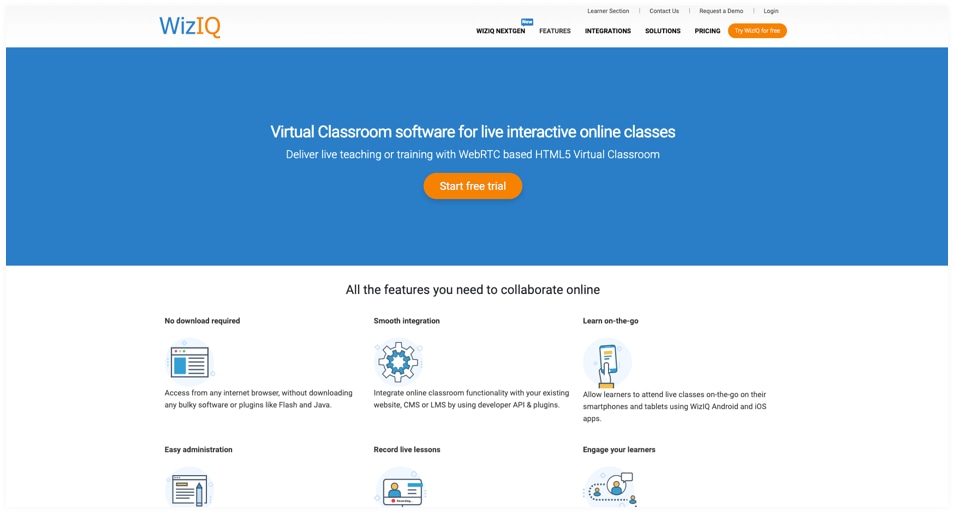 Last on our list is one of the world's largest, cloud-based virtual classroom software platforms.
WizIQ has won the trust of more than 400,000 educators across the world to deliver different learning experiences worldwide. Seamlessly deliver live lessons by utilizing HTML5 Virtual Classroom based on WebRTC. This tool is suitable for enterprises, teachers, trainers, colleges, universities, and test prep companies.
Features:
Enjoy a high-quality audiovisual system with a 5-way audio-video layout and instinctive speaker recognition on a full-screen conference mode.

Upload, organize, and store any content in the library hosted on cloud. Let learners access them any time, no matter where they are.

Easily integrate your website with the live class functionality. Deliver live classes right from your LMS.

Easily assign and manage learning or training activities for live sessions. Set roles and permissions for attendees and manage classroom sessions with powerful in-class features.
Pros:
Quality video recording

Over 99% uptime

Automatic live session recording

Wide range of integrations
Cons:
Does not include exams, certificates or learning paths

Unreliable customer support

No multiple whiteboard support
Pricing:
Pricing available on request
Ready to Choose?
In the end, what makes an online teaching software the best is its ability to provide an easy-to-use platform for delivering instructions. Factors like storage, flexibility, monitoring are other contributors.
Also, if the tool is compatible with all the collaborative tools, it's even better. The tools mentioned here have their own specific strengths and can work for you depending on your requirements. So don't let any remote learning challenges stand in the way of you and your learners. Choose the right software for classroom teaching today for a reliable knowledge-sharing experience.
Do you want free Quiz Software?
We have the #1 Online Quiz Maker Software for complete learning & assessment