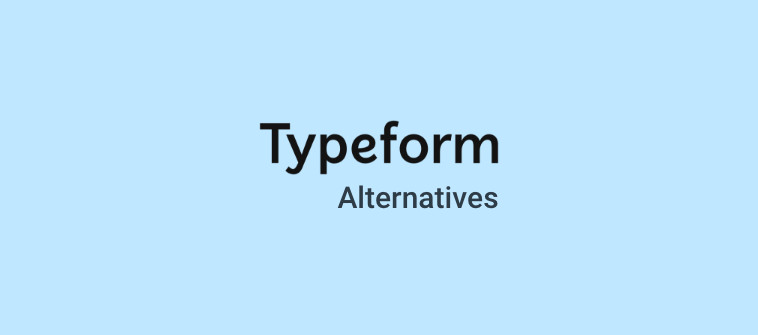 Online quizzes are an effective way to conduct business-related or educational exams, engage online audiences, and generate qualified leads.
Typeform is a popular software option for creating online quizzes, with many top features. But considering your specific requirements, it may not be the right choice for you.
So, if you're looking for a Typeform alternative, you've landed at the right place.
In this blog post, we'll explore the 10 best quiz tools similar to Typeform. But before we do that, let's quickly look at some other reasons why you may need a better alternative to Typeform quiz maker.
Why Do You Need a Typeform Alternative?
Here are the reasons why you should explore several quiz tools when creating quizzes for hiring, training, marketing, or education:
Value for Money:

If you're looking for a more budget-friendly quiz platform or one that offers better functionality at the same cost, there are many other tools than Typeform.
More Ready-to-Use Resources:

Some

Typeform quiz maker alternatives

offer many more ready-to-use quizzes and templates, making it possible to create quizzes in minutes.

Better Reporting:

Those looking for highly detailed reporting and robust analytics may want to go for a different quiz tool.

Advanced Settings & Functionalities:

Typeform lacks some of the more advanced features for conducting quizzes and exams, such as remote proctoring and virtual classroom. If you're looking for these features, you should check out the quiz tools in this post.
Now that you know what additional benefits you can get by opting for a Typeform quiz alternative, let's unpack the best options available on the market.
Top 10 Typeform Alternatives for Your Business
Here's a quick look at the 10 best quiz creators besides Typeform, complete with a comparison of features, pricing, and pros & cons.
1. ProProfs Quiz Maker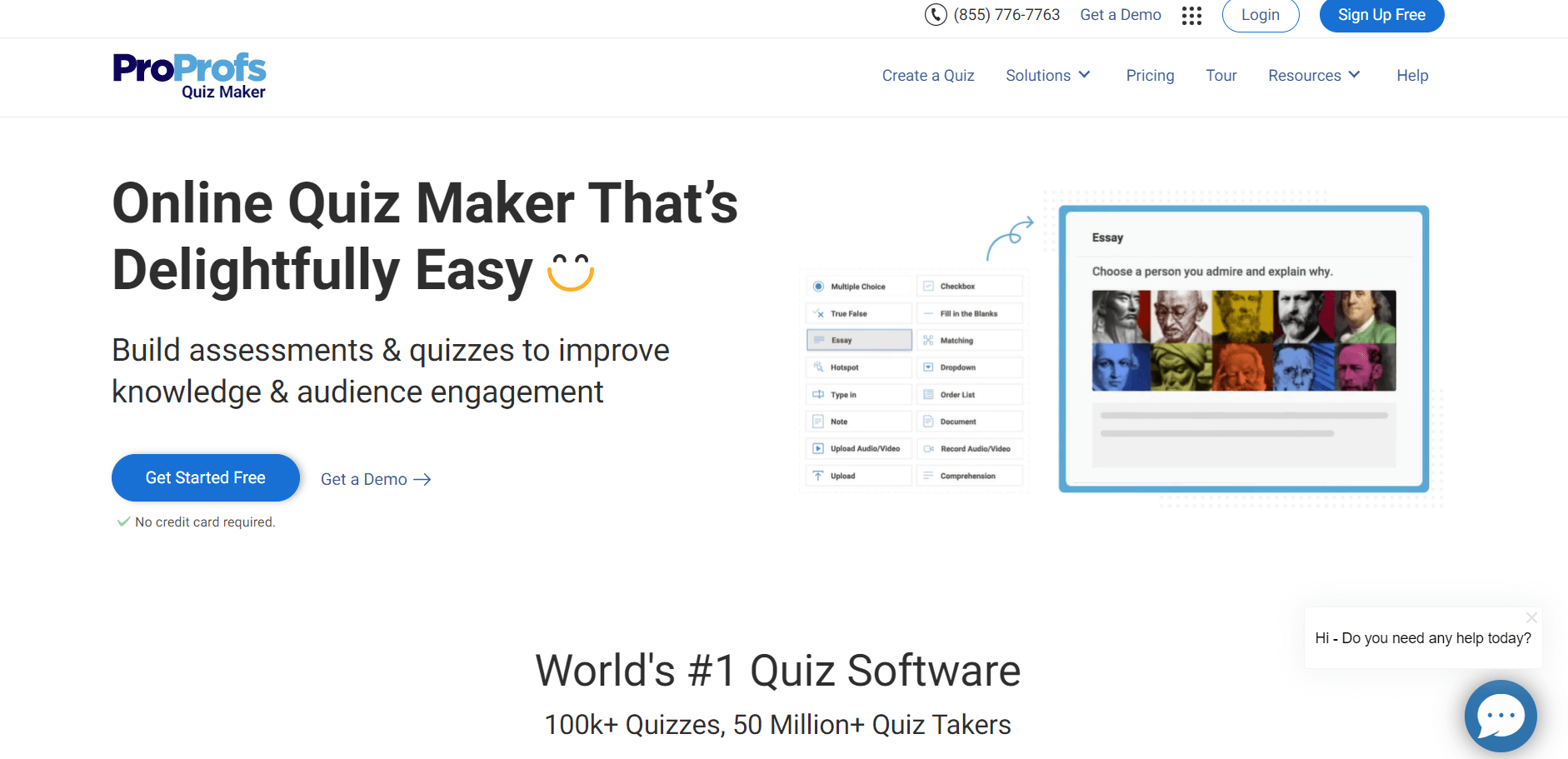 One of the easiest-to-use quiz tools, ProProfs Quiz Maker is widely used by businesses, educational institutions, and professional coaches worldwide. You can use this Typeform alternative to conduct tests and exams for hiring, training, and education or fun trivia and personality quizzes for marketing.
ProProfs offers all the top features, such as automated grading, diverse question types, security & anti-cheating settings, advanced reporting & analytics, automated certification, and much more. It also has an extensive resources library, with hundreds of professionally designed quiz templates and skill assessments and over a million ready-to-use questions.
Features:
15+ question types, including MCQ, checkbox, video-response, and more

Library of 100+ pre-built skill assessments for hiring and training

Question bank with 1,000,000+ ready-to-use questions on various topics

Automated grading with the option for providing instant feedback

Automated and highly detailed reporting and analytics

Settings for branding and customization

Automate and manage a certification program by designing custom certificates and setting passing scores and reminders

Customizable lead forms for lead generation

Integrations with your favorite marketing tools, such as Mailchimp, ActiveCampaign, and more
Pricing: Free and paid plans. Paid plans start at $20/month (billed annually)
Pros:
Easy-to-use tool with an intuitive UI

Automated grading, reporting, and certification

Offers multilingual support (English, Spanish & 70+ other languages)

Multiple sharing options, such as via a secure link, website embed, email, and virtual classroom
Cons:
More templates can be added to the resources library
2. ClassMarker
ClassMarker is one of the best online testing software catering to business and education sectors. It offers a super-simple user interface along with all the features and settings required to create an interactive and insightful test. It also offers various customizations to brand quizzes.
This Typeform alternative lets you conduct tests in various languages, ask questions in multiple ways, and add images, videos, audio clips, and docs to your tests. Additional features include multiple learner accounts, learner groups, and the option to award custom certificates.
Features:
Various question types, such as multiple-choice, true/false, matching, short answer, essay, and more

Randomize questions and answer options

Multilingual test taker interface

Create public or private quizzes


Provide question-wise and overall feedback

Assign quizzes to groups via individual usernames and passwords

Add time limits


Prevent copying and printing of test content
Pricing: Starts at $39.95/month (billed monthly) for businesses and $19.95/month for education use. Free plan available for education use.
Pros:
Lots of features and functionalities
Cons:
Limited anti-cheating settings
Certificate templates can be improved
3. LeadQuizzes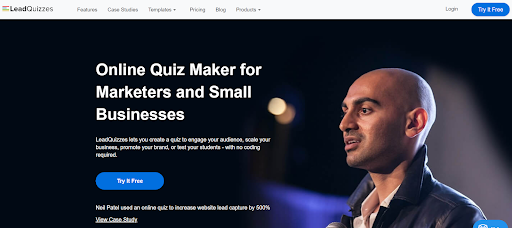 With a drag-and-drop quiz builder and 75+ quiz templates, LeadQuizzes is a popular Typeform alternative for creating lead generation quizzes. It is widely used by entrepreneurs, agencies, and small businesses alike.
You can use this quiz platform to create various types of quizzes, such as trivia quiz, personality quiz, Buzzfeed-style quiz, and more. While it's best suited for marketing purposes, you can also use LeadQuizzes to conduct online exams, vocabulary tests, and interactive learning quizzes.
Features:
Create quizzes, surveys, and forms easily with drag-and-drop content builder

Create multiple-choice, open-ended, and image-based questions.

Easily embed quizzes on any webpage without any coding skills.

Create quizzes with branching logic.

Customize colors, fonts, background image, and logo.

Add custom form fields to your quizzes to collect lead information.

Integrates with HubSpot, ActiveCampaign, AWeber, and more.

Export data as a CSV
Pricing: Starts at $37/month (billed annually)
Pros:
Easy-to-use tool with a drag-and-drop builder

Good collection of lead quiz templates

Lots of customization options
Cons:
Needs more marketing integrations

Analytics can be improved
4. Riddle

If you're looking to create quizzes primarily for capturing qualified leads, you can't go wrong with Riddle. This powerful lead generation tool lets you seamlessly create visually appealing scored and personality quizzes that you can embed on your WordPress, Wix, Squarespace, or Shopify website.
Besides quizzes, this Typeform alternative also lets you create audience polls, surveys, listicles, product recommendations, sponsored content, contests, and more to supercharge your marketing efforts. It also connects with top marketing tools, such as MailChimp, ActiveCampaign, and AWeber.
Features:
Create personality quizzes, graded quizzes, employee surveys, audience polls, and more

Add time limits to your quizzes.

Brand your quizzes with the appearance editor or custom CSS.

Create quizzes that look great on any device.

Capture leads and export them to various tools, such as HubSpot, Klavijo, Salesforce, Google Sheets, and more.

Retarget leads with Facebook Pixel, Google Tag Manager, and more.

Implement branching logic to present questions based on quiz takers' responses.

Add a leaderboard to your quizzes so quiz takers can compare their scores.
Pricing: Starts at $59/month (billed annually)
Pros:
Flexible and user-friendly
Excellent customization options
Cons:
Reporting needs improvement
The scoring system for personality tests is a bit simplistic
5. Interact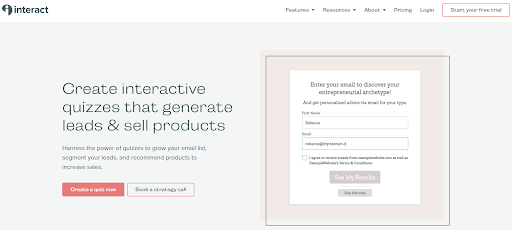 As the name suggests, Interact is an excellent choice for creating interactive and engaging quizzes for marketing. This Typeform competitor is packed with all the features and functionalities you need to leverage quiz marketing for growing your mailing lists and sales.
One of the best features of this tool is that it comes with hundreds of lead quiz templates that have been specifically designed to capture and convert leads. You can ask questions in different engaging formats, including image-based ones where you can add images to your questions from Unsplash.
Features:
Create assessment, personality, or scored quizzes.

Ask multiple-choice, true/false, or image/GIF-based questions.

Apply branching logic to your quizzes with drag-and-drop functionality.

Hundreds of conversion-focused quiz templates covering all industries

Integrate with 35+ tools, including ActiveCampaign, HubSpot, Google Analytics, and more.

One-click social sharing

Customize logos, fonts, colors, and more.

Assess your quiz's performance with advanced analytics.

Extensive help doc library
Pricing: Starts at $27/month (billed annually)
Pros:
Intuitive dashboard

Lots of integrations

Great collection of templates
Cons:
Some users may need to go through a learning curve to start creating quizzes quickly.
6. Opinion Stage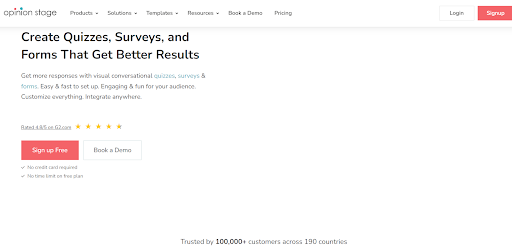 Opinion Stage lets you create highly visual quizzes for various use cases, such as lead generation, product recommendation, educational assessment, corporate training, and more. Like many other Typeform alternatives, it also lets you create surveys, forms, and polls.
Opinion Stage has a fully responsive design and automatically optimizes quiz content so that the quizzes load quickly on all networks. It's also fully customizable, meaning you can design quizzes that promote your brand while providing personalized experiences to the quiz takers.
Features:
Create scored and personality quizzes, tests, surveys, and forms.

Add images, videos, and infographics to your quizzes.

Integrate ads and custom banners with your

marketing quizzes

.

Add timers to your quizzes and tests.

Add branching logic to your quizzes and surveys.

Prevent cheating in tests by shuffling answer options and creating multiple test versions.

Provide instant question feedback/answer explanations featuring links to external resources.

Create mobile-responsive quizzes and tests.

Customize themes, fonts, colors, and more.
Pricing: Free and paid plans; paid plans start at $25/month (billed annually)
Pros:
Lots of features and functionalities
Cons:
More templates can be added.
You can't create your own color scheme.
7. SurveyMonkey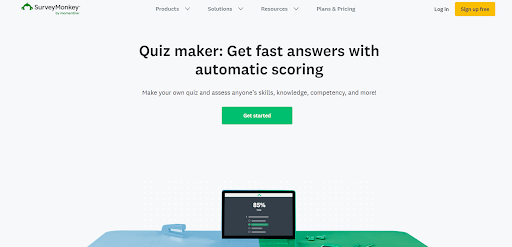 A prominent survey software, SurveyMonkey is also great as a Typeform quiz alternative for assessing skills and knowledge. You can seamlessly conduct tests for various requirements using top features such as automated grading, completion status tracking, instant feedback and advanced reporting.
You can export quiz data to popular formats such as PDF, XLS, and CSV and integrate your quizzes with apps like Tableau, MS Power BI, Zoom, and more. You can also add branding to your quizzes.
Features:
Create great-looking quizzes and surveys easily.

Track completed and pending quizzes.

Get real-time reporting with question-level statistics, rankings, completion times, and more.

Conduct quizzes on any device.

Display customized question feedback.

Automate scoring and grading to save time.

Share quizzes via links, email, social media, and more.

Beautiful survey and poll templates.
Pricing: Starts from $25/month (billed annually)
Pros:
Quick and easy setup

Branching logic

Drag-and-drop functionality
Cons:
Advanced functionalities are available only in higher-tier plans.

Offers limited options for customization

The website has some glitches.
8. SurveySparrow
Another survey tool that doubles as a quiz maker, SurveySparrow is equipped with an excellent set of functionalities that make it ideal for creating quizzes for various learning or marketing purposes.
Using this Typeform alternative, you can provide a highly engaging experience to your quiz takers by adding media, customizing the look and feel, and setting up advanced branching logic. You also have the option to share quizzes via QR code to conduct fun, quiz-based activities for student/employee engagement.
Features:
Create assessment quizzes, personality quizzes, and scored quizzes using a drag-and-drop quiz builder.

Add images, videos, and GIFs to questions.

Customize logos, fonts, colors, and results.

Create quizzes quickly using readymade templates.

Integrate your quizzes with various tools, including Mailchimp, HubSpot, AWeber, and Google Analytics.

Embed quizzes on your website or share them via links or QR codes.

Automate scoring.

Add

piping and branching logic

to your quizzes.

Ask various styles of questions, such as multiple-choice, picture-choice, yes/no, opinion scale, and rating.
Pricing: Starts at $99/month (billed annually)
Pros:
Fast and flexible

Beautiful interface

Excellent integrations
Cons:
The pricing needs to be more flexible.

It's buggy at times.
9. Wufoo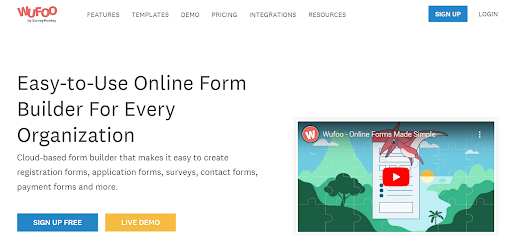 Wufoo is a form builder by SurveyMonkey. You can use it to quickly create forms, quizzes, and surveys using 400+ templates and easy customization options. This alternative to Typeform is best suited for creating practice tests featuring multiple-choice questions. You can also provide instant feedback for each question using section breaks.
You can add branching logic to your quizzes and integrate them with third-party tools via Zapier. You can also choose to get notified every time someone takes your quiz.

Features:
Create online quizzes, surveys, and forms.

User-friendly drag-and-drop form builder

Pick from 400+ customizable templates.

Integrate quizzes with Mailchimp, Salesforce, WordPress, and more.

Quickly export data to spreadsheets.

Customize the look and feel of your quiz by adding a pre-built theme or designing your own.

Add your brand's logo to your quizzes, surveys, and forms.
Pricing: Starts at $14.08/month (billed annually)
Pros:
Intuitive form builder

Reliable customer service

Avoid spam with smart CAPTCHA
Cons:
The UI looks a bit dated.

Not useful for conducting high-stakes assessments
10. Outgrow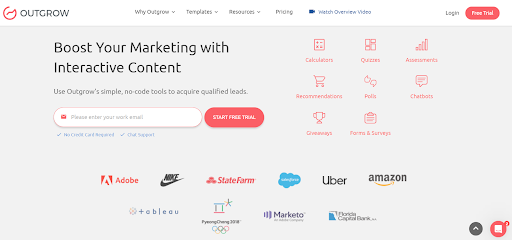 Outgrow is a powerful marketing tool that lets you create various types of engaging marketing content. Using this powerful Typeform alternative, you can effortlessly create quizzes, calculators, polls, recommendations, chatbots, giveaways, forms, and surveys to acquire qualified leads using your website and social media handles.
But Outgrow isn't just a marketing tool. It also lets you conduct effective assessments for education or training purposes. Whether you're creating quizzes for marketing or knowledge assessment, Outgrow offers beautiful templates that you can use to jump-start your quiz creation.
Features:
Create quizzes, assessments, forms, surveys, polls, and more.

10+ question types, including single-select, multiple-select, text input, file upload, and more

Create quizzes in minutes using beautiful, ready-made, and fully customizable templates.

Add videos, images, and GIFs to your quizzes.

Add countdown timers to your quizzes.

Use advanced analytics to examine responses.

Access 1,000,000+ free stock images from Unsplash.

Drag-and-drop WYSIWYG builder

Add social media widgets to quiz outcomes to promote social sharing.
Pricing: Starts at $14/month (billed annually)
Pros:
Robust analytics

Lots of templates

Lots of integrations
Cons:
The interface can be more organized.

There's a learning curve.
Choose the Best Quiz Tool for Best Results
So, that was our list of top Typeform alternatives you can compare to find the best quiz tool for your requirements. Every tool we've curated offers at least a few advantages over Typeform. You can use the information provided in this post to quickly shortlist your options.
But before you buy a plan, you should test run your top options by taking advantage of the free trials that these Typeform competitors offer.
If you need help zeroing in on the best quiz tool, you can connect with our customer success team by calling (855) 776-7763 (toll-free).
Do you want free Quiz Software?
We have the #1 Online Quiz Maker Software for complete learning & assessment