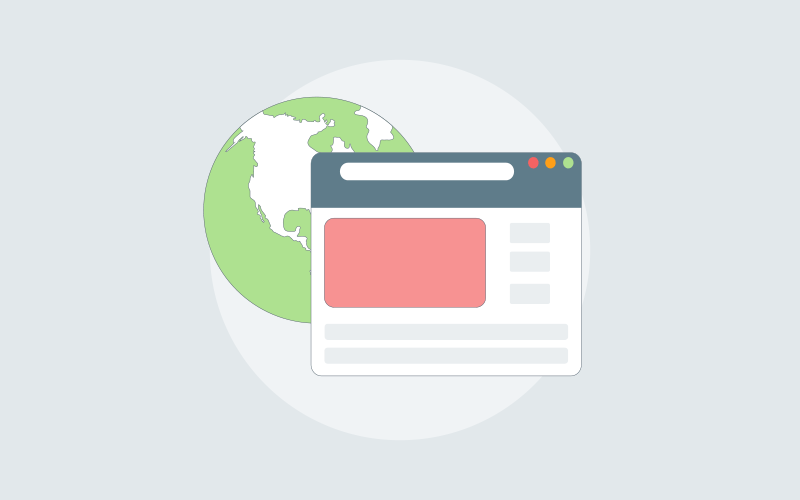 Implementing knowledge management within an organization benefits the organization, the support staff, and the customers. It improves the service desk's ability to respond to customer issues in less time. A cloud-based knowledge base is now an essential tool that enables businesses to encourage content sharing among employees in addition to improving customer service experience and facilitating team collaboration without running a call center.
The Problem
As per a survey, 50% of customers contact customer service when they can't find information online. In that same survey, some of the top customer service frustrations were also identified. See image below:
For the last two years, I have been working with EZOfficeInventory.com, the leading web-based asset tracking software. Being a part of the content team, we get to interact with customers as well to understand how they use our product, what can make it the right fit for them and what issues they usually face.
Answering the same questions repeatedly adds minimal value to our organization. It's a challenge identifying what the frequently asked questions are against the software we provide the consumers. On top of that, customers no longer have tolerance for below-average experiences, and there are significant consequences to bad service. Please note, there is no forgiveness for poor service. Due to bad customer service, two-thirds of consumers cancel a service or end a relationship with a service provider or company and some even do that more than one time.
Having a knowledge base for the company links support articles and help topics to incidents as they are being resolved by the customer success team. The information is updated continuously as the new features or upgrade comes in and detailed incident history reports are available for every problem - leading towards better customer success rate.
Features to have in a Knowledge Base
As per Coleman Parkes for Amdocs, self-service systems are the best customer support solutions an organization can implement. As per their survey in 2012, 91% of the survey takers said that they would use a web-based knowledge base made available to them for their companies if it was tailored to their business needs. The same survey indicated that 40% would contact the customer support center if they are not able to find what they are looking for in a knowledge base. So, what makes an online knowledge base fit for an organization?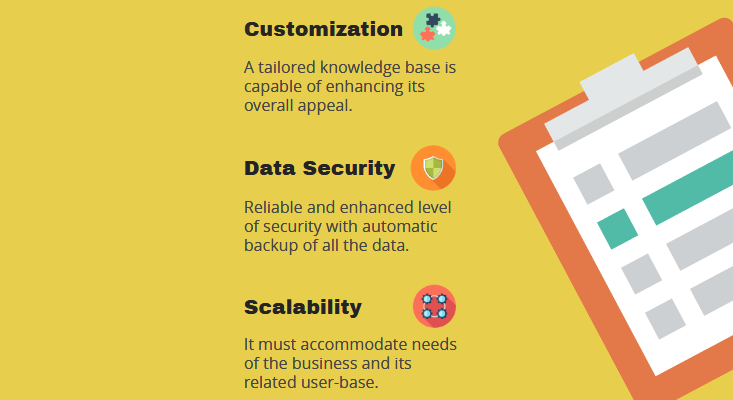 Reasons to opt for a Knowledge Base

The benefit of cataloging all the information in one spot: No one likes to spend time doing something over again, and neither do they like to sift through an endless number of files to look for information e.g. folders within folders. But it still happens and they do it all the time for several reasons. Imagine if you could have all the help topics, frequently asked questions, troubleshooting tips, white papers, case studies, and newsletters stored in one location. A knowledge management tool can help you put all the information on a dedicated cloud server, enabling you to manage every piece of information you obtain on an all-in-one platform. Having an online knowledge management tool allows remote access without a hassle or communication barrier to information from any digital device.
Imagine when you have to provide a customer on-call information about how they can import bulk of items to an equipment tracking software (all that mapping and limitless data). And when you have to provide the same information to various customers during the on-boarding process. I know the pain! Avoiding duplication of effort saves time and money. It helps you keep the employees' morale up, and streamlines workflows. By not spending time reinventing the wheel, you can have more time to invest in something more productive.
If you establish a process to define, communicate, and replicate proven practices like knowledge sharing throughout your organization, you can take advantage of what you learn about solving problems.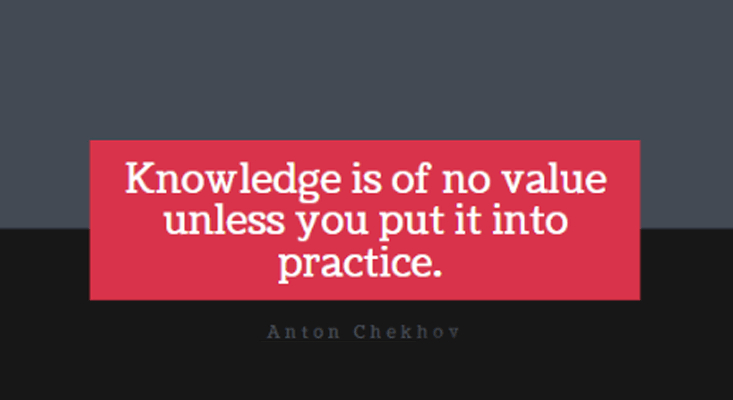 Read More:
How to plan a knowledge base for your business?


The bond between Knowledge Management and Support Team:
"Will I know the answer?" - a question that comes to every support representative's mind when a phone rings. It is without any doubt one of the most stressful jobs. But the answer to the above question is more likely to be a 'Yes'. Why? Because they have the power of knowledge with them in the form of a knowledge management tool. Giving support analysts the ability and right tools to satisfy more customers in less time improves employee satisfaction, lowering burnout rates and saving costs for organizations.
Practically speaking, an organization can never have enough time to train each and every support person on every product/service it offers. With the help of the knowledge base, the support team learns about services as they help customers. For example, most of our trainees in the support department learn about the product with the given help topics and using the product themselves. This not only adds more information obtained from the customer's side but also from the employee's side. Additional training can always be provided if the knowledge base doesn't satisfy the customer demands or use cases.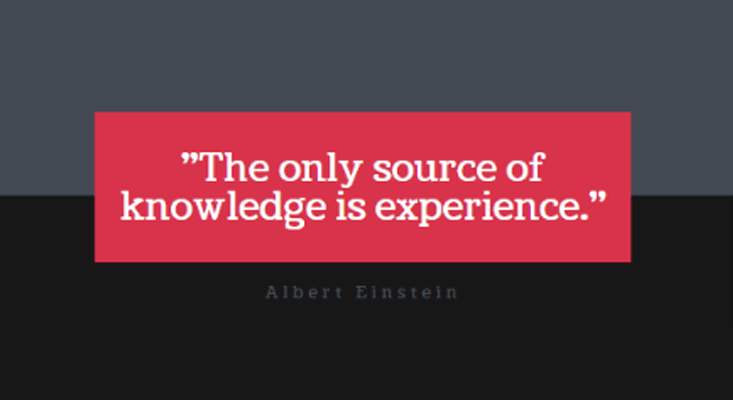 Read More:
5 ways to deal with customer service burnout

The customers want to take charge - Self-service all the way: Customers don't want to call you anymore; they want to access themselves to Knowledge base. The customers get a choice for support when you implement a self-service knowledge base. Without the cost of assisted service, they can get back to things in no time using self-service. As per a study conducted by Nuance, 59% of consumers agree that automated self-service options have improved customer service. Though the company must be credited for both types of service i.e. assisted and self as both of them help customers get to the information they seek.
Here at EZOfficeInventory, we get to interact with several American consumers who turn to self-service to meet their business needs before contacting our support channel. 8 out of 10 consumers use an automated self-service system for paying bills or reserving carts for an event using our product. The trend is increasing and it has enabled customers to help themselves without going for assisted customer service.
Read More: Ultimate guide to a self-service knowledge base

The need to improve and speed up response time: Speed in response is important. It helps you get back customers faster and makes them happier. It is what differentiates you from competitors. Not just that, speed also refers to less time spent on an incident report, in return reducing support cost. Where a knowledge base fits in here? It helps the support analysts quickly lookup and find a solution - reducing resolution time within the incident management. The sooner the support person puts a ticket incomplete state, the sooner he/she is made available for the next customer. This helps a company reduce the average support time and lower the abandon rate.
Sharing knowledge with the team helps you populate the knowledge base with different use cases, troubleshooting tips, no more effort redundancy; eventually improving resolution time to deliver a proposal, product, or service to potential customers. And that translates into increased win rates and higher ROI for your business. All other things being equal, the company which can deliver solutions to problems sooner, will win.
Read More: Ways to keep SMBs costs down

Third-Party Integrations and Knowledge Base 'On the Go': For most companies, having a knowledge base that is supported on any device is a deal-enabler. What good can a knowledge base be if it cannot be used via different digital devices, especially a mobile device. An all-in-one knowledge management tool should be supported on any device from anywhere.
While web-based knowledge management software works perfectly as a customer support tool, a lot more can be done and achieved by integrating it with third-party tools used in your company. For example, if your support team is using Freshdesk to handle customer service as help desk ticketing systems, then you can also integrate them with a knowledge base tool like Proprofs Knowledgebase. This enables you to handle several tasks at a time and resolve customer queries faster. Integration with a number of tools from email marketing software, live chat systems, and sales-centric tools can also be done.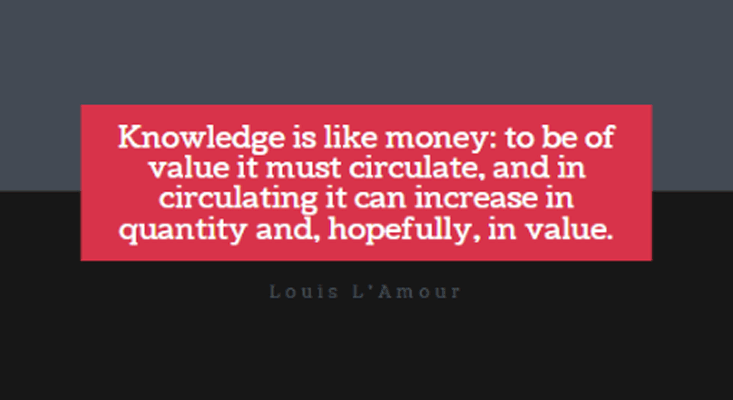 Bottom Line

Automated Knowledge Base with a human touch: As mentioned above, the trend of self-service solutions a.k.a knowledge management tools is increasing. It is revolutionizing customer service for many companies. It all depends on your business needs and long term goals your company wishes to achieve when you choose a knowledge management software that fits.
In my opinion, it is best to choose a solution that allows you to customize, scale your system with the changing trends and the goals you want to achieve e.g. lower costs and increase customer base. A cloud-based solution is cost-effective, accessible, customizable, can be updated continuously, and above all can be accessed by the customers with any device from anywhere. ProProfs knowledge base is one of the solutions that fit the requirements and is preferred by most companies globally.
Do you want a free Knowledge Base Software?
We have the #1 Knowledge Base Software for delightful self-service help center starting at $0