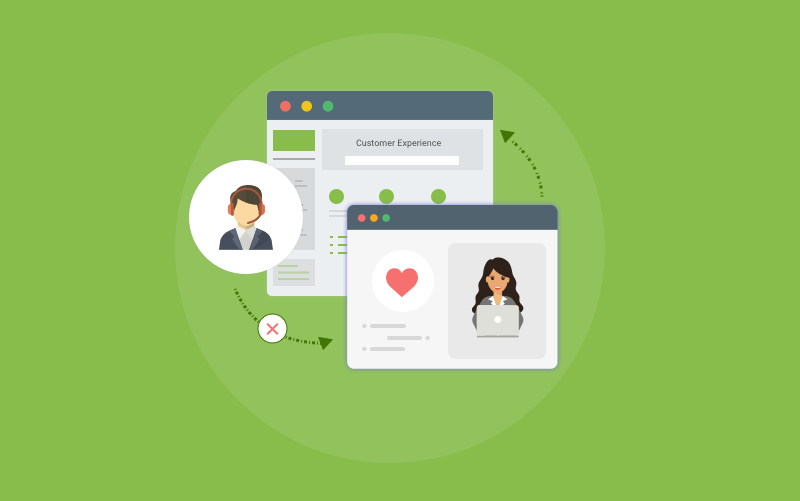 Most customers will have questions when they learn how to use your product or service. If they have to call support, every time they don't understand something, then their frustration level goes up.
By 2020, the customer will manage 85% of the relationship with an enterprise without interacting with a human. (Gartner)
Your customers don't want to call you
Customers usually call support to resolve issues such as a feature bug or billing concern and rarely (if not never) to tell you that your company is awesome. For SaaS companies more support calls usually mean more bugs in your software.
Here's how support calls and tickets hamper your company's productivity and revenue:
Increases workload - More support calls mean more work for your agents. Precious time is wasted when agents have to answers the same questions over and over again.
Phone support is expensive - A study done by NM Incite says that phone support costs at least $6 per interaction. This figure quickly compounds when you have thousands of support calls pouring in everyday.
$41 billion is lost by US companies each year due to poor customer service. (NewVoiceMedia)
You can delight your customers even if you don't run a call center. Let's look at how you can do this:
1) Empower customers with self-service help on web and mobile
With a self-service knowledge base, you can drastically reduce the number of support calls. Customers can find answers to their questions easily without having to go through the painstaking task of calling your support, navigating through a complex IVR system with the hope that the customer service agent will provide a solution. Instead, they can find answers instantly in a self-service FAQ.
No hold times or waiting in queue - One of the biggest problems that customers have with support on call is the "inordinately long hold-time". With a self-service knowledge base, customers don't have to wait to find answers. They can browse through the help articles using the table of contents or simply type their queries in the search box and find instant answers.
Customers can find answers on the go - The world today in general is increasingly mobile and so are your customers. With a cloud self-service knowledge base your customers can search help documentation for your products or service on their favorite devices, browser or operating system. Having a mobile and tablet friendly knowledge base up and running helps you offer 24/7 support to customers located globally.
Self-service-help examples
Wiki software - A wiki is structured like a tree and your customers don't have to wade through a list of questions to find the answer. They can scan through the table of contents or type their search to find answers instantly. Wikis are a great way to educate your audience about your product, service or industry.
2) Delight customers with context-sensitive help
Companies can reduce support tickets or calls by offering relevant help to customers just when they need it. One easy way of achieving this is by adding context-sensitive help to websites and applications. Let's get into the details of what contextual help is and how it helps you deliver awesome customer support.
Create an awesome user experience – Adding context sensitive help such as tooltips to your website or application ensures that customers find helpful information when they need it most. Offering the right help at the right time is what creates the "wow experience" in your customers.
Onboard customers faster – New users can be confused about the most obvious of features or procedures. SaaS companies can do away with their confusing by adding a simple light box to a product feature or pricing detail. Guiding users in using your products prevents them from wasting time by calling support or raising a ticket.
82% view accuracy and quality of information as the most important attribute of customer experience. (Deloitte)
Context-sensitive help examples
Tooltips, pop-ups & light boxes – You can easily add tooltips, light boxes or even pop-ups as help messages on your website or application using a help authoring tool such as ProProfs Knowledgebase. There's no coding at your end and you can simply copy and paste a small code snippet to place on your website where you want the help to appear.
Web form using tooltips – Well-designed web forms have higher completion rates. You can enhance the experience of filling an online form, poll or survey by adding contextual tooltips to explain certain fields and labels.
Create context-sensitive help now
3) Use live chat help to interact and monitor customers
Live chat is a great alternative for companies who don't have the resources or time to set-up a call center. It's a great add on even for companies that do have call support agents.
Monitor visitors and answer their questions in real-time - A live chat service such as ProProfs Chat helps you track visitors on key pages your website. You can understand a great deal about you customers in real-time and answer their questions instantly on chat. This is a great tool for reducing customer calls and improving customer experience on your website.
Offer support even when support agents are offline - Offing 24/7 customer support is essential for companies who have a global audience. With a live chat service such as ProProfs chat, you can allow customers to fill up an offline message form and submit their queries. This means that you never lose customers even when there are no immediate sales or support staff to communicate with them.
Live Chat Software by ProProfs
Conclusion
Customer delight is what drives growth into a business. Delivering great early experiences of the products can be the difference between happy customers or none at all. But you don't need a full-fledged call center to offer great support. You can still deliver outstanding customer service with a self-service knowledge base and an active live chat service on your website.
Do you want a free Knowledge Base Software?
We have the #1 Knowledge Base Software for delightful self-service help center starting at $0