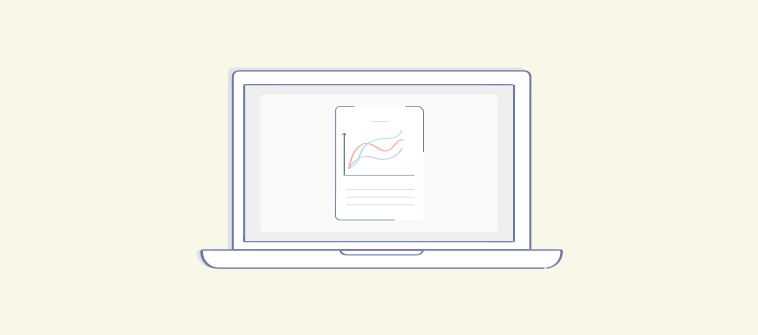 Technical documentation is often thought of as a problem-solving tool equipped with all answers to customers' questions.
Little do we know that such a document can also help companies market their products and services. Its potential as a marketing weapon is undeniable, but companies are yet to leverage it to the maximum.
One reason can be the conventional concept that defines the limited scope of a technical document and doesn't give it the treatment it deserves.
Another can be the fixed conventional notions of companies around the concept of marketing and how it can be executed, in which documentation hardly plays a part.
Marketing, as a concept, is ever-evolving. There is no fixed pattern to it or no fixed way to it. In fact, marketing can be involved in every little thing a company does, right from solving a customer's query on the phone to interacting with them over social media.
Marketing can be done in a direct, to-the-point manner, or embedded subtly in telephonic conversations with customers and while resolving their complaints.
Let's demystify technical documentation and understand how it can give a fillip to your marketing efforts.
Technical Documentation - An Addition to Your Marketing Arsenal
In simple terms, a technical or product document is a central knowledge repository where customers can find all information regarding your products.
This can include information such as:
how the product is developed

what purpose they serve

the features they have

what problems they can solve

safety precautions to take while using them, and much more.
A technical document is an educational tool that assists customers in using your product effectively and solving any queries they have in an instant.
Besides helping customers in problem-solving, technical documentation also plays a vital part in rolling out new products, announcing software updates, and showing customers that you are constantly working towards enriching their experience with your company.
And all of this is done without any pomp and show. Marketing through technical documentation is silent but impactful, as it strikes the right chords at the right time, without you having to splurge on advertisements or expensive marketing campaigns.
Technical documentation strengthens the strings between you and your customers, by enabling you to talk to them directly and market your offerings, without sounding promotional. Read on to know more about technical documentation for marketing.
Technical Documentation for Marketing: How it Helps
1. Increases Trust in Your Brand
A carefully crafted technical document that solves all questions of your customers is all you need to build their trust in your brand.
Imagine customers referring to your document with the objective of finding answers to their questions, but going back disappointed, as the document lacks clarity and meaningful information.
Such experiences decrease their trust in your brand, and the impression that you built by providing them quality products, also goes for a toss. So, besides taking care of your product's quality, you also need to put your best foot forward when it comes to the documentation part.
If this doesn't happen, the entire purpose of helping your customers gets defeated.
The more clear and helpful your technical documentation is, the higher are the chances of customers being able to resolve their queries and trusting your brand.
---
Key Takeaway:
Focus on creating an impressive technical document of top-notch quality that reflects your brand values. Increase your credibility by providing customers with content that can be of real help.
---
Here's a short video on how to create perfect online documentation. Check it out.

2. Attracts Customers
How do prospects decide they need your software? How is that need generated, and how do they make the final call of going for your software tool?
It's simple. They have a purpose in mind, so they turn to Google to get information about it and bump into your technical documentation, videos, and product demos. They read the document, go through your videos, and if everything matches what they are looking for, they make the decision.
Technical documentation software equips you with the right capabilities to create a compelling knowledge platform for your audience.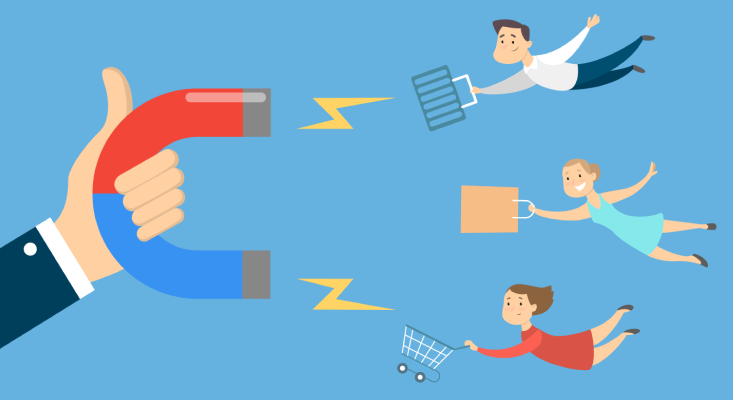 This makes it easy for customers to understand your product, its features and functions, and the technicalities behind the development of the product. Prospects get a sneak-peek into the product, and they gain a better understanding of whether the product has what they need.
Also, documentation urges buyers to go to your website, read about your company and its offerings, and get a gist of the values you stand for. This again plays a crucial role in convincing visitors to opt for your products and services.
Read More: How to Create Sales Documentation to Support Your Sales Team
---
Key Takeaway:
Give prospects complete knowledge about your offerings, with the help of an engaging and interactive technical document. Give them clarity regarding the features and functions of your product, and help them make a better choice.
---
3. Heightens Awareness
Many a time, customers churn because they no longer consider your product as the right fit for meeting their requirements.
There can be two reasons for this:
your product doesn't have powerful features

your product has the features, but customers aren't aware of them
This is why documentation is of utmost importance.
Customers, most of the time, are not able to fully understand your product, and the features it comprises, which clearly means they aren't leveraging the full potential of the software tool. This increases the chances of churn.
No matter how feature-rich your product is, it's useless if customers aren't aware of its features, and that's where documentation jumps in.
Besides, the technical document is not just about making customers aware of your product's features. It's also about informing them about the premium version of the product, the advanced features it offers, the significant benefits it provides, and how it is different from the previous version.
So, basically, using a technical document, you can even upsell different versions of your product by marketing them subtly.
---
Key Takeaway:
Leverage technical documentation to make your customers aware of the bouquet of features offered by your product. Ensure that customers get the most value out of your products.
---
4. Builds User Community
One significant aspect of an interactive technical document is that it allows customers to comment, share feedback, and give suggestions that can help in the product's overall improvement.
It's not mandatory that you open your documentation for customer feedback. It depends on company to company, but if you do so, there is nothing better than that when it comes to marketing.
When your documentation is open for public participation, they can provide their opinions and bring both the positive and negative aspects of your document in the spotlight.
So, depending on how customers experience your product, they will share their views, reading which prospects can have a better idea of whether your product is the right fit for them.

Documentation is a brilliant way to attract users and encourage them to form a community where they can discuss ideas, share views, and bring critical matters to your immediate attention.
If you see the positive side of things, it can be a big influencing factor for prospective customers. Reading the positive views of customers can push them to subscribe to your software tool. On the contrary, negative feedback and a frustrated community can drive the prospects away.
Your technical documentation and the user community involved speaks volumes about your brand and can be a major factor in convincing prospects of the value provided by your offerings.
---
Key Takeaway:
Encourage public participation in your documentation by way of comments. Ask your agents to keep a check on user discussions and keep negative comments from spreading.
---
Also, advise your support staff to educate customers about your offerings whenever a discussion is active. You can even reward customers when they report a bug, give a relevant suggestion, or raise a complaint.
5. Widens Your Reach
If we talk about marketing in general, it is largely dependent on how well you reach out to your target audience. The same applies to documentation.
The more visible your technical documentation is in the online space, the higher are the chances of customers as well as prospects referring to your document and subscribing to your software.
Online visibility matters the most when it comes to marketing, for the simple reason that if your document isn't visible, it will lose all opportunities of getting noticed by your potential customers.
When no one will notice your product document, how will they know about your products?
Having a comprehensive technical document with all the necessary keywords embedded in it ensures that it ranks well on search engines, and gets the attention it deserves.
No matter how meaningful your document is, it won't be able to make an impact, if it misses out on the keywords that are frequently used by visitors.
With the right keywords sprinkled across your document, it becomes easier for search engines to crawl through the content, analyze its worthiness, and based on the evaluation, display the document in the first few results.
---
Must Read: Find Out What Your Customers Are Searching for in Your Online Documentation
---
When visitors discover your document instantly and get convinced by its content, they don't feel the need to move further and look out for other options - this is how an SEO-friendly technical document makes the right impact. This also increases traffic to your website, making it easier for you to sell your products and services.
---
Recommended Read: The Ultimate Knowledge Base SEO Guide for 2020
---
Look at the screenshot below. On using the keyword
"create a knowledge base,"
the first page displays these results. The probability of visitors making a choice based on the results displayed on the first page is more than those shown on the second or third page.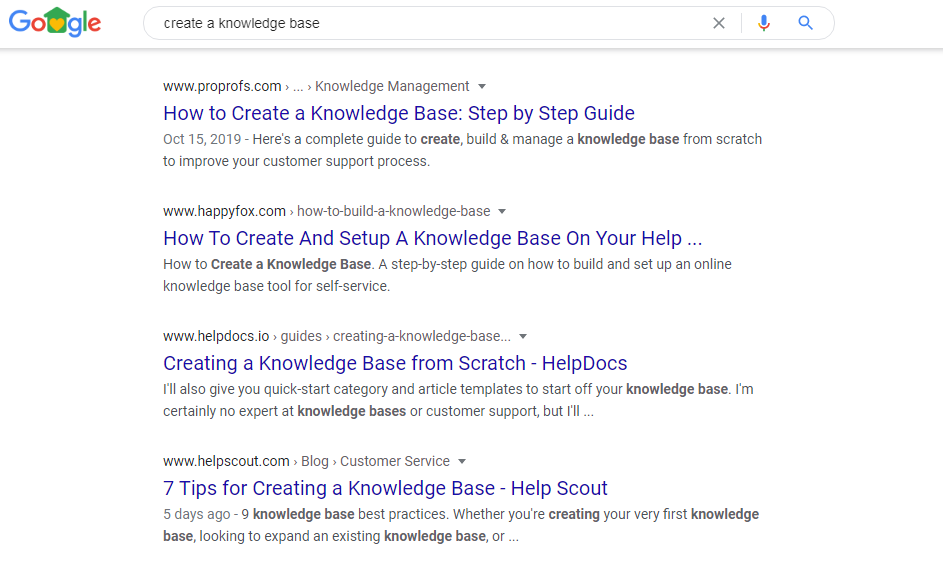 ---
Key Takeaway:
Make sure that your document corresponds to the common questions visitors have. Use technical documentation software to add internal links and the right keywords that help in optimizing your content for search engines.
---
Things to Remember
Keep your documentation relevant and meaningful

Avoid direct promotion of your offerings

Market new products or advanced versions of your software tool subtly

Keep your SEO game on-point to ensure that search engines are able to index it.

Educate, do not sell.

Communities build over time, so don't try to push the process. Let it happen naturally

Be open to feedback and suggestions

Use technical document to inform your customers about any changes, or updates in your software

Use a powerful technical documentation tool for business for creating a document that enables you to help your customers, as well as market your products to a wider audience.
Long Story Short
Technical documentation can be an amazing marketing tool provided you use it effectively. Go overboard with it, and you are likely to drift your customers away, so make sure that you market your brand in the most genuine and subtle way possible.
Do you want a free Knowledge Base Software?
We have the #1 Knowledge Base Software for delightful self-service help center starting at $0