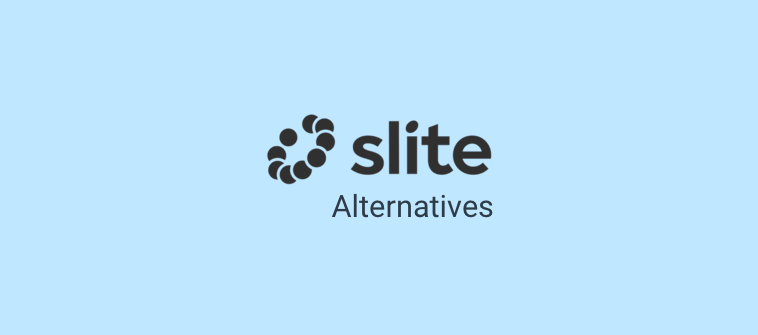 Slite is a popular knowledge management tool built specifically for internal teams. Whether your teams work together or remotely, the tool promises to keep them connected and productive at work.
While on the surface, it looks like a great tool to have, it has its share of imperfections. Remove your rose-tinted glasses and look at them from your company's perspective.
Is the tool versatile enough for both internal and external use?
Does it offer the best-in-class features?
Is it easy on the pocket or costs more than its competitors?
This blog will help you find the answer to all these questions and many more that you might have about Slite. It will also guide you through the ten leading Slite alternatives, their features, and pricing to help you make the right decision.
Let's get started.
What Is Slite?
Slite is built to bring clarity to your workplace. With this cloud-based tool, you can create any internal information resource, from employee handbooks and onboarding checklists to creative briefs and meeting notes.
The tool eliminates chaos arising out of scattered files and makes way for team collaboration and effective remote working. It creates a transparent knowledge-sharing work culture where all your employees can share ideas and work together from anywhere they are.
Why Look for Slite Alternatives?
Although Slite is excellent for internal knowledge management and team collaboration, it lacks on various fronts.
Slite is majorly for internal use. If you are looking for features specific to a customer support knowledge base, you might want to look for better alternatives.
The tool doesn't provide features for search engine optimization. This means you will have a hard time ranking your knowledge base on SERP. Next, there are no built-in reports or analytics to give insights into how successfully your knowledge base is serving your target audience. You will not be able to find out your best and worst articles, broken links, or failed searches.
Another important thing to note is that Slite offers only six integrations. So, if you want to club it with a popular tool like – Google Analytics, Zendesk, or Salesforce Desk, Slite doesn't fit the bill.
These are some major limitations that can urge anyone to look for Slite alternatives.
Before we move on to the alternatives section, we want you to have a clear idea of the features that Slite competitors must have. After putting in so much effort, you must choose nothing but the best.
A tool is powerless without its features. To pick the right knowledge base tool, you must know the exact features you should have your eye on.
Essential Features of Slite Alternatives
If team collaboration, employee onboarding, or streamlining remote work are your only goals, Slite is a good option. But if you want something more and something better for your diverse business needs, here are the features you must look out for in Slite alternatives.
Public and private settings to create both customer-facing and employee-centric documentation

SEO features to get better online visibility and ranking

Roles and permissions for streamlined and collaborative work

AI-powered reports to unlock key insights into what's working and what's not

Robust search and complete customization

External integrations that help you make the most of your knowledge base tool

Workflow and approval system to publish flawless content

Ready-to-use templates to get you started quickly
Besides, the tool you choose must be easy to use and come at a genuine price for the features it provides.
A Peek Into Our Selection Criteria for Slite Knowledge Base Alternatives
The online market is replete with knowledge base tools, each of them promising a wonderful experience. We don't want you to get swayed by any such promises. We want to get you the tool that walks its talk and delights you at every step.
We studied the top Slite competitors and analyzed each one of them on the basis of their features, pricing, and reviews, to guide you in the right direction.
Below are the selection criteria we adopted to collate a list of the best Slite alternatives.
State-of-the-art features


The tools must offer the best-in-class features that get the work done without giving you any hassles and headaches.

Honest user reviews


Genuine reviews from real people on trusted sites are a reflection of a tool's success in the market.

Pricing


The tools must offer fair pricing for the features they provide to customers.

Recommendation rating


The tools must have an above-average recommendation rating by existing users on popular review sites like Capterra and TrustRadius.
10 Popular Slite Alternatives – Learn, Analyze & Compare
Go through this list of top Slite competitors, look at the features they have and the pricing they offer. Chalk out your goals, budget, and the key features you are looking for.
After you have these basic details, analyze the tools and compare them to the Slite knowledge base. This list will save you from the trouble of visiting hundreds of websites to find that one knowledge base tool that surpasses your expectations.
Let's dive in.
1. ProProfs Knowledge Base
Perfect for Public & Private Knowledge Base
ProProfs Knowledge Base is ideal for both self-service customer support and team collaboration. It helps you build an internal and external knowledge base, documentation, guides, manuals, and any other information resource you need for your customers and employees. The simplicity of use and features that get the job done are the key highlights of this knowledge base tool.
The tool is extremely easy to use. You can get started right away, even if you do not know to code. Small businesses, startups, as well as enterprises looking to streamline internal processes while keeping customers delighted with self-service can use this tool.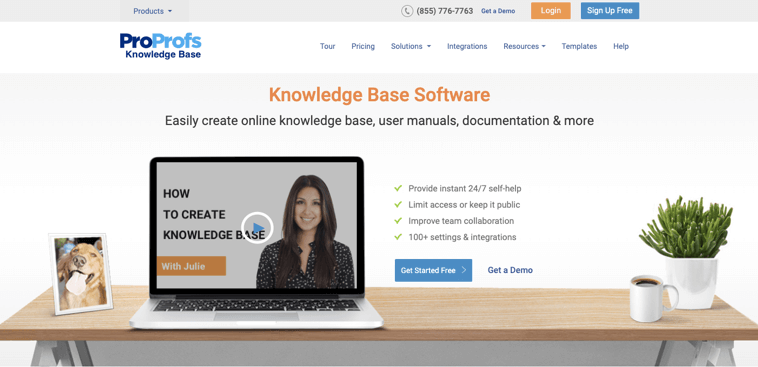 You can use ProProfs Knowledge Base to:
Delight customers with 24×7 self-help

Reduce support tickets by up to 80%

Manage your company's knowledge on a single platform

Allow teams to work together to create and share knowledge

Improve employee training and onboarding
Pricing
The tool offers three pricing plans:
Essentials

– Starts at $30/100 pages/month

Premium

– Starts at $80/200 pages/month

Enterprise –

Available on request
Pros & Cons of ProProfs Knowledge Base
Pros:
Ease of use. No software download and coding skills required

40+ templates for your diverse requirements

Built-in AI-powered reports that give insights into how well your knowledge base is performing

Robust integrations with popular tools like Zendesk, Google Analytics, Slack, and others

Flexible roles and permissions for collaborative authoring and editing
Cons:
The tool doesn't have the internal comments feature
No option to co-edit articles
2. Tettra
Everything You Need for Internal Knowledge Management & Team Collaboration
Tettra is mainly for internal use. It helps you organize your company's knowledge and make it conveniently accessible for your employees, so they can be more productive and make better decisions at work. Suitable for tech startups, agencies, as well as customer-facing teams, Tettra has what it takes to fulfill your internal business requirements.
If you use Slack for your internal team communication, Tettra can seamlessly integrate into your existing system. Your teams can search for Tettra articles right from Slack and get instant notifications for updated or new articles.

You can use Tettra to:
Reduce the repetitive questions employees have

Index titles, headers, and the overall content for quick search

Create workflows to collect information systematically from all employees

Get content verified by subject matter experts
Pricing
Tettra offers three pricing tiers:
Starting

– Basic features free for first five users

Scaling

– $99/10 users/month

Enterprise

– Available on request
Pros & cons of Tettra Knowledge Base
Pros:
Unlimited revision history in the scaling and enterprise plan

A powerful search that delivers answers in seconds

A seamless structure that makes browsing a breeze

Content permission to grant or restrict access to sensitive content
Cons:
Tettra is majorly for internal company use

Importing functionality is very basic

The scaling plan is limited to 250 users
3. GetGuru
Ideal for Company Wiki
GetGuru is a cloud-based company wiki tool that equips your employees with the knowledge they need to work better. It ensures that employees have instant access to product information, work processes, client data, and everything else they need to work confidently.
What makes GetGuru the best alternative to the Slite knowledge base is its versatility. It can be used by all your teams, be it support, sales, marketing, or engineering, to work collaboratively, be more productive, onboard new hires quickly, and save time. With this tool, you can keep your employees on the same page and help them be their productive best.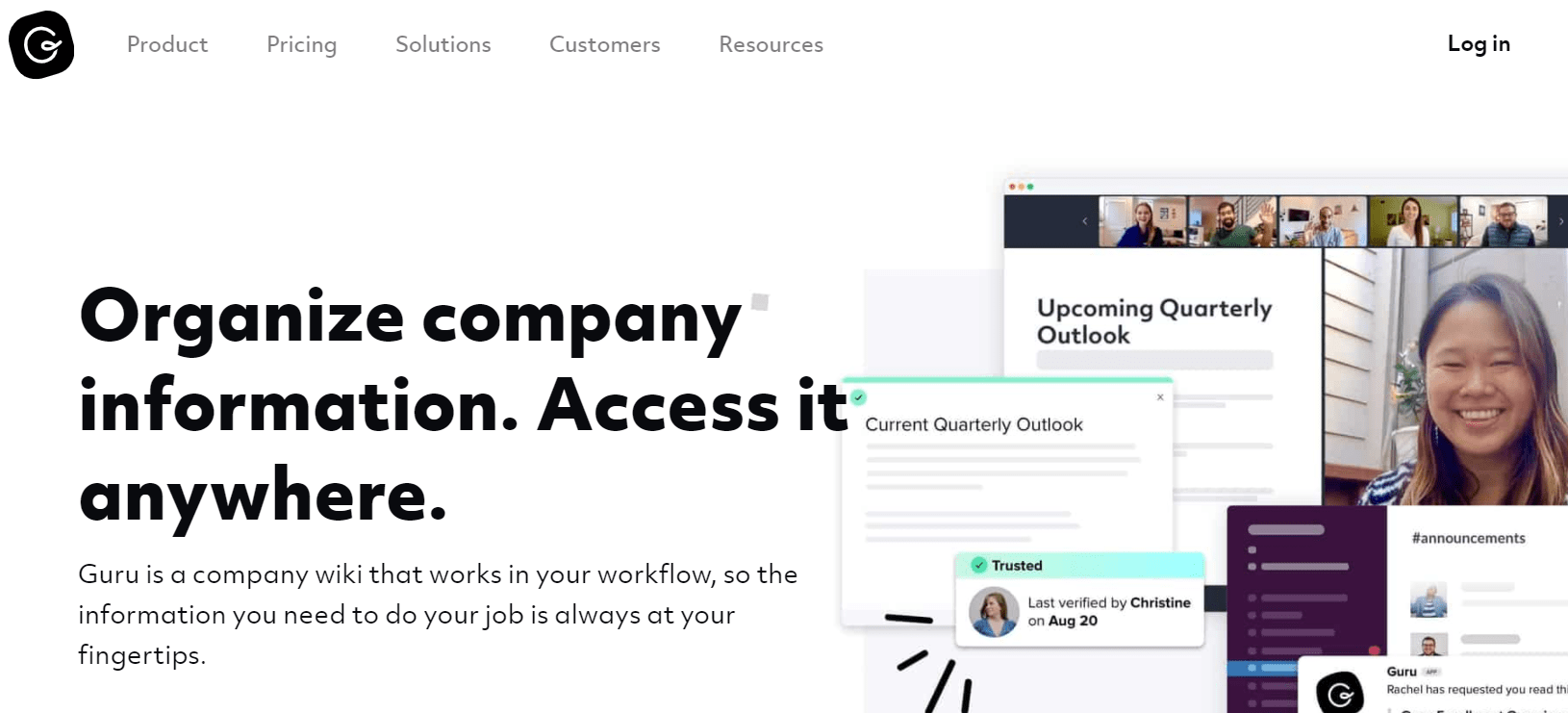 You can use GetGuru to:
Give your customer-support team relevant, expert-verified product information

Keep teams updated with regular knowledge alerts

Build an automated onboarding experience for new employees

Keep teams aligned by integrating Guru with Microsoft Teams and Slack
Pricing
GetGuru offers three pricing plans:
Starter –

$5/user/month

Builder

– $10/user/month

Expert –

$20/user/month
Pros & cons of GetGuru
Pros:
Detects duplicate content so that you can take action on time

Gives detailed article insights to improve performance

Custom knowledge triggers to keep employees updated

Integrates with your favorite tools including Slack, Zendesk, Confluence, and many more.
Cons:
No free plan

Content migration is not that smooth

The search function doesn't work that well
4. HelpSite
Built for Customer Support & Internal Knowledge Management
HelpSite is a cloud-based knowledge base tool that helps you build a knowledge base, FAQs, and documentation for internal and external use. Packed with the best features, HelpSite provides lightning-fast search, custom roles, and permissions, powerful customization options.
So, whether you want to delight customers with self-service, help support staff solve customer issues quickly, or simply make knowledge effortlessly accessible for your employees, this Slite alternative is an excellent choice.

You can use HelpSite to:
Build a public and private knowledge base for your customers and employees respectively

Create mobile-friendly FAQs for your customers

Customize the knowledge base and translate it into different languages

Build multiple help sites in the same account
Pricing
HelpSite comes with four price plans:
Free

– Basic features free at $0.

Standard

– $14.99/month

Gold

– $49.99/month

Plus

– $99.99/month
Pros & cons of HelpSite
Pros:
It can be deployed for both internal and external use

It's easy to set up, use, and maintain

Provides site and article-level visibility options

Custom HTML and CSS that gives you the power to customize your knowledge base fully
Cons:
Single-level hierarchy for categorizing articles

No file manager or shared repository to upload files and use them across sites

No built-in reports. You will have to integrate with Google Analytics to get insights into how well your articles are performing.

Limited sites, articles, and members even in the premium plan
5. Notion
An All-in-One Tool to Keep Your Teams Organized
Notion offers an all-in-one workspace to plan and manage your work. Built for teams of every kind and size, the tool can be used for product, engineering, HR, design, marketing, and all other departments. Notion infuses clarity and transparency in your work process by bringing the company's knowledge into a centralized space.
You can employ Notion to give your teams a single, powerful system where they can work in collaboration, find the knowledge they need, and stay on the same page. No more knowledge silos, scattered information, and chaotic processes.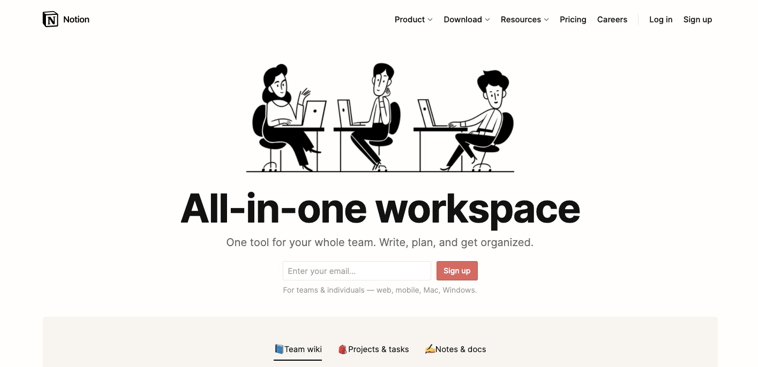 You can use Notion to:
Solve unique problems of your product, sales, marketing, and other departments

Equip teams with both project management and knowledge management tools on a single platform

Collaborate in real-time with comments and mentions

Organize notes and make them conveniently accessible for everyone
Pricing
Notion offers four price plans:
Personal –

Basic features at $0.

Personal Pro

– $4/month

Team

– $8/month

Enterprise –

Available on request
Pros & cons of Notion
Pros:
The tool allows you to mark comments and mention team members for collaborative working

A variety of templates for hassle-free content creation

Built for personal use, remote work, startups, students, as well as educators

Easy import and export options

Notion offers both knowledge management and project management to help your teams work better
Cons:
Integrates only with Slack

No CSS. This means you don't have the option to customize your knowledge base from scratch.

The mobile app can work slow at times

Notion doesn't provide built-in reports
6. Acquire
A Powerful Platform to Engage Customers
Acquire is a cloud-based Slite alternative that helps you engage with customers from wherever they are. Be it live chat, help desk, or knowledge base, this tool gives you an all-in-one space to delight customers with a unified experience. With 50+ integrations and compelling features, Acquire is one of the best customer support tools you will find in the market.
The tool's knowledge base software is a crucial part of its customer support suite. It's a boon for your business as your customers can use it for self-service, and agents can leverage it to provide better support services.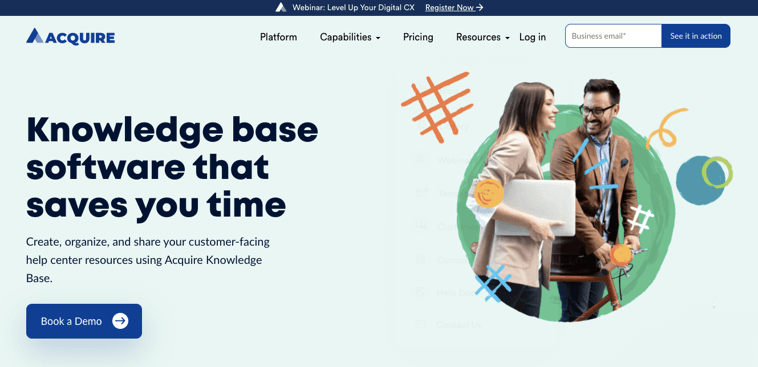 You can use Acquire's knowledge base tool to:
Plug your knowledge base articles into chat messenger

Create knowledge base in the native language of your customers

Customize your knowledge base with custom themes, logos, and fonts

Use knowledge base and chatbot together for better support
Pricing
Acquire offers three pricing tiers:
Teams – $90/user/month

Professional – $120/user/month (Knowledge Base included)

Enterprise – Available on request (Knowledge Base included)
Pros & cons of Acquire
Pros:
Built-in chatbot that suggests relevant knowledge base articles to customers

Easy to import articles and manage them

Powerful integrations to give you an awesome experience

Connects with chat and ticketing tools to help you provide seamless support across channels
Cons:
The knowledge base is not provided in the Teams plan

While you can change the branding, fonts, and themes, the tool doesn't offer CSS for complete customization

The tool doesn't offer internal comments and export features
7. Flowlu
Packed With All Essential Business Tools
Flowlu is a cloud-based business management software comprising all the necessary tools your company needs to manage projects, customer relationships, and business knowledge. Its knowledge base software helps you build internal guides for your team and a self-service help center for your customers.
While internally, its knowledge base helps your teams collaborate, share knowledge, and work in a better way, its external use case empowers your customers with seamless self-service. Flowlu's knowledge base tool works in sync with its project management and CRM elements, giving you a holistic solution to your business needs.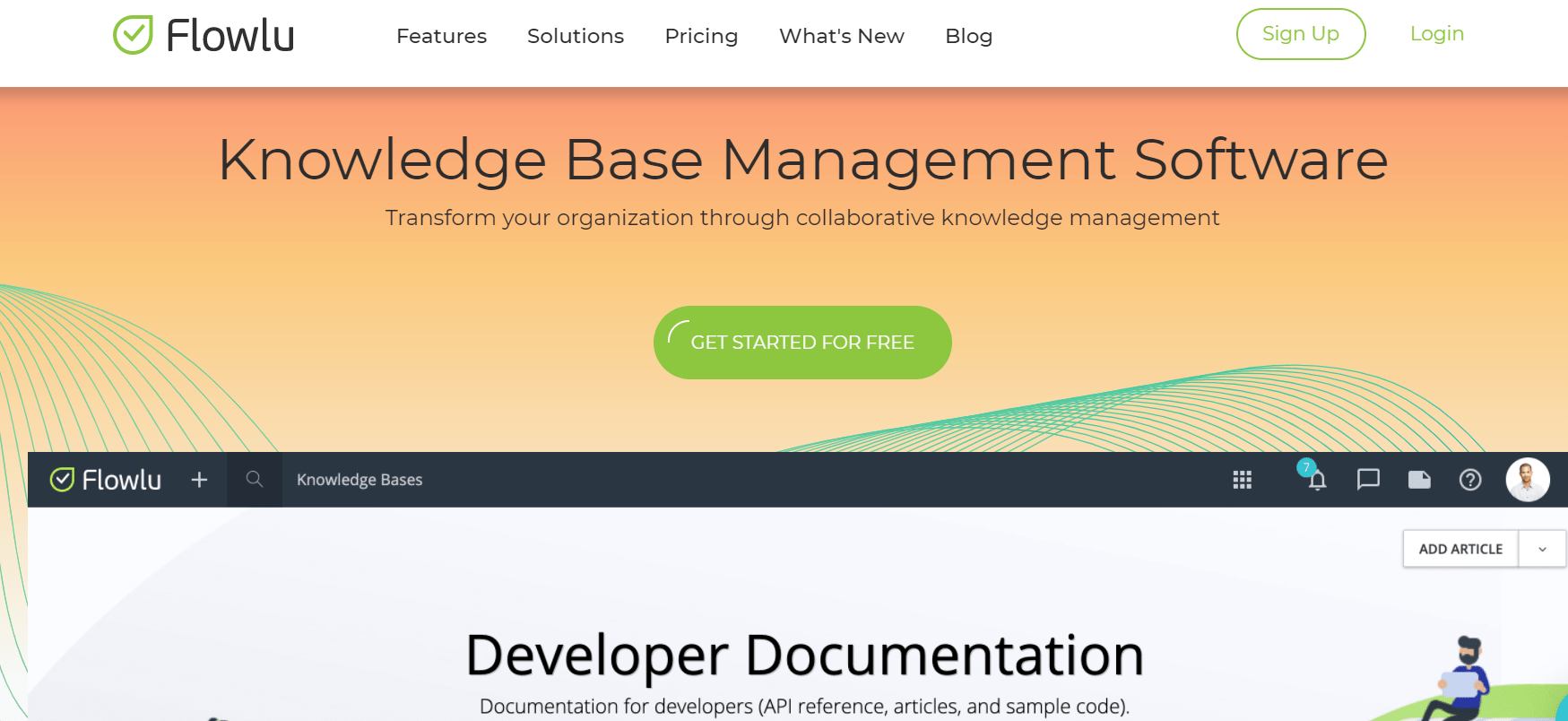 You can use Flowlu's knowledge base tool to:
Create online developer documentation, customer help center, and internal knowledge base

Help both technical and non-technical users to write and manage content

Organize knowledge base content in categories and subcategories using a structured page tree

Pin popular articles on your home page
Pricing:
Flowlu offers five pricing tiers:
Free –

Basic features at $0

Team

– $29/month

Business

– $59/month

Professional

– $119/month

Enterprise

– $199/month
Note: Knowledge base is included in all plans.
Pros & cons of Flowlu
Pros:
Built for both internal and external use

Access rights and permissions for a secure and collaborative workspace

There are features to optimize your knowledge base on search engines

The tool allows you to set workflow status to increase transparency
Cons:
No templates available

No features to import and export of knowledge base articles
8. Knowmax
Let Knowledge Flow Freely Across All Your Channels
Knowmax offers a single source of truth for your support team and customers. It makes information instantly accessible on your website, mobile app, as well as chatbots. If you want a smooth knowledge flow that helps customers find answers quickly and enables agents to deliver speedy support solutions, this Slite alternative is the right choice.
Ideal for businesses across industries – Telecom, Banking, Travel, and Healthcare, Knowmax is competent to fulfill all your needs from self-service and remote working to operations and tech support.

You can use Knowmax to:
Deliver faster and better search results with its predictive and SEO-friendly knowledge base

Manage users across departments, designations, and roles

Distribute information across multiple channels for connected customer experience

Get useful insights into how your knowledge base is utilized by customers
Pricing
Knowmax offers four price plans – Knowledge Trees, Knowledge Max, Knowledge Suite, and Enterprise. Pricing for all these plans is available on request.
Pros & cons of Knowmax
Pros:
You can create content in multiple languages

Built-in customers to help readers find the right articles quickly

Google-like search system for instant and accurate results

Set a time period for which a content piece will be visible to readers and archive it when it gets outdated
Cons:
No knowledge base templates available

Knowmax doesn't provide CSS

No import and export options
9. Bloomfire
Keeps Your Teams Connected & Productive
Bloomfire helps you tap into your biggest asset – business knowledge. It is a cloud-based knowledge management tool that provides a central and searchable platform to make information gathering and sharing easier. This Slite competitor allows your team members to collaborate and give their best at work, from wherever they are.
Checkout: Best Bloomfire Alternatives
The tool democratizes knowledge existing across departments and gives it a common shelter where it can grow and be of help to everyone. Its AI-powered search, built-in analytics, and powerful customization options make Bloomfire one of the top alternatives to Slite.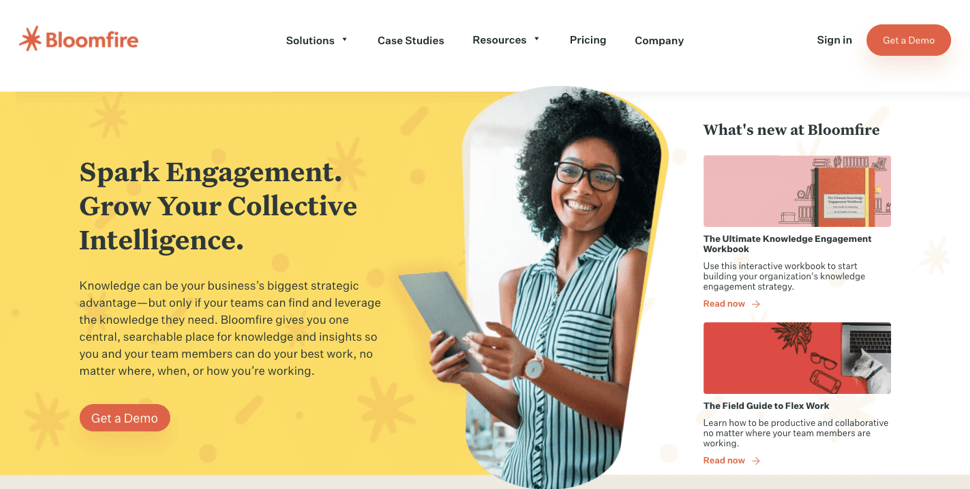 You can use Bloomfire to:
Help your teams work better through a shared knowledge platform

Detect duplicate content and flag articles for review

Get a deeper understanding of knowledge base performance with in-built analytics

Deliver answers faster with AI-powered search, automated tagging, and customizable filters
Pricing
Bloomfire offers two price plans:
Basic

– $25/user/month

Enterprise

– Contact for pricing
Pros & cons of Bloomfire
Pros:
Teams can comment and collaborate on posts

Its AI-powered search gives relevant, context-specific results

Built-in analytics to help you spot gaps, identify search trends and improve your articles

Bloomfire provides the option to create a news hub where you can curate industry news and keep everyone updated.
Cons:
The content categorizing system needs improvement

Navigation can be challenging at times

Doesn't offer a free plan
10. GrooveHQ
A Simple Customer Service Solution for Your Growing Teams
GrooveHQ is an all-in-one help desk tool that offers a knowledge base, live chat, and analytics. This Slite alternative is a boon for your growing teams. It helps them collaborate via shared inbox and answer customers confidently with a knowledge base – all from one centralized platform.
This SaaS tool doesn't provide a knowledge base as a standalone solution. It has a single tool that provides the best of ticketing, live chat, knowledge base, and analytics so that you can deliver compelling support experiences to your customers.
Whether it is about customer self-service or helping your agents work efficiently, GrooveHQ gives you everything you need.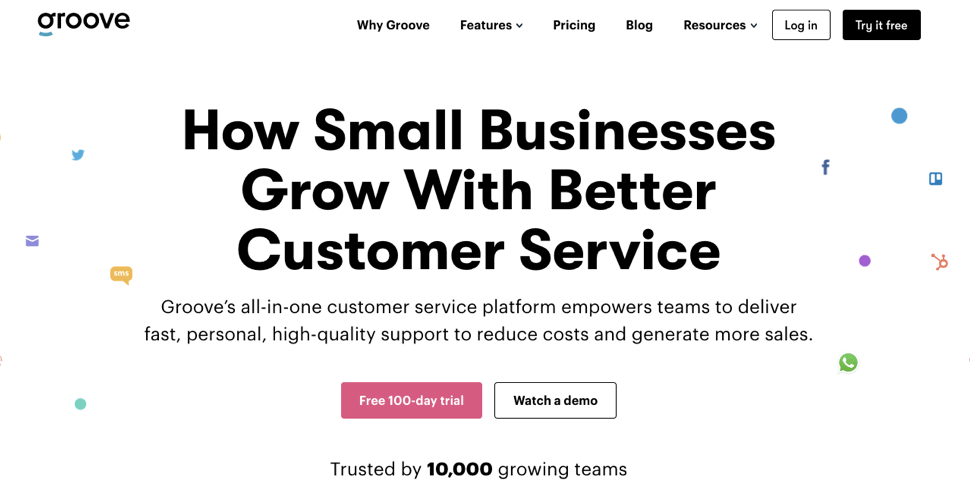 You can use GrooveHQ's knowledge base feature to:
Deliver better and faster customer service with an all-in-one customer support platform

Customize the knowledge base to make it better aligned with your branding

Evaluate knowledge base article performance with comprehensive reports

Optimize your knowledge base for mobile phones
Pricing
GrooveHQ provides four price plans:
Starter

– $12/user/month

Plus

– $20/user/month

Pro

– $35/user/month

Company

– Contact for pricing
Note – Knowledge base is included in all the plans
Pros & cons of GrooveHQ' knowledge base
Pros:
Beautiful, mobile-ready themes that can be customized to your needs

Powerful reporting that gives rich insights into article performance and search trends

Password protection and restrictions for more security

You can optimize all your articles for search engines
Cons:
No ready-to-use knowledge base templates

It doesn't support HTML and CSS

Workflow rules and approval system not available
Quick Comparison of Leading Slite Alternatives
Now that you have a brief idea of all slite alternatives, it's time to compare them on the basis of some key features.
| Knowledge Base Tools | Public/Private knowledge base | Ready-to-use templates | User management, roles & permissions | Reports & analytics | Search engine optimization features | Customization | Third-party integrations |
| --- | --- | --- | --- | --- | --- | --- | --- |
| ProProfs Knowledge Base | Y | Y | | Y | Y | Y | Y |
| Slite | N (Internal only) | Y | Y | N | N | N | Y (Only 6 integrations) |
| Tettra | N | Y | Y | Y | N | Y (CSS not supported) | Y |
| GetGuru | N (Internal only) | Y | Y | Y | N | Y (CSS not supported) | Y |
| HelpSite | Y | N | Y | N | Y | Y | Y |
| Notion | N (Internal only) | Y | Y | N | N | N (CSS not supported) | Y(Limited to Slack) |
| Acquire KB | Y | N | Y | Y | Y (very basic) | Y | Y |
| Flowlu | Y | N | Y | N | N | Y (CSS not supported) | Y |
| KnowmaN | Y | N | Y | Y | N | Y (CSS not supported) | Y |
| Bloomfire | N (Internal only) | N | Y | Y | N | Y (CSS not supported) | Y |
| GrooveHQ | Y | N | Y | Y | Y | Y (CSS not supported) | Y |
Which Slite Alternative Is Best for You – It's Time to Make the Call
Now you have the market-leading Slite alternatives in front of you. We understand how challenging it is to go through hundreds of websites, check out features and then decide which tool is the best for your business.
The above-given list is curated to make the process easier for you. While Slite is a good tool, it might not be the one you are seeking. Chalk out your requirements, check out the tools listed above, and see which one is in sync with what you want.
Among all the tools, the one that comprises all major features for customer self-service and internal knowledge management is ProProfs Knowledge Base.
It's one of the simplest tools you will find online. With its out-of-the-box features for authoring, designing, user management, and publishing, it's inarguably one of the best alternatives to Slite that you must try today.
Do you want a free Knowledge Base Software?
We have the #1 Knowledge Base Software for delightful self-service help center starting at $0