What is the ultimate goal of any business? To sell, earn revenue, and build lasting relationships with customers.
All of this is directly dependent on those in the front line, i.e., your sales soldiers. They fight and fall multiple times to drive customers to the point where they happily want to do business with you. That keeps the revenue rolling and shareholders happy!
A common fear of businesses is – what to do if their sales team weakens?
It will break the connecting thread between you and your prospects, drift them away, and drastically impact your bottom line.
To prevent this from happening, consider creating a fool-proof sales enablement strategy. A winning strategy powers your sales personnel with the resources, tools, and knowledge they need to stay strong and sell smart.
Excited to learn about sales enablement and unlock the formula to create a compelling sales enablement strategy?
Let's dive in.
Sales Enablement Uncovered
Sales enablement is a business function that focuses on equipping the sales staff with the knowledge, tools, and training they need throughout the sales cycle to close more deals. It works with the sole objective of assisting your sales team in providing the best-in-class experience to prospects.
The better the experience your sales team provides, the higher the likelihood of clocking conversions.
More conversions mean more sales!
The question is how to execute sales enablement, track its usage, and monitor its effectiveness? For that, you need a winning sales enablement strategy, which brings us to our next question.
What is a Sales Enablement Strategy?
A sales enablement strategy is the approach you take to execute sales enablement and provide your sales team with the resources they require to sell effectively.
The first thing you need to do is understand your sales reps' pain points and the challenges they encounter at different stages of the sales process. Based on this information, craft a compelling strategy that –
Provides information to sales staff at every stage of the sales cycle

Trains reps on how to sell better and deliver exceptional experiences to customers

Provides access to

sales scripts

that can come in handy while creating sales pitches

Gives access to various sales enablement tools such as a knowledge base or self-service help center that can help sales team perform better

Makes it easier for sales staff to

collaborate with the marketing team and get help whenever needed
Read More: Why Sales Enablement Matters to Businesses?
Let's now jump to – how to build a compelling strategy.
Create a Winning Sales Enablement Strategy With These Pragmatic Tips
#️1 Have a Clear Objective
Do not narrow your focus on merely helping sales staff to sell more and sell fast. Instead, have broader and more meaningful goals such as –
Increase the active selling time of the reps

as research suggests that sales executives spend just

one-third of their day

interacting with customers.

Keep salespersons updated with the latest industry trends

Reduce administrative work

such as researching leads, data entry, writing emails to a bare minimum so that reps can focus on their core work – selling.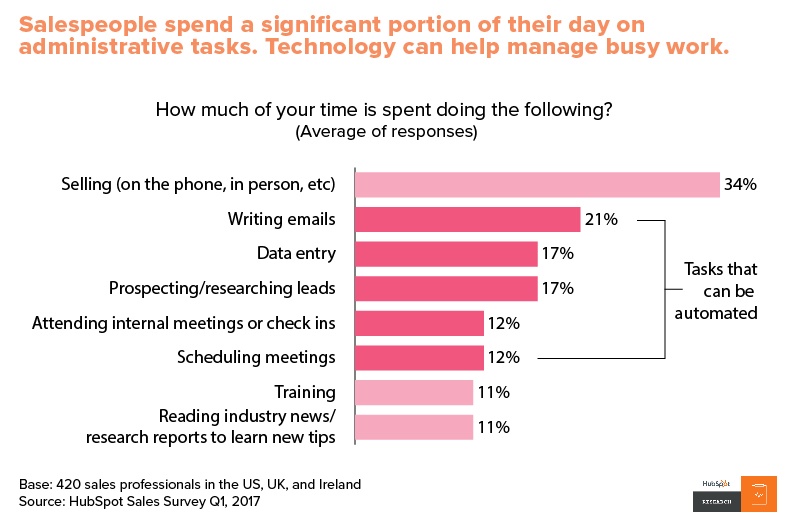 By channeling efforts towards achieving the sales enablement objectives mentioned above you'll be able to realize your organizational goal of increasing revenue.
#️2 Evaluate the Challenges and Pain Points of the Sales Team
You can't have a one-size-fits-all strategy that can solve the different problems of your sales reps.
Each member of your sales staff has unique challenges pertaining to:
The customers they deal with

the industry they cater to

the skills they possess

The experience they have of handling similar situations and much more.
Discuss with your sales staff and find out what is holding them back from achieving their best.
Ask them questions about:
their experiences

while dealing with customers

their rapport with other team members

Their concerns regarding the constant market changes

Level of knowledge on a particular subject

The requirement of training sessions if any

and, most importantly, the immediate and long-term goals they are working on
If their career goals do not align with your sales enablement objectives, it means there is a wide gap between what they want to do and what they are currently doing.
You want extremely driven people in your sales division who are always ready to take on new challenges. If the goals of your sales staff are not in alignment with your overall business objectives, it can hinder the overall progress of your sales function.
Take note of these challenges, brainstorm, and come up with possible solutions to ensure that your sales enablement strategy covers every challenge and pain point of your sales team.
#3 Adopt a Knowledge-Centered Approach
Knowledge is central to sales enablement.
One of the main objectives of sales enablement is to arm your sales folks with the right knowledge and push them to make mindful decisions.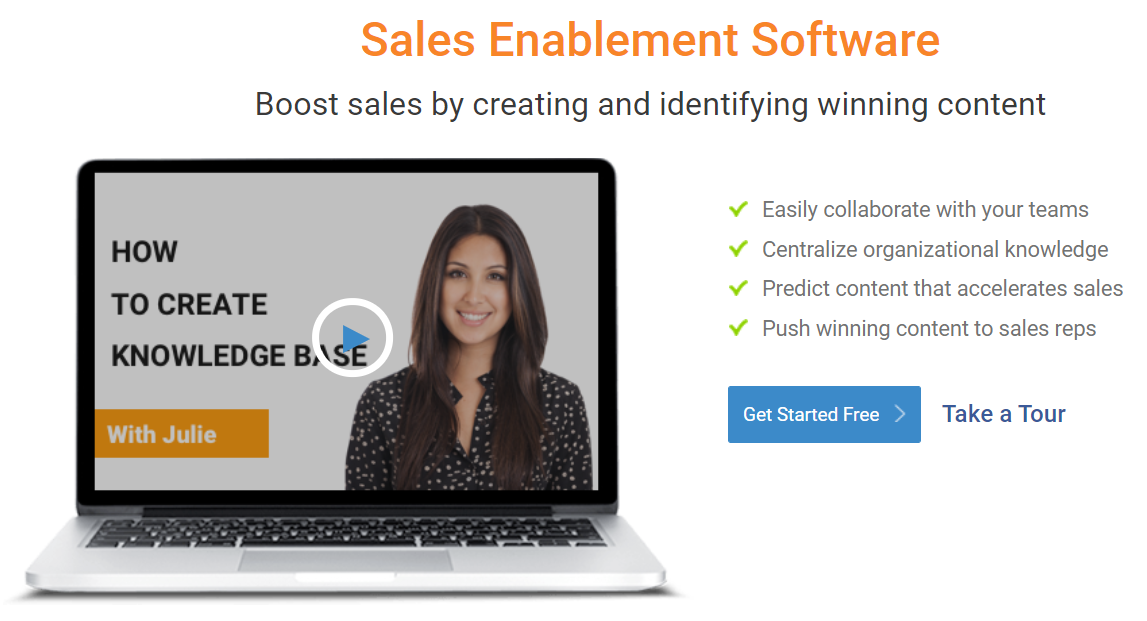 Embracing a knowledge-centered approach can make this possible. All you need to do is create an online knowledge base that comprises necessary information your sales team might need, such as:
Details about customers – demographic, profession, age, and more.

Information about new product launches, product updates, etc.

Product user manuals

Questions frequently asked by customers

Competitor research and analysis

Sales scripts

Social media usage statistics, and much more.
Making this tinder box of valuable information easily accessible to the sales squad should be your top priority while crafting a sales enablement strategy.
Watch this video to learn how a knowledge base can help you out in this endeavor.

Read More: Create Sales Enablement Content to Achieve Marketing Success

#4 Talk It Out
The best way to refine your sales enablement strategy is by discussing its role with various teams – sales, marketing, product, and more. Talk to them about what you want to achieve with this strategy.
You might wonder why you need to talk to other departments when you should just focus on the sales staff. Well, that's because some functions like marketing, product, customer support are also customer-facing, either directly or indirectly.
Interacting with them will expose you to several areas that can affect your sales team's performance in some way or the other. Also, they will have some critical inputs to share, which your sales team might not have, and vice versa. These insights are instrumental in further polishing your sales enablement strategy.
For example, the product team will have more technical knowledge than any other division. It will have detailed insights into the bottlenecks customers face while using the product. Tap into this knowledge to create useful resources – documentation, ebooks, online manuals – for your sales staff. Your sales folks can then use this knowledge to their advantage while interacting with customers.
#5 Keep Customer as the Focal Point of Your Strategy
While devising a sales enablement strategy, it's natural for you to sideline customers and focus solely on the salespersons. This can be a grave mistake.
Who are you trying to win over at the end of the day?
It goes without saying – it's your customers.
If your customers aren't satisfied, all your efforts to create a sales enablement strategy and keep your sales team in high spirits will come to naught.
To avoid this, try to understand customers' buying journey, their behavior, and their experience while interacting with your business. Map the touchpoints – all of them, across the buyers' journey from start to finish.
Ensure that your sales process is in sync with these touchpoints, and customers receive a wow experience at every touchpoint.
Accordingly, create a strategy that focuses on equipping your sales team with the different types of sales enablement content and the necessary sales collateral.
#6 Prioritize Sales Staff Training
Identify the training requirements of sales staff by:
Tracking the performance of each team member

Spotting the weak and strong areas of sales reps

Understanding the challenges they face while doing their job
Leverage this information to create training programs that cater to the specific needs of sales reps, such as:
Team collaboration

Stakeholder and client management

Optimal use of sales enablement tools – help desk, knowledge base and live chat

Project management and time management

Gain a deeper understanding of the sales process
While devising your sales enablement strategy, do not forget to give due importance to learning and development. This is crucial to instill the right skills in your sales reps and prepare them to put their best foot forward while fielding customer questions.
An online training manual can help here. It's a centralized document where your sales professionals can instantly find the information they are looking for and train themselves on various aspects of sales.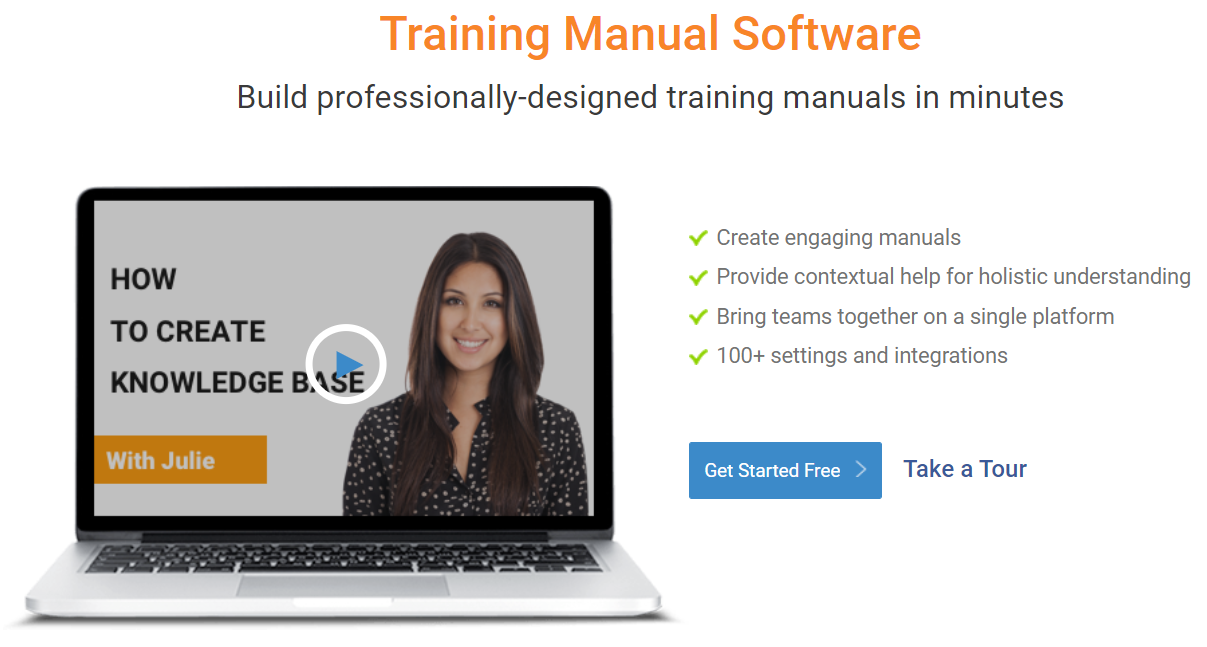 Explore: The Ultimate Guide to Create a Training Manual
You can even opt for tools like Training Maker and Quiz Maker to train salespersons and equip them with the right knowledge.
Training Maker helps you create a variety of courses that your sales staff can take any time they want to enhance their selling skills or improve their knowledge on a subject. Pick from a library of courses available, or create a sales-specific course from scratch. Design it the way you want and add multimedia to enhance learner engagement. Salespersons can complete the course at their own pace and get a completion certificate in the end.

To add to this learning experience, you can use Quiz Maker. Create interesting quizzes based on your training courses to assess knowledge retention of your sales team. This will give you a clear picture of where your sales team is struggling. You can analyze the responses and accordingly take action to improve the knowledge of your sales team.

#7 Adopt the Right Sales Enablement Tools
Do not underestimate the power of tools when it comes to sales enablement. Although they are just a means to an end, they are equally important as other elements of sales enablement.
Without the right tools, achieving the ultimate outcome of sales enablement will only get tougher as sales execs will have more time-consuming manual work on their hands, such as:
Gathering various types of sales enablement content from multiple sources

Tracking customer data and interactions

Sending feedback emails to customers and much more.
This can be productivity sapping and time-consuming!
Your sales enablement strategy should, therefore, consider the tremendous help tools can provide to your sales staff. It should focus on arming your sales staff with the latest technology to turn the sales process utterly seamless.
Here are some of the sales enablement tools that you can adopt:
✅ Knowledge Base Software: It helps you create a centralized knowledge platform where sales staff can find all information related to:
Products and services

Sales process

Details of different teams for better coordination

Customer's information – demographics, profession, previous experience with the firm, etc.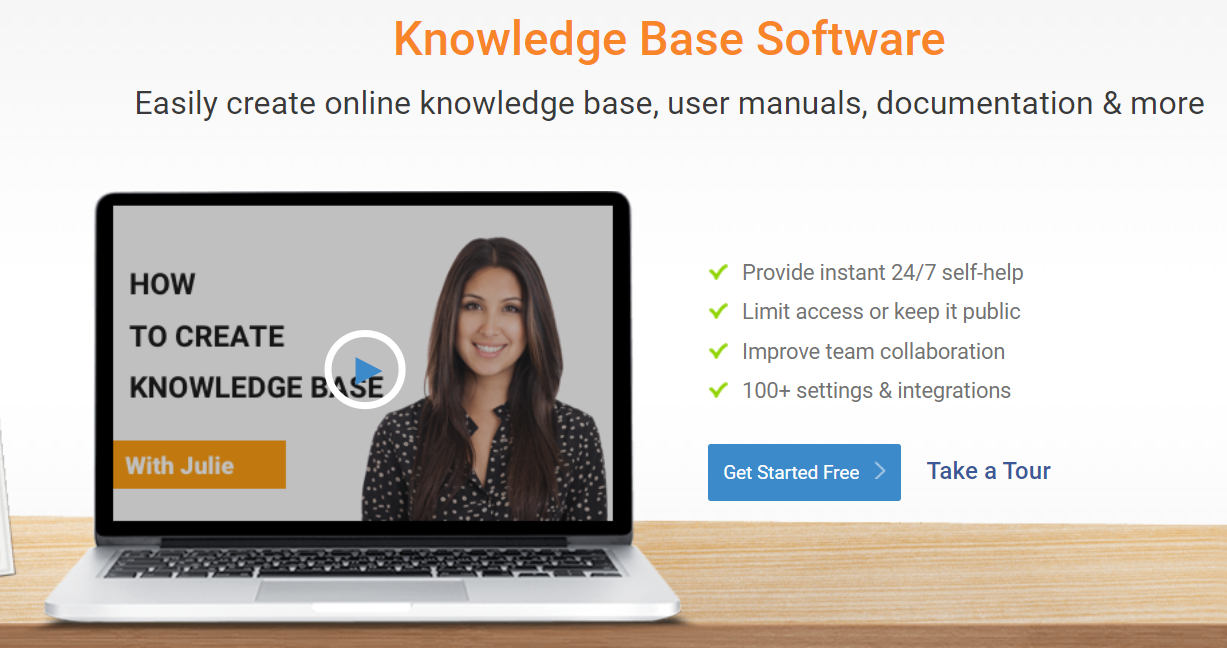 ✅ Live Chat Software: This tool is perfect for instantly interacting with website visitors, capturing leads, and converting them faster. It helps agents trace the path visitors take on your website and engage them proactively. They can answer visitor questions instantly, which ultimately leads to conversions.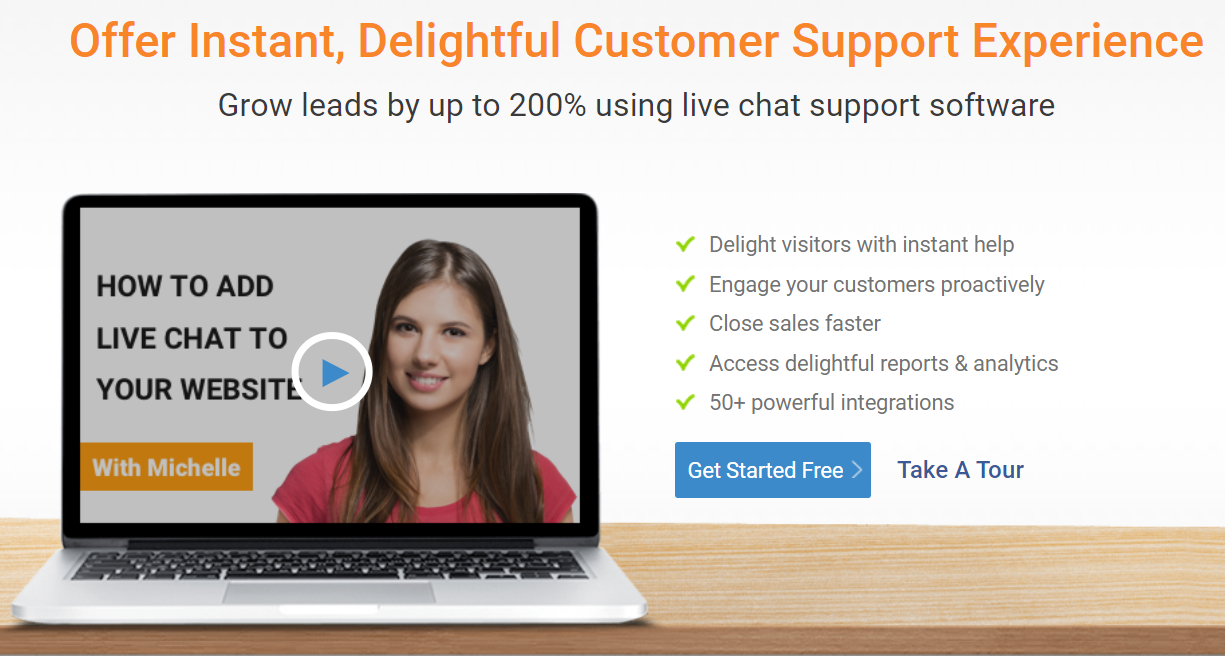 ✅ Help Desk: This works great for automating ticket management. Emails flowing to the [email protected] email address are brought to a shared inbox where agents can instantly assign, track, and resolve them collaboratively. The tool also helps in sending automated feedback emails once an issue is addressed.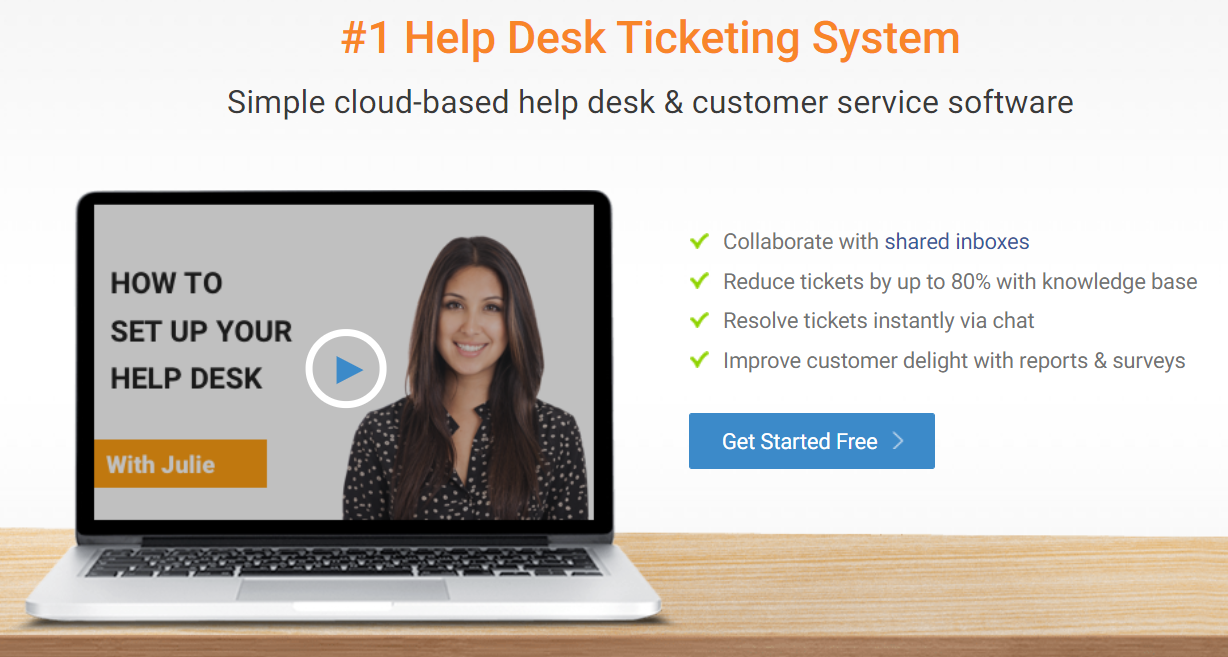 ✅ Qualaroo: This tool is noted for its ability to nudge visitors at critical points. Qualaroo nudges™ helps you ask the right question at the right time and drive visitors to take action quickly.

Image Source
Here's a short video to give you a better understanding of Qualaroo.

Make these tools a part of your sales enablement strategy and augment the capability of your sales staff woo and win customers easily.
Supercharge Your Sales Staff With a Smart Strategy
To ensure a hassle-free implementation of sales enablement, well thought out sales enablement strategy is imperative. It acts as a guiding force for your salespersons, pushing them to successfully conquer sales-specific challenges, sell confidently, and brew beautiful bonds with customers.
For creating a winning strategy:
Be clear with your objectives

Adopt the latest sales enablement tools

Step in the shoes of your sales staff, and

Never lose sight of your customers.
Looking for ways to enhance the competence of your sales squad and drive them to sell with confidence?
Follow the above-given tips to build a rocking sales enablement strategy, and you will be amazed by the results.
Do you want a free Knowledge Base Software?
We have the #1 Knowledge Base Software for delightful self-service help center starting at $0