$160 billion worth SaaS or Software As A Service is an extremely competitive industry, as more than 16,000 global SaaS companies are attempting to sell their products, retain customers, and expand into newer markets and domains.
With so much competition and a limited market, how can a SaaS company ensure consistent revenues and profits without compromising on quality and competitive edge?
The single word answer to this puzzle is SaaS customer support success.
No matter how shiny your product is, how much you have spent on advertisements, or how many Ivy League executives you have, if you fail to provide delightful customer service, then your customers will slip away forever.
Just like the sand in your palm.
Big, billion-dollar SaaS brands are formed by creating a tribe of loyal customers and spending lavishly to keep them happy.
Once this tribe is happy, selling any existing or new product becomes a cakewalk.
Are you ready to make your customers feel great about their decision to choose you?
Focus extensively on SaaS customer support, and this way, you can make a dent in the Universe.
Before we share Saas Support Best Practices, we will first understand what exactly is SaaS customer support, and why should you care about it?
What Is SaaS Customer Support?
In layman's terms, the process of providing help and support to your new, existing, and potential customers of your SaaS products, can be defined as SaaS Customer Support. It is also about delivering continued education to customers about your products and services so that they can make the most of your offerings without any hassles.
Although this is a trimmed-down version, there are several layers and different angles to this definition that we will try to explore here.
The first question is, why SaaS Customer support, and why should your company focus on Saas customer experience?
Why SaaS Customer Support?
Although the SaaS industry started in the early 2000s, it is still at a nascent stage. More than 50% of customers who opt for a new SaaS product haven't used any Cloud-based product before. This means they are used to the traditional model of business wherein they can visit the office to get an issue resolved.
But SaaS changes everything. Your SaaS customer team is the only point of contact, and if customers are not able to easily locate and contact your virtual team, they will feel lost.
This triggers a negative image for not only your SaaS company but the entire industry.
It's quite simple: The more you spend on making your customers feel great about your product, the longer they will subscribe to your plans, and the longer they will remain with you.
What Is the ROI of SaaS Customer Support?
One of the most common questions that arise from new SaaS entrepreneurs: What is the ROI of spending so many resources on SaaS customer support? The simple answer is Your business growth and the scalability quotient of your business.
With a loyal customer base, who are delighted with your SaaS customer support system and are happy to pay for your products, your business is indirectly getting an army of sales and marketing warriors. These warriors will not only buy your next product but also increase your sale by referring to others. This way, you can save quite a considerable amount of money on advertisements, promotions and create a consistent source of revenue.
Customer Support vs. Customer Success in SaaS Companies
SaaS is a unique business model that requires you to be innovative, daring, and open to unconventional ideas to win your customers. This is why, within the landscape of customer management, there are two different paths to satisfy the customers: Customer Support and Customer Success.
SaaS companies that can understand the difference between these two will have the upper hand compared to other companies. Such companies will not have to rely on marketing and advertisement to get new customers and sell their products. Existing customers will become their brand ambassadors and help them grow and scale faster.
Customer Support is the traditional approach in which a specialized team is deployed to resolve customers' concerns on time. The process flow works this way:

On the other hand, customer success is a proactive approach to understand your customers better and provide them with an improved SaaS customer experience that exceeds their expectations. In short, customer success converts the customers into permanent loyal partners who will do anything to remain with you forever.
The process flow for ensuring customer success works this way:

Hence, the main difference between customer support and customer success is the proactiveness and the intent behind the approach.
While customer support resolves the issues put forth by customers (which is always required for every business), customer success turbocharges customer support by being proactive and suggesting the best solutions based on the identified pain points.
Best SaaS Support Examples
Let's dig into practical examples of how some SaaS companies are providing exemplary customer support, with the sole objective of customer success and customer delight:
1. Grovo's Pre-written Chats
Grovo is a SaaS company that specializes in micro-learning. Now part of Cornerstone, Grovo delights its users by making them feel extremely comfortable with the customer support process, right on the first step.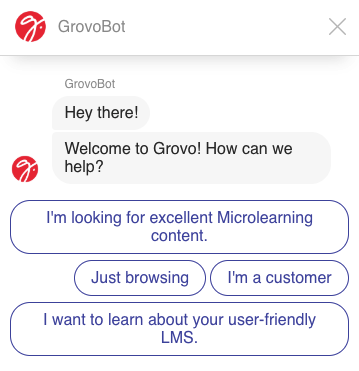 While customer support chatbots ask the users to type their queries, Grovo offers pre-written questions and prompts customers to initiate a conversation. In case the pre-written questions don't match the exact query, it still instills confidence and encourages the users to seek support.
This means more engagement and more value-addition.
2. Buffer's Proactive Approach Towards Support
Most of the new customers for any SaaS product will have questions, and they will search for answers. This is a plain fact. Now, to resolve this, either you can direct them towards customer care support and then ask them to contact a representative or chat with a bot. Or you can proactively provide the questions and allow them to find the best possible answers.
The first approach is plain simple customer support, but the second approach leads towards customer success.
For example, in the Buffer app, every page has a dedicated button for support. Once users click on it, they will be greeted with a search bar and a list of the most common questions that users ask.
This way, a considerable amount of time is saved in finding the answers.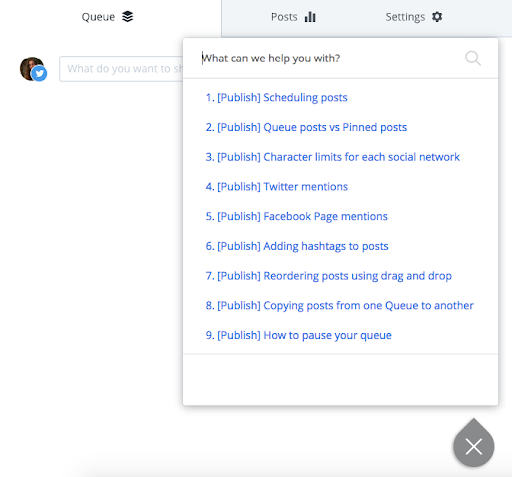 3. Hive's Multiple Options of Customer Support
Often, we have observed that customers are directed towards different paths of customer support. This consumes much of their time to discover the right option. For example, if the new customer needs instant chat, they will first need to visit the contact us page and then select the instant chat option.
Or if they need a live person on call for support, they will need to find the relevant section in the website or app and then make the call.
But Hive is doing it differently.
Every page on the Hive portal/app has a dedicated section for support. Once users click on it, they are greeted with all the support options, right at the same location.
This way, customers need not waste time 'discovering' the support options. They can dig right into the option they want. Quite seamless and smooth.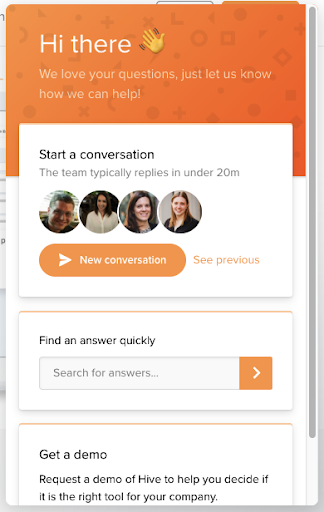 4. HighQ Seeking Valuable Feedback
Creating a comprehensive and useful knowledge base for resolving customers' concerns is essential, and most SaaS companies do that.
But they miss out on something equally important – collecting feedback and insights from customers who are using their knowledge base. They assume that creating a platform of commonly asked questions is enough.
But that's not right. There should be a constant loop of customer feedback and opinions to make this entire process of SaaS customer support work. HighQ is doing it the right way.
After every article/post in the knowledge base, users are asked whether they found the resource helpful or not. And if customers select 'No,' they are presented with a dialogue box, wherein they can share their inputs as to why that particular knowledge base article didn't work out.
This way, customers not only feel more engaged and connected with your brand, but they also get more clarity as to why the article didn't work. Customers become part of the solution rather than becoming the problem.
A double advantage for your company.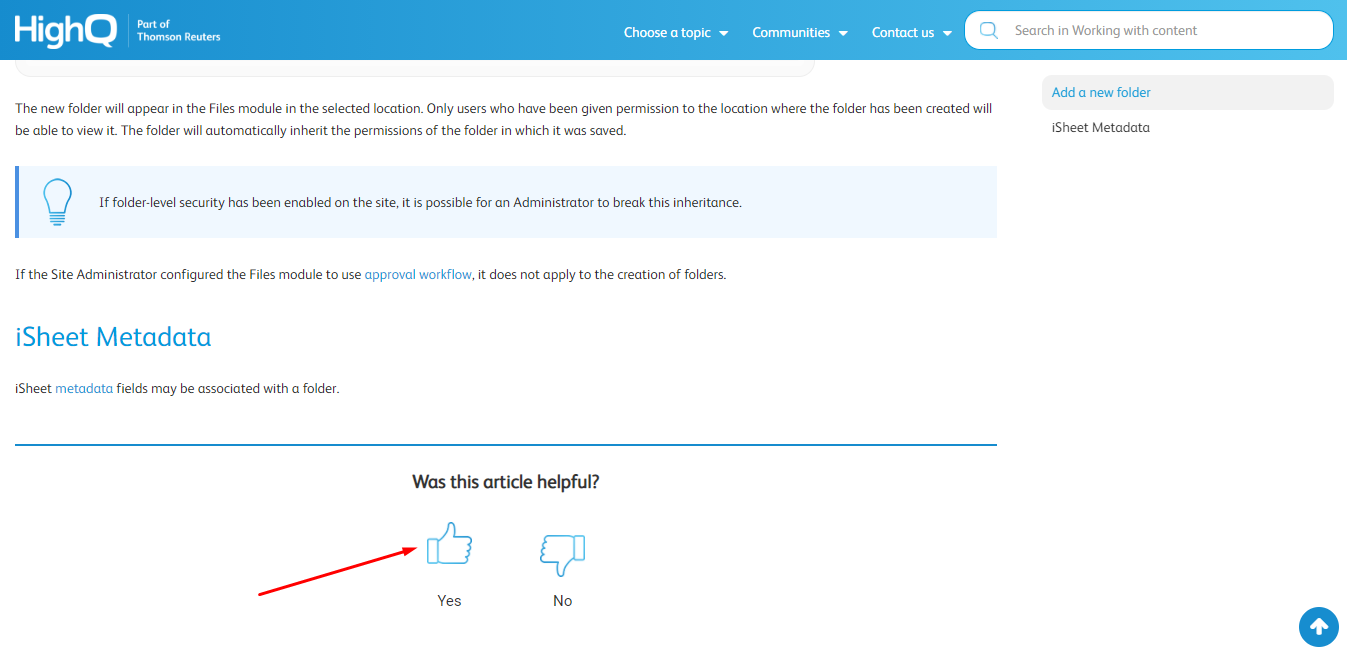 How to Get the Right Structure for Your SaaS Support Team
Every SaaS business is unique, with its own mission and vision. If you are seeking one common strategy to structure your SaaS support team, it might lead to multiple failures.
However, some basic rules and tactics can be applied to all SaaS support teams, irrespective of your business model and operations. The reason behind this is simple. The objective of every SaaS customer support team is the same – complete customer satisfaction.
Here are three foundation-level strategies to create the perfect SaaS support structure for consistent and great results.
1. Dedicated Channels for Support
For SaaS companies, there are n-number of channels wherein they can offer support. It can be live chat, emails, calls, social media, forums, and more.
One big mistake SaaS companies make is that they assign one single customer support representative to multiple customer service channels. This is an invitation to trouble. An employee who has just provided support via email will find it tough to alter his/her tone for social media interactions the next moment. Or a good live call specialist will find it tough to engage in a forum discussion.
The solution is to create dedicated teams for different channels and help them become experts in those areas. For social media channels, for instance, place social media geeks and experts who will be only responsible for issues coming from this platform.
Don't ask them to venture into emails or live chat. Let them work specifically for social media support. This can improve their productivity by a huge margin.
2. Adopt an Omnichannel Approach
Teamwork in customer support is essential. This is the reason there should be an omnichannel approach towards SaaS customer support, aided by a centralized database for all customer issues and information.
Are you wondering why?
Assume a customer calls for assistance, and after providing all the necessary information, the call gets disconnected. Now, the next day, the same customer opts for live chat support.
If there is no omnichannel approach, the agent handling live chat will once again seek all the necessary information from the customer. This can be irritating.
Your overall brand image will suffer, and in the worst case, the customer might completely opt out of the SaaS service.
The omnichannel route allows your support agents to share and access information effortlessly across all channels and provide connected, unified support to customers. Your agents will be able to work in sync and help one another in addressing customer concerns. It's a great way to structure your support team and also delight customers with seamless support.
Read More: Omnichannel Customer Engagement 101
3. Nurturing Domain-Specific Subject Matter Experts
Every SaaS company should attempt to develop and nurture domain-specific subject matter experts. Once you do that, bringing in resolutions for customer concerns becomes easier and seamless. A domain expert will take less time to identify the issues of customers and deliver accurate solutions.
For example, one agent might be an expert in resolving issues related to payments, another in Cloud storage, and the third in product bugs. While all your agents can solve a variety of customer issues, having subject matter experts can expedite the process.
It's not easy to develop subject matter experts. It is an ongoing process, and you should have a plan for the same if you want to provide state-of-the-art customer support in the long run.
Another significant advantage of having subject matter experts is that rerouting issues becomes easier. Assume an agent receives a ticket about billing issues, for which he is not the right person. The issue can then be quickly escalated to an expert.
15 SaaS Customer Support Best Practices for Exceptional Results
Check out these 15 best practices for SaaS support, which will help your SaaS company to deliver top of the class customer experience without spending a fortune:
1. Embed the Essence of Customer Service in Your DNA
First and foremost, embedding the true essence and vibes of customer service into the core of your SaaS business is critical. From the time an employee joins to when a leadership change occurs, from incorporating the company to scaling it, the essentials of customer service should be in your organization's DNA.
Everything you do – policy changes, expansion, recruitment, new product development, getting venture capital, etc. should revolve around the ultimate objective of providing the best customer experience.
From the intern to the CEO, everyone should be aware that your SaaS company cares for customers and won't leave any stone unturned to deliver an incredible customer experience.
2. Make It Easy to Find Support
For a top-notch customer experience, it's critical to make the support option easily accessible and visible to customers. If your customers have to spend hours to 'find' and 'search' the option to get in touch with you, then it's a failure.
The access to customer support should have a multi-directional approach. Your customers should be able to contact you using their favorite channels, whenever and from wherever they want. It can be calls, emails, chat, social media, or even community forums. You should also consider the devices they use to contact you. Is it a smartphone, desktop, or laptop?
Ensure that you are accessible on the channels of their choice so that they don't have to make extra effort to reach out to you.
Although 24×7 customer support is preferable, since the Internet never sleeps, you should clearly mention the hours of operation if you don't offer round-the-clock support. Being honest with customers is better than setting false expectations and making them wait to get the help they need.
3. Make It Quick With Live Chat
If your website/app has a Live Chat option, then make the chat quick and instant. There is no point in making customers wait after they have initiated the chat.
The very fact that customers have started the conversation indicates that they are looking for an instant solution to a pressing problem. You can deploy a chatbot or a team to cater to customer requests on chat. But don't leave the incoming chats unattended.
For quick and seamless live chat support, ProProfs Chat is an excellent choice. It helps you proactively resolve customer issues via chat.
With this tool, you can proactively contact customers, monitor customers' activities, and initiate conversations. You can send chat pop-ups, greetings, and even make product announcements using this tool. It is a great option if you want to provide quick support to your customers, engage with them, and create opportunities for sales.
This video will guide you through the process of installing live chat on your website.

4. Comprehensive List of FAQs Saves a Lot of Time
FAQs are quite under-rated. But the truth is a set of solid FAQs can save a ton of time and resources for your company and can quickly provide the resolution that your customers are seeking.
Your customers love them too. Research suggests that 88% of customers prefer self-service support to get their issues resolved.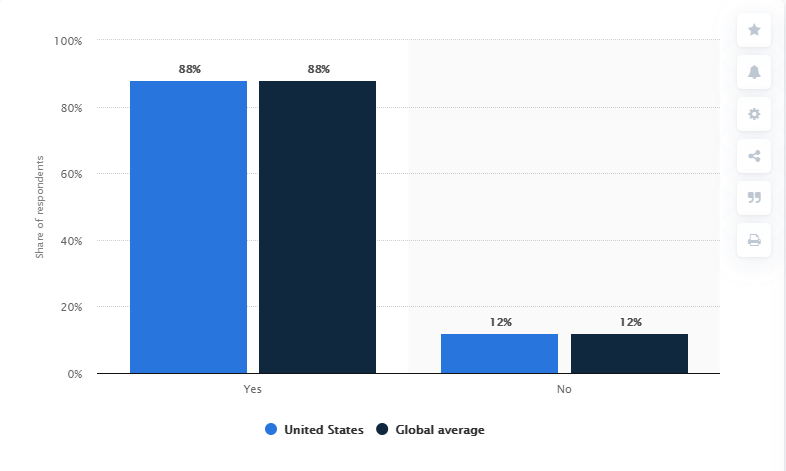 Source
FAQs are a kind of self-service option that gives customers ready answers to any questions they have.
After creating the FAQs, keep updating them with newer questions and answers based on customers' feedback. Remember that an outdated FAQ is worse than having no FAQ at all.
For your FAQs to be always updated and offer accurate answers, you should keep monitoring the type of questions searched by the customers, the keywords they use frequently, tickets raised in the past, and much more. Based on these insights, add new and relevant questions, improve existing answers and make your FAQ database a rich source of information.
5. Analyze Customer Issues & Offer the Right Resolutions
Being a SaaS company, you will keep on receiving questions from customers on a daily basis. Every customer matters, so it is important to give equal attention to all issues reaching your support team.
But, simply resolving issues as they come is not the right SaaS support strategy. You need to analyze customer issues, understand the underlying pain points, and provide the right solutions.
For example, in general, customer issues are mostly related to bugs, missing features, and features not found in your product. You can use this data to improve your product and, by that extension, customer support quality.
Analyzing this data will help you decode the problems and issues that your SaaS offerings have. This will help to make your product unbeatable and highly usable.
For example, if the customer seeks inquiry on any missing feature, then in the next update, add that feature, and make your product even stronger.
6. Categorize & Prioritize Your Customer Requests
The incoming questions from your customers can be random, chaotic, and unorganized for obvious reasons. There must be hundreds and thousands of customers, and they must be having hundreds and thousands of questions.
In order to create a solid process for customer support, it's imperative to classify and categorize these issues based on the criteria that you deem fit.
This will help you analyze issues on a deeper level and address customer concerns faster and in an organized way. For example, an issue of billing should not be assigned to a sales guy. This can lead to more chaos, with a high possibility that customer experience will not go as expected.
The ideal way here is to categorize and prioritize issues for effective and timely resolution.
A tool like ProProfs Help Desk can help you here. With its Gmail-like interface, it allows you to categorize customer issues, prioritize them according to their urgency, and route them to the right agents. You can connect it with your customer support knowledge base. This helps agents answer questions even faster.
Watch this video to learn more about how you can manage and resolve customer issues with help desk software.

7. Centralized Database Of Conversations, Issues & Solutions
Creating a centralized database of all customer interactions, issues, and feedback is one of the foundations for forming a structured customer support process. Once you have a centralized database of customer inquiries, it becomes extremely seamless to resolve new issues and track the previous ones.
Without such a centralized database, the information received from customers will be scattered and unorganized. Your team will have to spend extra time gathering the same data all over again, and your customers will be irritated to repeat the same information.
Besides, all the departments can access such a centralized database, making information sharing seamless and cementing your customer care process. This will allow agents to stay on top of customer issues, track interactions, and deliver timely solutions.
There are various help desk tools that make this possible. One of them is ProProfs Help Desk. It brings all customer issues on a centralized dashboard, making it easy for your agents to track, manage, and resolve them.
This video explains how you can set up your help desk in just five minutes.

8. You Can't Afford to Ignore Mobile
Did you know that there are 3.5 billion smartphone users in the world?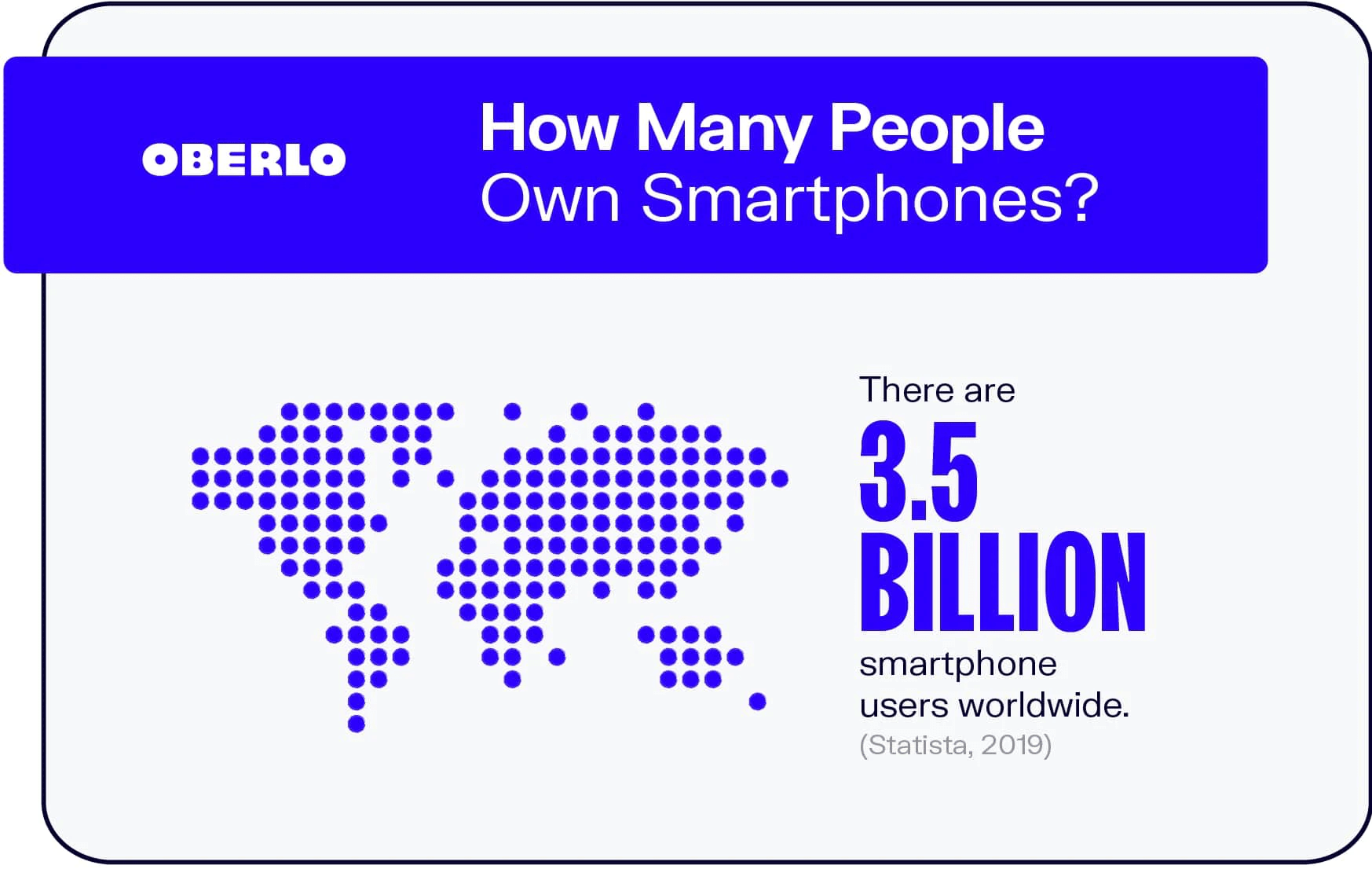 Source
Let that sink in.
Now, this means that most of your customers use mobile to seek support. That's precisely why you cannot ignore mobile today.
If you are assuming that your SaaS product is desktop-based and there is no need to be present on mobile, you are wrongly accessing the current digital trends and customer expectations.
All your customers are present on mobile. They will try to seek answers to their problems via their mobile devices. Plain and simple. If you are developing a dedicated mobile app to provide customer service, it's the best way to go. But in case that's not in the plan, then a mobile-friendly website is the next best thing.
But you can't afford to miss the mobile accessibility.
9. Create Benchmarks For Evaluating, Optimizing Results
One of the critical aspects that SaaS companies miss is creating benchmarks and standards for customer support. Now, every SaaS company is unique and has different measures to judge their efforts.
For customer service operations, too, you need to have benchmarks and standards to maintain the quality of the support you provide. Setting gold standards helps agents understand the amount and the kind of effort required to meet your and your customers' expectations.
For top-notch customer support, you can set rules regarding:
The turnaround time for resolving customer issues
Customer greetings for the first, second, third, and more times when agents contact them.
What kind of discounts and offers are to be made based on customers' history
First contact resolution, and more.
Set the right standard and watch things pan out beautifully.
10. Hire Employees With the Right Skills
Did you know that poor experiences can drive away 59% of your customers?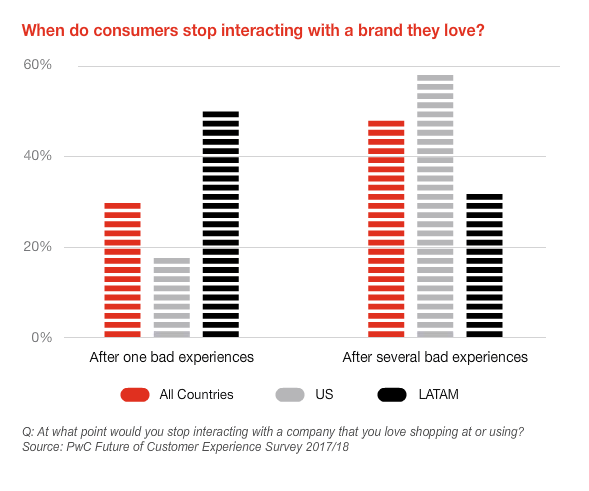 Source
Hiring the wrong agents is one of the reasons behind this. Your customer support staff is always at the frontline, guiding customers in the right direction, assisting them every step of the way. Now, if your agents are not knowledgeable and competent to handle customer issues, how can the ultimate experience be excellent?
Getting suitable agents with the relevant skills on board is a strategic move that shouldn't be ignored at any cost. You need to have the best support team in place for managing your customer support process.
Incompetent employees who lack the motivation and drive to serve customers will eventually drive them away. Some soft skills like empathy, leadership, quick decision making, etc., can be the benchmarks for hiring the best customer support staff. Besides, you can work on their training and development to turn them into better professionals.
11. Monitor Your Progress
Tracking and monitoring the efforts of your customer support team is one of the most critical tasks. It gives a transparent picture of what you are doing right and what you lack in. When you know what's going well and what's not, you can take the required steps to improve the overall customer experience.
Without measuring the results, your SaaS customer care journey will be misdirected and random. It's the same as traveling without a map. You will end up at the wrong destination after wasting your time and resources.
For example, here are three basic pointers that you should track and measure. These will guide you towards making your SaaS customer support process stronger and seamless:
The number of tickets you receive on average? Is it increasing or decreasing?

What is the average response time for resolving an issue?

How much satisfied are customers with the support experience?

Number of customers churning after receiving the support, and more
Track these customer service metrics and take concrete steps to improve the overall experience.
12. Develop Long Lasting Relationships With Customers
Winning customers is a short-term success, but earning their loyalty is critical if you want to thrive in the long run.
That's where customer relationships play their part.
Every customer interaction is an opportunity to develop a long-lasting relationship, forge a partnership, an alliance that can go on for years to come. Every customer resolution should be planned to help your organization develop a strong bond with customers eventually.
Customer relationships can go a long way in boosting your business, and we have the numbers to prove it.
It takes five to 25 times more resources to get a new customer compared to retaining an existing one. This means retaining customers can save you more money and resources.
Customer relationship is not just about a transaction or interaction. It's an emotional connection. Your SaaS customer support process is the foundation based on which this long-term relationship will work.
13. Seek Feedback From Customers
While in traditional businesses, you sell a product once, the customer pays for it once, and then the product remains the same always. But in SaaS business, customers pay for the product repeatedly, often monthly or quarterly, and the product keeps evolving as customer expectations change.
This means that feedback and insights from the customer forms the fuel that powers your product and the entire SaaS business model. Without their feedback, you don't have a map to scale and succeed.
Collecting valuable feedback is therefore important. It gives you a peek into what customers feel about your product, the suggestions they have for improvement, their pain points, and much more. This can improve your product features, UI, value propositions, and even your customer support.
ProProfs offers a robust survey maker tool that helps you create and launch surveys to collect customer feedback. Whichever survey you want to create – in-app, scored, NPS, or polls, the tool enables you to do it all.
This video shows how you can create surveys and get valuable feedback from customers.

14. Don't Ignore Self-Service Loving Customers
Not every customer wants to interact with a customer support person or chat with customer service executives. A big chunk of customers want self-help options and get their issues resolved without any human or bot interaction.
In fact, around 70% of the customers prefer solving issues on their own via self-service help center or documentation. And the reasons are genuine. Self-service is convenient and time-saving.
This is the reason that self-help options should be an important part of your SaaS customer support strategy.
A knowledge base, help center, and documentation are good examples of self-help options for customers who wish to discover solutions on their own. Besides, the self-service approach reduces the inflow of tickets, giving your agents ample time to focus on critical customer concerns that require immediate attention.
This video will equip you with all the information you need to create an online self-service platform with knowledge base software.

Read More: Effective Tips to Promote Your Self-Service Platform Among Customers
15. Invest in Structuring & Designing Your Customer Support Process
Structuring and designing a robust model for delivering support services is essential for long-term success. Allocate a budget for building a strong structure for your entire customer support operations and watch the entire process getting streamlined in no time.
Without a structure, your customer service operations will be chaotic and random. A well-designed and structured customer support process lead to quick issue resolution, saving resources and time, and creating a solid foundation for scaling up your support.
A win-win situation that is beneficial to both you and your customers.
For example, a purely software-based company can structure its customer support based on the severity of the customer problems:
Tier 1 support for general inquiries and problems about the product

Tier 2 support for technical support queries

Tier 3 support for advanced technical issues related to the bugs and features
SaaS Customer Support Is the Foundation of Your Success
Saas customer support is just not a business process that you need to deploy as a necessity. It is an opportunity to get closer to your customers, form an alliance with them, and turn them into your partners.
We have shared some of the best practices for SaaS customer success and some examples of how companies are leveraging customer support. These examples and best practices can help you get inspired to provide unmatched customer support.
Let's start a beautiful SaaS customer support journey with ProProfs, and make a resolution to delight customers every time they interact with you.
Let's make customer support better with every passing day.
Do you want a free Knowledge Base Software?
We have the #1 Knowledge Base Software for delightful self-service help center starting at $0