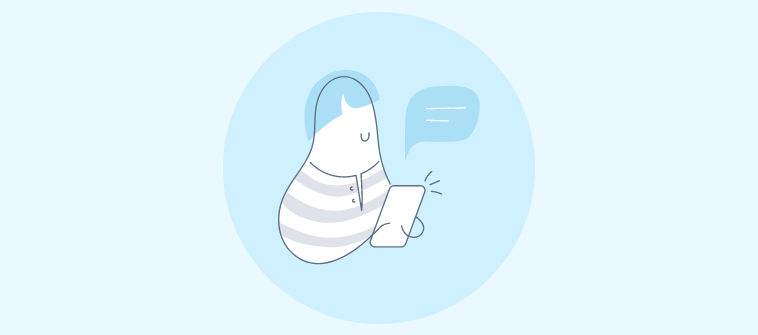 Is your support system brimming with tickets and customer dissatisfaction at an all-time high?
Is this taking a toll on your peace of mind as all you think about these days is – Tickets, Tickets, Tickets?
What if we told you there exists a magical solution to this predicament.
Any guesses?
It's your self-service knowledge base.
But, simply having a knowledge base isn't sufficient. It should be powerful enough to address customer concerns with speed and accuracy.
This blog unravels the secret to turning your knowledge base into a solid self-help platform that helps you reduce support tickets and earn customer kudos.
How Can a Knowledge Base Bring Down Your Support Tickets?
Did you know that self-service is the first preference of 66% of customers while engaging with a brand?
Yes, you heard that right!
Today's customers crave convenience and speed, and an online knowledge base is the best way to meet these expectations. It takes help closer to your customers, thus empowering them to solve issues on their own.
This eventually brings down support tickets to a large extent, giving your support agents a sigh of relief. While customers do not have to contact your support staff now and then, agents get ample time to attend to pressing customer issues.
The result?
Happy agents, happier customers, and most importantly, reduced support tickets!
10 Useful Ways to Reduce Support Tickets With Your Knowledge Base
Here are ten simple ways to prepare your knowledge base to delight customers at every step so that they leave with a smile – happy and satisfied.
1. Identify & Address Customer Pain Points
The primary objective of your online knowledge base is to address customer issues and reduce support tickets. If this goal isn't met, creating a knowledge base will be futile.
Every section in your knowledge platform should provide value to customers and assist them in resolving issues quickly. For that, it's crucial that you have first-hand knowledge of customer pain points.
Interact with your sales and support teams to gather critical information about the questions customers frequently ask via emails or social media. Listen to recorded customer conversations to gain a better understanding of the bottlenecks they face while using your products or services.
You can also look at the responses provided by your support team. For specific product-related issues, consult with the product team to understand the solutions that should be provided.
Collate this information, add it to your knowledge base, and cut down the chances of customers raising tickets. During this process, ensure that you don't end up adding duplicate articles on the same topic. It can confuse customers, leading to a poor self-service experience.
Read More: What Is Customer Portal Software and Why Is It Important?
Turn your knowledge base into a rich resource where customers can find answers to anything they want.
2. Focus on Its Presentation
No matter how valuable your content is, it won't be impactful if it's not organized in the right way.
Your self-help platform should offer an effortless navigation experience to customers. It should have a table of contents on the left or a homepage that mentions the major sections covered in your knowledge base.
HighQ follows a similar approach. Just a quick glance and customers will have a clear idea of what they can expect while browsing.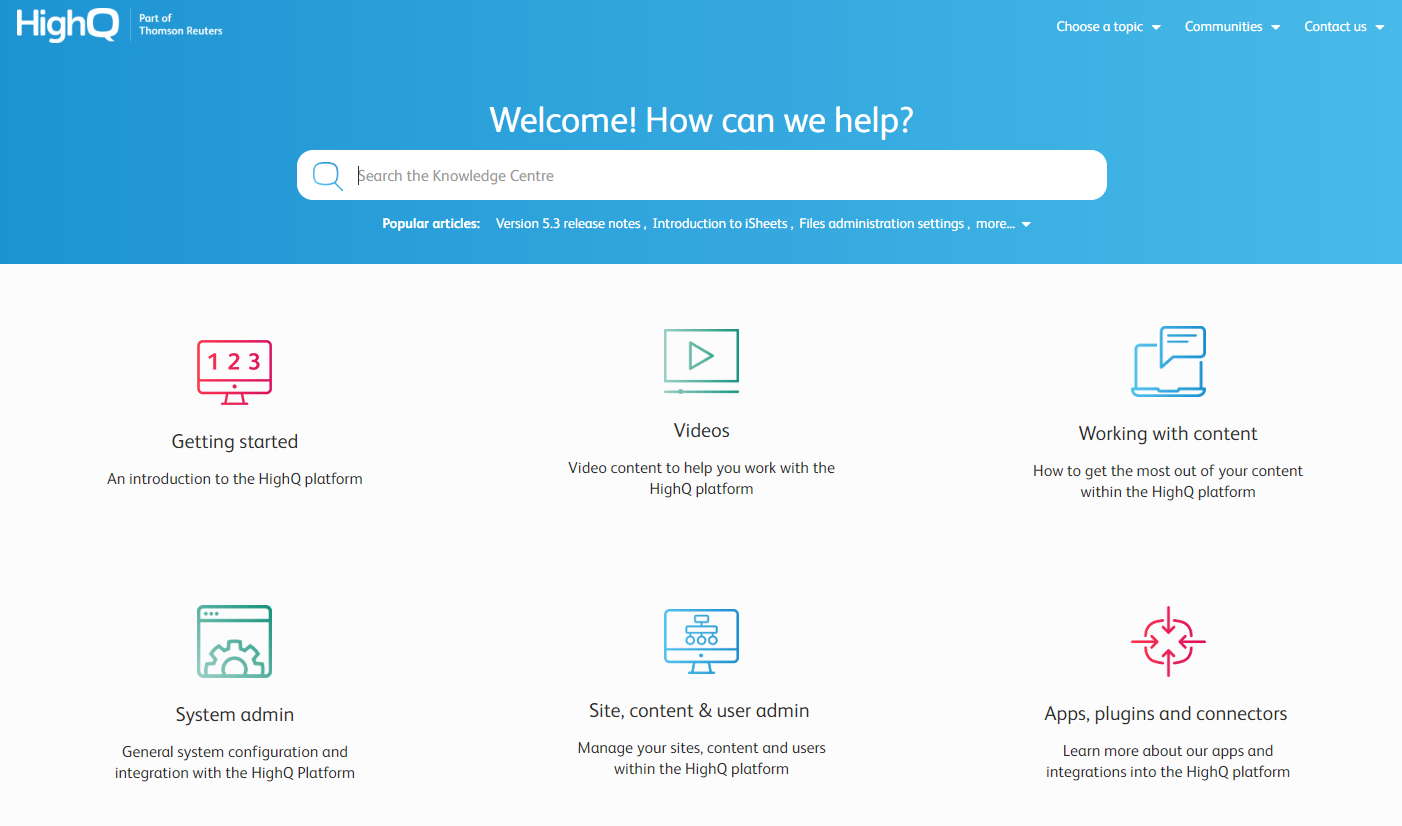 To give your knowledge base content a proper structure, divide it into categories and subcategories.
Keep your paragraphs short and language simple. Use bulleted lists frequently, as it makes scanning sections extremely simple. You can even cross-link relevant articles to ensure that customers reach the right answer quickly.
Have line breaks to give some breathing space to your customers. Do not bombard them with information. Instead, present the information in short paragraphs that don't cause a headache. The easier it is for customers to get what they want, the less likely they are to raise tickets.
HighQ's help center serves as an excellent example here. It has bullet points, short paragraphs, and a lot of breathing space.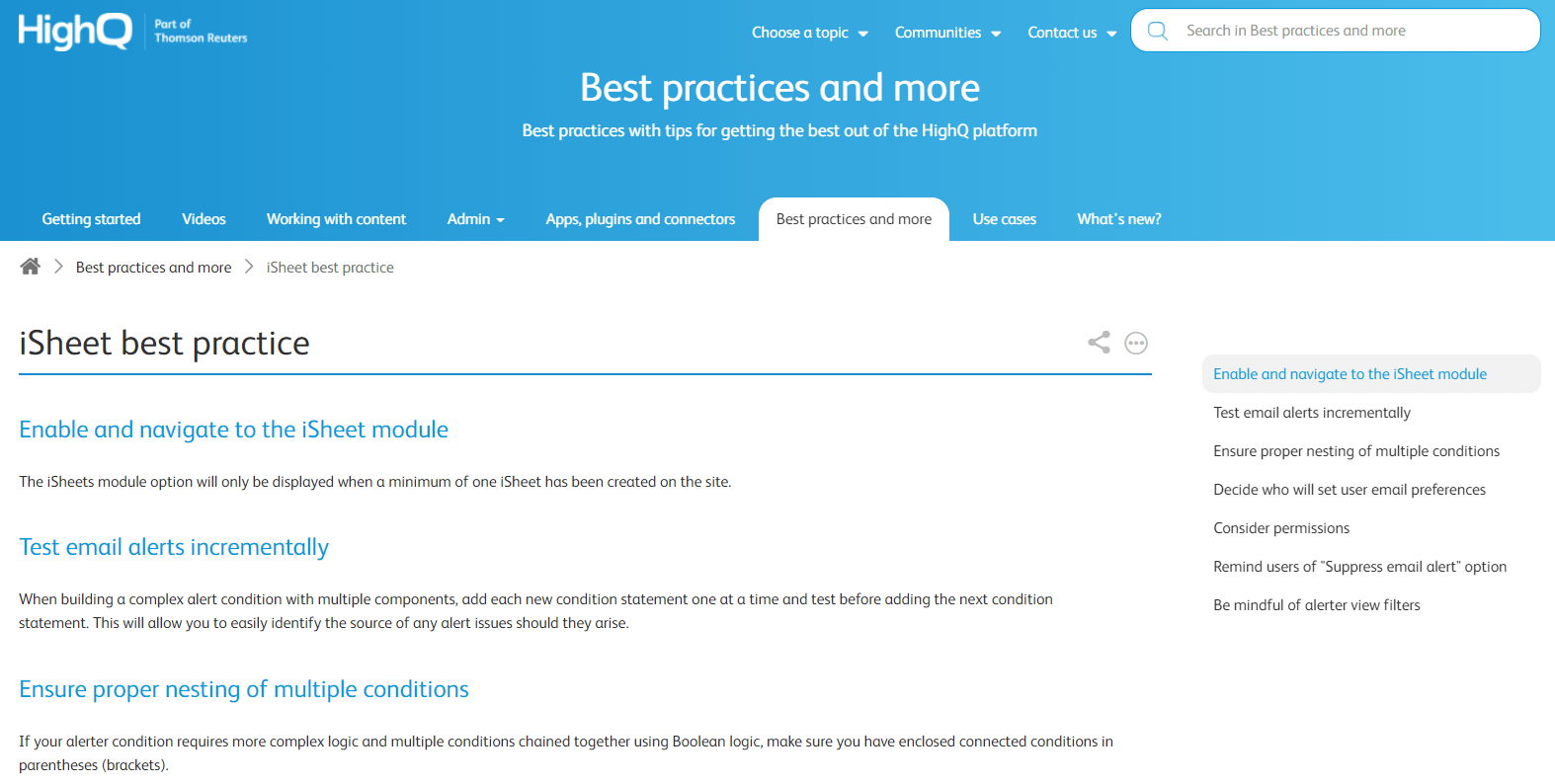 Turn your knowledge base into a vivid, carefully-arranged platter where customers can find and grasp information effortlessly.
3. Answer Common Customer Questions Right Away
Your knowledge base should be adept at answering the most basic as well as the most complex customer questions. As you know, there is a common set of questions that is expected from most of your customers.
Instead of making customers browse through the entire knowledge base to find answers, why not list these questions and their answers in a separate FAQ section. You can contact your support, sales, and even the marketing team to understand the kind of questions frequently asked by customers on chat, email, calls, or social media.
Read more: How to Create Online FAQs with FAQ Software
Collate these questions, craft detailed answers, and add them to your FAQ section. Ensure that this section is prominently visible in your knowledge base.
You can mention this section on your home page or add it at the top of your knowledge base so that customers don't have to dig deep to find the FAQs. This will make your knowledge base even more valuable for customers, thus reducing your support tickets.
Read more: FAQ Page Best Practices: How to Optimize Your FAQ Section
Look at how Unleashed has added its FAQ section on the home page of its help center.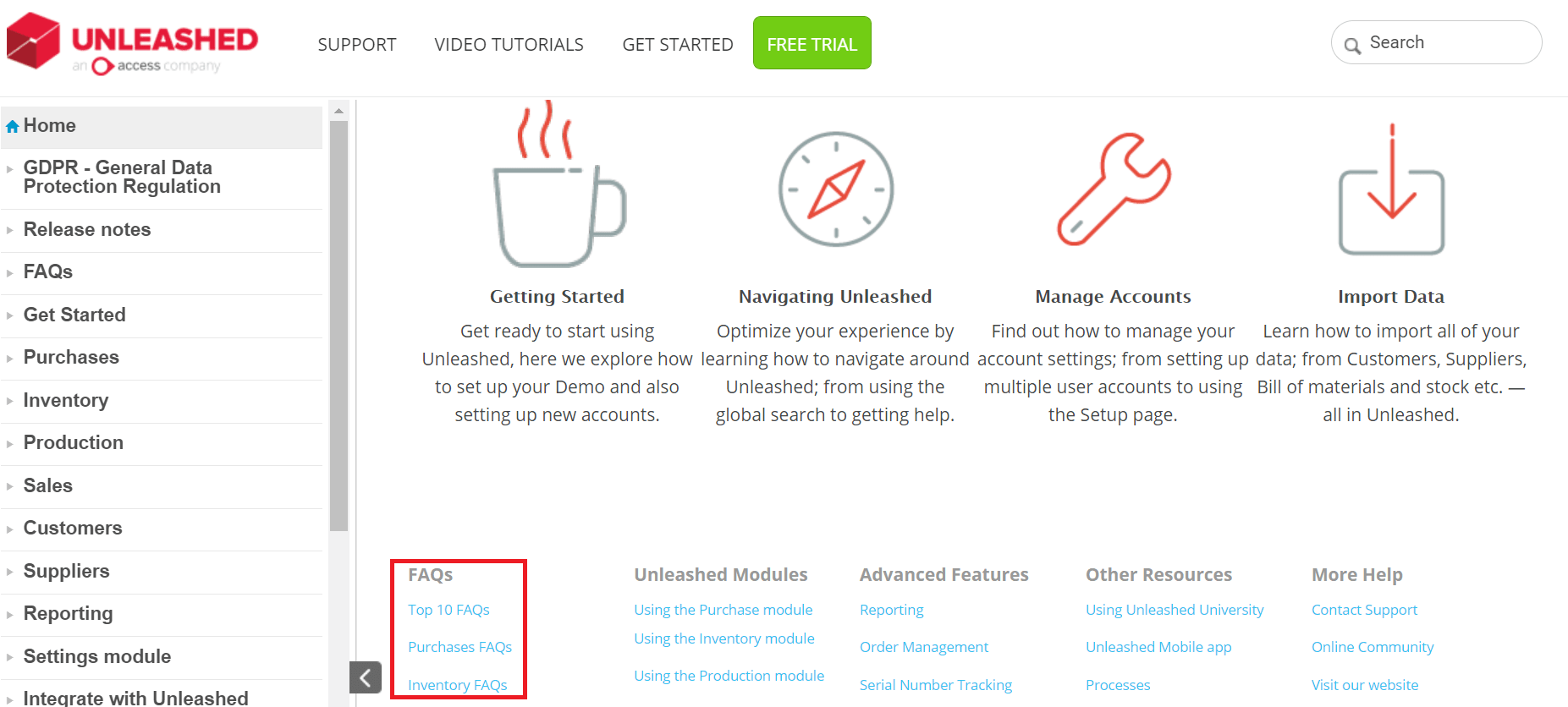 Add FAQs to your knowledge base with FAQ software and answer customer questions in a flash.
4. Consider a Minimalistic Design
The chief objective of your self-help knowledge base is to educate customers about your offerings and help in ticket deflection. If your knowledge base is lackluster, it will drift customers away, as they will feel disconnected and bored. On the contrary, if it looks over the top, it will again be a turn-off for customers.
There is a thin line between too little and too much. You need to find the right balance and be simplistic in the design to keep customers interested in your knowledge base.
Here are a few design hacks you can use:
Colors are known to have a great impact on a person's mood. Consider using soft colors like green, blue, or yellow in your knowledge base. This can help you calm down frustrated customers.
Use fonts that are easy to read. For instance, you can use Calibri or Arial. Keep the font style consistent across the document. You can change the size and color of fonts for different sections.
Add your company's logo and brand name to your knowledge base. Ensure that your self-help platform aligns with your brand.
Here's an excellent example of a beautifully designed knowledge base.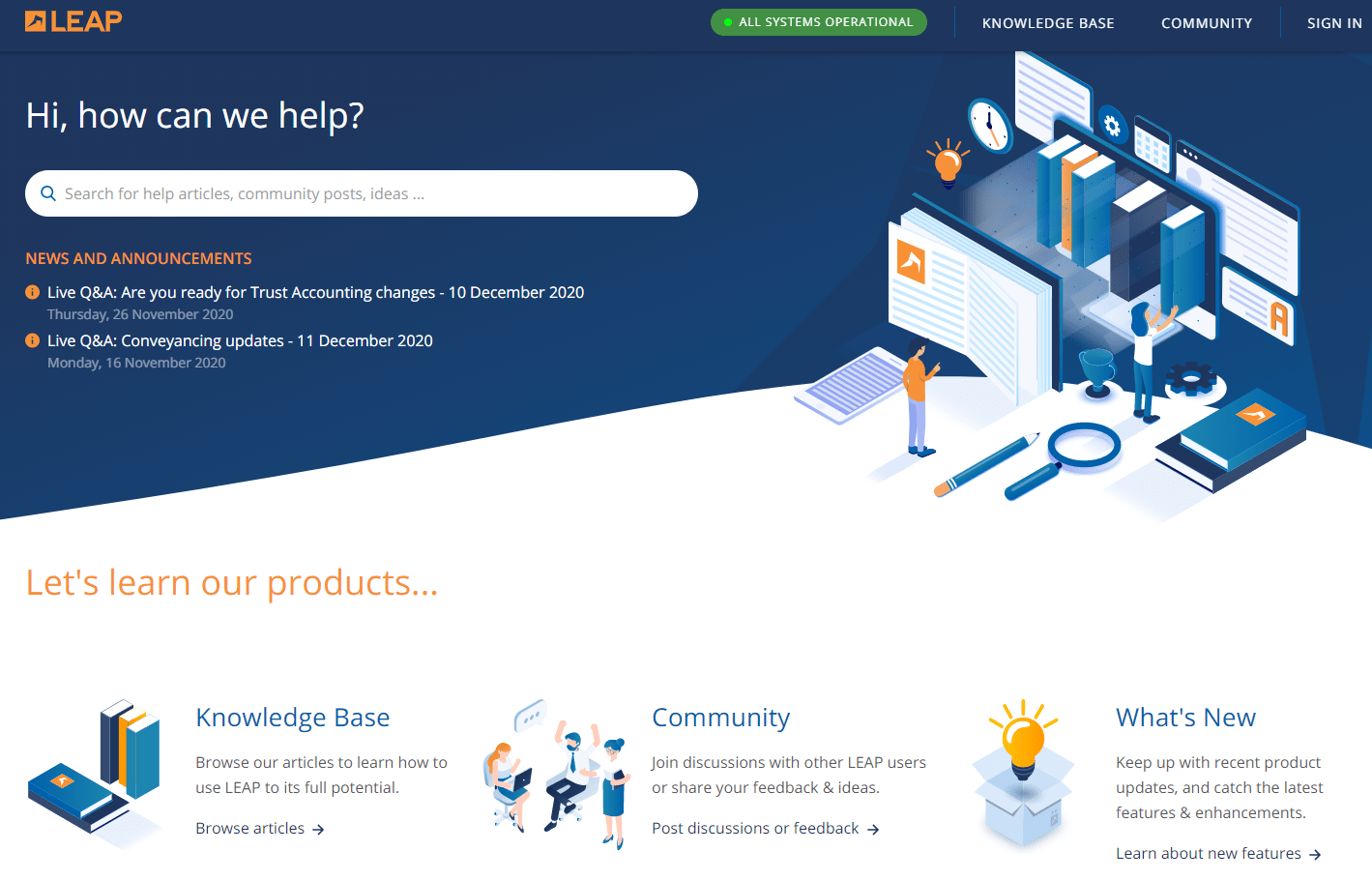 Create a captivating knowledge base that draws and retains customer attention and prevents your customers from raising tickets.
5. Keep Customers Engaged With Multimedia
As a customer, what would you prefer?
A text-heavy online knowledge base or a knowledge base that has a perfect balance of text, images, and videos?
Anyone would prefer going through an online platform that has a generous amount of engaging visuals. The reason? It enriches the browsing experience.
That's precisely why you cannot afford to ignore visuals. They play a crucial role in keeping customers engaged, providing a holistic explanation of concepts, and giving customers a breather from the text.
Here are a few tips to consider while adding visuals to your self-service platform:
Use screenshots while explaining the step-by-step process of using a product or its features.
Add video tutorials to demonstrate how to install and set up your product.
Keep the videos as short as possible. If customers can get answers in 3 minutes by scanning a paragraph, why will they watch a 5-minute video?
Look at how Unleashed uses images and text in its self-service knowledge base.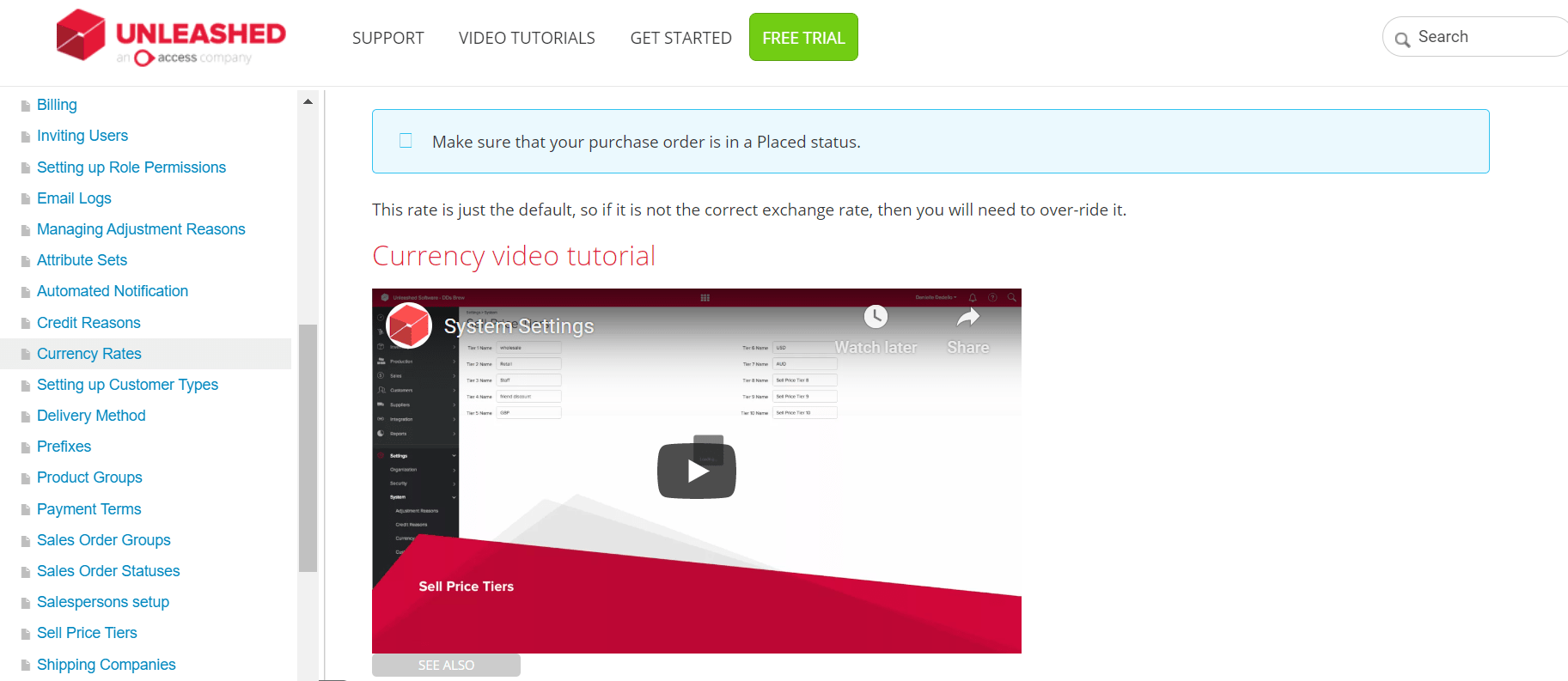 Making your knowledge base visually-rich will ensure that customers stay focused, find answers quickly, and leave your knowledge base with a smile.
6. Provide a Pleasant Search Experience
Google has set the gold standard for customers when it comes to the search experience. Your knowledge base shouldn't be any less.
Since customers visit your self-service portal when they are already frustrated, it becomes all the more important for you to deliver them a stellar search experience. This can play a significant role in reducing support tickets.
Have a huge search bar that people can see and use easily. Ensure that your knowledge base has a killer search system that delivers appropriate content suggestions as soon as customers start typing questions in the search bar.
Look at how Mimosa provides a smooth search experience to its customers.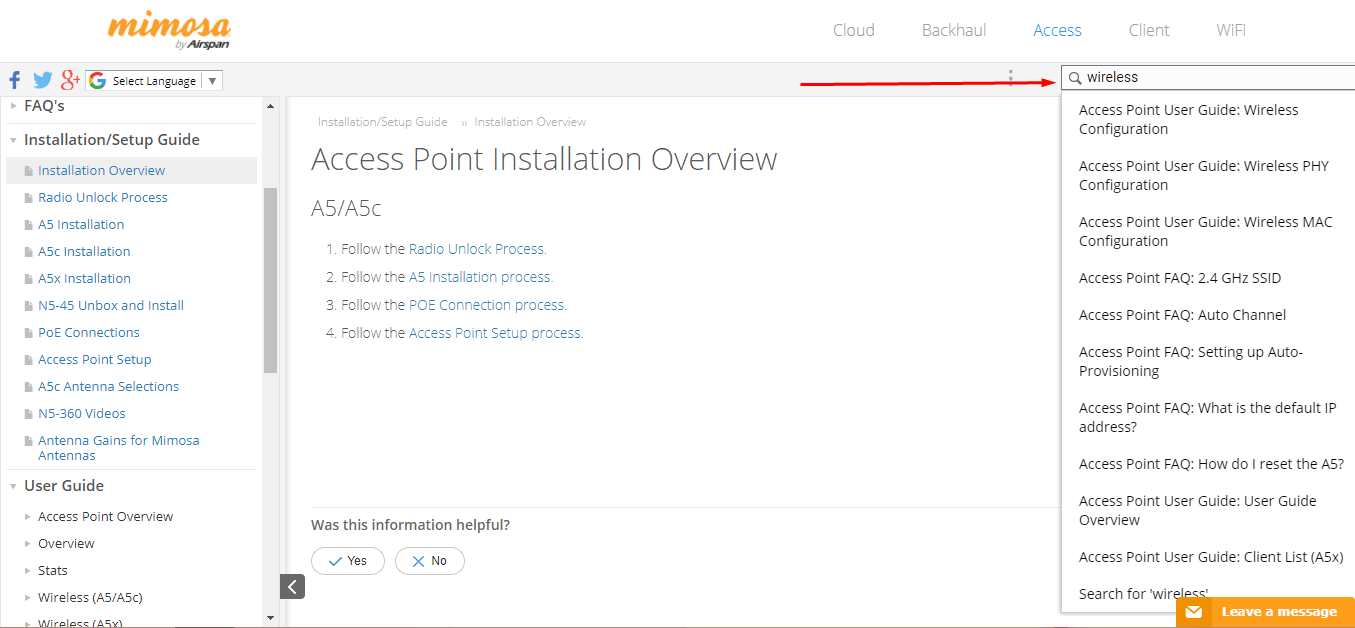 If your knowledge base software integrates with Google Analytics, you can easily identify the keywords customers are using to find information. Optimize your knowledge base for these keywords and ensure they show relevant search results.
75% of customers consider the fast response time as an essential attribute of a pleasant self-service experience. You can satiate this need for speed by delivering answers swiftly in your self-service knowledge base.
7. Optimize Your Knowledge Base for Search Engines
When you run a Google search, how likely are you to visit the 2nd or 3rd page?
We all know the answer to this question. No one likes to visit the 2nd or 3rd page if the right information is available on the first page itself.
For customers to make use of your knowledge base, they should be aware of it in the first place. If they have no clue that you have a powerful self-help platform in place, they will be left with no option but to call or email your support staff.
That's why it's essential to elevate the visibility of your knowledge base on search engines.
Earning a top spot in the search results is not an easy feat. It requires you to keep your knowledge base SEO on point.
Here are a few hacks to optimize your knowledge base for search engines:
Keywords form the heart of an SEO strategy. Include relevant keywords with good search volume in your knowledge base. To find such keywords, you can use a tool like Google Keyword Planner. It helps you spot trending keywords and evaluate search trends.
Try to obtain quality backlinks on high DA websites to increase the reach of your online knowledge base.
Add meta description, meta title, and meta tags to all your knowledge base articles. Don't forget to add relevant keywords to these three. It will make it easy for Google to crawl through your knowledge base.
Create quality, fluff-free knowledge base content, and make sure it addresses customers' pain points.
Don't let your hard work go in vain. Use the right knowledge base SEO tactics and help Google and your customers notice your self-help knowledge base.
8. Keep Your Knowledge Base Content Simple & Straightforward
For your knowledge base to be competent in reducing support tickets, you need to keep its content simple and uncomplicated.
There should be enough depth in your knowledge base, but at the same time, it should be easy to understand. There is no point in adding information that customers cannot comprehend in the first go, as that will complicate the problem-solving process, making customers frustrated and disappointed.
To keep your knowledge base simple and straightforward, right articles that convey the message clearly. Content shouldn't beat around the bush. Instead, it should be precise and easy to understand.
There can be times when you just cannot get away with complex concepts, jargon, and complicated terms. Adding a glossary in the middle or end of the knowledge base is a good practice. It wards off the confusion and keeps your knowledge base content crystal clear.
Another way to solve this issue is by providing contextual help right where your customers need it. Contextual help in the form of tooltips, lightboxes, and popups is great for:
Explaining concepts or features that are not self-explanatory

Explaining jargon right where they are written

Providing more details about a feature or a topic. A 'learn more' or 'what's new' link can be added.

Guiding customers on how to use a particular product feature.
This is how it looks like –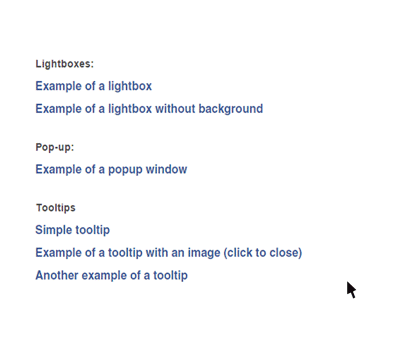 Delight and guide customers at every step of the way with simple and straightforward content.
9. Keep Renovating Your Knowledge Base Content
Change is the only constant. This stands true for life in general and even for your knowledge base. If you don't alter your knowledge base content from time to time, it will soon turn obsolete and useless for your customers.
The result? Tickets, tickets, tickets!
You don't want that to happen, do you?
Customers' requirements will keep changing. Your knowledge base should always be in alignment with what your customers want.
This doesn't mean you have to reinvent the wheel every few months. It just means you need to update existing articles when needed and create articles on the issues customers are searching for. That way you will be able to reduce support tickets with your self-service knowledge base.
You should have a clear picture of how your knowledge base is performing. Built-in reports provided by any ideal knowledge base tool can be of immense help here.
Reports give you a complete analysis of:
The articles liked and disliked by customers

Keywords that aren't delivering accurate results

Failed and successful searches

Number of new articles created

Inactive and broken links along with the page titles
This data can work magic for you. Use it judiciously to update your knowledge base, and improve the self-service support you provide to customers.
Besides this, you can also track your ticket volume and identify the issues for which customers raise tickets frequently. Once you have the list of common ticket issues, create relevant knowledge base articles on these topics. When customers get this information in your knowledge base, there will be no question of raising tickets.
Make your self-help knowledge base evergreen, so that customers find it relevant even if they use it after years.

10. Integrate Your Knowledge Base With Other Customer Support Tools
The primary objective of creating a knowledge base is to address customer concerns immediately and reduce support tickets.
This means your knowledge base should provide an all-in-one support solution to customers and give them access to various options by integrating with other customer support lools like self-service, live chat, ticket forms, as well as community discussions.
When customers visit your knowledge base, they should have every support option at their fingertips.
So, for instance, if self-service doesn't work, they can immediately message your support agent right from your knowledge base. The agent can answer their questions instantly or direct them to a relevant article link in the knowledge base.
If it is a complex issue that needs to be escalated, customers can instantly raise a ticket from within the knowledge base. If that also doesn't work or if customers need inputs from other customers having similar issues, community discussions are best. They can post a question in the discussion forum and get answers from those who have 'been there, done that'.
Turn your knowledge base into a versatile platform that offers a holistic support solution to customers.
Slash Support Ticket Volume With Your Self-Service Knowledge Base
Modern customers like being self-reliant. They crave pleasant self-service experiences wherein they don't have to rely on others to resolve issues.
When their expectations aren't met, they either raise tickets or disappear into thin air.
Either way, it's a big loss for you.
Simply having a self-service platform doesn't mean it offers great experiences. To make your knowledge base work for your customers, you need to put in some hard work.
Add quality content to your knowledge base and ensure that it addresses customers' issues, structure it well, and give it an appealing look. Optimize your knowledge platform for search engines and keep updating it regularly.
These are some of the sure-fire ways to increase the effectiveness of your online knowledge base and curtail the chances of customers raising tickets.
Do you want a free Knowledge Base Software?
We have the #1 Knowledge Base Software for delightful self-service help center starting at $0