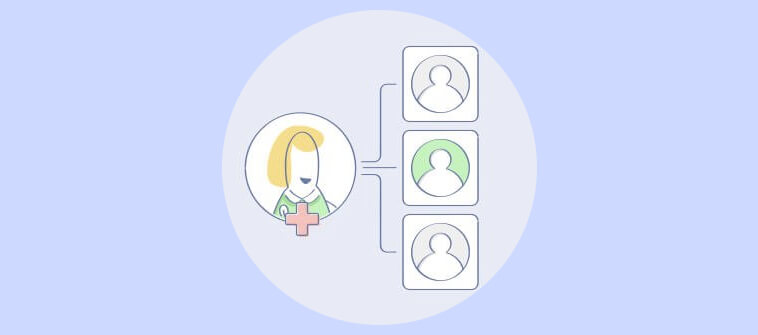 An overwhelming amount of data is generated every day in the healthcare sector.
Global healthcare data is expected to reach a whopping 2314 exabytes in 2020. That's the equivalent of more than 2 trillion laptops worth of data.
Clearly, healthcare is a data-intensive industry given the constant research on advanced procedures, new treatments, and emerging technologies happening regularly.
What if doctors had instant access to this wealth of information? It would empower them to make more accurate medical decisions and provide improved solutions.
Embracing knowledge management can make this possible. It facilitates quick access to critical health care data, reduces the risk of human errors, and takes patient care to a whole new level.
Are you curious to see how it all works?
This blog will give you a holistic understanding of:
The crucial role of knowledge management in healthcare organizations

How a knowledge base can help you achieve knowledge management in healthcare
The Important Role of Knowledge Management in Healthcare
Data forms the DNA of the healthcare ecosystem. Effective management of healthcare data leads to informed decision making, better medical outcomes, and seamless communication among healthcare personnel.
Let's take a closer look at the critical role of knowledge management in healthcare organizations.
1. Powers Accurate Medical Decisions
The slightest of errors on the healthcare provider's end can cost patients their lives.
Medical errors are the third leading cause of death in the U.S.
One mistake can lead to a tragedy and a multi-million dollar lawsuit.
That makes healthcare knowledge management all the more critical. It provides 24×7 centralized access to patient-specific information, and the latest medical research, assisting doctors in making informed decisions.
Doctors rarely have time amidst appointments to consult other doctors. Take this example. A doctor comes across a patient showing unique symptoms for a particular disease. Based on the limited experience and knowledge of the symptoms, the doctor provides a plan but is unsure of its effectiveness.
What if the doctor has quick access to the latest medical research available on these new symptoms? Or, if the doctor can get to know the experiences of other doctors who might have valuable suggestions to deal with this situation?
It will empower the doctor to make an accurate diagnosis and prescribe an effective treatment.
2. Promotes a Learning-Focused Environment
With the healthcare industry evolving rapidly, healthcare professionals can't rely only on the knowledge gained in medical school. They need to keep themselves abreast of the latest medical procedures, technologies, and drug developments in order to provide top-notch services.
That's why various global healthcare organizations demand professionals to get education credits regularly – once or twice a year.
As a healthcare organization, you can lend your support by creating a learning-focused environment. A knowledge management system can help you in this endeavor. It encourages your medical staff to share their learning and experiences on a centralized platform. This creates a supportive learning culture where everyone has access to updated industry information.
This way, even if a key member of your medical staff leaves, the knowledge held by him or her, stays with your organization forever.
3. Equips patients With Self-Help
After registering with a hospital, patients expect to have effortless access to their medical records. They need to be updated on the current stage of their illness, and the progress made so far.
A healthcare knowledge management system ensures that patients don't have to go from pillar to post to find the required information. They can refer to your patient portal to track their communication with doctors and monitor treatment progress.
Related Read: Self-Service Portal – A Quick Start Guide
Cleveland Clinic is an excellent example here. Its health management platform – MyChart, provides patients with access to their medical records, physician progress notes, medications, and preventive care information.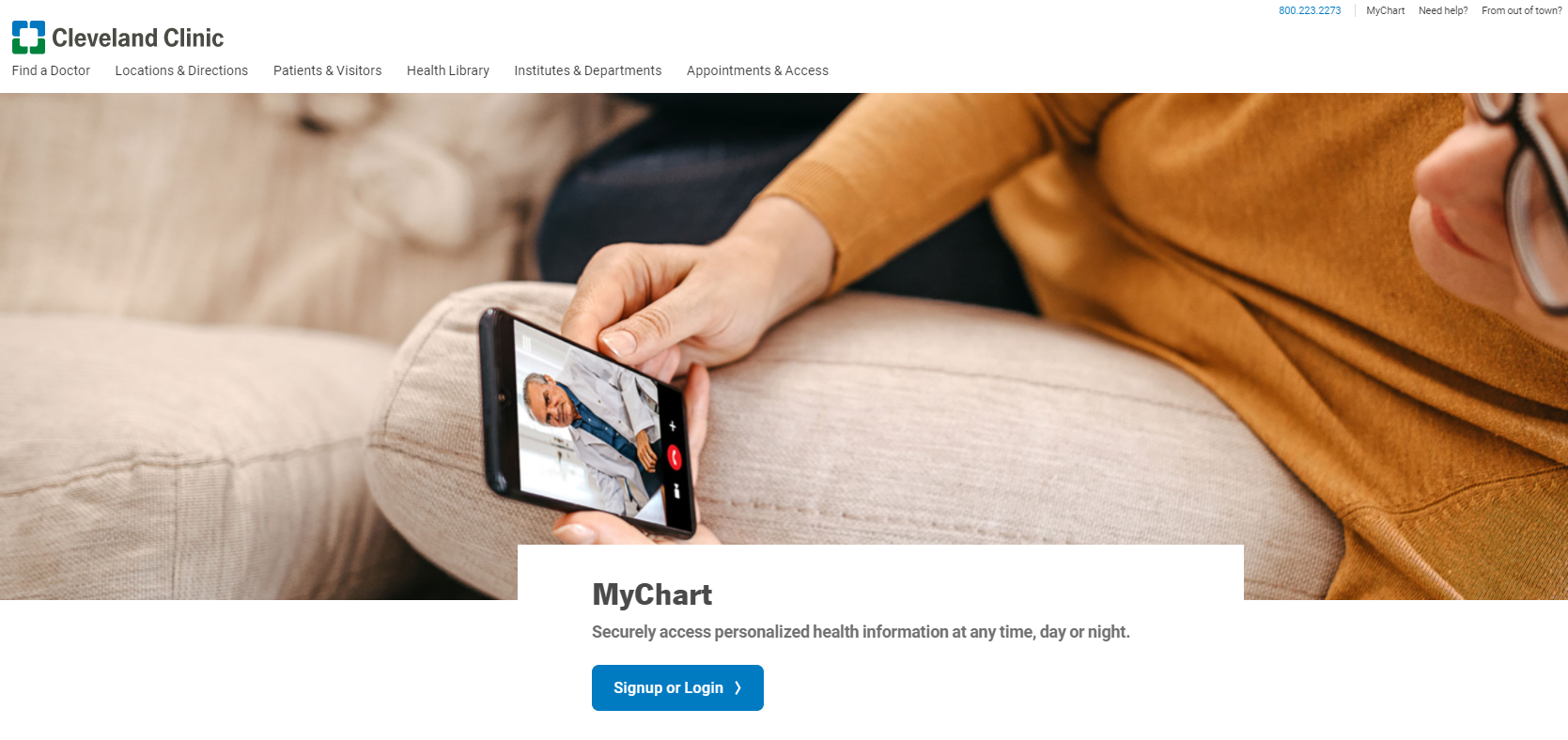 Image Source
4. Maintains Confidentiality
Respecting confidentiality is an ethical obligation in the healthcare sector.
With security breaches increasing rapidly, there is a high risk of identity theft and data-related fraud that can negatively impact patients' lives.
A powerful healthcare knowledge management system can prevent this from happening. It allows you to store data securely on a centralized cloud-based knowledge platform and exercise full control over its visibility.
A part of the knowledge platform can be kept for public view, while the section that holds confidential information can be made accessible only to trusted professionals. Data can also be password-protected. Even if some members of your medical staff have access rights, they will need to enter the password before viewing it. You will learn more about this in the next section.
5. Delivers Stellar Post-Discharge Healthcare Services
One of the primary goals of healthcare organizations is to build trust and lasting relationships with patients. This can be achieved if you go the extra mile and deliver stellar services even after patients are discharged.
Knowledge management provides enormous opportunities to improve post patient care journeys.
For example, after patients undergo treatment of major disease and are discharged, they can look up to your self-help healthcare portal to find nuggets of advice such as:
The diet that they should follow

The exercises they should be doing to stay healthy

The kind of lifestyle they should adopt to keep the disease at bay

Risks associated with the medication they are taking, and tips to avoid them
This helps you educate patients and make them adept at tackling the minor health challenges on their own.
Now that you know why knowledge management is essential in healthcare, it's time to understand how it can be implemented.
Implement Healthcare Knowledge Management With a Powerful Knowledge Base
An online knowledge base is central to knowledge management. It stores healthcare data on a centralized platform, where stakeholders can contribute and access information anytime they want.
Here are a few tips and tricks to create a comprehensive knowledge base for your healthcare organization.
1. Start by Picking the Right Template
Templates give you a headstart while building a healthcare knowledge base. First, chalk out your requirements, visualize how your knowledge base should look, and then pick a suitable template.
As templates already have a set framework, all you need to do is fill in the information by writing fresh content or importing it from existing files. Add your organization's logo, brand name, replace category names if you want, and get started.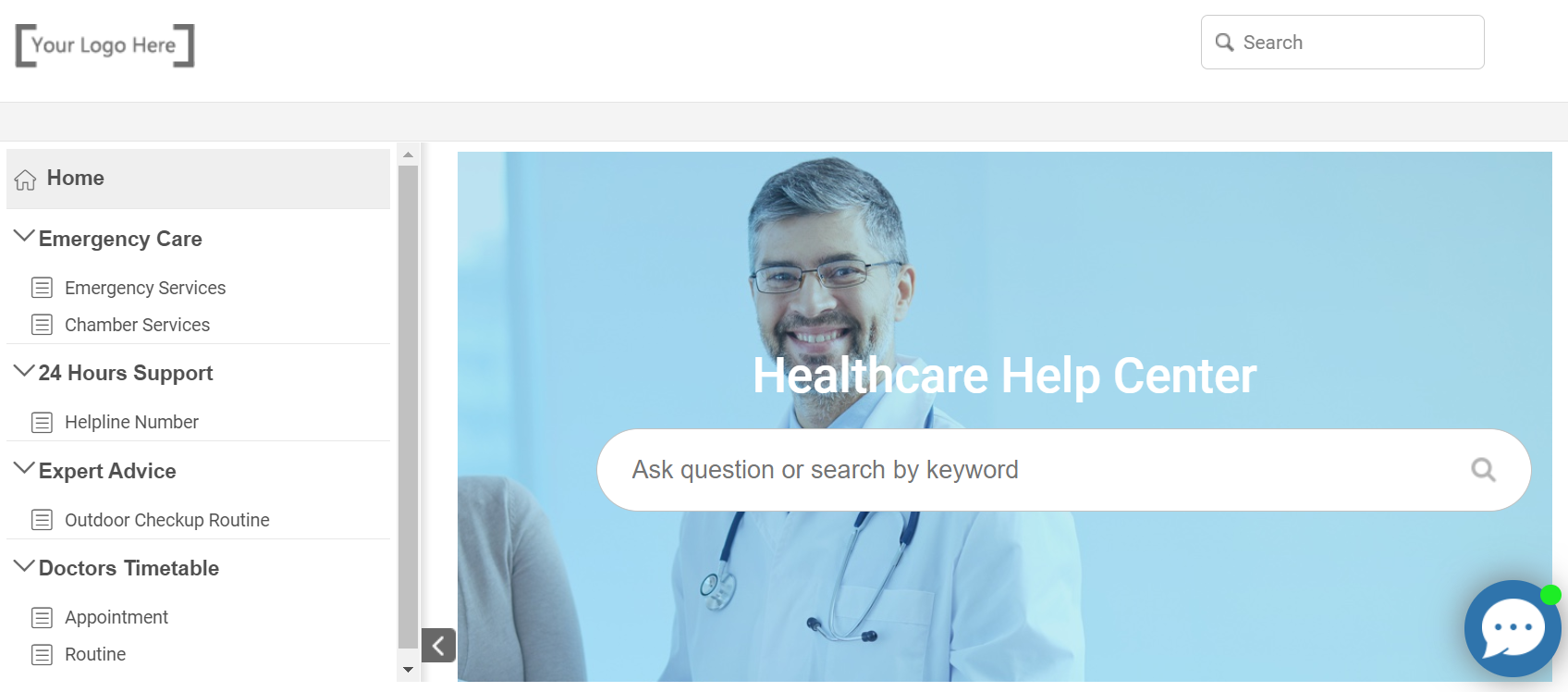 2. Create a Team of Contributors, Editors, and Managers to Build Your Knowledge Base
A healthcare knowledge base is not a one-page document. Instead, it's a comprehensive document covering details of:
various diseases, their symptoms, and treatment plans

latest vaccine developments carried out by your research and development team

patient-specific information

emergency services offered by your organization

details about healthcare professionals, the experience they hold, and the fields they work in
Given the massive amount of information that needs to be managed, you will require a staff of various contributors, editors, and managers to control every activity in the knowledge base.
Identify the people who have the bandwidth to work towards creating and maintaining the knowledge base. Assign the task of writing well-researched content to junior healthcare team members.
Healthcare veterans who have been working in your organization for a long time can be assigned the editors' role. They can check the relevance of your knowledge base content, and ensure that it's free of errors.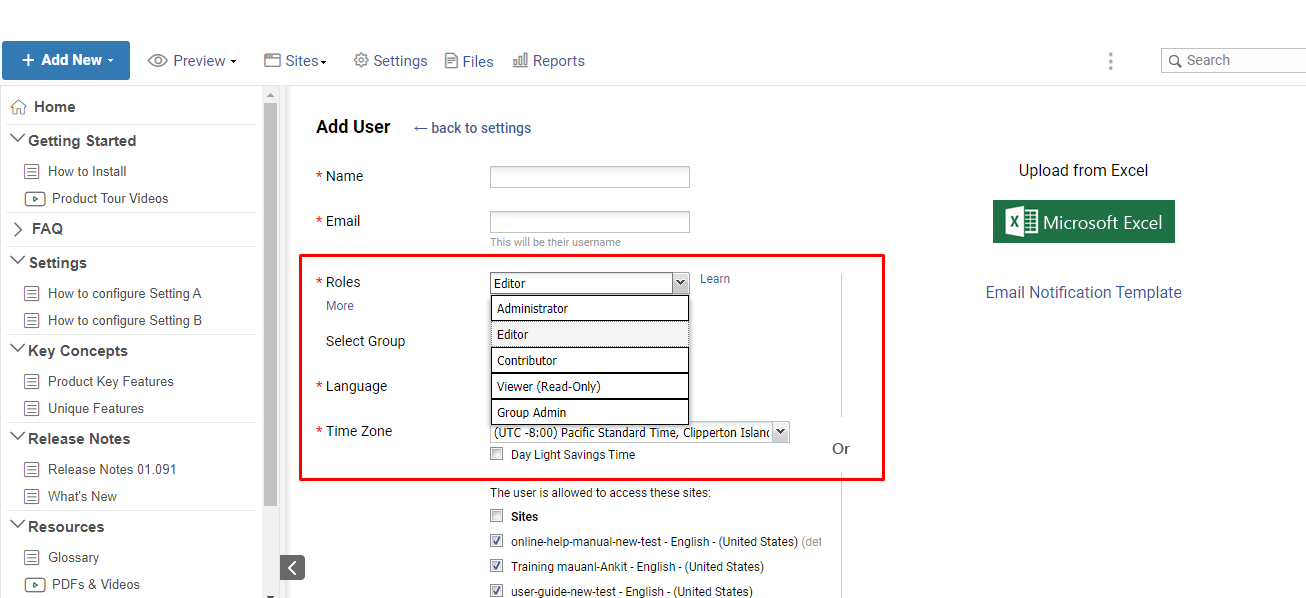 Watch: How to Collaborate as a Team to Create a Knowledge Base
3. Use Contextual Help to Explain Complicated Healthcare Concepts and Jargon
Your knowledge base will be a one-stop information resource for healthcare professionals and patients. That's why keeping it as simple as possible is important.
Doctors and other medical staff working in your organization might be well-versed with healthcare terminologies. But don't assume patients to have the same level of understanding. Some concepts and jargon might go over their head, and they will instantly feel out of place, making the knowledge base futile for them.
You clearly don't want that to happen, do you?
Since complicated medical concepts and terms are going to be in abundance in your knowledge base, you can use contextual help like tooltips, lightboxes, and popups to explain them.
Each one of these works differently.
Tooltips are great for providing additional information related to a specific term or concept.
To deliver exhaustive help, consider using a lightbox. It comes with a scroll bar effect that makes it perfect for delivering detailed help content.
Interactive content can be shown easily via popups. These are also ideal for explaining key concepts or providing additional information.
Read more: Delight Your Customers with Contextual Help
5. Create an Impenetrable Security System
For healthcare organizations, data is gold. They can't lose it especially when the risk of a security breach is higher due to healthcare digitization.
A knowledge base with a bullet-proof security system provides entry to authorized personnel only. That way, it limits access to the knowledge base, thus ensuring that confidential information is not available for public use.
To tighten the security of your healthcare knowledge base, you need to have complete control over its visibility. Set rules and conditions to hide or display specific content in the knowledge base. Grant only viewing rights to some users, while approving others to edit the content. Set rules to hide confidential content from the public or junior medical staff of your organization.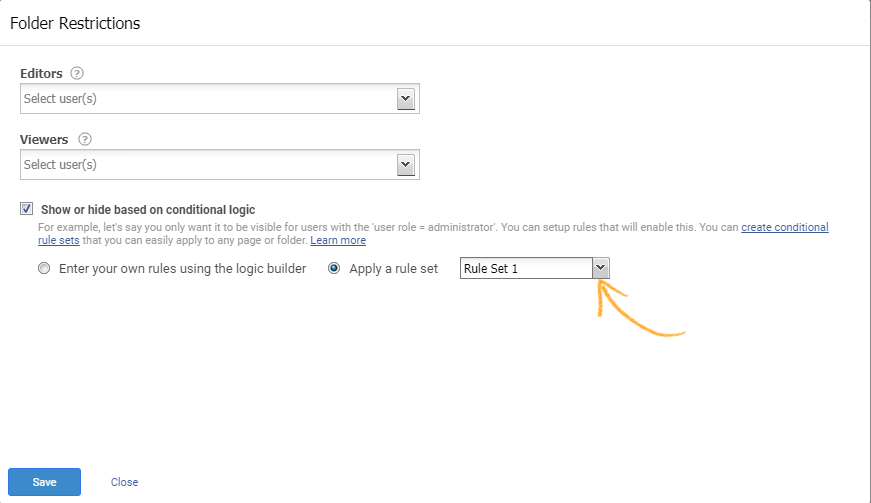 5. Allow Knowledge Base Translation into Multiple Languages
Do you have to deal with a large number of immigrant patients who don't speak perfect English? Creating a separate knowledge base for each language can be taxing.
Why not build a single knowledge base and turn it into an asset for all your native as well as non-English speaking patients?
You can do that by enabling knowledge base translation in multiple languages. This is possible provided your knowledge base tool teams well with Google Translate.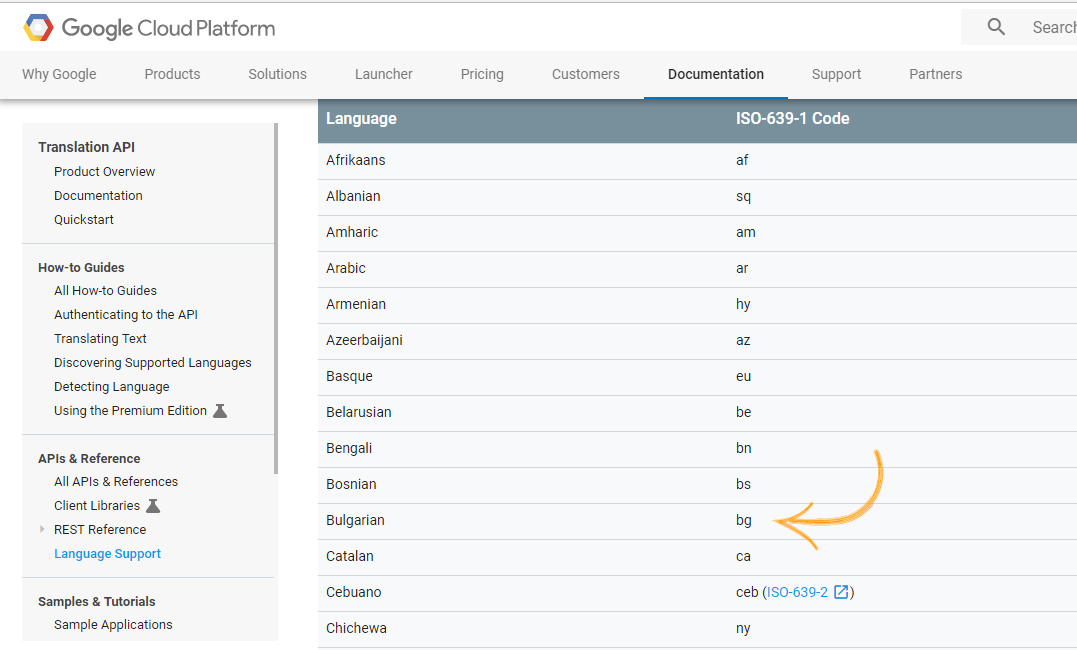 Image Source
It's a simple and cost-effective option to turn your knowledge base into an asset for your diverse patient base. All your patients regardless of which language they speak will be able to find medical information easily in your healthcare knowledge base.
6. Make Your Knowledge Base Highly Searchable
Creating a knowledge base is futile if it fails at delivering the right information at the right time.
If it takes more than a few seconds for the search bar to deliver the right results, it's not good enough.
Healthcare professionals need information quickly, especially when they are about to provide treatment recommendations. They don't have the option to wait for hours to get the necessary data. If that happens, it can disturb the entire medical process to the extent that a patient's life might be at risk.
To avoid such a situation, use a knowledge base tool that helps you deliver instant content suggestions as users start typing in the search bar.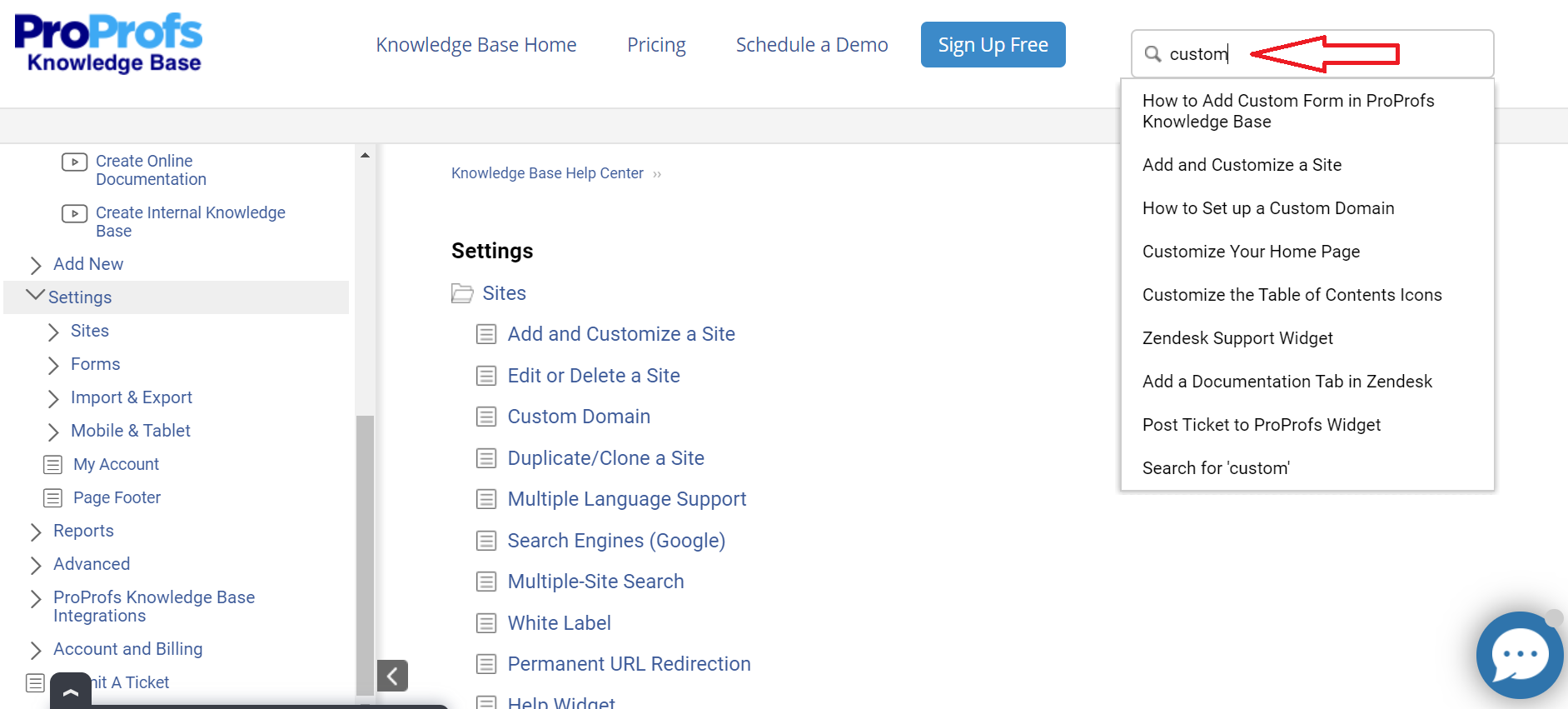 7. Audit the content for Performance Improvement
Data can turn obsolete real soon when it comes to healthcare. As new researches keep happening in various areas of healthcare, a regular knowledge base audit is a prerequisite.
Healthcare professionals cannot afford to use outdated information. It can cost a patient's life, so there is no question of your healthcare knowledge base scoring low in terms of content relevance.
A regular knowledge base audit enables you to spot knowledge gaps, identify inactive or broken links, and find medical keywords that aren't yielding accurate results.

Leverage this treasure trove of data to create articles on the latest healthcare information and improve the quality of existing content.
All of this is possible with knowledge base reports. By displaying data in graphical and tabular form, reports make evaluating your knowledge base performance incredibly simple!
Are you Ready to Take the Plunge?
From driving accurate decision-making to delivering post-discharge patient care services, knowledge management is at the heart of the healthcare ecosystem. It creates a knowledge-sharing culture where all your medical personnel can share nuggets of their learning and experiences with one another.
To create a stellar knowledge management system for your healthcare organization, start by picking the right template. Add valuable information to the document, keep it simple, searchable, and involve all stakeholders to maintain the pool of medical information.
If you are a healthcare organization looking for ways to manage the mammoth amount of healthcare data, you've come to the right place.
Do you want a free Knowledge Base Software?
We have the #1 Knowledge Base Software for delightful self-service help center starting at $0