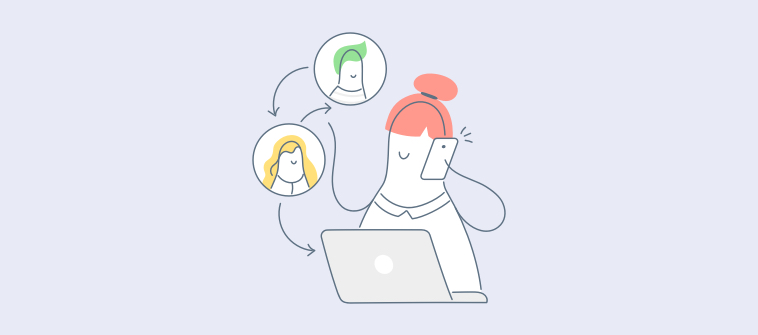 "If HP knew what HP knows, we would be three times more productive." – Lew Platt, Former CEO, Hewlett Packard
If you read between the lines, you will understand the subtle yet impactful cue the quote gives on the importance of knowledge management for organizations.
Knowledge management is now more important than ever, for the simple reason that it increases the efficiency of business processes, enhances employee productivity, improves decision making, and, most importantly, saves you from reinventing the wheel time and again.
Although the concept of knowledge management is relatively new, as it emerged in the 1990s, it has garnered significant attention from businesses across the globe, thanks to the significant benefits it provides.
But, implementing knowledge management is not a walk in the park. It has got its set of challenges. Let's take a look at some of these, along with their possible solutions.
Knowledge Management Business Challenges & Solutions
1. Obsolete & Ineffective Tools
Tools that worked for you yesterday might not bring the same KM results today. Technology is one thing that gets outdated soon. Take, for instance, your smartphone. You can't use the same smartphone for five long years, can you?
You will be missing out on a lot of fun, entertainment, and the latest developments if you don't change it every couple of years. That's because, every year, the market is flooded with technically upgraded smartphones.
Consider your knowledge management tool as obsolete if the basic tasks such as storing and accessing information, ensuring the safety of the KM system, creating a better, improved knowledge base, etc., become a task. Another sign of the tools you are using, going archaic is when employees don't find it convenient to use your knowledge management system.
---
Solution: To leverage the benefits of knowledge management to the maximum, opt for an ideal knowledge base tool that can help you with –
Facilitating easy access to knowledge for employees
Building a centralized knowledge management system that can be accessed via mobile phones, tablets, or laptops
Ensuring the security of critical information
Maintaining and updating your knowledge base regularly
Identifying knowledge gaps and fixing them
Look for a tool that is easy to set up, offers stellar features and settings, and can be integrated with third-party software such as Zendesk, Freshdesk, Wufoo, etc.
Once you have the right tool in place, consider half of your challenges solved.
Here's a short video on "How to Choose the Best Knowledge Management Software," to give you a better understanding of what to look out for, while selecting the best knowledge management tool.

---
2. Lack of Vision
Lack of vision is one of the major challenges of knowledge management.
Most of the time, companies simply have a knowledge management system in place, with employees having no clue of its importance, and how they can utilize it.
Not having a clear vision, or having an objective but not communicating it with employees – both the scenarios lead to employees abandoning your KM system or losing interest in using it. When they aren't aware of the benefits it provides, or how it is supposed to be used, how will they realize its importance and try to use it during work?
Without the objective clearly defined or properly communicated, employees are bound to get confused. In such a case, your KM system stays intact or rather depletes over time, without being implemented in reality.
---
Solution: The best way to deal with this knowledge management challenge is to have a clear-cut vision. Once you know the vision or atleast the immediate objective, ensure that it is communicated across different divisions both vertically and horizontally. There should be transparency, and employees in every echelon should be aware of your vision, and actively participate in achieving it.
---
3. Lack of Clearly-Defined Use Cases
Merely asking employees to participate in your knowledge management initiatives doesn't help. It sounds vague and doesn't clarify what employees will be able to achieve on an individual level by participating in it. Managers in most organizations treat knowledge management as generic for everyone and give a couple of reasons to employees regarding why it should be used.
What they forget here is that employees can't be forced to do something that they don't connect with, don't find beneficial. The instant thought that's going to hit them is – it's a total waste of time. Your knowledge management strategy has a high chance of failure in such cases.
---
Solution: Connect with employees on an individual level if possible, and communicate how knowledge management will benefit them at work. Provide them a list of tasks that KM can be used for. Identify some of the best aspects of your knowledge management system and demonstrate to employees how these can benefit them individually.
Try to come up with different use cases just to show employees the extent and the areas in which knowledge management can help them perform better at work.
---
4. Lack of Relevant Information
One of the major knowledge management business challenges is that employees, most of the time, aren't able to find the answers they are seeking.
Either the search mechanism of the KM system isn't powerful enough to show appropriate results, or the knowledge repository doesn't have updated information.
One of the significant benefits of knowledge management is that it makes information readily available. But if your employees are facing a basic issue of not getting relevant information, then there's definitely something wrong. This can have serious repercussions. Employees may lose interest and trust in your KM system and start questioning their credibility every time they look for information.
---
Solution: Use a knowledge management tool that offers a strong search mechanism. A highly-searchable knowledge base is desirable as it ensures that employees can perform the most basic function of information-gathering in a hassle-free way.
Also, the tool should provide insights into the health and performance of your knowledge base content. Metrics such as –
Popular and poorly rated articles
Successful and failed searches
Author activities, and more, give you a deeper understanding of what's working and what's now in your KM system.
You can easily identify loopholes in your KM system and fix them either by updating your existing articles or enriching your knowledge base with meaningful and relevant information.
Here's a short video on how to analyze the performance of your knowledge base –

---
5. Treating Knowledge Management as Additional Work
Knowledge management is often seen as a separate division that doesn't add value to the overall growth of a firm. This perception can reduce the efforts required from various teams to keep a knowledge management system in fine fettle.
Not everyone likes putting in extra hours. So, there can be scores of excuses that employees can come up with for not giving time into learning and using the tools for effective knowledge management. This can turn out to be a major reason for the failure of the entire system.
---
Solution: Look out for ways your knowledge management tool can be integrated with other tools that your employees are already familiar with or using in their daily work. When your KM tool comes in handy for employees and doesn't require much effort on their side, it will make things easier for them.
You can even conduct a training session to familiarize employees with the dynamics of your KM system, and how it is to be used. Have a dedicated help center in place, that your employees can look up to every time they have a question or don't understand a particular process related to your KM system.
---
6. KM Is Not Connected With the Overall Business Objectives
This is a serious concern. With KM disconnected with a company's ultimate goals, employees will sooner or later perceive it as a process that is of little importance.
They might think of it as a separate cost-adding and time-consuming system that doesn't deliver significant benefits or add any real value to the growth of the firm. This happens especially when you haven't outlined the objectives of your knowledge management system and how these will act as a fillip to achieving your company's vision.
---
Solution: The best way to deal with this knowledge management challenge is to sync your KM goals with your organization's vision. Share with employees why knowledge management is essential and clearly define the areas where KM will have a prominent role to play in achieving your ultimate business goals. This will ensure that employees take your knowledge management initiatives seriously and participate with them whole-heartedly.
---
7. Confusion Between Push and Pull Strategies
When it comes to KM, organizations often get confused regarding which strategy works best for employees – push or pull. So, they stick to one strategy most of the time. The pull strategy entails employees pulling out answers to their questions on their own.
On the contrary, the push strategy involves pushing information in the form of news, training, or best practices, to the employees. Both of these have their pros and cons. So having a single-strategy approach can turn out to be disadvantageous.
---
Solution: Combining both pull and push strategies work best here. That's because there are certain instances where pull works just fine, while there are others where critical information needs to be pushed to the employees.
When it comes to regular issues, corporate policies, work guidelines, etc., employees can opt for the pull approach to find the information they need. On the other hand, when an organization has some news to share about any new event, product launch, client acquisition, etc., the push approach is optimal.
---
8. Leaders Setting the Wrong Precedent
This happens mostly when the concept of knowledge management is new in an organization. No matter how much they advocate about the KM system to employees, leaders end up resorting to the traditional ways of working.
Embracing change is equally difficult for leaders as it is for employees at different echelons in a firm. Although those at the seniormost level preach knowledge management, the reality is they forget to practice it, therefore setting a wrong precedent for others.
This is demotivating as employees too follow suit and ignoring knowledge management.
---
Solution: Leaders need to be proactive and use KM systems before they start preaching it. They should be well-versed with the knowledge management tools to the extent that they use it daily while working. Leaders should lead by example and demonstrate to employees how this new change has impacted their work positively.
During meetings, those at the senior management should come forward and share their experiences of using the KM system. This will motivate employees to follow the same path. Set knowledge management goals for employees, track progress and check compliance. Those who successfully meet the goals and are able to make effective use of the KM system should be rewarded.
---
9. Forceful Adoption of Tools
If your organization is new to the concept of knowledge management, and you suddenly push employees to use a new system, you might get resentment. Suppose you invested in XYZ tool and now you are keen for employees to use it, and show the same enthusiasm that you have. This attitude can play against you.
---
Solution: The art of balance can save you here. You need to first identify the requirements of your organization and employees, the processes in place, and then choose the right tool that can complement your firm's structure, workforce needs, and knowledge management strategies.
Do complete research before you subscribe or purchase a knowledge management tool. Buying a tool and then finding ways for it to be used in your organization will yield no valuable results.
---
10. The Temptation to Try New Technology
Every other day, there is something new and advanced coming into the market. The temptation to try new tools with advanced capabilities is obvious, but it can have consequences.
This is because most of the tools are hyped and are too good to be true. They paint a promising picture, but when it comes to actual implementation, they turn out to be a failure. Giving in to your temptations and using every other tool that attracts you can be disastrous for your knowledge management initiatives.
---
Solution: Don't get carried away by anything new that comes up on the market. Identify your requirements, run a company-wide analysis pertaining to knowledge management, identify the existing knowledge gaps, and then zero in on a tool that has the potential to make things right.
Suppose you shortlist a couple of tools and are confused regarding which one to finalize. A better way will be to define a use case for each tool and see if they fit. You can also opt for their trial versions before making the call.
---
From the above-mentioned points, it is pretty clear that all the knowledge management business challenges fall into specific categories such as –
Organization issues

Technology

Measurement of knowledge management effectiveness

Streamlining KM methods and processes

Leadership conflicts, and the like
These are the major areas that knowledge management business challenges come from. You can create your own categories and divide the challenges accordingly. This will give you clarity around which knowledge management system challenges are critical and need immediate attention.
Talk about knowledge management, and you will instantly remember the World Bank. It's always been way ahead in creating a knowledge-focused culture, than any other organization.
World Bank
The primary goal of knowledge management at the World Bank is to capture knowledge through operations and make it accessible to its partners as well as clients. Its knowledge management program focuses on managing the bank's know-how and making it easily available, through its Knowledge Management Action Plan. This action plan is focused on building a knowledge-sharing ecosystem that improves the connectivity among internal employees as well as its partners, stakeholders, and clients
The spectrum of knowledge management is not bereft of challenges. Consider these knowledge management system challenges as opportunities to grow your business, make it knowledge-focused, and future-ready.
Do you want a free Knowledge Base Software?
We have the #1 Knowledge Base Software for delightful self-service help center starting at $0