Take the example of any organization, and you will find that most of them are struggling with streamlining their customer support functions.
There are multiple reasons for this - miscommunication, frustration, a huge volume of support tickets, no clearly-defined processes, lack of collaboration, and many more.
The only way out that can save your customer support function from succumbing to these challenges is - 'Knowledge-Centered Support.'
Unlike some years back customers could be taken for granted owing to their lack of awareness. The current situation is quite the opposite. Today, customers are savvier, demanding, and their expectations from brands are rising like never before.
When customers are so well-informed, how can they expect a brand's support staff to have no knowledge?
Research shows that one in three people consider a knowledgeable and friendly agent as a critical aspect of customer service.
Clearly, shifting to a Knowledge-Centered Support (KCS) is the need of the hour to stay competitive and relevant in the market.
Let's decode Knowledge-Centered Support and everything related to it:
What is Knowledge-Centered Support?
Knowledge-centered support is a methodology of leveraging knowledge to boost the support process of an organization. It involves:
Collecting knowledge from multiple sources

Sharing it on a centralized platform like a knowledge base

Facilitating easy access to knowledge for your support staff as well as customers
This system equips your customers with instant information so that they don't have to reach out to your support staff for addressing issues they may have with your product or service.
As for your support staff, KCS is an important asset. It provides them with a ready information source that keeps them updated and informed at all times, especially when they are dealing with customers via call, email, or chat.
All of this impacts how customers receive service from your brand.
Adopting a knowledge-centered support system makes the entire process of catering to customers more efficient and hassle-free.
Why Is Knowledge-Centered Support Important?
A knowledge-centered support system is a remedy for some of the most common issues faced by organizations, like:
Agents drowned in support tickets leading to higher stress level

The declining quality of responses provided by agents

Customer satisfaction dipping slowly
KCS helps you manage these challenges by bridging knowledge gaps and keeping your customer support function in good health, regardless of the number of tickets flowing in.
Here are some of the significant benefits of knowledge-centered support for businesses:
Improves the efficiency and productivity of your support staff

Keeps your support team informed and updated on the latest information

Empowers your customer-facing staff to deliver quick and accurate responses to customer questions

Enables your customers to self-serve whenever they have any issues, before contacting your support staff

Improve collaboration in your support staff, and among other teams

Increases customer satisfaction

Reduces the flow of customer support requests

Facilitates easy access to business knowledge with the help of an online knowledge base

Reduces the need to conduct offline training sessions for your support staff
Unbelievable right?
KCS provides you with more benefits than you can imagine.
But, there's a catch.
These benefits can't be derived unless you have a dedicated online knowledge base. A centralized company-wide knowledge platform helps you put KCS into practice real soon.
How KCS Works?
KCS should be seamlessly integrated with your existing customer support process so that it can be of real value to your support team, and not an extra burden. Also, an online knowledge base is central to the success of this methodology.
Setting up a knowledge-centered support system involves five steps:
Gathering knowledge from multiple sources

Structuring and customizing the content

Reusing the content by making it highly searchable

Capturing feedback from customers and support team

Improving and updating knowledge regularly
Let's look at these steps in detail:
1. Gathering Knowledge From Multiple Sources
Your support content should ideally comprise everything your customers need. So, the best way to capture knowledge here is by:
Going through the notes taken by support staff while interacting with customers

Asking customer questions related to your products and services

Going through agent and customer conversations history via email, chat, or on social media.
Consolidate all this information in your cloud-based knowledge base. If required, your support team or knowledge workers can write content based on their experiences with customers. In case they have existing content in other file formats, they can directly upload it to your knowledge base.
2. Structuring & Customizing the Content
The real work starts once you have consolidated the content in your knowledge base.
Structuring and customizing the content is equally important to make it easier for your customers and agents to maneuver through your knowledge base.
Imagine if your content is all over the place with no headers and subheaders, no consistency in formatting, and the style doesn't match your branding. In such cases, it is difficult for readers to navigate through your knowledge base and find what they are searching for.
A good way to avoid this is by ensuring that your knowledge-centered support is backed by a finely-structured knowledge base that has the following:
A well-placed table of contents

Content is divided into categories and subcategories

The right use of fonts, colors, and themes

Formatting of the content is to the point

Bullets are used across articles

Paragraphs are short

Multimedia is used in the right way and at relevant places (Look at examples below)

Content can be accessed across devices - mobile phones, tablets, and laptops.
You will find all these things in HighQ's knowledge base.
Based out of London, HighQ provides an intelligent work and client engagement platform that solves operational issues faced by the firms of the legal sector. HighQ took a knowledge-centered approach for its cloud-based product Collaborate, to serve its clients better and reduce the constant flow of tickets.
HighQ created a self-service knowledge base using ProProfs Knowledge Base software to cater to its rapidly increasing client base. Now, both its customers and agents are happy and satisfied.
Here's how its knowledge base looks like.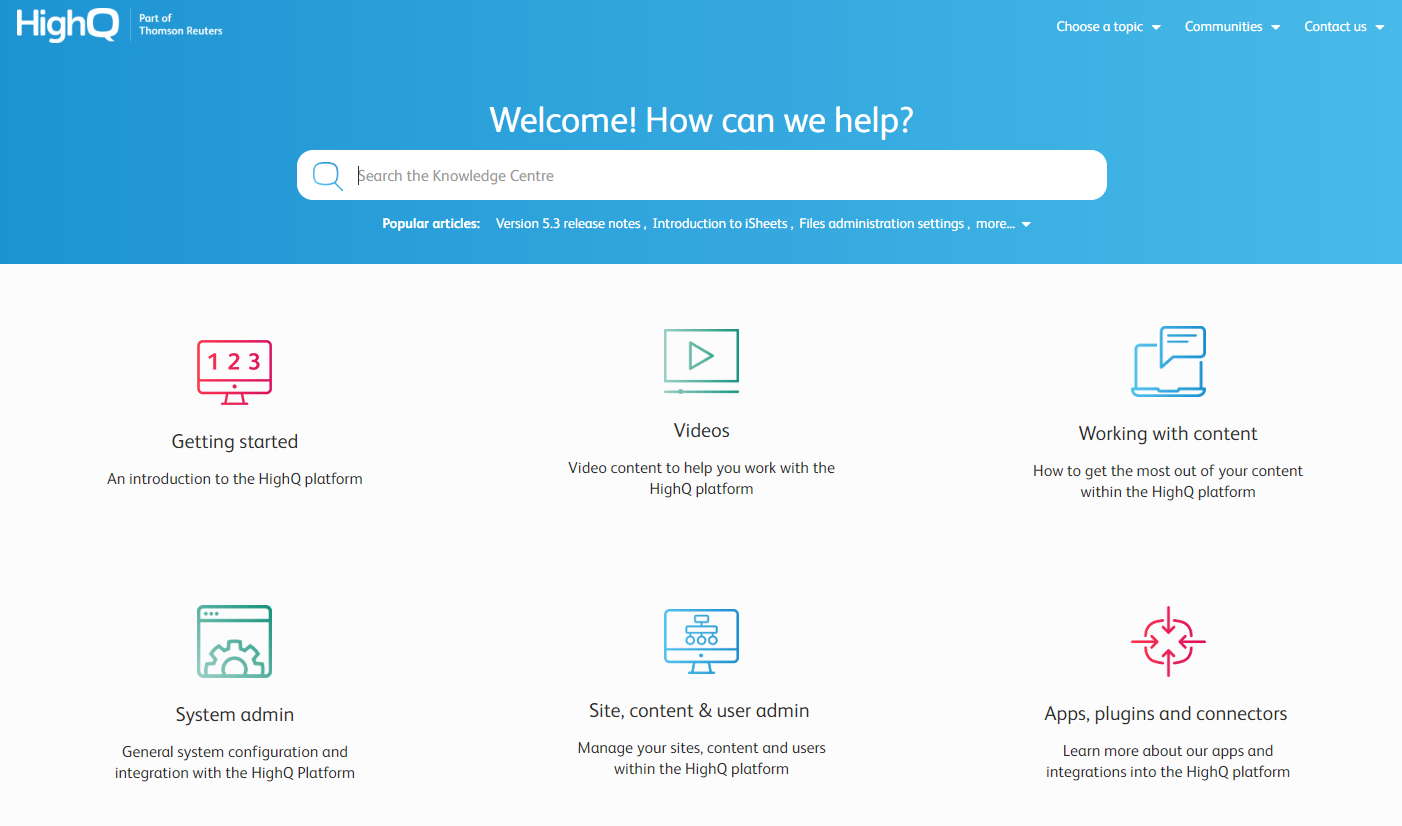 Source:
HighQ Help Center
Things to note:
Clearly defined sections on the home page

A Well-structured page that gives readers a glimpse of what they can expect in the help center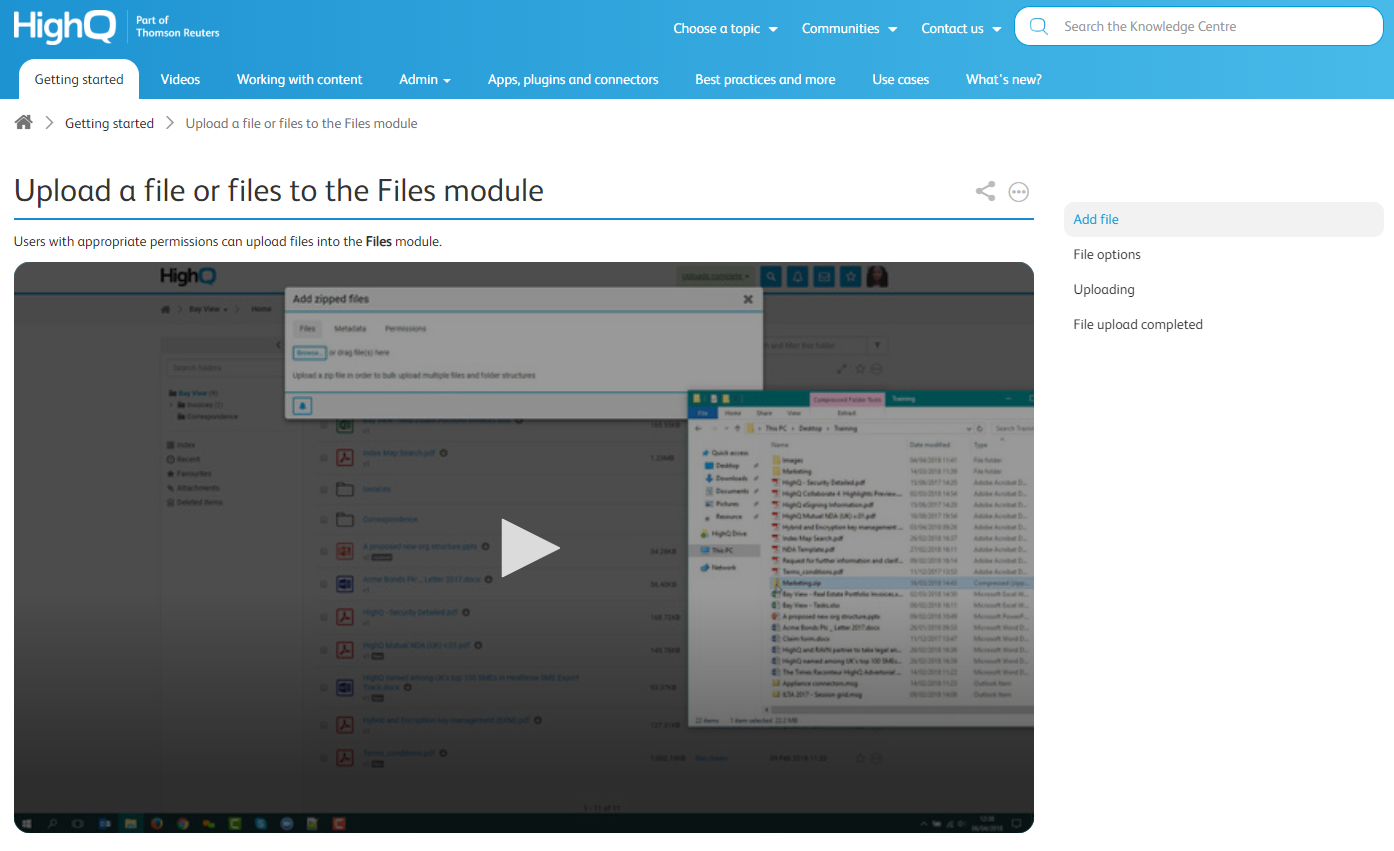 Source:
HighQ
Things to note:
A video right at the beginning of the page

Short and action-oriented title
As you scroll through this help center, you will find, the article has a rich mix of text and screenshots that are used at every step to explain a process.
3. Reusing the Content by Making It Highly Searchable
You have quality content in your knowledge base, and it's also structured well for easy navigation, but what's the point if your agents aren't able to run a search and reuse content while handling different customer issues.
Your content should be highly searchable, with all the right keywords that are frequently used by customers. Try to sprinkle them across articles in a way that doesn't look forced. A Google-like search mechanism works great here.
While addressing customer issues, agents can directly share the link of a relevant article with the customer. This saves them a considerable amount of time and effort that goes into manually typing responses for all customer questions or explaining the entire process on call.
Look at the screenshot below to understand the way a search mechanism should work: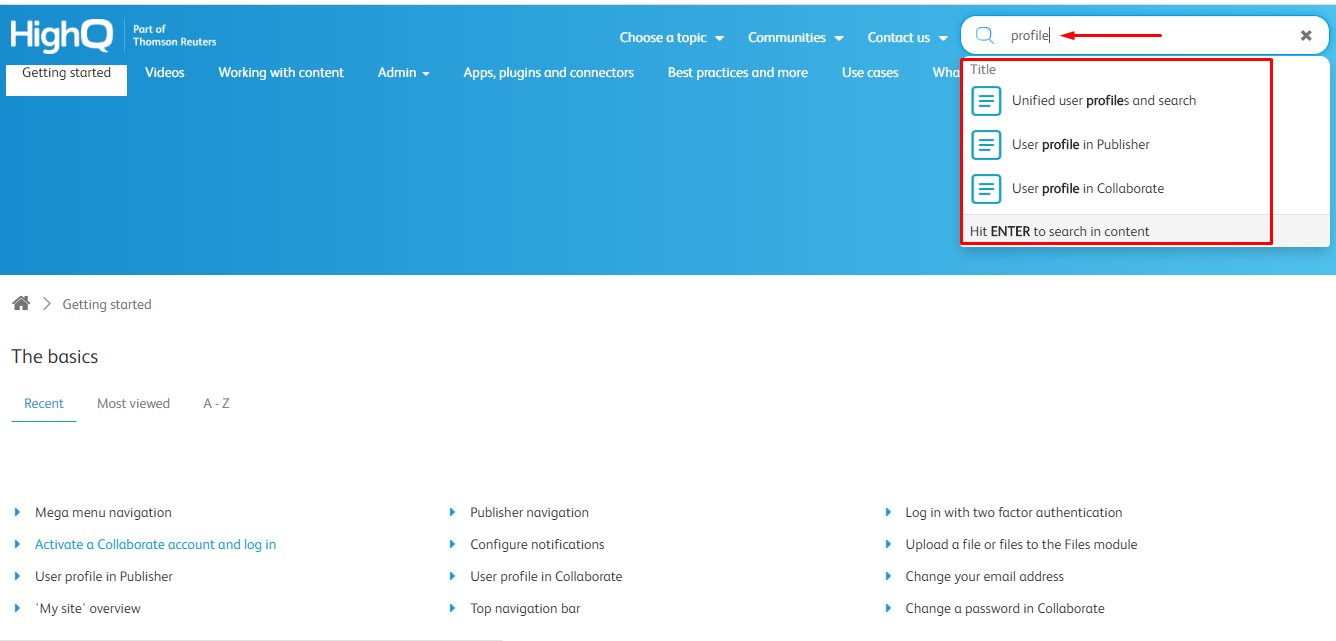 Source:
HighQ Help Center
Things to note:
A huge search bar
Autocomplete suggestions on typing a keyword
4. Capturing Feedback From Customers and Support Team
Your Knowledge-Centered Support system is up and running with a dedicated knowledge base in place for your customers and agents. Now, you need to ensure that customer feedback and suggestions are captured right from within the knowledge base.
Out of the suggestions received, the appropriate ones should be adopted, so that your knowledge base is always relevant and updated.

To capture feedback from customers right from where they are in the document, it's best to add forms and surveys to your knowledge base.
You can either opt for simple feedback forms where you ask the reader at the end of the article - "Was this information helpful," with a yes or no as the answer options. Or, you can add a sidebar form to your knowledge base. Customers can click the button and fill out the form once they are done reading the article.
This feedback is then directly emailed to you where you can separate the wheat from the chaff. You can then implement this feedback to further enrich your knowledge base.
5. Improving and Updating Knowledge Regularly
For your knowledge-centered support system to work smoothly, it's crucial that knowledge is updated regularly.
This gets easier if you have powerful knowledge base software. An ideal software tool comes with a robust reporting mechanism that gives you access to useful insights like -
Popular and poorly rated articles
Failed and successful searches
Total number of searches
Most liked articles
Author activities
Broken links
This data is usually presented in graphical and tabular form, making it easy for agents to analyze it and make changes accordingly.
Agents can work together to incorporate changes in the knowledge base either by creating new article pieces on keywords that aren't providing accurate results or altering the existing content.
Here's a short video to give you a better understanding of how reports work and how you can make KCS a success with their help.

Now that you know everything about KCS and how it can help your business grow let's look at a few knowledge-centered support best practices you can adopt to keep your customer support function alive and kicking.
Knowledge-Centered Support Best Practices
A KCS system cannot work in silos. It's a collaborative effort involving all your agents to edit, update, and keep the content accurate and fresh. It has to be continuously checked for errors of every kind - grammatical, structural, contextual, irrelevance, and more so that the best content goes live.
Customers need nothing but the best and one mistake, no matter how silly or serious, it can bring a significant difference in how they perceive your brand.
Here are some of the best practices you can adopt for your KCS:
Shifting to KCS abruptly without informing your support staff in advance can play negatively for you. So, ensure that you keep your support staff in the loop right from the time when there are discussions around implementing KCS

Educating your support team on how KCS works and what benefits can be achieved through it.

Keeping support team members informed of the roles they will play in the KCS process

Creating a comprehensive and well-structured knowledge platform using the best knowledge base software

Keeping your knowledge base updated and in alignment with what customers want

Improving and maintaining your knowledge base with updated information

Bringing all your teams together to share their knowledge and experiences in this knowledge platform
Incorporate these best practices to make your KCS even more effective, which will eventually lead to:
Improved customer response time

Happier agents and customers

An improved bottom line
Examples of Firms Who Are Playing It Right
1. Unleashed
Providing market-leading inventory management solutions since 2009, Unleashed helps its customers manage inventory in real-time and make smarter decisions. Due to difficulties in content creation, management, and publishing, Unleashed shifted to a cloud-based knowledge management solution that can be smoothly run by a single person or team.
Unleashed's inclination towards a cloud-based knowledge-centered system arose from its dire need to reduce knowledge management complexities, and provide customers what they need - relevant content.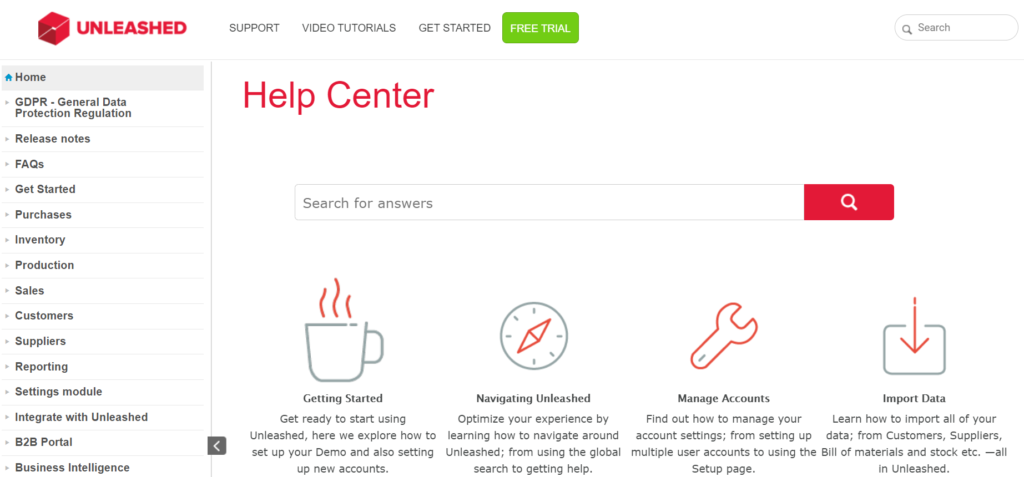 Source: Unleashed Help Center
Using ProProfs Knowledge Base software, the company was able to build a searchable and customized help center where customers can instantly search for answers or raise a ticket in case their issues aren't resolved.
2. LEAP
LEAP, one of the world's leading legal practice management software providers, created a community center for its customers using ProProfs Knowledge Base. This platform is a one-stop solution for its customers to address any issues they face while using the software.
It provides all the latest updates related to its products and services on this platform. Customers can also participate in discussions, ask questions, and get answers immediately on LEAP's help center.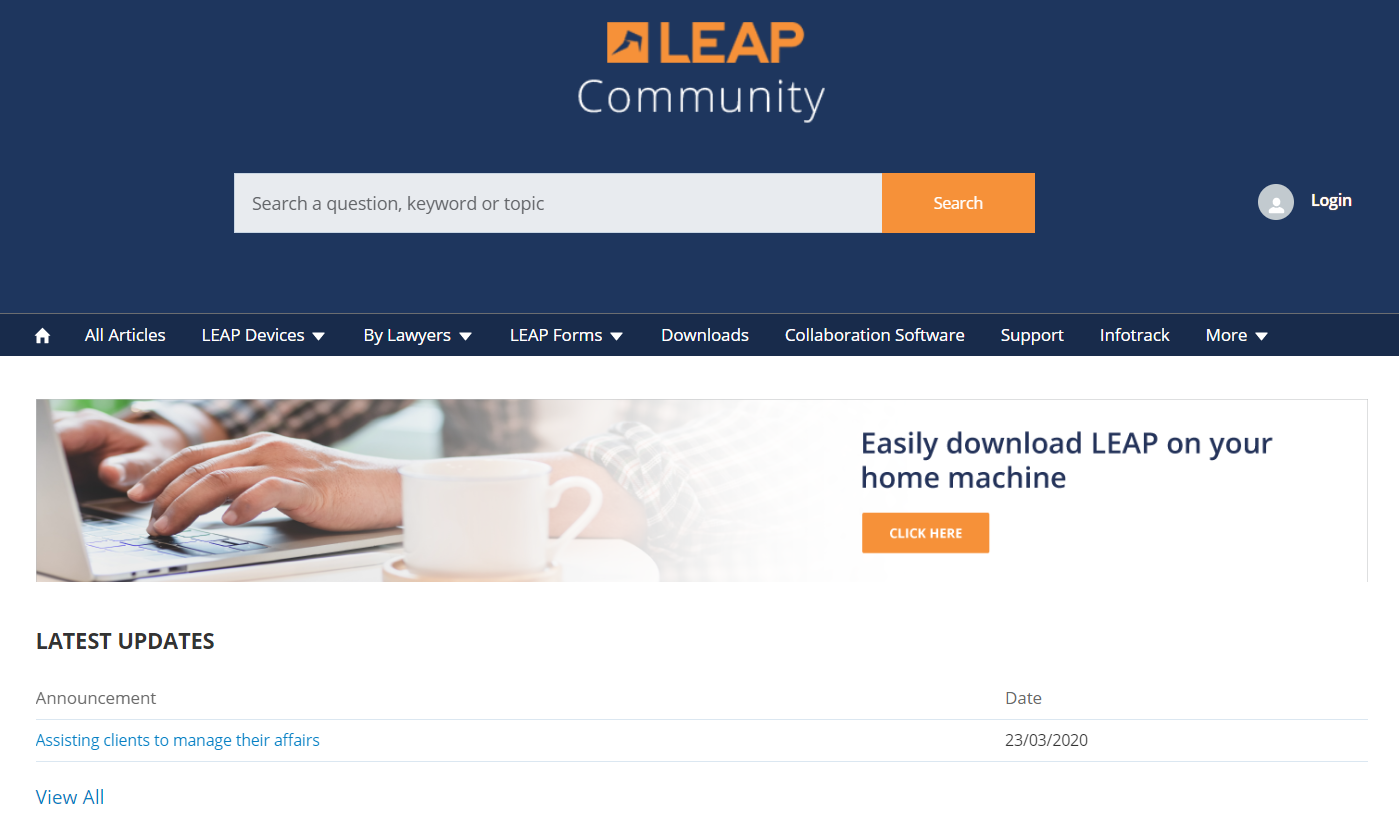 Source:
LEAP Help Center
Is There More to KCS Than What Meets the Eye?
Well, for about a whopping 25 years, KCS was "Knowledge-Centered Support," but now this approach is getting a facelift. Knowledge-Centered Support is now turning into Knowledge-Centered Service.
But why?
To cover a broader zone and not restrict itself to the support function.
The goal is to turn KCS relevant for companies operating in any information-intensive industry, not just those who focus on service desks and support functions handling customer cases.
So, depending on whether your focus is limited to revamping your customer support division or making other customer-facing functions like marketing and sales, knowledge-driven, you can either go for Knowledge-Centered Support or Knowledge-Centered Service.
Knowledge-Centered Support: A Key Driver of Your Customer Support Function
Integrating KCS with your customer support function can definitely give this department an overhaul, opening avenues for support staff to stay informed and provide quick services to customers, while at the same time making customers self-reliant.
It gives you a better way to manage your business knowledge as well as the information generated during agent-customer interactions, and use it to:
Equip your support staff with the capability to provide impeccable customer service

Empower your customers with self-help so that a significant number of issues get addressed at their end
And what do you get in the end?
Delighted Customers 🙂
Happier Support Staff 🙂
Growing Business 📊
Thinking of ditching your regular support methodology and switching to knowledge-centered support?
Don't settle for less. Try ProProfs Today!
Do you want a free Knowledge Base Software?
We have the #1 Knowledge Base Software for delightful self-service help center starting at $0