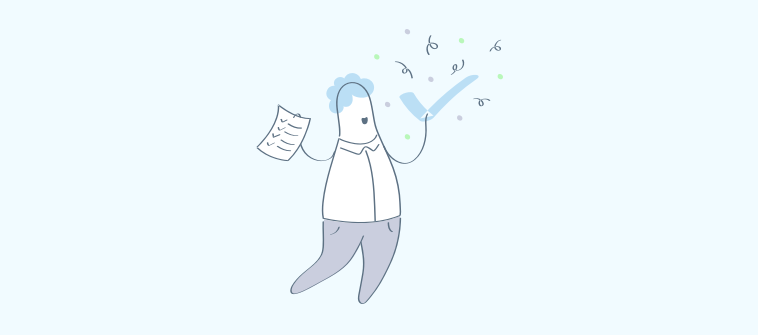 The Click Culture has made it extremely easy for people to self-serve, switch brands, and get everything they want in a snap.
In fact, it has given rise to the self-service wave, wherein people prefer to get things done on their own, without requiring external assistance. There is clearly a seismic shift in customers' expectations and the way businesses meet them, as a whopping over 60% of U.S. customers prefer self-service for simple tasks.
This serves as a testament to the fact that times are changing, and businesses need to change their approach towards how they market and present themselves to their target audience. A tool like knowledge base can be of extreme help in this endeavor. It's useful in:
Providing convenience to customers by allowing them to access help anytime and from anywhere.

Facilitating quick resolution of customer issues. With a knowledge base, customers don't have to wait for reps to act on their requests

Putting customers in the driving seat. A knowledge base gives customers control over when and how they get the answers or solutions they need
But making customers self-reliant is not the only benefit that a knowledge base offers. When used wisely, it can also serve as a great marketing tool.
In this article, we tell you how to make your knowledge base the go-to marketing tool for your business. But before we do that, let us look at some of the major advantages of an online knowledge base.
Customer behavior has changed significantly in recent years with available data showing the majority of U.S. customers 77% have used self-service portals at some point. With the high number of customers opting for self-service, businesses need to improve their knowledge management and help customers use their knowledge base with ease for these reasons:
1. Service Teams Can Focus on More Important Tasks
Simple improvements to the help section of a website can lead to a significant drop in calls made to the customer support team. A knowledge base enables businesses to provide answers to questions or issues that are frequently asked by customers.
When customers are able to fetch information on their own, the need to raise tickets gets eliminated, which ultimately decreases the ticket flow to the support staff. The reduced number of customer tickets and calls means that agents have more time on their hands to attend to pressing issues.
2. Boosts Customer Loyalty
The main reason most customers opt for self-service is that they don't want to wait to have their issues resolved. 12% and 27% of U.S. customers cite slow speed and lack of effectiveness, respectively, as the major causes of their frustration with customer service.
With statistics showing that most customers 89% are likely to start buying from competitors after a negative experience, these inefficiencies can have a wrong impact on customer loyalty.
By providing accurate and relevant information in your knowledge base and making it easy to find, businesses can reduce the time customers take to resolve their issues. This ensures that customers get seamless experiences, and it also increases their loyalty to the brand.
3. Increases Sales Revenue
The more customers find it easy to resolve their problems, the more they will keep coming back to buy from a firm. With customer retention, companies have a huge opportunity to widen their customer base through referrals.
This means they don't just sell to existing customers, but also to new ones who are referred by the latter - all of this helps you increase sales significantly.
With these benefits in mind, how can you make your knowledge base the go-to marketing tool for your business?
When it comes to making your knowledge base a marketing tool, you need to treat it the way you treat a blog. In a typical sense, blogs serve the critical role of driving traffic to your website. Your knowledge base should do the same; in fact, it should bring in better results, given that it is more comprehensive than a blog.
Remember, most customers search the internet for answers before they reach out to the support staff. As such, the content in your knowledge base should be able to attract customers during their search.
To achieve this result effectively, you need to:
#1 Turn Your Knowledge Base SEO-Friendly
Google is the first place most customers go when they have a question or experience a problem. Search engines help customers find the most relevant content based on their search.
When you are creating knowledge base content, it is essential that you adhere to search engine optimization (SEO) principles to help your knowledge base secure a place in the top few search results.
---
Read This For More Help:

The Ultimate Knowledge Base SEO Guide for 2019
How to Make the Search Engine Hate Your Knowledge Base
---
In simple terms, SEO means creating content that ranks highly on search engines and drives traffic to a website. By displaying results depending on how relevant your content is to customer queries, SEO can play a crucial role in elevating the online visibility of your knowledge base.
There are several ways you can make your knowledge base content SEO friendly. These include:
[i] Adding the Right Keywords in Knowledge Base Content
The relevance of your knowledge base is a product of how well you use key phrases and words in your content. Keywords are terms or phrases that customers use to search for information online. There are numerous tools that you can use to determine the keywords that your customers frequently use to find answers.
Some, like Moz's Keyword Explorer, comes with a fee, but there are free ones that won't cost you a dime - like Google Keyword Planner. Alternatively, you can use an ordinary Google search, and at the bottom of the page, you'll see keywords related to your search. For instance, our search for 'free knowledge base' provided the keywords shown in the image below: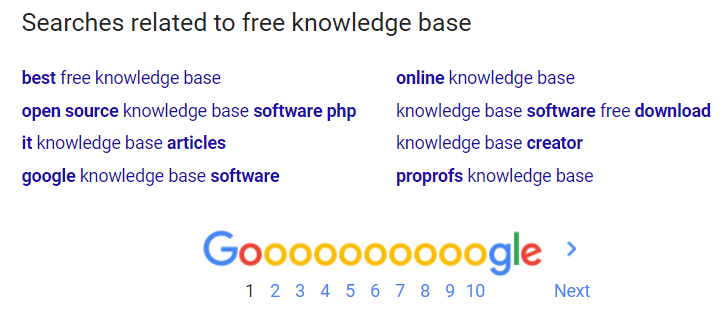 [ii] Interlinking Knowledge Base Content
Interlinking your content helps search engines like Google in determining the relevance of your knowledge base to what searchers want and returning better search results.
It also encourages customers to explore your knowledge base more and gives them a picture of how your knowledge base is structured. Let's look at the example below to see how effective a knowledge base interlinking can be:

Source: ProProfs
[iii] Structuring Headings Properly
Headings tend to be overlooked, although they constitute an integral part of SEO. Use header tags and structure your knowledge base content in a way that enables Google to analyze the main topics in your articles.
Ensure that each article you add to the knowledge base has an H1. However, do not use more than one H1 per page because that will give the search engine the impression that the article covers multiple topics, which can lead to confusion.
#2. Create Epic Knowledge Base Content
The key to attracting customers to your knowledge base is creating quality content that is both helpful and practical. Quality content is not only ranked highly by the search engines but is also shared widely by customers.
When customers find your how-to articles, videos, or guides useful in resolving issues, they will share them with other people on different platforms, including social media.
Some simple things you can do to encourage customers to share your knowledge base content:
Using simple, jargon-free language

Making knowledge base easy to navigate

Organizing content by creating categories and sub-categories

Writing content in an actionable way
ProProfs is a classic example of a company that has quality knowledge base content. They have a simple knowledge base that equips customers with practical steps to help customers resolve queries.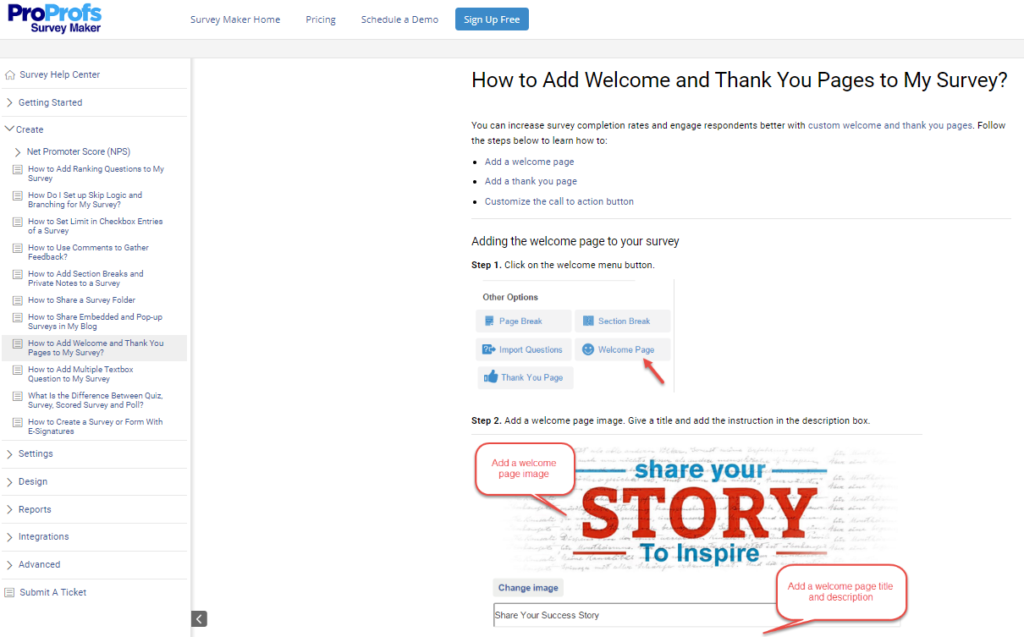 Source: ProProfs
Here are some practical steps to develop quality knowledge base content:
Write with the customer in mind: Your content should be written in a concise way, using simple language that is easy for anyone to understand.
Break it down into practical steps: Customers are looking for answers and solutions. The more your knowledge base content breaks processes into actionable steps, the more attractive it will be to customers.
Make your content scannable: Customers should be able to scan through your content to find what they want without having to read every single word. To facilitate this, use bullets and sub-headings to highlight important points.
Give your content a logical flow: Write sequentially to ensure that every point builds on the previous one in a way that is easy to follow. Structure the content in sections and subsections, so your customers don't get confused. Add a table of contents at the beginning of your knowledge base to give customers a gist of what's in store for them.
Give your articles descriptive titles: This will make it easy for readers to know what to expect in knowledge base articles even before they read them.
Complement text with visuals: Rather than using plain text, consider complementing it with videos, flow charts, screenshots, pictures, walkthroughs, and much more.
#3. Involve Your Customer Service Staff
Every day, your service team interacts with customers through various communication channels - email, phone, social media, and live chat, among others. This places them in a unique position to:
Drive traffic to your knowledge base

Use the knowledge base as a marketing tool
To equip them with the right capabilities to achieve this, you'll need to familiarize them with your knowledge base and its contents. They can then make it a practice to share links of knowledge base articles with customers when responding to queries, as opposed to providing direct answers that is time-consuming.
This is particularly possible when they are engaging customers via email, social media, and live chat. For phone interactions, service staff can be trained on how to provide links to customers and encourage them to opt for self-service by visiting the knowledge base.
To help reps utilize knowledge base for marketing, efforts should be made to inform them when new content is published; updates are made to existing content or when articles are deleted. This can easily be done with the help of knowledge base software.
Other ways that customer service team can turn your knowledge base into a go-to marketing tool are:
Including the links of knowledge base articles that customers find most useful, to automated ticket responses

Adding links of relevant knowledge base articles on support ticket comment sections

Featuring links of relevant knowledge base articles on automated messages that are sent to customers to notify them that their issues have been resolved

Featuring knowledge base article links on weekly newsletters that are sent out customers

Sharing knowledge base links on Twitter, Facebook, Quora, LinkedIn, and other social media platforms.
#4. Popularize Your Knowledge Base
An integral part of making your knowledge base a marketing tool is popularizing it. Just like a blog, you need to do this to attract people towards it.
One of the best ways to succeed in knowledge base marketing is to get your marketing and social media teams involved in the process. These two teams can promote your knowledge base by:
Making knowledge base a part of the company's content marketing strategy

Using social media platforms like Twitter and Facebook to inform customers about the knowledge base

Adding relevant knowledge base links to social media posts regularly

Asking followers to share knowledge base articles with their networks

Using hashtags to attract people who are interested in your knowledge base content

Creating a knowledge management strategy
In addition to using social media, businesses can promote their knowledge base through influencer marketing. With most people trusting social networks to help them make purchase decisions, influencer marketing can help you establish credibility for your knowledge base.
When choosing influencers to promote your knowledge base, opt for people who:
Have in-depth knowledge about your niche

Have engaged followers who are driven by passion

Are conversant with your knowledge base content
Knowledge Base - The Ultimate Marketing Weapon
A knowledge base serves as a powerful marketing tool for online businesses. It empowers your support staff to market your brand in a better way, and at the same time, it provides customers with an excellent self-service experience.
But, for a knowledge base to be able to perform optimally, it should be developed, structured, and promoted in the right way. To make your knowledge base a go-to marketing tool, consider involving your customer service, marketing, and social media teams in content creation and promotion processes.
Also, don't expect it to give you results the moment you start working on it. It's an ongoing process and not a one-time activity, so you will realize its impact over a period of time.
Follow the steps discussed above and make your knowledge base fit for marketing your brand.
Do you want a free Knowledge Base Software?
We have the #1 Knowledge Base Software for delightful self-service help center starting at $0