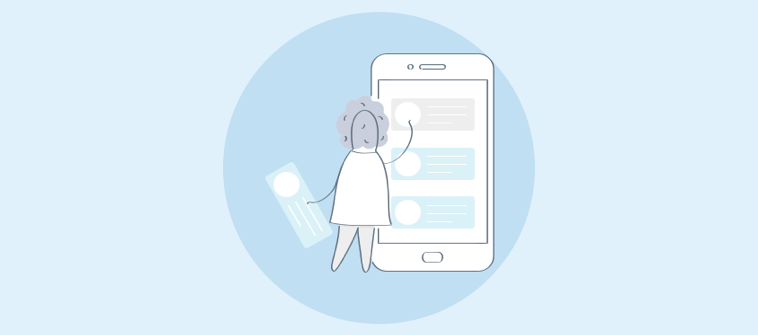 When you are busy crafting marketing or customer service strategies, there is a bleak chance that FAQs will even cross your mind.
This is the story of almost every business.
An FAQ section is a hidden, underutilized tool on your website that constantly screams for attention but to no avail. It leads a life of obscurity in a small corner of your website.
Here's an interesting fact - FAQs can catch customers' attention, strengthen your SEO, and increase your - Sales.
This section gives you the space to highlight critical details of your key offerings, helping customers make intelligent decisions.
For that, your FAQs should be informative and competent enough to answer questions and keep customers delighted at all stages of their interaction with your brand.
Wondering how to do that?
This blog spills the secret to optimizing your FAQ page. It also shows how to write high-quality, impressive FAQs that can win your customers and help you get closer to your business goals.
Let's start with the basics first.
What Is an FAQ Page?
An FAQ section is a must-have for any website. It is a self-service page where your prospects and customers can get more clarity around your offerings. Whenever they have confusion about your products, services, shipping, delivery, refunds, or anything else, they can turn to your FAQ section for immediate support.
FAQs are built to fulfill one primary purpose - delight customers at every step of their journey with your brand. From the time your visitors are mere browsers to when they become paying customers, FAQs help them make informed decisions.
An ideal FAQ page comprises critical information related to your:
Products and services

The process to use your offerings

Features and benefits

Shipping policies

Returns and refunds

Payment process

Pricing details, and much more.
As a one-stop self-service support center, an FAQ page has the power to convert curious customers and boost your bottom line. When visitors are satisfied with the answers they receive, they are more likely to invest in your products, which eventually brings revenue to your business.
For example, suppose a prospective customer needs a project management tool. He or she might first run a Google search for questions like - how a project management tool works and how it can benefit my business. If your FAQ section covers such questions, there is a possibility that it will be displayed in the first few search results.
On finding your answers helpful, the prospect will prefer the easy way - browsing through your website and checking out your product's features. It might result in a subscription right away, or it might take some time.
It all depends on the impact you are able to leave in this brief encounter.
Your existing customers can also use it for reference whenever they have any concerns regarding your offerings. When your customers are delighted with the self-service support, chances are they will stick to your brand for a longer time. Although a simple tool, yet you cannot ignore the importance of an FAQ page, especially when it comes to customer service.
There is one common question that anyone can have while creating FAQs, and that is - where to find the questions from?
This brings us to our next section.
How to Find the Right Questions for Your FAQ Page
How and from where to find the right questions is a real concern that you might have.
While most websites out there have an FAQ page, only a few of them have FAQs that deliver results. Why so? Because they step in their customers' shoes to cover every question that can possibly arise and answer them in a way that would help them.
Below are some of the tried and tested ways to find relevant questions for your FAQs.
1. Contact Your Customer-Facing Teams
While collating questions and answers, you cannot miss out on even the simplest of issues. Reach out to every team that constantly communicates with customers. These teams can give you crucial nuggets of information that you might not find anywhere else.
While the customer support team can provide insights into the frequent roadblocks faced by your customers, the product team can give you info regarding what aspects of your products could be problematic for users. You can also check previous email conversations, chat histories, and recorded calls with customers.
These are credible sources that can give you the latest info about your customers -
The challenges they regularly face

The questions they frequently ask

The product areas they find problematic, and more.
2. Look at What Your Competitors are Doing
In case you are a new business looking to build your FAQ page from the ground up, visiting competitors' websites is a good approach. Look at the kind of questions they have added to their FAQ sections and the answers they have provided. Take a cue from their FAQ page and aim to create something more insightful and solution-oriented.
3. Take Help From Google, Quora, & Reddit
Google can be the best destination for finding relevant questions for your FAQ section. Think of something related to your offerings and start typing a question. You will find scores of suggestions. This can give you the right head start.
Quora and Reddit
are also great platforms to find the most trending questions that customers are asking every waking moment.
Tap into all the data you receive from your internal teams and external sources to craft compelling FAQs for your customers.
---
💡 Pro Tip:
FAQs also comprise general, industry, or product-related questions. This is where your knowledge and experience can play a huge role. For instance, if you are an online clothing brand, you can add a question like - "How do I take care of clothes with polyester fabric?" So, every time people ask such general questions on Google, your FAQs will show up.
---
Can you imagine the endless possibilities this can have?
You now have a pretty good idea of how to find questions for your FAQ section, right?
It is time to learn how to optimize your FAQs for wonderful results.
Optimize Your FAQ Page - Impactful, Result-Focused Tips & Tricks
A comprehensive, well-crafted FAQ section can bring tons of interested customers to your website. The right FAQs offer tremendous opportunities to capture these leads and convert them into revenue-generating customers.
Here are some effective tips and tricks to turn your FAQ section from mediocre to marvelous.
1. Clear and Comprehensive Content is Crucial
Why do customers visit your FAQs in the first place? To get meaningful advice and detailed information which they can't find anywhere else. Right?
In that case, the one major thing that can make your FAQs stand out in a sea of sameness is your content. Remember that there is no alternative to quality and helpful content. It is the best way to attract visitors, drive sales, and keep your existing customers happy.
To create content that clicks with your audience, step in your customers' shoes to identify the pain points they face and the challenges they encounter regularly. For every question, you should provide detailed information, covering every aspect of the topic. Maintain clarity in the language to leave no scope of confusion.
2. Ask for Customer Feedback
You think you've done a great job with your FAQs, but do your customers feel the same?
Feedback questions and survey forms can help you understand just that. While adding feedback forms to your FAQs, ensure that they popup at the right moments and are easy-breezy to answer. If they feel interfering or lengthy, there is a possibility that customers will skip the feedback process.
After every answer, you can place a question - Was this answer helpful?, with a few options such as Yes, No, Somewhat helpful, etc. Or, you can also add a short survey form, which customers can fill if they feel the need to.
Customer feedback is a critical tool to understand your customers' experiences. The data you receive can be used to improve your existing answers and build better content.
Watch this video to learn more about feedback forms and surveys -

Read More: 5 Ways to Collect Customer Feedback and Make the Most of It
3. Make Your FAQs SEO-friendly
It's hard to believe, but FAQs can be a commendable SEO tool.
Maintaining quality while ensuring that answers have the right keywords can boost the SEO of your FAQS. A tool like Google Adwords can help you find the trending keywords customers frequently search for.
Use them wisely across your answers. In case you don't have content on a particular keyword, try to create a question and answer around it. Forcefully adding it at irrelevant places can change the intent of an answer, leaving customers confused.
Optimizing FAQs for search engines requires updated, relevant, and keyword-rich content. Besides, you should also work on your FAQ page's URL, meta title, and meta description. These are important information sources that help Google understand your content better and show it in the search results.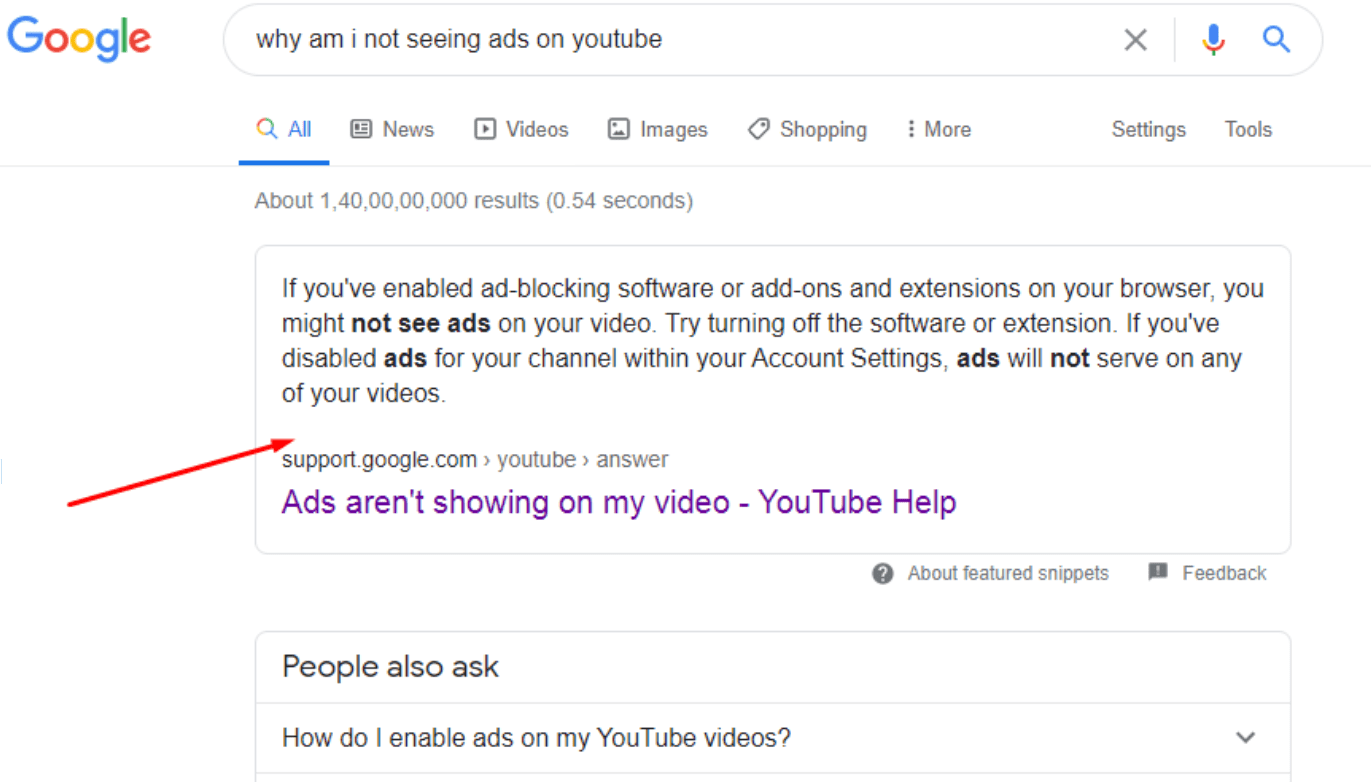 Read More: The Ultimate Knowledge Base SEO Guide for 2021
4. Boost Your Search & Navigation
An FAQ page is a self-service portal where visitors can find the right answers to all their questions in a jiffy. For FAQs to stay true to their role, they need to be easy to search and navigate.
Imagine landing on an FAQ page but being directionless as to where to go or struggling to find the right answer amidst all the information. It can be frustrating.
A powerful search system can spell magic on your FAQ page. Customers will simply have to type a keyword or a question in the search box to get scores of suggestions almost instantly. Just like how Google works!
For seamless navigation, FAQs should score high on structure and presentation. Every answer should have internal linking to drive customers to a related answer that they might find more helpful.
---
Effortless Navigation + Seamless Search = A superb self-service experience
---
As you can see, Zappos makes the best use of a search bar on its FAQ page. Click on any of its questions, and you will find that each answer is beautifully structured for smooth navigation.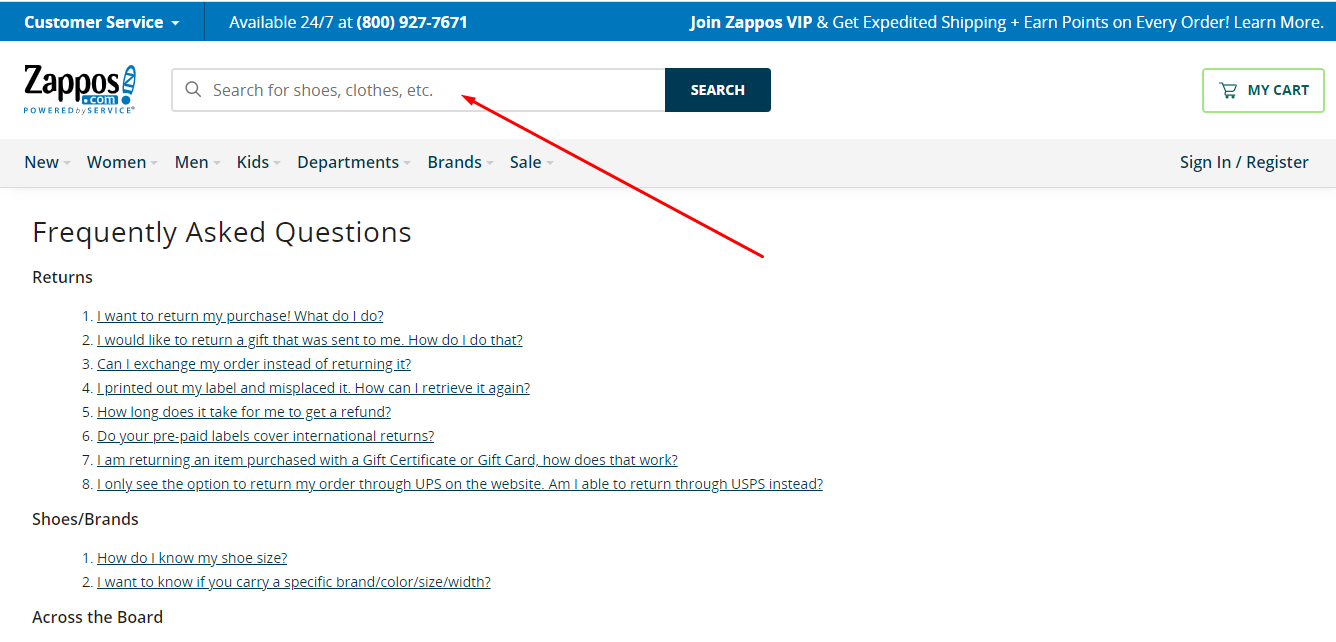 5. Monitor Customers' Search Patterns
FAQs require continuous improvement. As customers' requirements change, an FAQ page should accommodate those changes. But, the fact is you cannot improve something if you don't measure its performance.
Performance metrics such as popular and failed searches, and poorly-rated articles, give a peek into the challenging product or service areas. You get two benefits from this data. First, your product team can work on these areas to boost product performance. Second, your content team can modify the answers to improve customer searches and experiences.
Similarly, metrics like failed searches highlight the keywords that fail to return the right results. Add these keywords to existing content or use them to create new questions and answers.
The result? Your FAQ page stays updated and relevant all the time!
If you use a powerful FAQ software, you'd be familiar with the built-in reporting system that makes performance measurement easier. This video will show how it's done.

Follow these time-tested best practices to optimize your FAQ page and get exceptional results.
It's now time to dive into the nuts and bolts of how to write frequently asked questions.
How to Write Impressive Frequently Asked Questions
FAQs can be hard to follow if not written clearly. The mantra to create compelling FAQs is to keep them as simple and clear as you can.
Besides, there are many other things that should be taken care of while writing frequently asked questions.
Let's take a look at some of them.
Keep the title clear

Use the first person when writing questions

Stick to question formats

Write in a language your customers can understand

Answer the questions completely and correctly
1. Call it what it is - An FAQ Page
Everyone knows what FAQs are and what they are supposed to do. There is no point in overcomplicating things and confusing customers by giving it random titles - Additional Resource, Important Information, etc.
Give it the right title - FAQs, so that customers can connect with it easily. Another thing to consider is its placement on your website. Adding it at the bottom of your site, where you have your contact details, is a mistake. What's the point of your FAQ support if customers have to struggle to find it.
Instead, place the FAQ page where customers can easily spot it. For example, the space at the top of your website where the product and pricing categories are listed is a good option.
Give the FAQ page the attention it deserves!
Read More: How to Write an FAQ Page that Will Help You Convert
2. Write in the First Person
Out of the below-given questions, which one sounds appealing to you?
How can I integrate a knowledge base with a help desk?

How does your knowledge base tool integrate with the help desk?
Imagine you are a customer. Now think which question sounds better or which question you can really relate to?
You will most likely opt for the first option. Although both questions have the same intent, the way they are composed makes all the difference.
Craft all your questions in the first person to connect better with your customers.
Amazon proves to be one of the best FAQ examples in this context. Every question in its FAQ page is written in the first person, helping customers connect with those questions easily.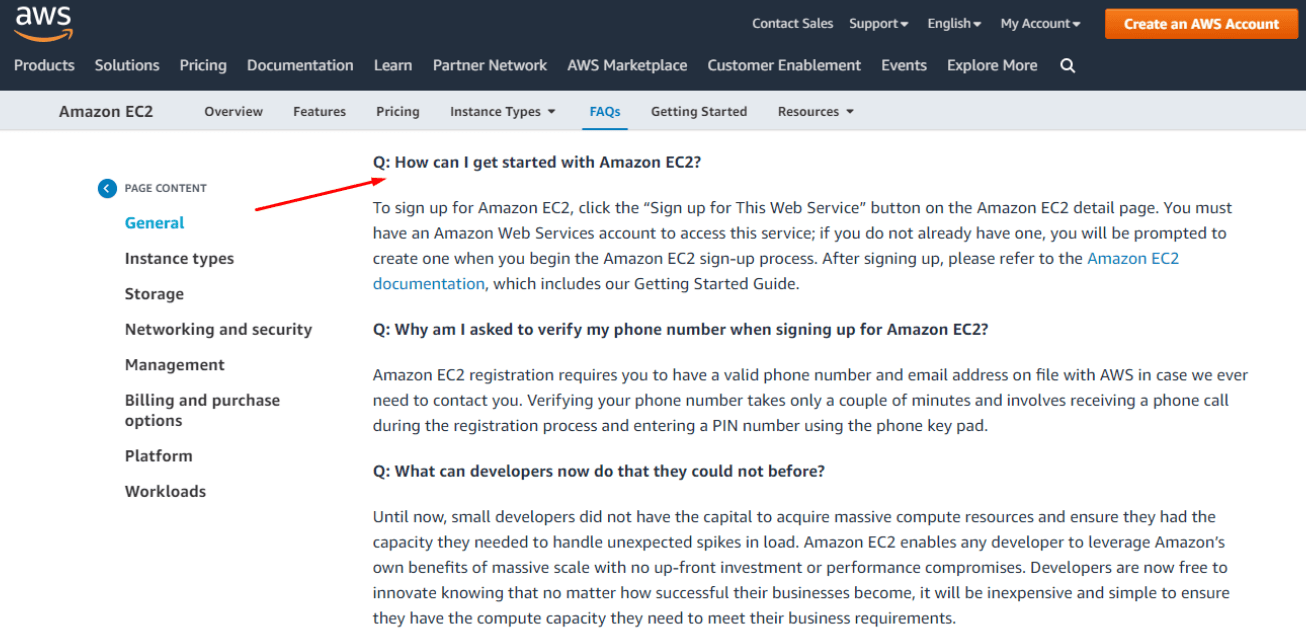 3. Use Question Formats
An FAQ section is supposed to be in a question-answer format. When customers visit the FAQ page, they expect meaningful information presented in the form of short answers.
If you use statements or a blend of questions and statements, it won't leave the impact you want. It will be a turn-off for customers.
So, when creating an FAQ page, remember that you have to stick to the question-answer format. For example, if you are a SaaS company providing cloud-based customer support tools, your FAQs can be like -
How do I use Live Chat?

How can I integrate my knowledge base, live chat, and help desk?

What benefits will I receive with the premium version of Knowledge Base?

How can I use the help desk to manage my support tickets?
Use question words like - how, what, why, can, which, etc., to craft frequently asked questions for your customers.
4. Use the Language and Tone That Your Customers Will Understand
Do you know what affects customer experience when they land on your FAQs? It's when excessive use of jargon hits the clarity of the content.
Customers have to struggle to decode the content in their minds, leading to a poor experience.
As told earlier in the blog, clarity is critical to achieving an excellent customer experience. For FAQs to be crystal clear, it is essential to write them in customers' language.
Break down even the most complicated concepts in simple terms and craft your question-answers in a language that customers can easily grasp. Reach out to your support team to find out what kind of questions customers ask and what terminologies they use to describe their challenges.
Accordingly, frame your FAQ questions.
5. Give Exact Answers
You might have come across FAQs that send customers on a wild goose chase. The result? Customers go through various questions and still don't find what they started looking for in the beginning.
While writing frequently asked questions, you have to stick to the topic. When you answer a particular question, ensure that you do just that, without bringing other concepts in between.
There is no point in stuffing all the information in one answer. Look at what the question is about, understand what should go into it, and then try to provide correct and complete information around the question.
Win Your Customers With Informational FAQs
An FAQ page is an underutilized tool in customer support. If used wisely, it can drive potential traffic to your website, improve customer support, and boost your bottom line.
The whole point of building FAQs is to give immediate gratification to frustrated customers struggling with a challenge and curious customers who want to enhance their knowledge about your offerings.
In both cases, it leads to - customer delight!
Optimizing your FAQ page is crucial to achieving this. Remember that clarity and brevity can make it easy for customers to grasp the content. You should also focus on making your FAQs effortless to search and navigate. Check the language you use while writing FAQs and ensure that you stick to the question's topic while crafting answers.
Win customers and boost your business with intelligently crafted FAQs!
Do you want a free Knowledge Base Software?
We have the #1 Knowledge Base Software for delightful self-service help center starting at $0