A knowledge management software is usually thought of as something that improves knowledge sharing among employees. While this is true, there are a number of benefits that a knowledge management solution can bring to customer service.
Ensure agents offer consistent answers quickly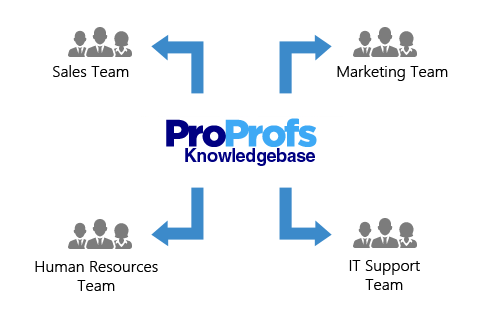 A knowledge management solution serves as a repository of employees' knowledge in an organization.
You can use the solution to harness the knowledge of experienced employees. For instance, you can create a bunch of templates in the form of articles, manuals or wikis. These templates can be used by support or sales agents as a reference when interacting with customers.
Agents can lookup correct responses, pitches or rebuttals with a quick search and offer effective resolutions to customer queries.
Additionally, a centralized knowledge solution helps to standardize the responses of agents, as they have access to correct and updated information, at a click. As a result, the chances of customers being offered misleading or disparate information is greatly reduced.
Reduce tickets and service costs
You can use the knowledge management tool to create self-service knowledgebases, which work like FAQs.
As the name suggests, a self-service knowledge base empowers customers to find help on their own. Whenever they have a question regarding your product or service, they can do a quick search of the knowledgebase and find instant answers.
Without the self-service help option, customers would have to either email support and wait for an answer. Worse they would have to call and go through the tedious hold-sessions before they can find an agent to talk to. A self-service FAQ comes as a relief for customers, while greatly reducing the number of support tickets and calls for your agents.
Onboard customers faster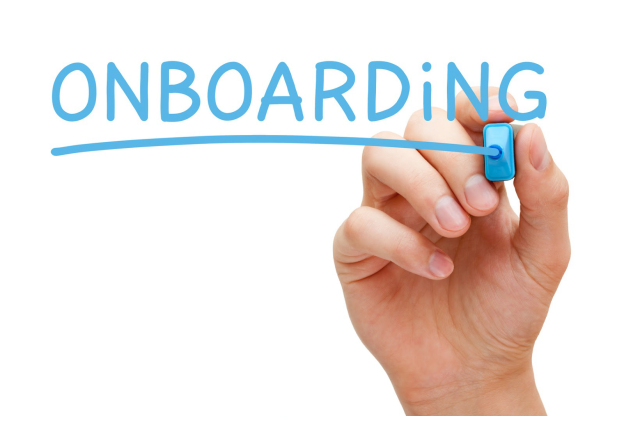 While a knowledge solution works great as post-sales support, it can definitely be used as a pre-sales tool to bring customers onboard faster. To achieve this, you can create what's called context-sensitive help, which comes in the form of tooltips, lightboxes, and popups.
Using context-sensitive help you can offer precise help to customers while they are experiencing your company's products or website. For instance, you can offer guided product tours using popups and lightboxes that explain each feature to customers, without distracting them from the actual experience of the product.
Gather feedback from customers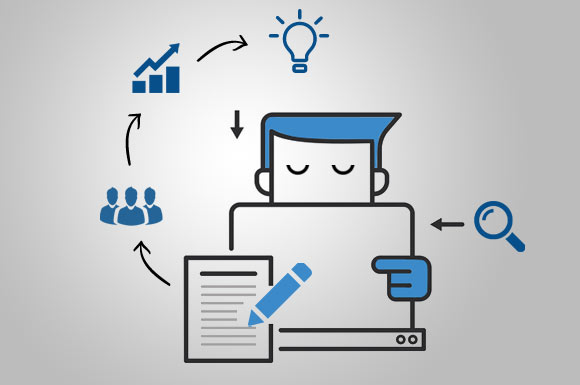 The knowledgebase is one of the first places customers visit when they face a problem using your website or product. All is good if they can find the answers easily, but what if they wanted a bit more information or maybe had a suggestion that could drastically improve your product.
Capturing customer feedback is critical to your business and a knowledge solution allows you to do this by embedding a feedback form that works similar to a ticketing system. As soon as customers offer suggestions and additional queries by filling the help form; relevant support teams are also instantaneously notified.
A knowledge solution is an ideal tool to learn about the pain points of customers and gather their feedback.
Recommended Read: 5 Customer support crimes you should never commit
Offer offline help with downloadable resources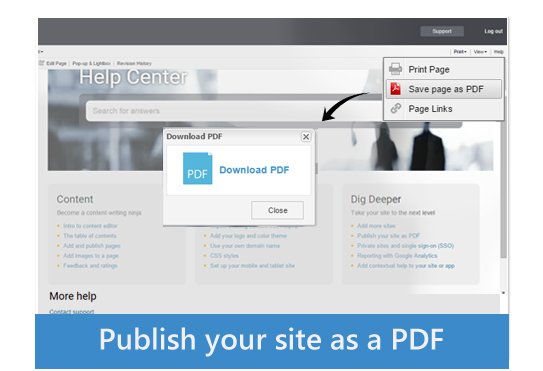 A
cloud-based knowledge management
system allows you to offer round-the-clock help to customers. While they can access the knowledgebase at any time from any device to read help articles online, they can also download materials to read them offline at their convenience.
You can offer a multitude of downloadable help content in the form of training manuals, user guides, and handbooks. Customers can also instantly convert a help article (step-by-step written tutorials with pictures) into a PDF and download it for later reference. As a result, they get the best of both worlds whether it be online help or offline support.
Offer multilingual help in minutes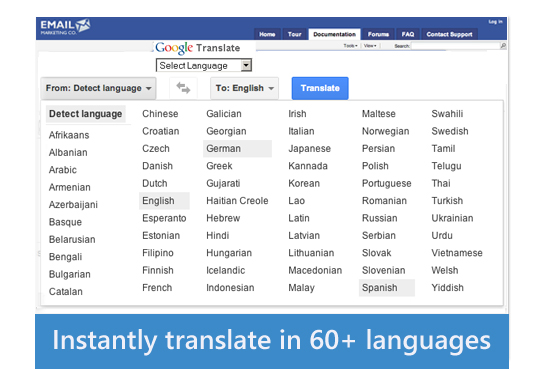 Almost nothing beats a knowledge solution when it comes to offering support to a global audience. The content in your knowledge base can be instantly translated into 60+ languages, with no extra effort at your end, which make it easy to offer help to customers no matter where they are located.
This comes as a boon when you are faced with a resource crunch. While having agents in every country offering support in the native language in the ideal for most companies, you can offer the same quality of support at the fraction of the cost, using a knowledge solution.
Drive sales and improve conversion rates
Generally, assumed as a support tool, the use of a
knowledge base as a sales tool
is often overlooked. The truth is, in fact, the other way round, as the knowledge base is an outstanding sales conversion tool.
For instance, let's say that you have an e-commerce website and you want to improve the conversion rates. A simple way to do this is by using context-sensitive help in the form of tooltips. The tooltips can be placed during key transactions such as when users are placing the order or are on the checkout page.
Tooltips offer customers quick answers to their questions, which could be about invoicing, delivery charges, money-back guarantees, and the like. It works much the same as reassuring advice that agents give to customers during live transactions. With their questions are instantly answered, customers are more likely to complete a transaction.
Conclusion
Besides the obvious benefits listed above, a cloud-based knowledge management software offers many benefits, which are not always apparent.
Just the simple fact that help is always at hand means a lot to customers and builds loyalty and trust for your products and services. The other area is engagement as you can use the resources in the knowledgebase such as video tutorials, wikis, manuals, and guides to keep customers engaged with your products. To sum it up, a knowledge management software is a customer support tool that no company can do without.
Do you want a free Knowledge Base Software?
We have the #1 Knowledge Base Software for delightful self-service help center starting at $0