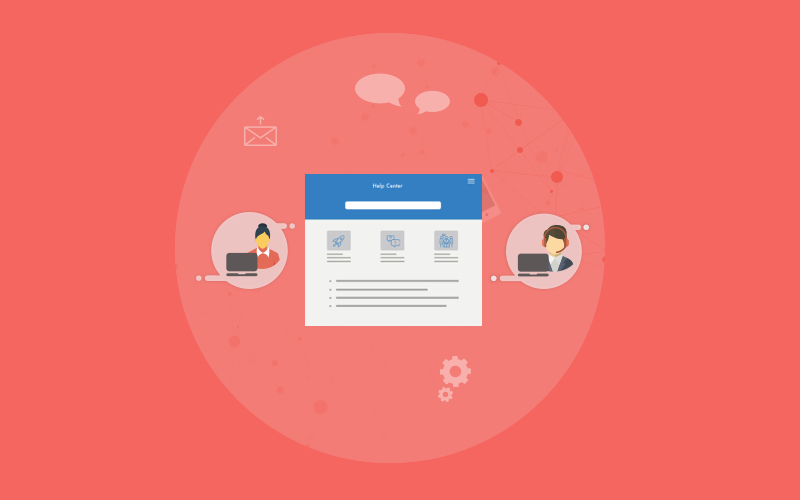 With digital making in-roads in every nook and cranny of the globe, businesses are going berserk, digging out innovative ways to satiate the growing need for instant gratification among customers.
While the mad rush is on, what would you do?
Will you join the bandwagon of companies trying innovation or will you stick to the conventional ways of winning customers over the phone-call?
Although many companies still have full faith in the call center customer support system, the trend is becoming passe. The rising inclination of customers towards self-help is what's forcing organizations to venture out of their cocoon and be futuristic and innovative in their approach to satisfying customers.
According to a recent survey conducted by Statista, 89% of customers from the U.S., stated their preference for a self-help support center.
Emerging as the ideal way to woe clients, a carefully-engineered help center, is all you need to get in the good books of your customers.
Building a self-help platform will give you two major benefits -
1. A considerable reduction in customer tickets that will, in turn, elevate the productivity of your support staff. Your customer reps will not have to answer to an ocean of calls and solve the same queries again and again.
2. Your customers will be at peace as they will be free from the pain of waiting on calls to speak to a rep. A full-fledged platform in place will enable them to solve trivial issues at their end itself. For issues that go unresolved, they will always have the option to call up a customer support agent.
Prerequisite for a self-help portal
A fully-functional and newfangled self-help portal necessitates having a help center software that's rich in features, high in performance, and smart in settings and integrations.
We live in an era where there is no paucity of competitors for businesses across domains, and each of them is striving to gain customer loyalty and eventually enlarge their circle of clients. Winning the hearts of customers is probably the only way to become fit to survive in the market. A compelling help center software that's backed by path-breaking technology can be a trigger for your endeavors to attract new customers and retain the existing ones.
A glance at how an online help center helps you win more customers -
1. Contextual Understanding
Understanding a technical jargon or complicated concept related to a product or a service is torturous. Google it or YouTube it, confusion still lingers on. Why keep your customers puzzled when your self-help platform can provide all the answers. Your customers don't have to wander anywhere to understand the complexities related to your product. All they have to do is browse through the help center. Features like tooltips, lightboxes, and popups make sure that readers get a wholesome understanding of the content.
2. Integration with Google Analytics
With a help center software, you can easily monitor the search patterns of your users, the topic searched most frequently, the most visited pages, etc. Leveraging this valuable information, you can bring significant improvement in your self-help portal and make it more customer-centric. This will make sure that the next time your clients browse through the portal, they get the relevant content suggestion, based on their previous searches.
3. Beautiful Packaging
To keep readers engaged to your online document, it's important that you wrap your content beautifully, using fonts, designs, and themes that are in conjunction with your branding guidelines. Keeping plain text in your help center is a big turnoff for customers and is a sure shot way to drive your clients away. Capture your customers' attention and keep them delighted with a visually-appealing online help portal.
4. Images, Videos, Audios & More
Various researches have proven that the human brain is more responsive to images, videos, graphics, etc. Keeping this into account, you can include relevant how-to videos, audios, infographics and attractive images in your content. Sometimes mere content is not enough to provide end-to-end understanding to readers. An image speaks a thousand words and a video, a million words. For discerning customers to decipher your content in a better way and within less time, embedding videos and images is the best way.
5. Compatibility With Mobiles
If you have a help center that's mobile-friendly, half of the job of winning customers is done. Given the mounting need for better accessibility, clients want something that doesn't pose restrictions of time and place. A web-based help document that can be accessed on a smartphone of any screen size is a big advantage for you as well as your customers.
6. Open Avenues for Feedback
A separate section for feedback gives customers the opportunity to post their views. Be open to both positive and negative reviews and implement those that are relevant and practical. If your customers see regular improvements in your help center, it will keep them delighted and interested in using your help center.
An information-rich self-help portal that's backed by powerful technology is sure to give a stellar performance and help you earn the attention and loyalty of your customers. And to create such an impeccable platform, you need the right help center software.
The current age is all about self-help and minimum dependency. As per research conducted by Forrester, the use of online help/FAQ pages registered an increase from 67% in 2012 to 76% in 2014. On the contrary, interacting with customer support agents on the phone was found to be constant at 73%.
With a bright future ahead, resorting to self-help to winning customers, is going to be the Next Big Change in the global business landscape.
---
Read More:
How to Build a Powerful Customer Service Knowledge Base
Things You Should Know About a Support Knowledge Base
Leveraging Knowledgebase Tool to Measure Customer Service ROI
---
Do you want a free Knowledge Base Software?
We have the #1 Knowledge Base Software for delightful self-service help center starting at $0