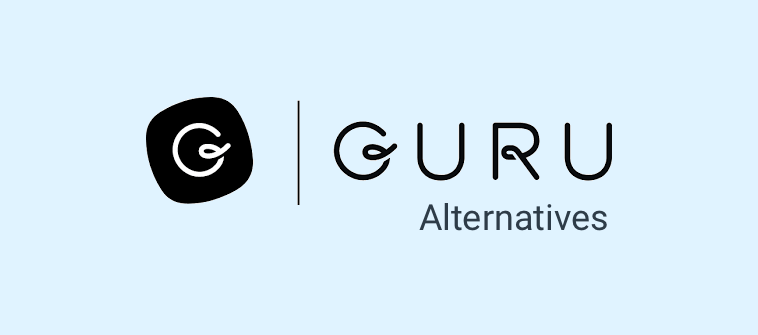 Guru is a cloud-supported knowledge management tool that centralizes all your business information to make work easier for your employees.
As an internal wiki tool, Guru facilitates easy information access for your employees, automates new hire onboarding, and streamlines internal communication.
While it might seem like the best knowledge base tool, it takes an expert's eyes to figure out the flaws.
It is a decent tool but suitable only for internal use. This means it is not competent for building a self-service help center for your customers. Some of you might also be disappointed with its search function, user interface, and the way it structures content.
Some of you might not want a standalone internal wiki tool like Guru. You might need an all-in-one platform or tools that support both an internal and external knowledge base.
This blog aims to enlighten you about why you need a Guru alternative and present you with some of the best options to help you make an intelligent choice. But before heading there, let's first take a brief look at Guru.
Here we go.
What Is GetGuru?
GetGuru is a company wiki tool that is purpose-built to make knowledge easily accessible for your teams. It brings knowledge management to your workflows, ensuring that employees don't have to switch tabs and struggle hard to reach the right information and get the job done.
This internal knowledge base tool works well for:
Uninterrupted internal communication

Boost team collaboration
Guru can be used across all your teams – support, sales, marketing, engineering, etc., to stay aligned, save time, and be more productive.
Why Look for Guru Alternatives?
Guru is widely known as a tool that effectively manages your business knowledge and helps employees make the most of it. The software is, undoubtedly, good at internal knowledge base, but it has its limitations.
Firstly, this tool is designed only for internal use. You cannot use it to build customer-facing self-service help sites.
Second, its search function needs improvement. It slows down on occasions when you do not type the exact keywords in the search bar. Search can be a turn-off sometimes.
Next, it doesn't offer CSS, which is crucial for the complete customization of your knowledge base. No CSS means you cannot make changes at the micro-level and alter the layout and format of your knowledge base.
It has limited integrations with tools like Slack, Confluence, Drift, Intercom, and the like. According to some user reviews, large organizations with over 500 employees can find it difficult to deploy Guru, given the amount of time it takes to transfer information, create and verify cards.
If you are having a hard time using Guru because of the above-given or any other reasons, worry not.
There are more powerful platforms with better features that might fit your business needs.
Top Features of Guru Alternatives
While Guru has commendable features, it lacks in different areas, and therefore it might not be the tool you are looking for.
Although the market is replete with tools that claim to be the best-in-class, only a few are able to live upto the expectations.
To figure out which GetGuru alternative is right for you, look for its features and functions.
Here are the notable features that you should look out for:
The software should be versatile enough to help you build both a customer-facing, external knowledge base and an employee-centered internal knowledge base.

Robust integrations to strengthen the tool and expand its capabilities

Complete customization to create a knowledge base that feels like your own

User management, roles, and permissions for collaborative content creation

Easy to set up and use, with no coding or download required

Performance reports that show top searches, popular articles, poorly-performing articles, etc.

SEO optimization features to boost online visibility

AI-powered search that delivers quick and instant results

Professionally-designed templates

Page and folder restrictions for enhanced security
These are just some of the features that can be analyzed to zero in on the right tool.
Our Selection Criteria For Guru Knowledge Base Alternatives
Collating a list of the best GetGuru alternatives from the ocean of tools available online is challenging. We have tried to keep things as simple as we could. Our selection criteria is based on four factors:
Core features


The tools must offer cutting-edge features across all aspects of knowledge management – authoring, designing, publishing, and collaboration.

Value for money


The tools should be priced reasonably for the features they offer.

User Reviews

Reviews from users help to understand the pros and cons of Guru alternatives.

Recommendation Rating

The tools should have received a good 'likely to recommend' rating from users on popular review sites.

Trial version

A trial version gives buyers the option to use the product and be confident about it before making the call.
10 Unrivaled GetGuru Alternatives
Let's now quickly look at the top 10 guru competitors, what they can be used for, their pros and cons, and their pricing.
1. ProProfs Knowledge Base
Simple, versatile, and feature-rich, ProProfs Knowledge Base provides a secure platform to create a public and private knowledge base, documentation, manuals, and more. Whether you are looking for a customer self-service solution or internal knowledge management platform, this GetGuru knowledge base alternative is the perfect fit. You don't need to be a coding expert to use this tool.
Even with little to no coding knowledge, you can make the most of this software. What sets this tool apart from its competitors is its out-of-the-box features that are designed to delight your customers and teams.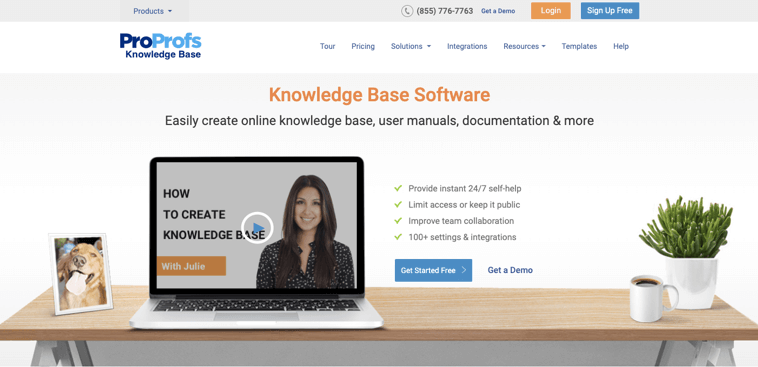 You can use ProProfs Knowledge Base to:
Foster collaboration and knowledge sharing at the workplace

Induct new employees to your organization

Increase knowledge base traffic and ranking

Streamline customer support and improve internal communication
Pricing
ProProfs Knowledge Base comes with three pricing tiers.
Forever Free –

Basic features available for free.

Essentials

– $0.30/page/month

Premium

– $0.50/page/month
Pros & Cons of ProProfs Knowledge Base
Pros:
Build both internal and external knowledge base

Improve knowledge base SEO

Measure and boost article performance with reports

Customize your knowledge base to reflect your brand

Integrate with ProProfs Help Desk, Live Chat, and third-party tools for a delightful experience.
Cons:
No option to co-author and co-edit articles.

Internal comments not available

No mobile app
2. Bloomfire
Bloomfire taps into your biggest resource, i.e., knowledge, and turns it into a life-long asset. This cloud-based software provides a centralized space to grow and leverage the collective intelligence of your employees. It makes knowledge sharing and collaboration a breeze for your employees, helping them work smartly and confidently.
Whether it is your customer support, marketing, or product team – the tool empowers everyone with the right knowledge to make informed decisions for business success.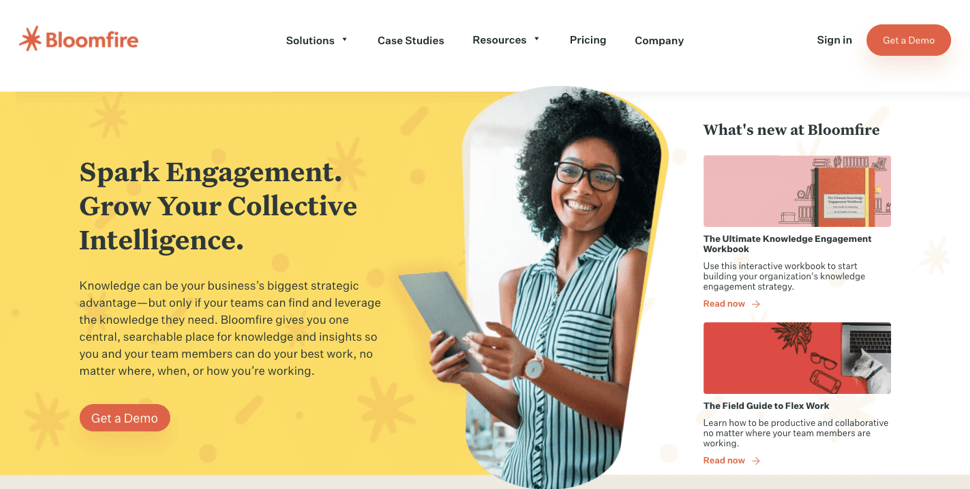 You can use Bloomfire to:
Additional Resource: 10 Best Bloomfire Alternatives
Pricing
Bloomfire offers two plans
Basic – $25/user/month
Enterprise – Available on request
Pros & cons of Bloomfire
Pros:
AI-powered search for faster access to information

Built-in analytics to gain deeper insights into search trends, knowledge gaps, and more

Flexible user roles and permissions

Add custom integrations with open API
Cons:
The tool doesn't offer knowledge base templates

No CSS for customization

No feature to improve SEO

Designed only for internal use
3. GrooveHQ
GrooveHQ is an all-in-one customer support tool that comes with a help desk, automation, and knowledge base. Intelligently designed to provide exceptional experiences to your customers, this Guru alternative equips your agents with everything they need on a single platform.
Whether you want self-service for your customers or a centralized platform for your agents, GrooveHQ serves you well. GrooveHQ doesn't offer a knowledge base as a standalone solution. Its knowledge base is a crucial part of its comprehensive customer support system.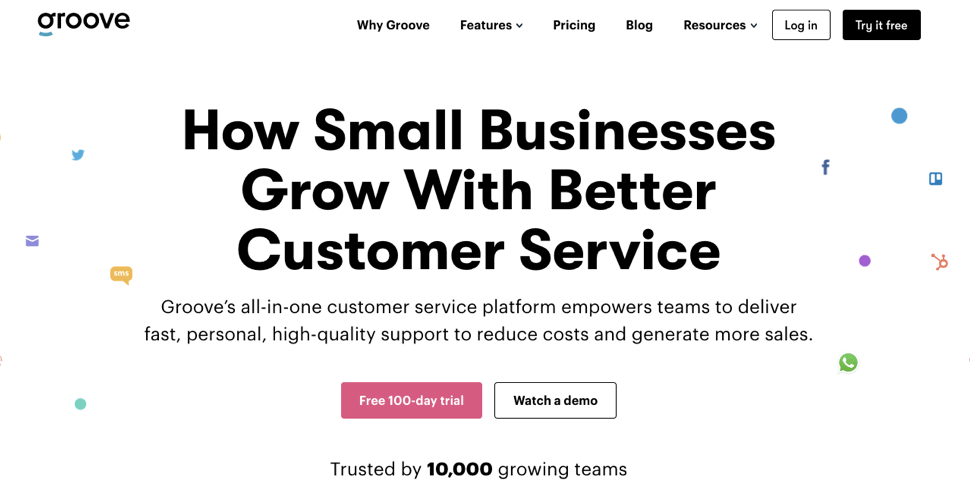 You can use GrooveHQ to:
Equip your customers with self-service

Provide impeccable support experiences to customers

Help your support staff manage customer requests better

Create an army of smarter agents and happier customers
Pricing
GrooveHQ provides four plans
Starter – $12/user/month
Plus – $20/user/month
Pro – $35/user/month
Company – Available on request
Note: All these plans include a knowledge base.
Pros & cons of GrooveHQ
Pros:
Customization features to create a knowledge base that matches your brand

Works seamlessly on multiple devices

SEO settings to boost knowledge base visibility on search engines

Open graph settings to ensure your knowledge base looks good when shared on social media.
Cons:
GrooveHQ doesn't provide knowledge base templates

The reporting system is quite basic

No workflow rules and approval system
4. HelpCrunch
HelpCrunch is an all-in-one tool that streamlines customer communication. It provides a knowledge base, live chat, email marketing, and help desk – all rolled into one. This cloud-supported tool allows you to stay connected with customers across the web, mobile, chat, email, and via self-service.
HelpCrunch is easy to use, customizable, and provides hassle-free data migration from your previous tools. It acts as a one-stop platform for your support team to manage customer requests, reach out to prospects, and deliver exceptional experiences.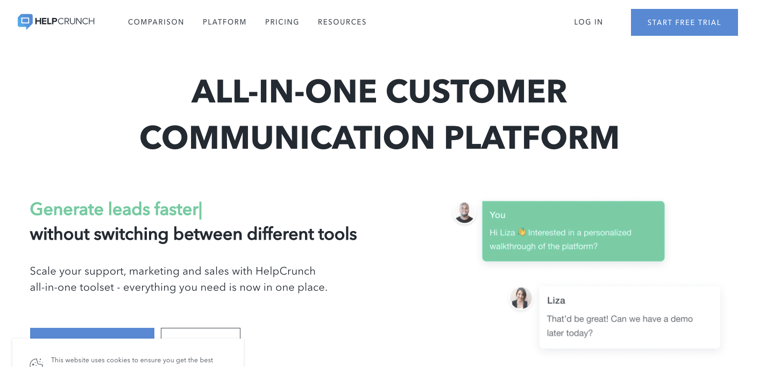 You can use HelpCrunch to:
Provide quick, 24×7 self-service customer support

Bring down your support ticket volume

Deliver multi-channel customer support

Generate leads and close sales
Pricing
HelpCrunch comes with three pricing tiers:
Standard –

$12/user/month

Premium –

$20/user/month

Enterprise –

Available on request
Note: All these plans include a knowledge base.
Pros & Cons of HelpCrunch Knowledge Base
Pros:
A powerful search that provides quick and smart suggestions

Full customization of your knowledge base

Search engine indexing to drive traffic and boost the ranking

Instant previews before final publishing
Cons:
Doesn't support multiple languages

Reports provide limited insights

No rules and conditions for page or folder restrictions

No workflow rules and approval system
5. Helpjuice
Helpjuice is a simple knowledge base tool that allows you to build both an internal and external knowledge base. Whether it is customer support or team collaboration giving you sleepless nights, Helpjuice offers the right solution. Fully customizable, feature-packed, this GetGuru alternative is ideal for small startups as well as large organizations.
What makes this tool one of the top alternatives to Guru is its user-friendly interface, SEO capabilities, workflow system, and amazing analytics for performance improvement.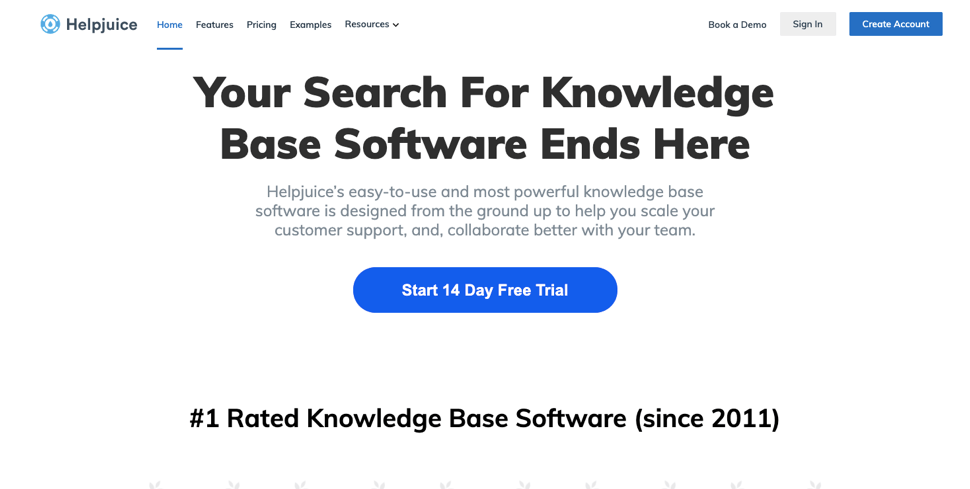 You can use Helpjuice to:
Scale and improve your customer support

Take team collaboration to a whole new level

Provide customers with 24×7 seamless self-service

Decrease the inflow of support tickets
Read more: Top 10 HelpJuice alternatives and competitors
Pricing
Helpjuice offers four plans:
Starter –

$120/4 users/month

Run-up –

$200/16 users/month

Premium Limited –

$289/60 users/month

Premium Unlimited –

$369/month (unlimited users)
Pros & cons of Helpjuice
Pros:
Multi-language support to cater to a diverse customer base

Unbelievable customization for your knowledge base

Comprehensive analytics to monitor and improve performance

Workflow approval system and custom roles
Cons:
Limited third-party integrations

No ready-made knowledge base templates

No file manager or storage system for media files
6. Freshdesk
Freshdesk is another all-in-one solution that offers a knowledge base, help desk, and chat to help you engage with your customers across multiple channels. Powerful analytics, self-service, and a smart help desk together help you provide 360-degree support experiences to your customers.
While agents love this GetGuru alternative for managing and resolving customer requests, managers use its analytics, self-service, and automation to optimize the support they provide.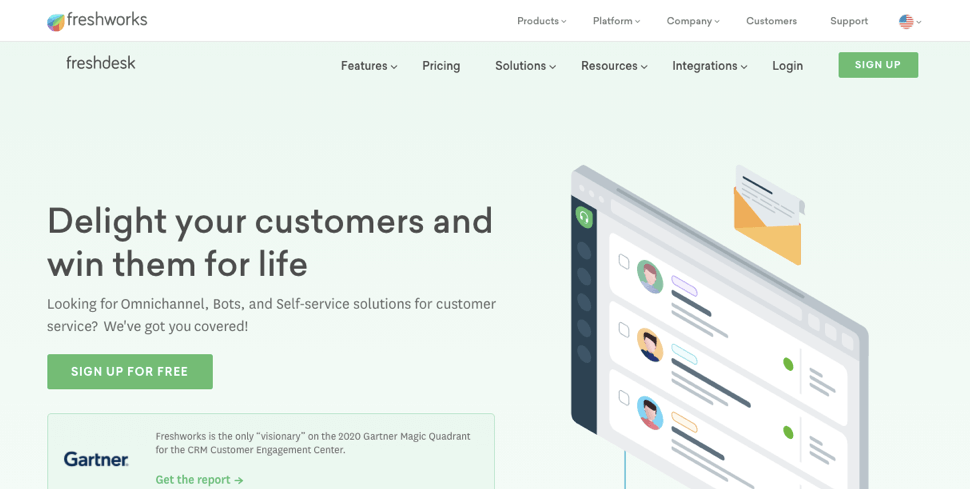 You can use Freshdesk to:
Automate workflows and answer customer questions faster

Provide 24×7 self-service support to your customers

Increase your support team's efficiency

Create a community forum where customers can ask questions and get answers quickly
Pricing
Freshdesk offers five pricing tiers:
Sprout –

Basic features at $0

Blossom –

$13.70/agent/month

Garden –

$35.70/agent/month

Estate –

$49.40/agent/month

Forest –

$98.90/agent/month
Note: Knowledge base is included in all these plans.
Pros & Cons of Freshdesk
Pros:
Answer bot to help customers find the right answers quickly

Convert agent responses into knowledge base articles

Workflow approval system to review content

Rich insights into article and agent performance
Cons:
No option to export your entire knowledge base

Freshdesk doesn't support multi-branding

No co-editing or internal comments
7. Archbee
Archbee is an excellent knowledge base software built for your employees and customers. Ideal for SaaS companies and startups, this tool centralizes all your company knowledge so that your teams and customers can make the most of it.
What makes Archbee one of the best alternatives to Guru is that it helps you create a unified knowledge base for your developers and other people in the technical department.
This means the tool can be used for creating an internal wiki, self-service, as well as technical documentation purposes.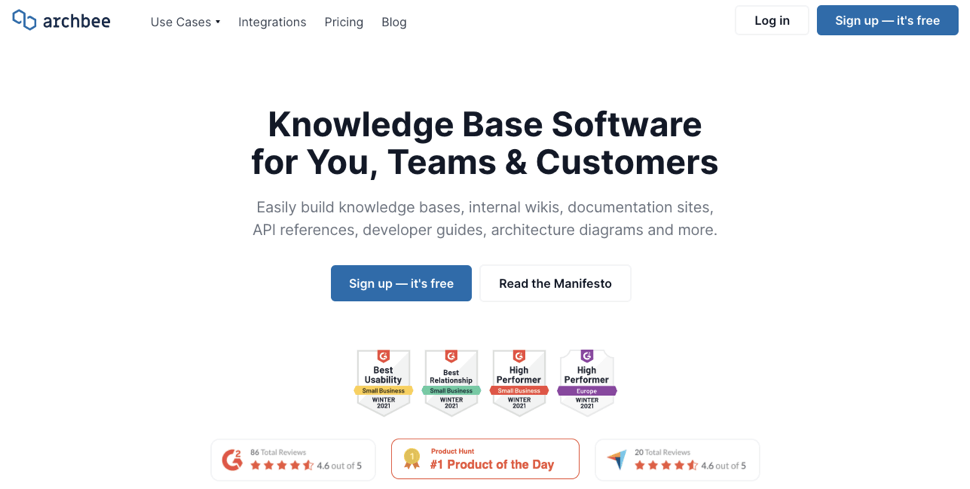 You can use Archbee to:
Bring employees closer together through knowledge

Reduce knowledge silos and increase knowledge sharing

Increase developer efficiency

Provide exemplary support experiences to customers
Pricing
Archbee offers three plans:
Starting –

Basic features at $0

Growing –

$20/month

Scaling –

$60/month
Pros & cons of Archbee
Pros:
Write content in multiple formats using custom blocks

Inline comments to make collaboration easier

Infinite revision history

Mention team members to review, contribute or update knowledge
Cons:
No option to multi-brand your knowledge base

Archbee doesn't offer SEO functionality

Workflow approval system not available
8. Slite
As an internal knowledge base tool, Slite brings knowledge and clarity to the center of your work processes. It crushes the chaotic system of finding files by centralizing your business knowledge on a single platform. Carefully designed for your remote teams, this GetGuru alternative fosters collaboration, ensuring that employees can work together and contribute ideas from wherever they are.
Whatever you are looking for – stand-up meetings, creative briefs, or onboarding checklist, Slite helps you create a knowledge base for all your internal needs.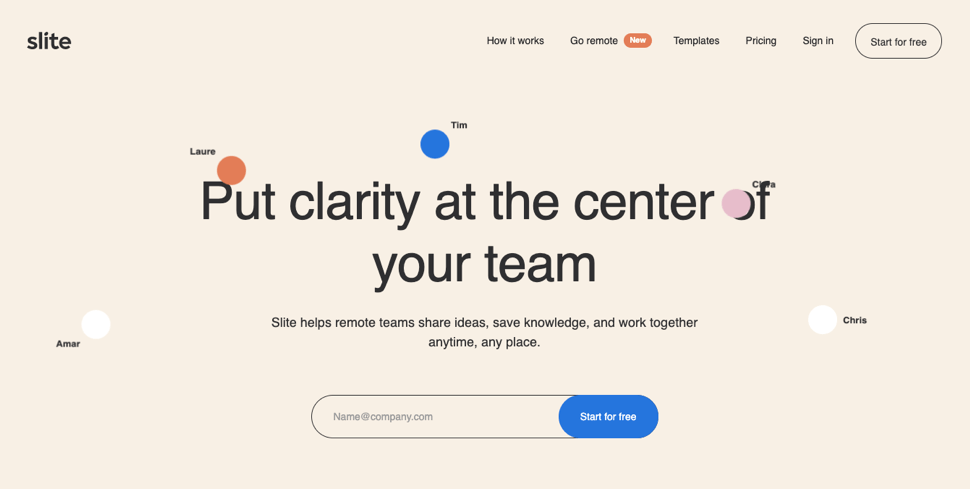 You can use Slite to:
Induct employees and bring them up to speed

Help your remote employees work collaboratively

Reduce chaos and cultivate knowledge sharing

Shoot up your team's productivity
Checkout: 10 Best Slite alternatives and competitors
Pricing
Slite provides three plans:
Free –

All basic features at $0.

Standard –

$6.67/user/month

Enterprise –

Available on request
Pros & cons of using Slite
Pros:
Ready-to-use templates for quick knowledge base creation

Keep everyone on the same page with 'Catch up.'

Seamless integrations for seamless working

Fast and smart editor for effortless writing
Cons:
No built-in reports or analytics to measure document performance

No CSS for complete customization

Slite doesn't offer a workflow approval system.
9. Bitrix24
Bitrix24 is knowledge management and collaboration platform that allows you to share knowledge, manage projects, and streamline communication across your organization. The tool doesn't provide a knowledge base as a separate solution. The knowledge base comes as a part of its product package that includes CRM, project management, and contact center.
This top Guru competitor's document management solution offers unlimited storage, powerful editing, and secure access.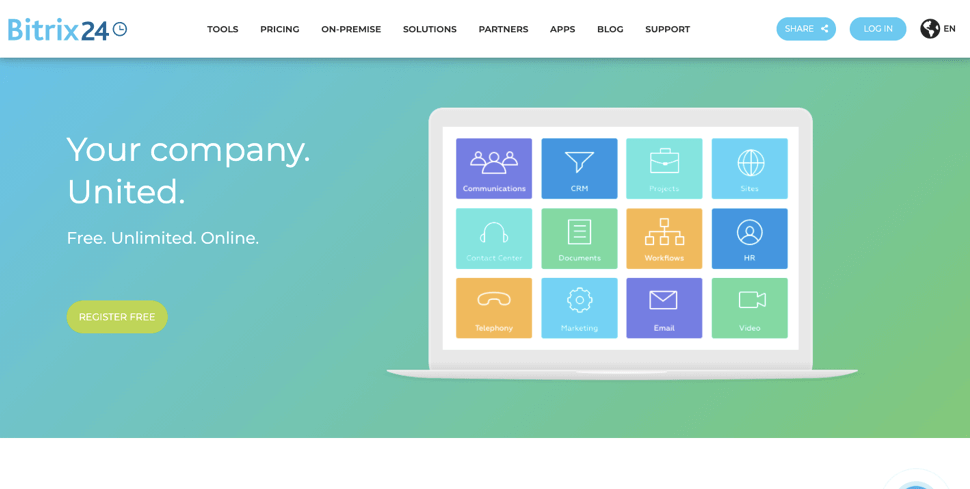 You can use Bitrix24 to:
Empower your employees to work, communicate, and collaborate anytime, anywhere

Create documentation for internal use

Communicate effectively with clients via chat, phone, or contact forms

Build websites and landing pages
Pricing
Bitrix24 comes with six pricing tiers:
Free –

Basic features at $0.

Start+ –

$19/2 users/month (Knowledge base included)

CRM+ –

$55/6 users/month (Knowledge base included)

Project+ – $55/ 24 users/month
Standard –

$79/50 users/month (Knowledge base included

Professional –

$159/month (unlimited users) (Knowledge base included)
Pros & cons of Bitrix24
Pros:
Granular access right for knowledge base access

Mobile app for Android and iOS

Unlimited data storage in the cloud

Personal, company, and group drive to store information
Cons:
Bitrix24 cannot be used as a customer-facing knowledge base

No ready-to-use knowledge base templates

Bitrix24 doesn't provide SEO features.
10. HelpDocs
HelpDocs is a cloud-based tool that's suitable for building both an internal and external knowledge base. This Guru alternative powers you with all the bells and whistles you require to create exceptional self-service experiences for your customers and teams. Feature-packed and integration-rich, HelpDocs equips you with multiple language support, an advanced access control system, and compelling customization.
Keep your customers happier and turn your agents into productive resources with quick self-service solutions offered by HelpDocs.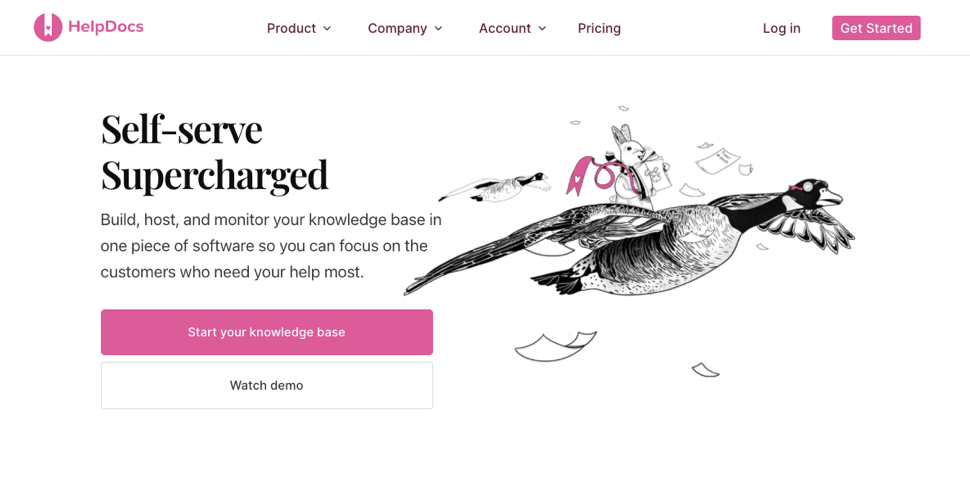 You can use HelpDocs to:
Provide lightening-fast self-service support to customers

Equip your support team with a ready information resource

Enable your agents to respond to customer requests faster

Decrease your support ticket volume
Checkout: Best HelpDocs Alternatives and Competitors
Pricing
HelpDocs provides three pricing plans:
Starter –

$39/month

Pro –

$79/month

Growth –

$169/month
Pros & cons of HelpDocs
Pros:
Handcrafted templates to launch your knowledge base in minutes

Complete customization with CSS

Features to enhance the SEO of your knowledge base

Easy importing and exporting of articles
Cons:
No option to add internal comments on articles

Workflow approval system missing

You cannot clone your knowledge base and brand it differently
Quick Comparison of Best Guru Alternatives
| Tools | Public & Private knowledge base | Ready-to-use templates | Reports & Analytics | Third-party Integrations | Customization | User Management, Roles & Permissions | Workflow Approval System | SEO optimization |
| --- | --- | --- | --- | --- | --- | --- | --- | --- |
| ProProfs Knowledge Base | Yes | Yes | Yes | Yes | Yes | Yes | Yes | Yes |
| GetGuru | No (Private only) | Yes | Yes | Yes | Yes (No CSS) | Yes | No | No |
| Bloomfire | No (Private only) | No | Yes | Yes | Yes (No CSS) | Yes | No | No |
| GrooveHQ | Yes | No | Yes (Limited insights) | Yes | Yes (No CSS) | Yes | No | Yes |
| HelpCrunch | No (Public only) | No | Yes | Only 4 integrations | Yes | No | No | Yes |
| Helpjuice | Yes | No | Yes | Only 6 integrations | Yes | Yes | Yes | Yes |
| Freshdesk | Yes | No | Yes | Yes | Yes | Yes | Yes | Yes |
| Archbee | Yes | Yes | Yes | Yes | Yes | Yes | No | No |
| Slite | No (Private only) | Yes | No | Yes | No | Yes | No | No |
| Bitrix24 | No (Private only) | No | No | Yes | No | Yes | No | No |
| HelpDocs | Yes | Yes | Yes | Yes | Yes | Yes | No | Yes |
Which Guru Alternative Should You Go For?
Guru is a stellar internal knowledge base tool that consolidates critical business knowledge for instant access, smooth onboarding, and streamlined communication. The tool is great for reducing chaos around emails, meetings and infusing clarity in your work process. Deploying this tool can prove to be a boon for your employees.
However, it might not be the perfect tool you are looking for. You might need a solution that works great for your teams as well as customers and offers more compelling features.
After all, every business strives for the best to stay ahead in the market.
To fulfill your diverse business requirements, ProProfs Knowledge Base can be the right fit. Loved by brands across a spectrum of industries, this simple and powerful software provides a state-of-the-art solution for internal knowledge management and customer support.
Comprising the best-in-class features, incredible external integrations, an enterprise-grade security system, ProProfs Knowledge Base gives you the best bang for the bucks you invest.
Without a shadow of a doubt, this tool can be called the best alternative to Guru knowledge base.
Do you want a free Knowledge Base Software?
We have the #1 Knowledge Base Software for delightful self-service help center starting at $0