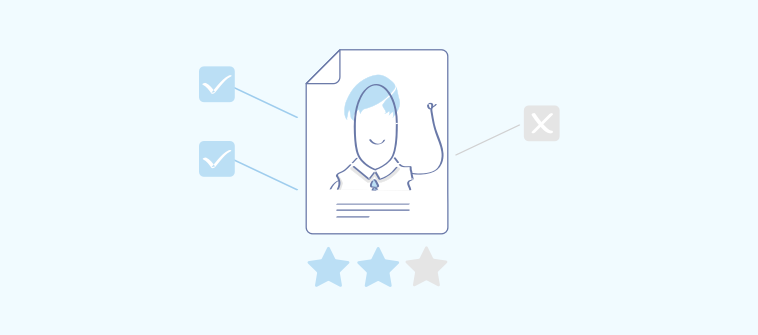 To stay relevant and competitive in the market, simply focusing on customer happiness won't suffice. Times are changing, and you need to move past customer happiness and take a step ahead by focusing your energies and channelizing your efforts towards customer delight.
For achieving this, the first thing that comes to your mind is your customer service team and whether they are equipped with the right capabilities, tools, and knowledge to provide unmatched services to customers.
In short, your support team must have what it takes to get the job done in the right way.
With statistics showing that 51% of buyers will quit buying from a company after just one negative experience, the traditional role of customer service has shifted from merely addressing complaints to the more strategic role of building customer trust and loyalty.
Businesses that adopt the strategic role of customer service are rewarded significantly – here are some statistics to prove this:
After a positive customer experience,

40% of customers would be willing to pay more for a product or a service. At the same time, 43% of customers would buy from the company frequently, 65% would refer others to the company, and 70% would become loyal customers

For companies that rake in a billion dollars in revenue annually, an improvement in customer experience results in an increase in revenue by $823 million in 3 years, according to a study by

Temkin Group

.
With the changing role of customer service, what will it take for companies to leverage customer service to their advantage in today's competitive business environment? In this article, we look at the customer service skills that your service team needs to possess to provide top-notch support that customers are looking for.
Here are 31 customer support skills that every business should nurture in its service team:
1. Ability to Persuade Customers
There are various best practices to help call centers in making their customers feel happy, satisfied, and valued. But if integrated with persuasion skills, they can also help boost conversions and ROI.
Today, customer persuasion skills are important for two major reasons:
✔️First, there are times when potential customers will contact your customer service teams to find out about your products or services out of curiosity. This is a huge opportunity for your support staff to sell. With persuasion skills, your service team can convince prospects to buy your offerings, and that becomes a win for the business.
✔️Another area where persuasion skills are needed most is while handling angry customers. Service agents can use persuasion skills to talk to such customers and convince them that their feedback will be incorporated and reiterate to them the value that your business provides.
2. Gift of the Gab
Communication forms the core of good customer service. If your service reps are not able to get their message out in a clear way, your customers will be frustrated. The same thing will happen if they are not able to respond to their questions effectively. So, your service team needs to be proficient in communication, by default, as it is the demand for their jobs.
Failure to communicate well with customers can breed distrust. Customers are extremely sensitive to the way support teams communicate and the speed and accuracy with which they provide answers.
Good communication involves the use of clear language and staying focused on the message that is to be conveyed to customers. Service agents who communicate effectively do not leave clients in doubt. They ensure that important points are clearly understood by customers.
To be adept at communication, your customer support team should be able to simplify complex concepts and break them down into small, easy to understand information pieces.
3. In-Depth Knowledge of the Products or Services
For 62% of customers, the level of knowledge that customer service reps display determines the experiences they have with a brand.
With most people opting for self-service, customers reach out to support teams only when they have complex questions about processes, products, or services. If customer reps have basic knowledge about a product, they will find it difficult to address serious customer concerns. This can be frustrating for customers and puts you at risk of losing business.
To avoid this, you should invest in making customer service agents experts in the products or services they look after. While you should train reps to ensure they become knowledgeable, it's even more critical for them to constantly update themselves and enhance their know-how on the latest industry happenings, policy changes, and more.
One way to ensure that service reps have a deep understanding of your firm's processes and offerings is by setting up an internal knowledge base.
This knowledge management tool serves as a central repository where customer service teams and other employees can access critical information, including:
Policies and processes

Details about products or services including troubleshooting guides and how-to-guides

Frequently asked questions

Procedure checklists
Besides providing service reps with all the content, they need to deepen their understanding of your business and what it offers, consider providing incentives to encourage them to put maximum efforts in serving customers.
4. Be Creative at Problem Solving
Customers experience different challenges, and therefore their needs vary. On some occasions, they may reach out to service teams with challenges whose solutions are not straight forward. In such cases, service agents should be able to explore details that ordinarily are considered insignificant and identify hidden ways to solve those challenges.
To do this, customer service reps should possess the ability to see through problems. They should be able to take customers through troubleshooting processes, even where details are scanty.
By solving customer queries, service agents can influence dissatisfied customers to change their minds about leaving. With statistics showing that 70% of unsatisfied customers are ready to buy from a business again once their problems are addressed – this would be rewarding for a company.
5. Empathize with Customers
Empathy has to do with understanding what the other person feels by putting oneself in his or her shoes. It is one of the most critical skills that service agents should have. They must be able to relate to a customer's problems in order to deal with them empathetically.
The ability to share customers' emotions and communicate in a way that steers matters towards a better outcome can be extremely advantageous for customer service reps. If the service team is not able to tell customers what they want to hear, simply showing they care and do understand their situation helps in building customer trust.
Empathy results in understanding. Customers who feel that they are understood and valued are encouraged to continue buying from a company.
There are several ways that you can build empathy skills among your customer service teams. These include:
Enhance their listening skills

Train them to understand the situation and ask appropriate questions

Train them on how to change their tone and pitch in different situations

Help them understand customer issues in a better way

Encouraging them to suspend their perspectives and look at issues from the perspective of customers
6. Show Attention and Interest in the Conversations
When interacting with the support team, customers want to know that they have the full attention of the person they are talking to. If customers sense that a rep is not present in the conversation, they feel devalued and can easily drop the brand for another.
The best customer service reps are those who are fully engaged as they converse with customers. The idea is to give the customer complete attention and remain engaged with them even as they resolve their issues.
There are several things that service agents can do to show customers that they are engrossed in the conversation:
Avoiding pre-designed responses and using their own words to engage customers

Repeating the questions that customers raise to confirm that they've heard them clearly

Asking customers to clarify issues that have not been communicated clearly

Empathizing with customers by validating their perspectives
You will find it challenging to train customer reps on how to stay engaged with customers, but this skill is an important one to have. Training service reps to ask customers the right questions enables them to excel in this skill.
7. Summarize Key Information
The work of the service team revolves around receiving and sharing information. As such, the ability to capture and share valuable information is critical.
When responding to customer issues, your service team should be able to communicate in a precise way so that the recipient does not miss out on critical details. The trick here is to summarize answers or solutions using actionable and simple language to make it easy for customers to consume.
On the other hand, as they listen to customers, your service team should be able to take note of key points that customers highlight. Such feedback can be used in the development of marketing content or content for the internal knowledge base.
8. Show Patience
Customers don't want to be talked down on, or handled with the inconvenience. When customers are treated this way, they are likely to quit doing business with a brand, irrespective of other benefits that the company may be offering. Service agents that exercise patience are able to maintain equanimity even when they are dealing with angry or frustrated customers.
This is best done by:
Tolerating customer frustrations

Seeking to understand the situation that a customer is in

Focusing on providing customers with the best advice possible
But patience is a difficult virtue to embrace, particularly when you are dealing with frustrated customers who want the issues solved right away. To build this skill, service agents must first understand that customer satisfaction is the ultimate goal of the company, and happy customers have more worth than the ones that the company seeks to bring on board.
Some practices that can help customer service teams to build patience include:
Identify negative emotions or attitudes and work towards overcoming them

Improving emotional awareness to know when they are about to lose their cool

Having positive dialogues with self whenever they confront a difficult situation
9. Use a Positive Communication Tone
Customers are sensitive about how brands communicate with them. The choice of words and tone of voice that service reps use can make or break the relationship that customers have with a brand. Data available shows that 37% of customers have switched brands as a result of staff communicating to them rudely.
Service agents should be able to maintain a positive tone irrespective of how angry or frustrated customers are. This means they should be able to use positive words and tone to guide the customer conversations towards a definite conclusion even as they focus on providing a solution to their problems.
10. Listen Actively or Attentively
Since customer service has a lot to do with communication, listening to customers carefully is one of the critical skills that your support staff should have. Listening skills have little to do with ensuring that headsets have adequate volume. Of course, that is important but more essential is for your staff to understand the issues that customers have.
Since most customers still opt to call service agents to get quick responses to the issues they have, it is crucial for reps to understand the problems in less time and move to the next step of resolving them.
One way service teams can show that they are paying attention to customers' issues is by repeating complaints to customers in their own words. Even after support agents have understood what customers have communicated, an essential skill they must possess is the ability to ask the right questions throughout the interaction.
11. Resolve Customer Issues Without Escalation
While customers who contact your service staff want their concerns addressed quickly, how the service teams go about resolving them really matters to customers. Those who reach out for help from the customer service team expect to talk to people who have in-depth know-how about the subject.
As a matter of fact, one of the reasons customers have changed brands is because of being handed over to different service agents before their queries are fully resolved. To prevent customer churn due to the inability to address issues in a single interaction, you can make your service team adept at providing quick and relevant answers by-
Offering regular training on products, services, and processes, so they know how to handle different issues

Giving your support staff access to an internal knowledge base that has updated information regarding how to troubleshoot a problem, how-to guides, and more. This makes information gathering a cakewalk and helps them provide instant answers to customers.
12. Channel Specific Skills
Your reps will have to address customer concerns across channels such as live chat, emails, and more. Each channel is different from the other, so it requires your support staff to learn skills specific to all these platforms.
For instance, while answering customer questions on the call, reps need to ensure that:
They first listen and acknowledge what customers are saying

Communicate clearly

Observe the voice, tone, and pitch to gauge customers' state of mind

Provide prompt responses.
On the other hand, when it comes to live chat, operators need to:
Multitask by managing various chats at the same time.

Understand what customers are trying to say

Use a positive and friendly tone in the messages
Besides these, if your reps are resolving queries over emails, they should use templates, and maintain a friendly tone while communicating with customers, so that you don't sound robotic.
13. Ability to Resolve Customer Issues Fast
Time and speed go hand in hand in terms of their importance in the customer service function. In fact, 42% of customers consider the ability to resolve customer issues fast an important aspect of customer support.
Take, for instance, eCommerce businesses. They can lose customers to competitors if they do not address the concerns that online shoppers raise within five minutes. This gives a glimpse of how important speed is while dealing with customers.
So, make sure that your customer service team is able to provide answers speedily and craft exceptional experiences for clients.
This can happen when you are able to:
14. Friendliness With Customers
Available data shows that 73% of customers are attracted to a brand when its customer service agents are friendly. This is a significantly high proportion of customers who should not be ignored by businesses.
Even though mastering this skill will keep customers coming back, maintaining a friendly tone is not easy for your service staff, mainly when they are dealing with rude or unhappy customers.
In order to achieve friendliness in interactions, service teams need to maintain the same persona in all their interactions, whether customers are happy or angry.
There are several ways to make this happen such as:
Mastering the use of positive language at all times

Focusing on the broader goal of customer service – which is customer delight

Being empathetic to customers – which means talking to them in a way that makes them feel understood.
15. Go an Extra Mile
Customer service agents who go out of their way to find creative ways to solve customer issues are a huge asset for any business.
Their ability to persist and go an extra step to give customers the solutions they are looking for can go a long way in building customer loyalty for the business. Service teams that hone this skill are able to retain customers because of they:
Consider every interaction they have with customers as important

Go the extra mile to solve severe problems and satisfy customers

Focus on achieving customer happiness
16. Stay Focused
The main goal of customer service is to create authentic relationships with customers by giving them positive experiences that last a lifetime. By responding to customer questions and solving their problems, service teams play a strategic role in achieving this goal. Every rep working in the customer service department should understand this goal and focus on achieving it every day.
To keep service team focused on the customer service goal, you should:
Develop guidelines that offer them the autonomy they need to address customer needs based on their uniqueness

Provide a clear mechanism for escalating customer issues where the need arises
17. Stay Organized
Each aspect of the customer service function should be focused on achieving customer satisfaction. As such, service agents should always be well organized to contribute to this goal because their work has many pieces. While doing their jobs, they should be able to ensure efficiency in their work, and that can happen when they work in an organized way.
To achieve this, service reps should have a strategy for monitoring their interactions with customers and have a detail-driven approach for resolving customer issues. This helps them identify the errors they make while dealing with clients, spot process-related issues, and stages where things go wrong.
When they gain an understanding of these issues, it gets easier for them to improve on the weak areas and provide quality to customers. Besides handling customers, reps also have various internal tasks, and all of this can be managed by creating work schedules, managing time wisely, and developing habits that help them do the job in a better way.
18. Ability to Adapt
Customer behavior is dynamic and often unpredictable. A report by NewvoiceMedia shows that the majority of customers – 60% – use different communication channels to reach service reps based on their location and activities they are engaged in. For service agents, this means that at any given time, customer inquiries will be streaming in through multiple channels.
While help desk software comes in handy in enabling you to manage queries coming from different channels, service agents should be flexible enough to adapt to different situations and communication channels that customers opt to use at any given time.
Customer service agents may also find themselves addressing issues that are completely new to them. When this happens, they'll need to adapt to the situation and find innovative ways to solve problems.
19. Maneuver Through Customer Objections
Modern-day customers are highly empowered. Before buying a product or service, they research and gather a lot of information online. This enables them to ask questions, share their doubts, and even voice their objections.
Though this can make the work of service and sales teams quite challenging, questions, and objections raised by customers can provide insights into existing purchase barriers, and reveal the pain points of customers.
Customers may fail to accept a product or service due to:
Doubts concerning quality in terms of previous results, team expertise, and product performance

Perceived risk that is mostly fueled by cost aspects such as budget and return on investment

Trust issues resulting from the credibility of a business
To enable customer teams to overcome objections that customers raise, you should:
Provide service teams with testimonials or case studies that they can show to c customers.

Maintain a log of objections that customers raise with corresponding ideas on how service teams should handle them

Train your support staff to view customer objections positively, as a clear demonstration of customers' interest in the products or services offered by you.

Teach your service staff to respect the views of customers and offer them appropriate solutions.
20. Task Management
Managing core responsibilities can get hectic, given the constant calls and queries that your support staff is bombarded with. This requires them to be efficient in what they do, which can happen only when they plan the execution of their tasks wisely.
Due to the central role that this division plays in a business, your support staff must be good at managing their workload and achieve the set benchmarks within a specified period of time.
Some key areas that customer reps should focus on to manage tasks effectively include:
Sustaining productivity

Following deadlines

Maintaining excellent performance throughout the year

Setting realistic goals
21. Accept That Some Answers or Solutions Are Not Available
Before reaching out to customer service reps, customers often search the knowledge base or FAQs to try and find solutions to their issues. This option is mostly preferred by millennials, with a majority of them reading through FAQs before reaching out to a firm's support staff.
Though the expectation of customers is that customer service teams should always have solutions or answers they are seeking, but it's not always the case.
For instance, reps may not have answers to customer questions that were not anticipated. In such situations, you should encourage reps to accept they don't have the answer or solution and inform the customer that they will find the answer and get back soon.
22. Resilience
As frontline service providers, customer service agents bear the brunt of dissatisfied customers. Available statistics show that at least a third of customers have a negative perception towards the service staff of a firm.
There are numerous instances where frustrated customers will hurl insults and express their anger or frustration to reps. This kind of treatment makes it necessary for service teams to develop resilience and maintain equanimity in testing times.
There are several customer service tips and tricks to improve resilience in reps. These are:
Allowing reps to take breaks and clear their heads in between calls, especially those involving difficult customers

Showing your support towards service agents

Focusing more on building customer service skills that enhance their resilience
23. Setting Realistic Expectations
While there is nothing wrong with informing customers that the answers or solutions they seek are not available at a particular time, it is crucial that your service team is able to provide customers with realistic timelines within which the solutions will be provided.
Service teams may also need to put customers on hold as they find answers to their questions. Whenever this happens, reps should communicate the realistic amount of time that customers will be kept on hold.
Providing realistic expectations when the solution is not readily available ensures that clients are not left hanging for an extended period. Failing to set practical expectations can cause customers to feel their issues do not matter to the business, and they may begin to attribute this to poor customer service.
24. Master the Art of Multitasking
The nature of the customer service role is such that it requires reps to be brilliant at multitasking. Besides talking to customers, reps have to take notes, send emails, share reports, maintain records, etc. For all of this to be done with utmost accuracy, your support staff need to be good at multitasking by default.
An excellent example of multitasking is live chat agents who are expected to attend to several customers at the same time. Some tips that can help your support staff to multitask effectively include:
Avoiding taking too many tasks or customers at one particular time

Staying focused on the big picture and set preferences accordingly

Tracking the urgency of tasks and scheduling them for timely execution.
25. Pick Cues From Conversation
Though service reps may not always interact with customers one-on-one or hear the voice of those that use written forms of communication like emails, there are ways in which they can pick emotional cues from their clients.
Looking out for signs such as body language, choice of words as well as tone and volume of voice can give an idea about customers' emotional levels.
Service reps should be able to pick strong emotions such as anger, frustration, and happiness as well as subtle emotions such as patience and calmness from customers who contact them. Understanding the emotional state of customers enables operators to determine how to handle them.
26. Collaboration
The customer service division relies on other functions in a company to succeed. As such, service agents must build good relationships with employees working in other departments to foster a collaborative work environment.
Even as service agents collaborate with other employees, that collaboration has to be extended to customers if the customer satisfaction goal is to be achieved.
Service reps that exhibit collaborative skills are able to:
Acknowledge mistakes that may occur during a process and work with different teams to address them.

Involve customers in combating challenges and finding solutions that work well for them

Get a better understanding of customer needs and use that knowledge to improve customer satisfaction.
27. Stress Management
This is probably one of the essential customer service skills that every service agent must possess. Every day operators show up at work without knowing how their day is going to turn up.
Customers are of different kinds. There is a whole mix of them, the patient, the furious, the confused, and others that are highly critical of the company. So, reps can be confronted with
Considering that 51% of customers will stop buying from a business due to a single negative experience, stress management skills become essential for service reps. They should be able to control their emotions throughout the day – staying positive when customers get negative as well as being calm and professional when under attack.
28. Ability to Stay Upbeat
Service reps should always exhibit optimism whenever customers reach out to them for help. This is important because 68% of customers identified pleasant agents as important in providing positive experiences to customers. A positive attitude is capable of influencing customers who interact with reps and ultimately shape their experiences.
Some practical things that your support staff can do to remain upbeat include:
Guiding customer conversations using positive language

Thanking customers for reaching out and being patient.

Making it a practice to empathize with customers
29. Improvisation
In any profession, self-improvement is paramount for growing one's career. In the highly dynamic business environment, employees, including customer service agents, should always strive to acquire knowledge about emerging technologies, new practices in the industry, changes in legal frameworks, shifts in customer expectations, and much more.
While companies have a responsibility to train their staff, there are occasions where such training is either delayed or is focused on specific things. Service teams that improve themselves are able to serve customers better compared to those that don't.
Here are a few ideas that service agents can use to improve themselves:
Reading about trends in the customer service industry

Tracking these trends and evolving with them

Enrolling for online courses to enhance competencies

Taking challenging tasks that provide opportunities to grow
30. Conflict Management
Conflict is a core part of life, and it is not any different in business. In customer service, the result of unresolved customer conflicts can be detrimental to the health of a firm. Anytime customers raise an issue; it should be resolved with speed and accuracy to satisfy and retain customers.
Where this fails to happen, friction is created between customers and the brand. Some practical steps that agents can take to address conflicts include:
Giving customers space to talk. This gives businesses a chance to identify areas of friction

Demonstrating to customers that the business cares about them

When customers share negative feedback, service teams should respond, not react.

Being empathetic to customers and engaging them calmly and positively.
31. Ending Customer Interactions With a Wow
This skill is essential because it is about ensuring that every customer who contacts your reps gets a positive experience and is left satisfied at the end of the interaction. Service agents who possess this skill are able to conclude customer interactions on a positive note, leaving customers with the satisfaction that their queries have been addressed adequately.
It makes customers feel valued and cared for. Besides, doing this also makes them realize that their issues matter to the business and demonstrates to them how far the firm will go to address their concerns. Even where interactions may have started on a negative note, positive endings are capable of changing customer decisions to switch brands and persuading them to stay instead.
Summing Up
The quality of customer service that you offer can be instrumental in creating a positive growth trajectory for your firm. Often, the kind of service that customers receive is determined by the skills that service teams have.
The customer service representative skills discussed above are critical when it comes to serving clients. While some of the competencies can be acquired through training, some have to be developed through experience and practice.
Whichever way your service team learns these skills, find ways to nurture them, and make your support staff adept at delivering nothing but excellence to your customers.
Do you want a free Knowledge Base Software?
We have the #1 Knowledge Base Software for delightful self-service help center starting at $0