The process of acquiring customers is a long and tedious one for any business. A lot of investment and time goes into prospecting, communicating, and deal-making before leads finally get converted into customers.
When prospects finally glide through the marketing funnel and make a purchase decision, the experience they get as they transact with your business for the very first time is extremely critical. Often, this initial experience determines whether the customer will come back again or not.
To make that experience memorable for each customer, you must be able to answer the question – what happens after a customer signs up for your product or service? This is where customer onboarding comes in.
What Is Customer Onboarding?
Customer onboarding refers to the process of getting new customers acquainted with the products or services you offer. Instead of throwing information to new customers randomly, the onboarding process allows you to familiarize them with your offerings gradually and effectively.
The purpose of a customer onboarding process is to make the experience of new customers as smooth as possible. As such, listening to their concerns and questions and responding to them is a critical aspect of this process. Businesses that fail in doing this risk leaving a negative impression on customers. This is why clients stop doing business with a firm and never come back.
A great onboarding process involves providing new clients with guidance, support and tutorials, and celebrating milestones whenever they realize results by using your product or service.
It's also an important part of your overall sales process as it goes to show the customers just how much value you wish to provide to them throughout their experience, even after they but your product or service. Creating this empathic bond with customers from the outset will do a great deal to benefit your business in the long run. And onboarding is a great time to do it!
Why Is Customer Onboarding Important?
The first interaction you have with your new customers shapes the relationship you will have with them in the future. This initial interaction is so important because it determines whether those customers will stick with you and recommend others to choose your brand or not.
As a matter of fact, the likelihood of your customer base widening increases depending on the quality of the onboarding experience you offer.
By putting together a remarkable customer onboarding process, you will be able to:
Increase your customer lifetime value, turn new customers into fans and lower churn levels

Build customer loyalty and consequently increase revenue from current customers

Get more customers to recommend your brand to others

Reduce the cost of acquiring new customers with improved customer retention
On the flip side, an inadequate onboarding process can be costly for your business. Some problems that a poorly managed onboarding can cause include:
Negative reviews from unhappy customers can hurt your brand

Missing out on valuable feedback can delay product improvement

Loss of trust you have built in the process of winning customers

Customer churn rates increase which means less revenue for your business
Having an onboarding strategy that is built around your customers, products, and services can put your business on the path of success. Ideally, such an approach should focus on three main customer retention goals, namely:
Having new customers to use your product several times in the first week

Establishing the usage pattern of your product

Making your product an essential part of their lives
All this makes customer onboarding an essential function for organizations that want to grow their customer base and increase revenue.
The Customer Onboarding Process Explained
The purpose of customer onboarding is to familiarize new customers with the products or services that you offer. How the onboarding process flows depends on the specific needs of individual customers. For instance, if some customers are not ready to go through a step-by-step tutorial, they cannot be compelled to do so. As such, the process needs to focus on empowering users by providing them with suitable resources that guide them right from the initial phase of knowing your product to finally using it.
Here is a step-by-step guide to help your business deliver a remarkable customer onboarding experience:
1. Send New Customers a Welcome Email
The first interaction you have with new customers should be a positive one. As such, you can send them a welcome email featuring information such as:
A congratulatory message for making a purchase or joining your client list

A thank you message for opting to join you or buy from you

A note of delight to inform them how happy you are for having them onboard

A mention of what your product will help them achieve
Grammarly is one of the excellent customer onboarding examples of companies that send a simple but sweet welcome email to capturing all these aspects.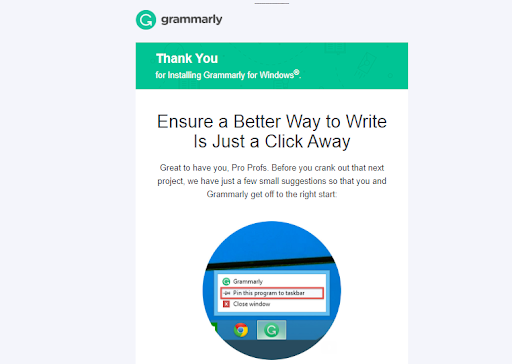 Also, to connect with new customers emotionally, you will have to personalize your welcome email. Companies that rock customer onboarding develop email templates personalized to individual customers' needs and matching their personalities.
See a sample personalized welcome email below:
Hi, George,
Congratulations on joining our customer list! Welcome to CustomMade.
We are thrilled to have you onboard and are excited to help you achieve your goals. We are eager to help you create your first email marketing campaign.
Sign in, pick your preferred email template, and start sending emails today!
If you need help, don't worry. We are here to walk you through every step.
[Sign In Now]
Joy, Customer Support Representative, CustomMade
You can also use videos to wow new customers during the welcome stage. This option rides on the premise that most customers want video content more often.
Though creating videos takes time, businesses can opt to use personalized videos for each new client. If you choose to use a video to welcome clients, you need to ensure that it shows excitement, contains critical information about your business, and conveys the dedication of your team to support customers.
2. Gather Customer Data
Gathering critical customer data is an integral part of the onboarding process because, with such information, you are able to measure success. The process of collecting customer data should kickoff immediately once the welcome email has been sent.
There are several methods that you can use to gather customer data. These include online surveys and inbuilt tools and technology. When using surveys, you need to ensure that it captures meaningful information required to engage customers in the next stages.
To create surveys that are interesting, and provide you with the required information to onboard customers successfully, ensure that you use the right survey maker tool.
Software like ProProfs Survey Maker can help in:
Creating surveys and forms

Distributing the surveys automatically to gather feedback

Automatically grading responses

Adding sidebar forms for getting feedback

Building in-app surveys
Also, make sure that your survey questions are relevant. The questions can fall within two categories:
Basics: This category gathers details such as contact methods, name of the client, etc.
In-depth: This set of questions focuses on getting a detailed understanding of what customers have in mind – their goals and pain points.
3. Place an In-App Message
This greeting message appears when new customers log in to their account for the first time. It encourages them to proceed and take the initial step of setting up an account.
To be effective in nurturing new customers, it is advisable that you only ask customers to do one thing at a time.
Ideally, it is a good idea to include a video for showing them how to take the recommended action.
One company that has created a super simple in-app message is Flipp. It helps buyers find discounts, coupons and guides them on how various other things.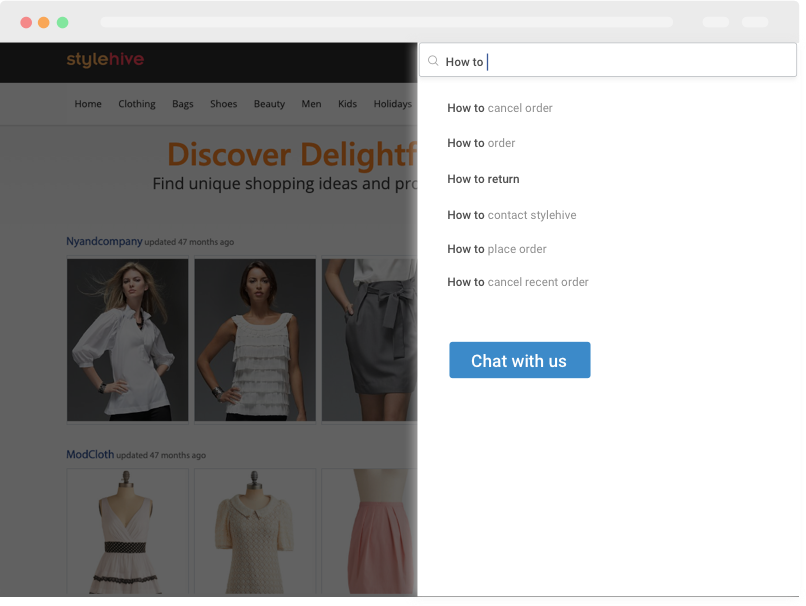 4. Create Product Tutorials
Tutorials are useful in guiding new customers on how to use your products and realize the results they desire. For instance, a business that sells software products can create a tutorial to guide users through the set-up or installation process.
In the same way, a company that sells equipment can create tutorials showing customers how to set up the equipment. Of importance to note is that to be effective, product tutorials should outline the step-by-step process in a precise manner. Also, they should be brief and easy to understand to make it convenient for customers to get familiar with your product.
Mint is one of the companies that has succeeded in creating a great product tutorial. This money management application has developed a step-by-step process that enables new customers to sign up and start managing their money with ease. See its tutorial process below: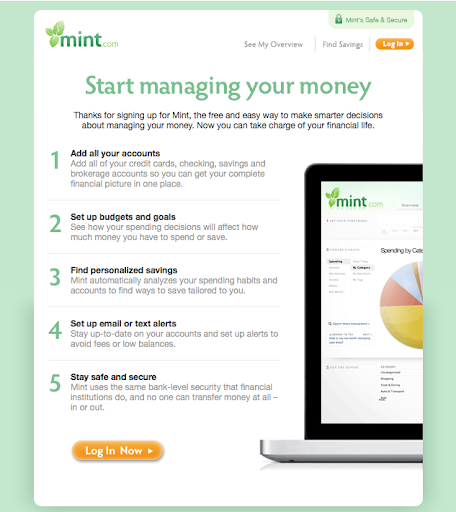 Source: Neil Patel
5. Encourage Action
When new customers enter your portal for the first time, they will find different features that have no data. This is a great space to provide content that not only educates them on the functionality of those features but also nudges them to take action. Businesses can also use this space to demonstrate the value of their products or services and encourage new customers to begin using them.
A great example of a company that does this perfectly is MailChimp. This email marketing giant makes deliberate effort to customize the initial experience of its new customers by offering them tips on which actions to take in order to grow their audience.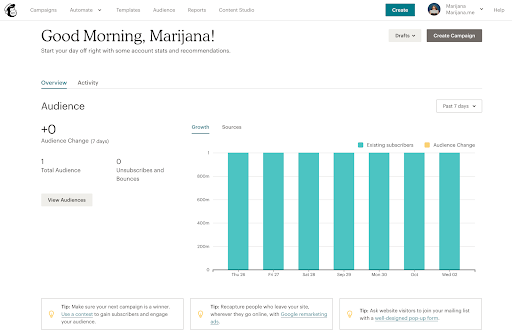 6. Provide Quality Support to New Customers
Customer onboarding is about supporting new customers so they can get acquainted with your products or services. Most customers prefer to resolve their issues by themselves or have the brand they buy from address those issues as quickly as possible. To ensure this happens, you should consider using tools like knowledge base, live chat, and help desk in a combination in your customer support function. Doing so can go a long way in enhancing the experience of new customers during their initial interactions.
Let's look at these tools in detail and know how they can boost your customer onboarding efforts.
Knowledge Base
An online knowledge base works like a centralized online information repository where your customers can instantly find answers to any questions they have. It's like a self-help platform that allows users to search for information all on their own without reaching out to your support staff. Implementing a knowledge base can bolster your customer onboarding by:
Empowering customers to resolve issues by themselves.

Providing round the clock support to customers and helping them solve questions conveniently.

Ensuring consistency in the responses that customers receive
Help Desk
Some customers prefer to use different communication channels such as emails, calls, or social media to seek help from the brands they follow or buy from. To manage these queries at one central location, Help Desk serves as the best solution. With the right help desk software, you can:
Manage all tickets at a central location and ensure that none gets unaddressed.
Route tickets to relevant divisions for fast resolution
Break down complex tickets into child tickets for easy resolution.
Help teams collaborate and close tickets faster.
Live Chat
Implementing Live Chat on your website is an excellent way to serve customers. Take a situation where customers aren't able to resolve queries on their own through the knowledge base, what is the next best option? It's live chat. It enables them to chat directly with your support staff to get instant answers. When it comes to customer onboarding, live chat can enhance the experience of new customers have by:
Providing personalized support to customers

Addressing customer issues within seconds of submitting queries. This means customers are not kept waiting for long hours for their problems to be solved

Making support available to new customers 24/7
7. Create Interactive Product Walk-Throughs
An essential aspect of the customer onboarding process is to help new customers learn how to use your product and derive real value out of it. The best way of achieving this is to have customers use the product on their own.
Interactive walkthroughs appear as customers complete one task and proceed further. They show them how to accomplish the next step. These walkthroughs will have contextual help in the form of tips, directing users in the right direction.
8. Customer Check-Ins and Celebrations
During the onboarding process, it helps to check on new customers to see the progress they have made in using the products or services they bought from you. This makes them feel that you are concerned about their progress. Check to see whether they are experiencing any challenges and find ways to help them derive more value from the product.
Enable them to identify milestones they have accomplished. Celebrate these achievements with them. You can also encourage them to achieve the next milestone through notifications or emails.
Customer Onboarding – Indispensable for Your Success
Customer onboarding is indispensable to create a positive growth graph for your business. It does not start when a new customer buys your product. Instead, it begins when a potential customer interacts with your brand for the first time.
After this moment, every interaction that your business has with the prospect is an opportunity to collect data that is ultimately useful in creating excellent customer onboarding experiences.
Implement the eight steps discussed above and begin providing a seamless onboarding experience to your new customers.
Do you want a free Knowledge Base Software?
We have the #1 Knowledge Base Software for delightful self-service help center starting at $0