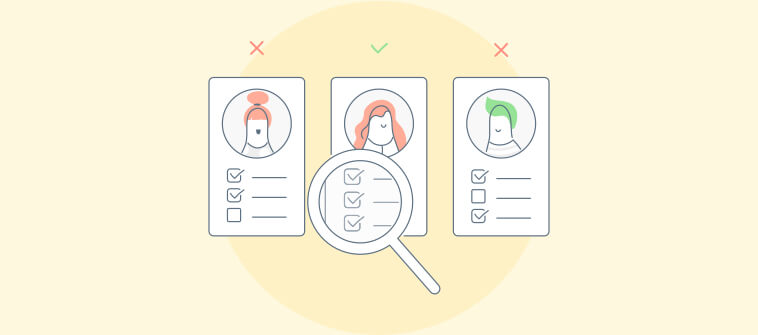 Human errors are inevitable, and they can be detrimental to your business.
Skip a step in the product development process, and you will have a defective product. Go wrong with the recruitment process, and you might lose talented candidates. Don't follow the sales guidelines, and potential customers will switch to a competitor.
How do you prevent such grave mistakes from happening?
One of the most effective solutions is equipping your employees with the right knowledge that's conveniently accessible. To achieve this you'll need a comprehensive operations manual.
An operations manual is an encyclopedia that comprises the workflows and processes of various departments in detail. It trains employees on how to perform their roles effectively, with minimum errors in the process.
Dive into this blog to learn everything about operations manuals, its benefits, and how you can create one for your employees.
Operations Manual Explained
An online operations manual is a comprehensive document comprising instructions on standard procedures, that when followed, produce the desired results. It guides employees regarding the 'What, Why, and How' of your business processes and prepares them to put their best foot forward.
There can be different operations manuals for different departments. Marketing can have its own manual that defines processes related to social media marketing, content marketing, campaign monitoring, and much more. The sales team can have a separate manual that explains the protocols and processes to capture leads and convert them into customers.
Benefits of Operations Manuals
An operations manual is an asset to your business. It's not merely a document, but a treasure trove of valuable information that guides employees at every step.
Here are some of the substantial benefits of creating an operations manual.
✅ Increases Process Efficiency - As all the steps of your business processes are clearly explained in the manual, the chances of errors reduce significantly. That makes your processes more efficient and effective.
✅ Standardize Workflows and Processes Across Departments - With a centralized document explaining all your business processes, there is little to no scope of employees assuming things. It reduces misunderstandings as all your teams are on the same page as far as your business processes are concerned.
✅ Helps in Training New Employees - Providing new employees with access to your operations manual is a great way to induct them to your organization. The manual gives them a thorough understanding of the processes followed in your company and helps blend in with your organization in less time.
Read More: The Ultimate Guide to Create a Training Manual
✅ Infuses Transparency in Company Processes - As all your employees can access the manual, it leads to increased transparency in the processes followed across departments. Employees can refer to the document and get information anytime they want.
Clearly, building an operations manual is a game-changing step in achieving operational excellence.
How to Create an Operations Manual?
Thankfully, it's not rocket science. You just need to have a clear objective and get the right user manual software. When deciding the software, ensure that it assists you right from creating and customizing to managing and publishing the manual.
Once you have the appropriate software, follow this simple step-by-step process to create a stunning operations manual in minutes.
Step 1: Start By Selecting the Right Template
Picking the right template solves half of the challenges. It gives you a headstart to build an operations manual in a flash.
As you can see below, a template has all the categories you require. Change them according to the department for which you are creating the manual.
Add your company's logo, brand name, and the header. For instance, you could replace 'Operations Manual Template' with something more appropriate like 'Operations Manual for Sales Department.'
Templates provide an easy and quick way to achieve the desired output without putting in too much effort.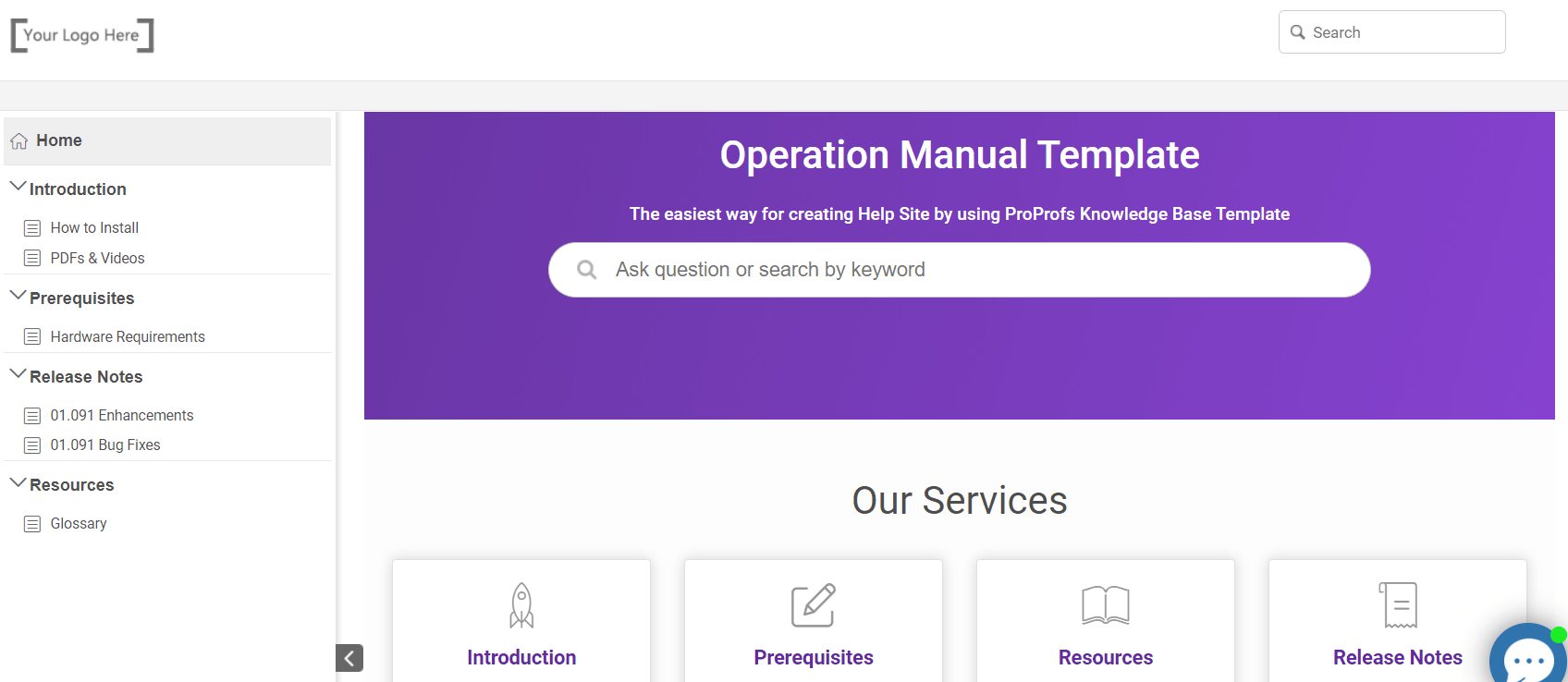 Step 2: Add Relevant Content
Now start filling in the sections with useful information. Some of the standard sections you can include in your manual are:
✅ Business Policies - Don't confuse them with your firm's employee policies that are related to leaves, appraisals, promotions, etc. Business policies are your company's standard work processes that are followed as a rule to achieve business goals. For instance, not accepting payment through PayPal is a business policy and employees are required to complete 7 hours of work time every day is an employee policy.
✅ Business Processes - This forms a significant portion of your user manual. Your business can have scores of processes for multiple departments. You can use flowcharts to explain them clearly. This will break down complicated procedures into simple, easy to understand steps.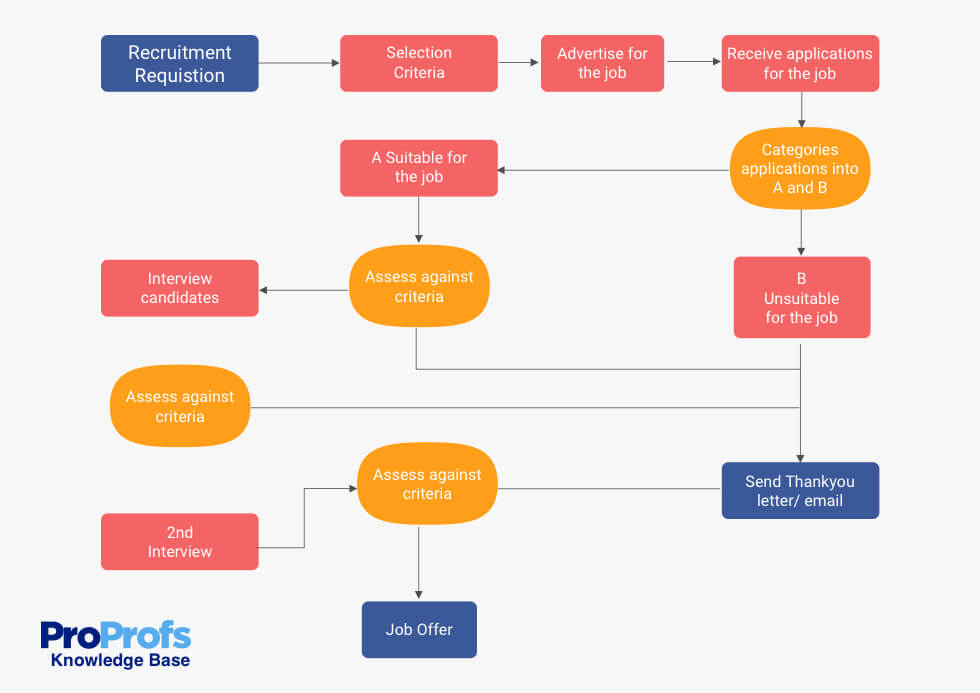 ✅ Hierarchy, Roles, and Responsibilities -
Outline the organizational hierarchy from top to bottom. Explain who reports to whom and who is responsible for what. You can use flowcharts for the same.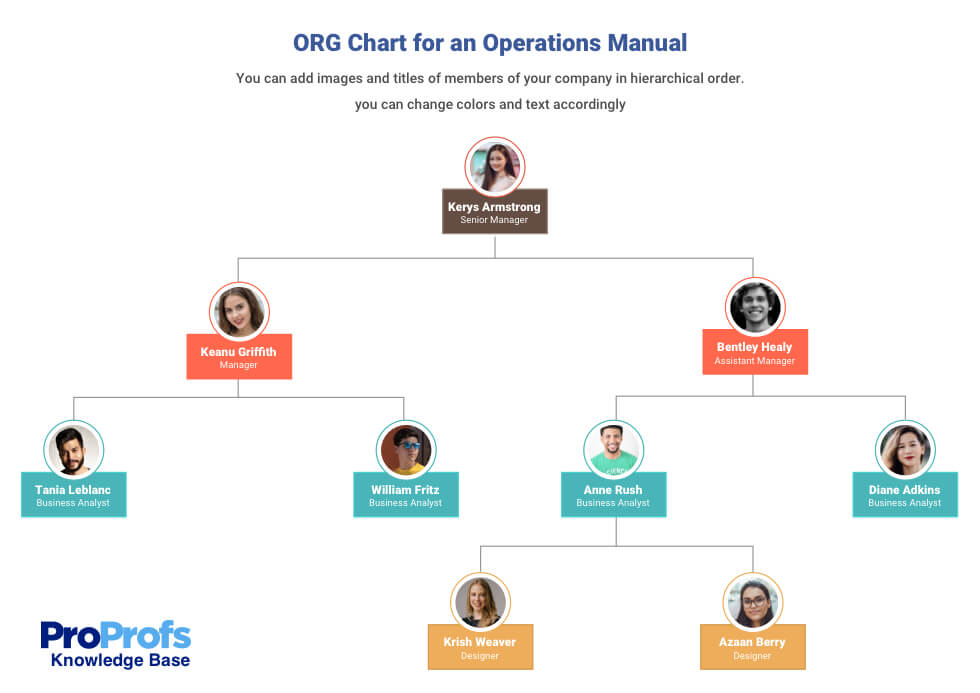 ✅ Emergency Response Procedures -
An emergency can arise despite documenting all processes. For instance, your software might experience a technical glitch thanks to which you lose some confidential information.
In such situations, you don't want your employees to think - "Does anyone remember the process to recover the lost data?"
You want them to refer to your operations manual, find the emergency response procedure, and sort out the problem.
You can either write this information from scratch using an online editor. Or in case you already have the information documented in PDF, Word, or PPT files, import them directly to your manual. This speeds up the content creation process, and you can have your manual ready in no time.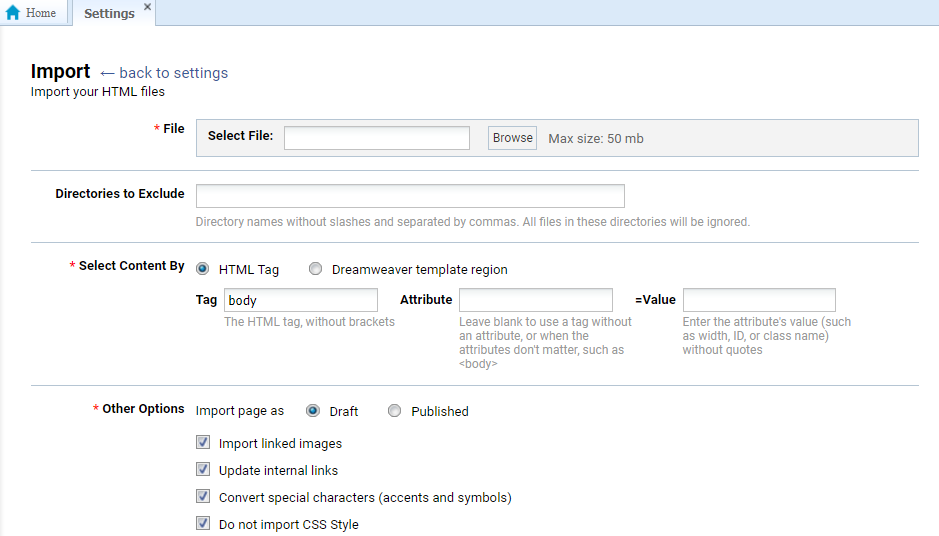 Once you have the content in place, edit it as you want. Add headers and footers to the pages, change font type, styling, and paragraph format. Pick your favorite colors and themes to give a unique touch to your user manual.

Step 3: Add Images & Videos to Your Manual
'A picture speaks a thousand words', and a video?
According to Forrester, 1 minute of video is equivalent to 1.8 million words.
That's astonishing!
This is precisely why people prefer understanding concepts via images, videos, and screenshots than plain text.
Make your manual a valuable information resource by adding relevant images and videos wherever possible. This will give your employees a deeper understanding of processes. Executing these processes across departments will then be a piece of cake, with chances of errors reduced to a minimum.
Read more: Wow Your Audience With Engaging Knowledge Base Videos
For instance, if it's a sales operations manual, add a relevant video where the process of closing deals with customers is explained. The video will demonstrate the process clearly, giving employees a quick understanding of the guidelines to be followed while sealing a deal.
Let's see how ManageEngine makes accurate use of images across its IT helpdesk manual.
As you can see in the image below, its help desk manual has screenshots to explain concepts to the members of the IT department. Scroll through this manual, and you will find that each topic is explained clearly via images.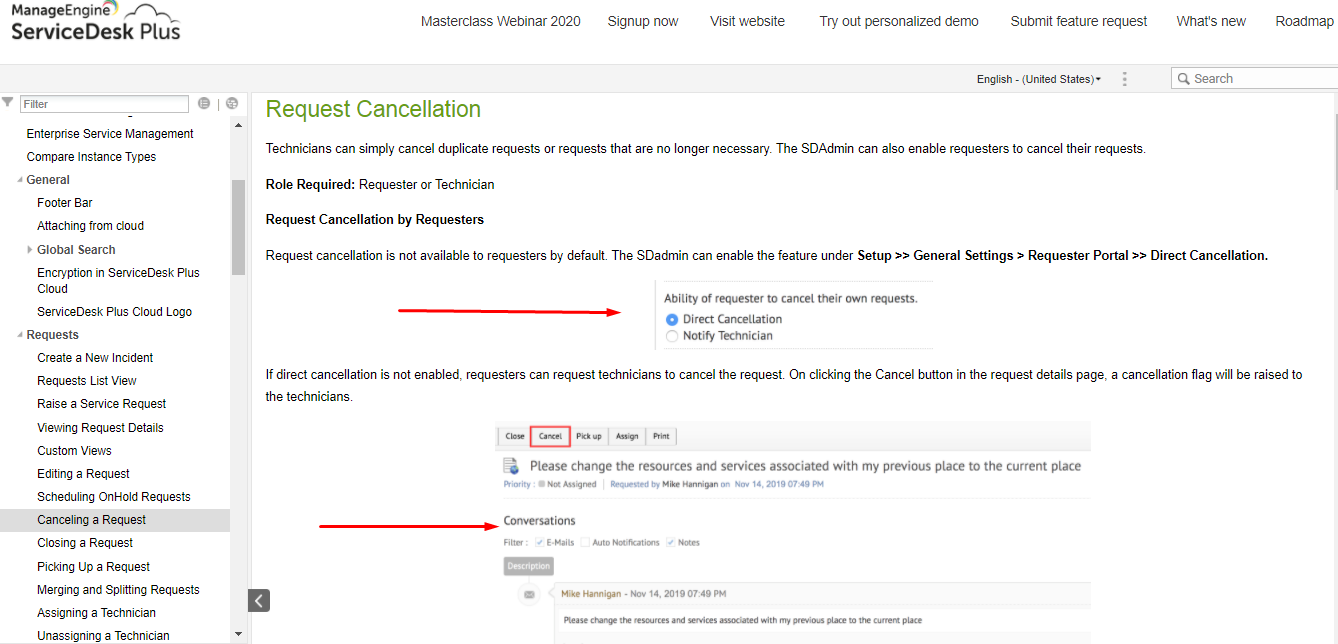 Image Source: Manage Engine Help Center
Here is another example, where Mimosa uses videos in its product manual.
Read More: Build Excellent Product Manuals With Online Manual Creator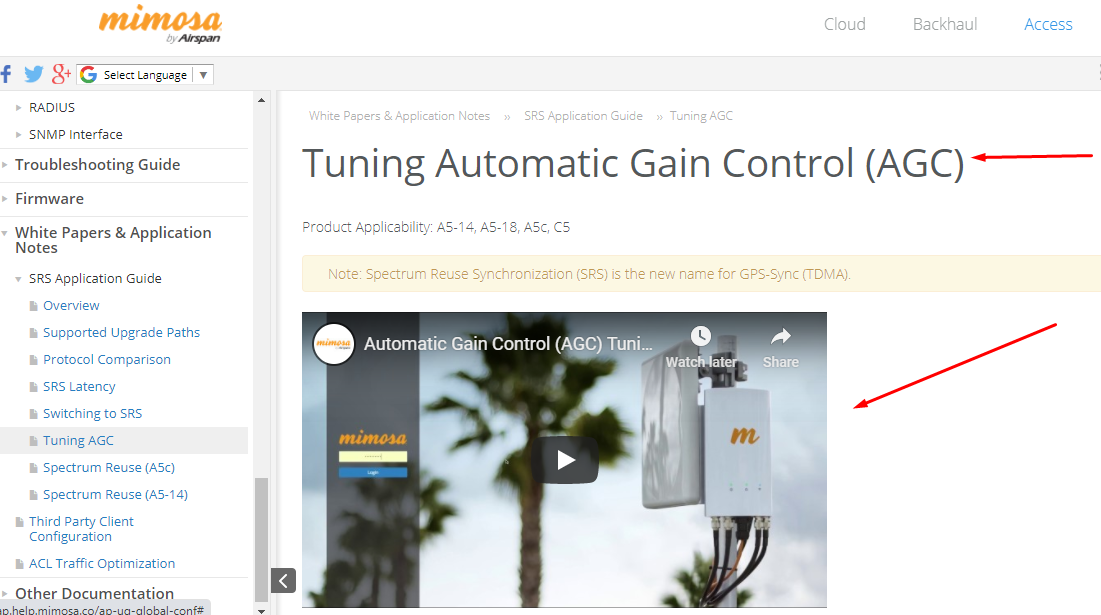 Image Source: Mimosa Help Center
Step 4: Add Tooltips, Lightboxes, & Pop-ups
You must have come across manuals that do not provide the right direction to readers. That's like leaving readers stranded mid-way and keeping them from reaching their destination.
To make your operations manual the go-to place where employees can train themselves on your company's work processes, providing context-based help is crucial.
This help can be delivered in the form of tooltips, lightboxes, and popups. Use them appropriately at the right spots to explain the jargon, clarify concepts, or provide additional information.
Each of these has a different use case. A tooltip works well for explaining complicated terms, policies, and much more. Add a tooltip to provide information clues wherever you feel the reader might get confused. It looks something like this -
Lightboxes are perfect for providing product tours and exhaustive procedural help.
These are interactive and come with a scroll bar effect. Here's how it looks like -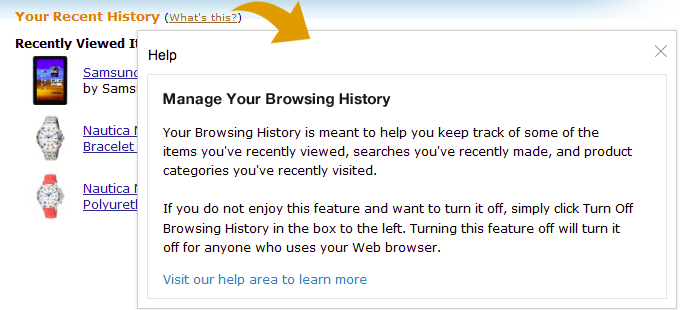 A pop-up is a small window that suddenly emerges on a page to provide extra information about anything.
Embed it at places where you feel the reader might require more details. Like lightboxes, pop-ups are also interactive and come with a scroll bar effect.
Here's how it looks like: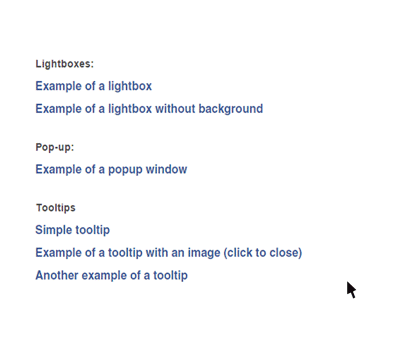 Embed tooltips, lightboxes, and pop-ups to deliver immediate help, exactly where your employees need it.
Step 5: Make Your User Manual Highly Searchable
The online user manual you create should be prompt in delivering accurate information to employees. Its search system should work as fast and smoothly as Google.
As soon as someone starts typing a keyword or a question in the search bar, relevant content suggestions should instantly pop up. It simplifies the process for employees to get the information they want in a matter of seconds.
Check out HighQ's user manual with a powerful search system.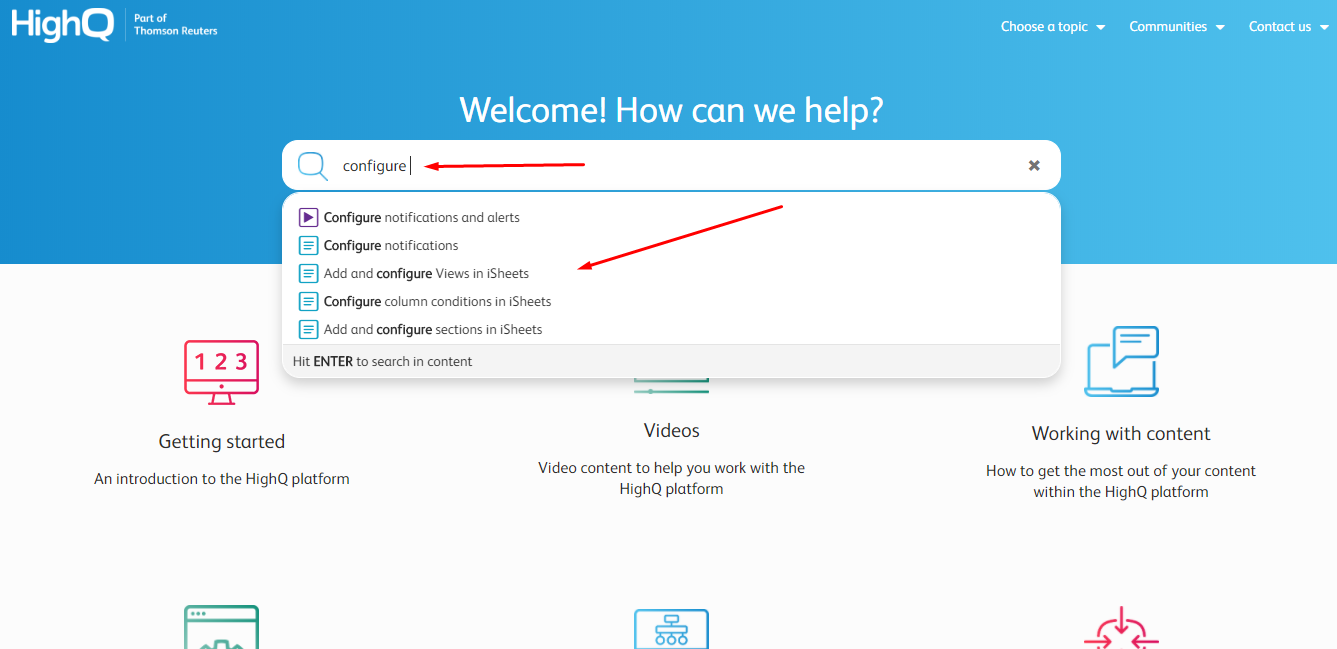 Create valuable, keyword-rich content if you want search results to show the most relevant articles. Ensure that the keywords frequently used are sprinkled carefully across articles. Don't stuff keywords forcefully. Use them at places where they align with the context of the topic.
Step 6: Involve Your Employees to Work Collectively
Building an awesome user manual can't be done in silos. It requires the collective effort of different teams in writing, editing, and managing the content.
Involve employees from different teams and allow them to contribute their knowledge in the manual. While a few employees can take care of creating fresh content, those at the senior level can be assigned the task of reviewing the content for any errors.
A few others will be responsible for overseeing the entire process and ensuring that no content development stage is missed out.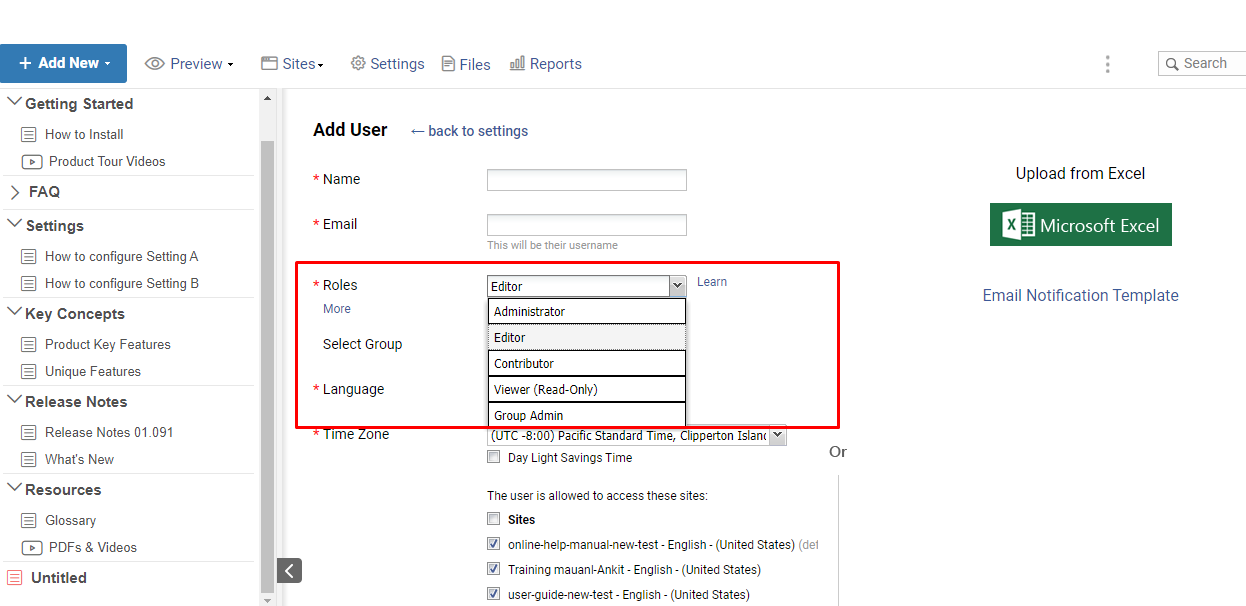 While working, writers and editors can even
set workflow status to maintain transparency regarding the stage of an article.
For instance, the status can be - 'In Progress' for a section where the writer is still working. For articles that are shared for review with the editor, the status can be - 'Ready for review.'
Step 7: Add Survey & Feedback Forms
Allow your employees to give feedback and share suggestions on articles. Listen to what your employees have to say and ensure that you act on valuable suggestions.
This can be done easily by adding survey and feedback forms to your user manual.
One of the ways to capture feedback can be adding a question at the end of every article. You can add a generic question - Was this article helpful, with Yes/No as the answer options. Allow employees to give feedback if they don't find the article useful.
When a reader clicks on 'No,' this is what's displayed next. A thank you note, along with a few options and a comment box, where feedback can be provided.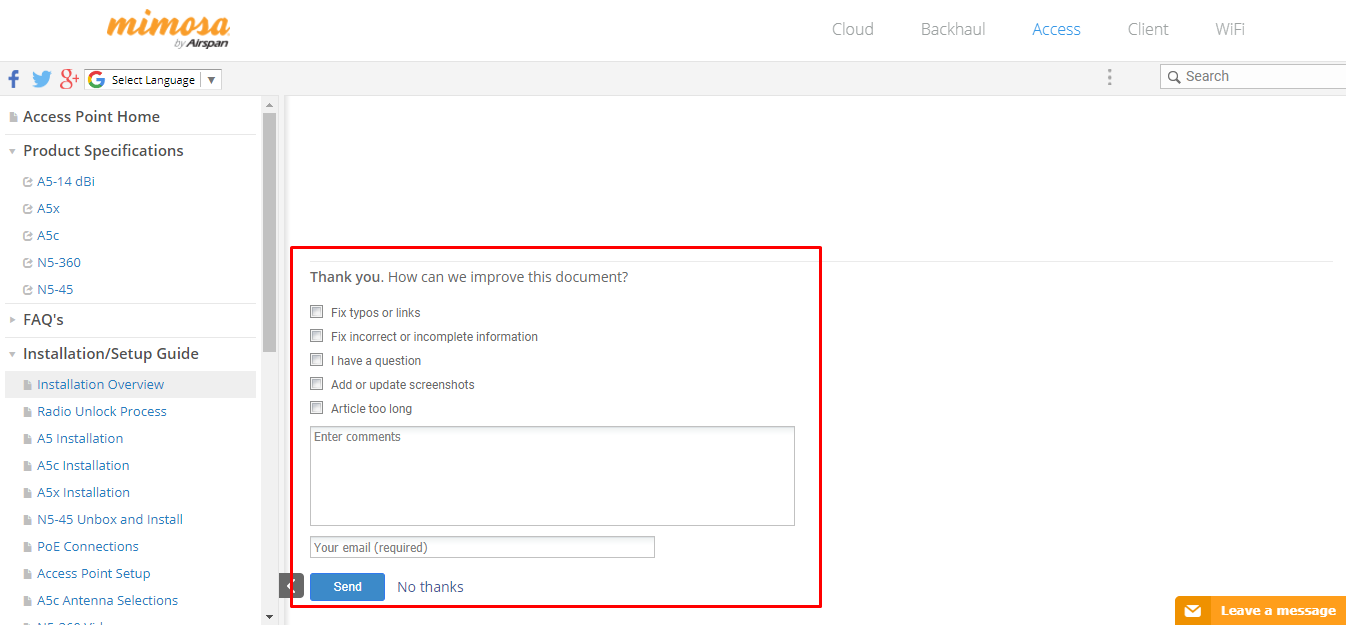 Another way to collect feedback is by adding survey forms in your operations manual articles.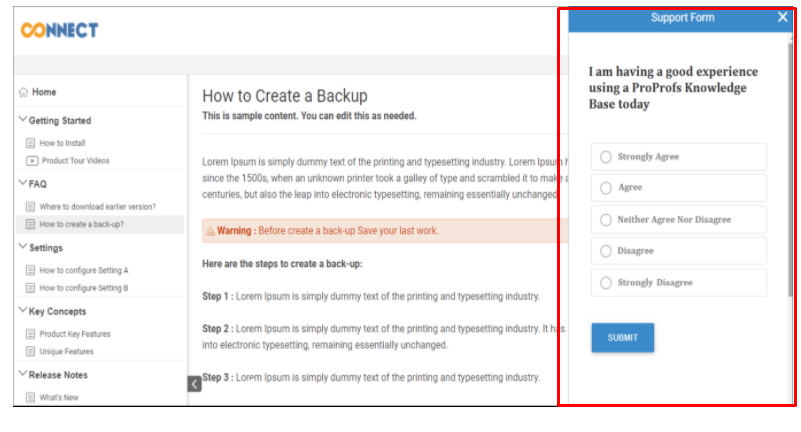 Create a variety of surveys and add them anywhere in your user manual.
Watch this video to understand how you can do it -

Step 8: Evaluate & Improve User Manual Performance
An excellent user manual tool provides you a sneak-peek into the user manual's performance.
Identify what your employees are searching for and not finding the answers to. Spot the articles that your employees find helpful and those that they don't, keywords that don't provide accurate results, broken links, and much more.
Built-in reports that a user manual tool provides, give you a detailed analysis of:
Popular and poorly rated articles

Edits made in the user manual content

Successful and failed searches

Total number of searches, and much more.
Use this data to analyze your user manual content, update it with new information, and create articles on trending topics.
Turn your user manual into a timeless asset by adding dollops of valuable content to it regularly.
Watch: How to Analyze Your Knowledge Base Reports
Ready to Create an Operations Manual?
Now that you know the basics of creating an operations manual, it's time for you to get started.
Start by selecting the right user manual software. Once you have that pick a tool and fill it with relevant content. You can add images and videos to make it engaging for your employees. Furthermore, you can customize the manual using colors and themes that go well with your brand. It will give your operations manual an appealing look.
While creating an operations manual, ensure that you provide all details about your business processes. Turn it into a one-stop platform where employees can find any information they need.
Do you want a free Knowledge Base Software?
We have the #1 Knowledge Base Software for delightful self-service help center starting at $0