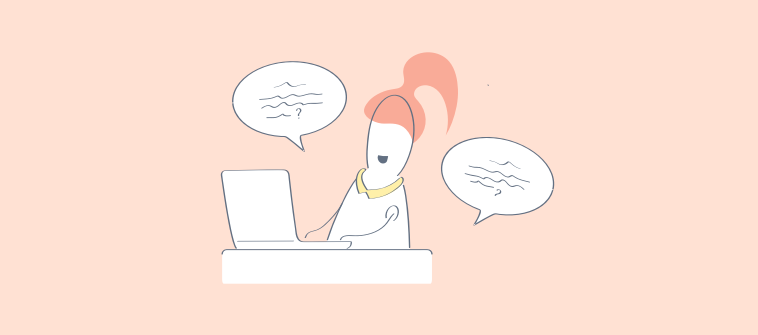 When we look at our to-do list, all we want is some extra hours in a day, but is it really attainable?
Ever wondered if we could free up the time wasted on trivial tasks and use it for work that really matters?
Employees spend an inordinate amount of time every single day looking for information tucked away in documents, emails, and spreadsheets. This jeopardizes their productivity and performance, leading to a staggering loss for your organization.
An internal knowledge base is the best solution to this persistent problem.
It acts as a one-stop point where information can be centrally managed, stored, and retrieved. No hassles and headaches of juggling between multiple files!
This blog uncovers everything there is to know about an internal knowledge base. Let's find out.
Internal Knowledge Base Defined
An internal knowledge base is an internal online encyclopedia where your employees can find anything they need. It consists of detailed information regarding your company's policies, work dynamics, projects, internal processes, and much more.
It acts as the first point of reference for most of the questions employees have. As the name suggests, an internal knowledge base is for internal use only. This means only your employees can access this portal. Anytime they are confused or need help with a particular process, policy, client, or any other thing, this company-wide knowledge base serves as the one-stop help center.
Watch this short video to learn more about what is an internal knowledge base -

What Does an Internal Knowledge Base Comprise Of?
There is no rule as to what should or shouldn't be included in an internal knowledge base. It's all up to you. Every piece of information that you feel your employees should be aware of can be added to the knowledge base.
It can comprise details about your:
Company policies

Work processes

Employee directory

Office code of conduct

Training materials

Company news

Video tutorials and How-to guides

Details about your clients, projects, and much more.
In a nutshell, you can add anything and everything that will help your employees make informed decisions and work confidently.
What Is the Use of an Internal Knowledge Base in Your Business?
An internal knowledge base is a centralized knowledge platform for storing, managing and sharing information. We all know this. But, the question is, what exactly is it used for, and do you really need an internal knowledge base?
This section clears all your confusion.
Here are a few signs that indicate you have a dire need of an internal knowledge base:
Low collaboration among employees

Teams spend an unreasonable amount of time digging into emails, documents, and spreadsheets

Employee training is a hectic and time-consuming task

Knowledge hoarding is a major issue

A cluttered workspace

If these are the common issues you constantly confront, consider implementing an internal knowledge base without a second thought.
The fact remains that an in-house knowledge platform is an informational resource where employees can find help instantly. But, this is just the tip of the iceberg.
There is much more to this platform.
1. News, updates, & launches
The product team launches a product, but how do you notify everyone about this good news? That's where a knowledge base helps. All your upcoming launches, new product, updates on a product, etc., can be added to this portal.
This means no ifs, no buts, and no confusion. Everyone in your company will have access to the same information, regardless of which department they work for.
2. Training materials for new employees
It's natural for new hires to be a little nervous during the first few days of their joining. An internal knowledge base helps you offer a smooth onboarding experience, making employees feel more confident and comfortable in the new work environment.
3. A platform that sparks innovation
Employees across departments - sales, design, and marketing, can use the internal knowledge base to brush up their knowledge on various topics and use it to drive innovation in their respective fields.
Notable Benefits of an Internal Knowledge Base
Deploying an internal knowledge base means arming your employees with the power to get what they want when they want it. With an internal knowledge base, you will see a substantial difference in the way knowledge is shared, managed, and used across your organization.
This simple change can bring a tremendous difference in employee performance and business growth.
Here are some of the notable benefits that an internal knowledge base provides:
1. Seamless Internal Communication
Contrary to popular belief, a knowledge base is not just a knowledge-sharing platform. Modern knowledge base systems give your employees the space to communicate via comments, discussion forums, or internal chats. They can discuss and resolve issues on the fly by immediately taking guidance from their peers or managers.
There cannot be a better way to create an interactive work environment where employees can instantly discuss roadblocks and get solutions right away.
2. Brings New Hires Up to Speed
New employees join an organization with high hopes and positivity. The experience they receive in the first few days makes all the difference between whether they will continue with your company or walk away.
An internal knowledge base gives new hires the support and confidence they need to get acquainted with your company's people, processes, and culture.
Employee onboarding is real smooth if you have this portal in place. It brings new hires up to speed with the new role, keeping all the confusion and jitters away.
Read More: Employee Onboarding: How to Use Your Knowledge Base Effectively
3. Smooth Employee Training
Employee training is critical for business success. Your employees need to upskill to get better at their job and be more valuable for your organization.
An internal knowledge base can provide the right coaching to your employees, helping them flourish in their existing or new roles. It creates a positive self-learning environment, where teams have access to a variety of the latest learning material.
You don't have to shell out an exorbitant amount of money to organize training sessions. Employees can learn at their own pace in the office or from the comfort of their homes. The goal is to instill a learning environment where employees keep honing their skills and widening their knowledge pool.
Read More: Turn Employee Training Effortless With Training Documentation
4. Productivity & Performance Gets Better
When business information is available at your fingertips, it gets easier to focus on worthwhile tasks. With an internal knowledge base, employees have 24x7 access to business knowledge.
With information available handy, employees can utilize their time productively and they can make better decisions. Whenever they are stuck somewhere or need assistance with anything, be it a company policy, client details, or project-related data, an in-house knowledge platform has all the answers to employee questions.
Your employees', teams', and by that extension your company's performance gets the much-needed boost.
How to Build an Impressive Internal Knowledge Base
Creating an internal knowledge base is not rocket science, but it isn't a walk in the park either. Before starting with the process, remember that good software can make all the difference between an average knowledge base and a high-performing one.
We will discuss how to choose the best internal knowledge base software in the next section. For now, let's focus on the nitty-gritties that go into building an internal knowledge base.

1. Get an Internal Knowledge Base Template
Internal knowledge base templates are meant to simplify the process of building an internal knowledge base. They give you a predefined setup with a table of contents, headers, and subheaders in place.
As you start using templates, you will realize that they are extremely flexible. You can replace the categories with your own. Remove the dummy content and start adding useful information for your employees.
There is also a section to add your company logo and brand name. The best part is nothing is permanent in the template. You can change the look and feel of headers, categories, and featured articles to have a knowledge base that feels your own.
2. Pen Down Everything You Want to
The next step is to decide the number of categories you want, name them, and start adding content.
Now, there are two ways you can do this - write everything from the get-go or import existing content if you have any. For instance, if there are PPTs or word docs where you have valuable content, import them directly to your knowledge base. For content that you want to create from scratch, the MS Word-like editor will help you out.
A mix of both these methods will help you create your knowledge base faster.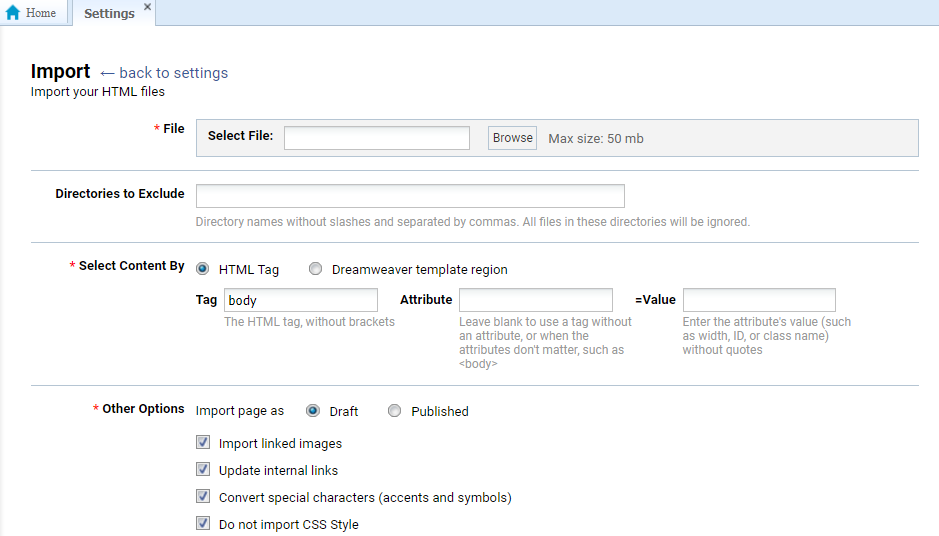 While crafting content, ensure that it's engaging for your employees.
Here are some simple hacks, using which you can elevate the engagement level of your knowledge base content:
Keep the language simple and straightforward

Write action or benefit-oriented headings

Prefer active voice while writing content

Try to add bullets wherever possible

Write in a positive tone and instructional voice

Keep paragraphs short and sweet, with a maximum of 4 to 5 lines

Add images, videos, and screenshots at relevant places in the knowledge base
The idea is to not overwhelm the reader by adding too much information in a go. Instead, the goal is to make content easily digestible, interactive, and engaging.
3. Manage User Roles & Permissions
Creating an internal knowledge base is not a one-off or one-person activity. It requires considerable involvement from all your teams. But this also doesn't mean that anyone can write or edit anything in your knowledge base.
While building the knowledge base, it's important to clearly define each member's roles and responsibilities to avoid confusion and misunderstanding later.
For example, suppose there are 40 members working in your knowledge base. Each member can be assigned a role, depending on his or her capabilities, knowledge, and position in your company.
Junior employees of every department can be responsible for researching, collating, and writing content related to their subject area. Senior members can be asked to edit the content and check the information thoroughly before publishing.
Those at the management level can be assigned the role of administrator. They can take charge of managing all users and overseeing every little activity happening in your knowledge base.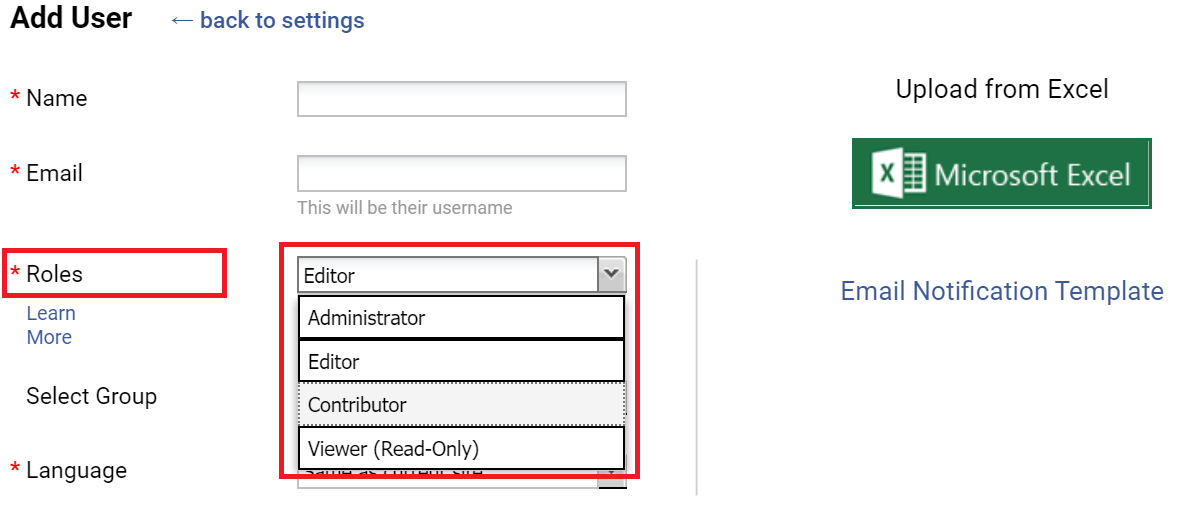 By restricting the writing and editing rights, you prevent unauthorized users from changing or removing important sections in your knowledge base.
Another benefit of specifying roles and permissions is that it infuses greater transparency and collaboration in the content creation process. When the best minds work in sync, the results are bound to be amazing.
4. Set Workflow Rules for Content Review
An internal knowledge base speaks volumes about your organization - its culture, people, and work dynamics.
In that case, you cannot afford to publish content with even the slightest of errors. Any error - grammatical or factual - on your part can affect the quality of your knowledge base and negatively impact employees' perception of your brand.
A strict review process, wherein writers and editors can set the status of articles and ask for assistance from peers, is indispensable to prevent any kind of errors.
For example, articles' status can be kept as - Draft, In Progress, Ready for Review, and Published. A custom status can also be created if the article doesn't fit in any of the pre-defined status categories.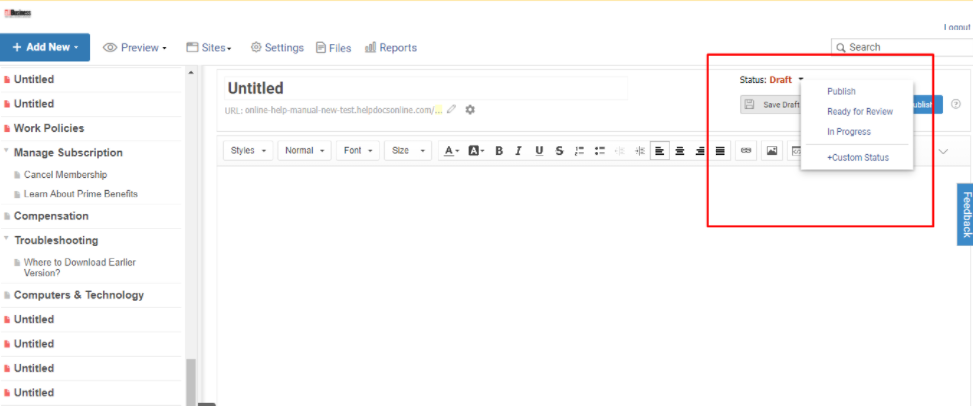 This workflow rules and approval system is a great way to keep a check on which article is in which stage, the current workload of writers and editors, and most importantly, whether or not all write-ups are properly reviewed before going live.
5. Focus on the Information Architecture
The way information is presented is as important as the information itself.
A knowledge base brimming with information but lacking the right structure can be a turn-off for your employees. Understand that simply putting in content is not the purpose of a knowledge base. As this knowledge portal is the one-stop reference point for your employees, it should look appealing and feel amazing.
That's where structure and presentation play their part.
The knowledge base you create should have a coherent structure that makes it easy for employees to navigate through different sections. A table of contents, proper categories and subcategories for all the topics, and a related articles section are some of the elements that your knowledge base should have.
Start by creating dedicated sections for high-level topics related to your company policies, code of conduct, mission and vision, five years plan, etc. Adding a welcome page, in the beginning, is an excellent way to make employees feel welcomed and eliminate those initial hiccups of how to use your knowledge base.
Besides, you can even link related articles to help employees explore your knowledge portal and discover content in a seamless way.
Take a look at how beautifully HighQ has structured its knowledge base and get inspired.
6. Ask for Feedback
You create an internal knowledge base with the hope that employees will love using it. But, is there any guarantee that your workforce will happily embrace your knowledge base?
There is a high possibility that despite working with all your might to create a perfect knowledge base, your employees find flaws in it.
Here is a fun fact. No matter how much effort you put into your knowledge, employees will always have something to suggest to turn it into a more useful resource. Give your workforce the opportunity to share what they feel by adding feedback questions and forms in your knowledge base.
Guesswork won't work for long. Try to get a real picture of what's running in your employees' minds. A simple question like - 'Was this article helpful?', with a few answer options, can go a long way in aligning your knowledge base content with what your employees want.
On clicking the 'No,' a few suggestion options are given, along with a comment box where employees can give their feedback.
7. Measure & Improve Knowledge Base Performance
Suppose you have created an awesome internal knowledge base that your employees use every day for staying on top of everything - company policies, clients, projects, etc.
Does that mean you are done and dusted with your knowledge base?
Not really.
A knowledge base cannot be static. It needs to be revived and updated frequently to maintain its relevance for employees. The first step to improve your knowledge base is to measure its current performance.
There are various metrics that can give you an inside view of your knowledge base performance. Some of these are:
Top keywords searched by employees

High performing and poorly rated articles

Broken or inactive links along with their page titles

Upvotes and downvotes received on articles, and many more.
These actionable metrics give you insights into the topic employees are searching for but not finding the exact answers to. You can use this data to:
Write articles on the topics most searched by employees

Modify the articles that are downvoted by most of your employees

Update the article titles and add relevant tags to make them easily searchable

Delete obsolete content to declutter your knowledge base
For example, suppose you find that the article on leave policies has received the most number of downvotes. Your HR team can check what's missing in this article and make the necessary improvements. Since this topic belongs to the HR department, it's up to your HR folks to identify the gaps in terms of - keywords, accuracy, or missing information and fill it in as soon as possible.
This video will give you a sneak peek into how you can analyze and make the most of knowledge base performance metrics.

How to Find the Knowledge Base Software That's Best for You
Search for an internal knowledge base tool on the internet, and you will be bombarded with numerous options, each promising better features than the other. In such a scenario, how do you decide which tool is really the best for your business?
Worry not. We are here to guide you.
Whenever you face a challenge searching for the right software, remember that you have to focus on four things:
The software should be cloud-based

It should be loaded with unique features

It should be easy to use, and lastly

The tool should be within your budget
As far as the features are concerned, here is a list of some powerful features that your knowledge base software should have:
Ease of use, with no installation or coding knowledge required

Online editor

User management, roles and permissions

Revision history

Built-in reports

Complete customization

Single sign-on

Google-like search

Folder and page restrictions

Integrations with popular tools like Zendesk, Google Analytics, Slack, Yammer, Disqus, etc.
Do your research right and take the above-mentioned points into consideration to find a knowledge base tool that fits the bill. In most cases, you will find free and paid versions. The free internal knowledge base software might give you access to a few basic features. But if you want to level up and create something worthwhile, paid versions are the best.
Again, it's important to research thoroughly before making the call. You don't want to pay more for something that's not worth it. So, read the reviews, go through customer testimonials, opt for the trial version, and only then zero in on a tool.
Read More: The 20 Best Knowledge Management Software of 2021
Top Tips to Optimize Your Internal Knowledge Base
For your knowledge management system to be a reliable resource, it should offer delightful experiences every time an employee uses it.
After the initial launch, it's essential to keep improving your knowledge base so that your employees can make the most of it.
Here are some of the trusted internal knowledge base best practices to get you in the right direction.
1. Improve the User Experience
Optimizing the user experience is a never-ending process. There is so much you can do to give a hassle-free experience to your employees. Employee surveys can get you useful data, which you can use to enhance the overall user experience.
For an awesome user experience, remember that your knowledge base should be fast and seamless. It should have an intuitive interface, a clean design, and a great structure to help employees navigate smoothly across your knowledge base.
2. A Potent Search System
Google has set the bar high with its powerful search capabilities. If you want to measure your search system's performance, compare it with Google's.
Employees come to your knowledge base to find instant answers. The one thing that can surpass their expectations is a super-powerful search engine.
Here's what you can do for a seamless search experience:
Have a prominent search bar

Use appropriate keywords in your articles to make them searchable.

Use analytics to discover trending questions and keywords. Leverage this data to level up your knowledge base.

Ensure that every article offers value to readers
These simple hacks can promise a stellar search experience for your employees.
3. Provide Top-Notch Content Quality
What matters the most in your internal knowledge base? It's the content you provide to your employees.
Incorrect and irrelevant content is a big NO. You don't want employees to get more confused after referencing your content, do you?
Ensure that whatever you add to your knowledge base is meaningful and accurate. Cross-check it multiple times and vet it for any grammatical or factual errors before publishing.
Besides, you can also:
Keep your content concise and to the point

Use built-in reports to improve your existing content

Images and videos are a must-have. So, add them wherever you can
4. Accessibility Across Devices
Your internal knowledge base should be a valuable resource that can be referenced anytime, anywhere. It should work not only on office laptops but also on mobile devices.
Optimizing your knowledge base for multiple devices is a necessity now. With the work culture becoming more flexible, employees need information on the go. Work is no more limited to the office. It can now be done while traveling, at home, and from any place in the world.
That's precisely why your internal knowledge base should run smoothly on mobile phones, laptops, and tablets.
These internal knowledge base ideas provide sure-fire ways to help you achieve your goals.
Read More: 7 Astonishing Ways to Apply Knowledge Base to Your Business
Internal Knowledge Base Style Guide
It's natural for your knowledge base to be brimming with information. Loaded with data, this platform can be challenging to browse if it lacks a defined structure.
Follow these best practice tips to give a clean, unique, and structured look to your knowledge base.
1. Keep it focused
Every section in your knowledge base should be focused on a particular topic. For instance, the section on policies should talk only about your company policies. Finding useful information gets a lot easier when all sections talk about their respective topics.
2. Positive and consistent voice and tone
The voice and tone you use should be positive and consistent throughout your knowledge base. Check your choice of words, punctuation, and sentence structure. Employees can get to know a lot about your brand from your knowledge base. So, ensure that every inch of this platform exudes positivity and builds trust.
3. It's best to keep it simple
Simplicity is key to achieving an internal knowledge base your employees can't resist. The content should be free from jargon and complicated concepts. Even if you use them, ensure that they are explained then and there.
Brevity is the soul of wit. Think of ways you can explain the topics with fewer words. Also, remember that just to keep it short, you don't end up missing out on crucial information. The goal is not to beat around the bush. Every point, sentence, and paragraph should offer value to readers.
Note that formatting has to be consistent across all articles. Use the second person while writing content. It will help employees connect better to the content.
Bring Employees Closer to Your Brand
Centrally managing your strategic knowledge assets - subject matter expertise, intellectual property, and the knowledge of your key employees, is more important than ever before.
Look around. Information is freely floating around your organization, which looks best when managed and tapped. It's this mission-critical knowledge that can keep your employees closer to one another and align their efforts with the vision of your brand.
An internal knowledge base offers the best and easiest way to achieve effective knowledge management, employee collaboration, and a culture of knowledge sharing across your organization.
There are scores of things to keep in mind when creating an internal knowledge base - templates, user roles and permissions, workflows, design, and much more. Remember that this is a company-wide resource, so you have to give your best shot.
Follow the above-mentioned steps and best practice tips to build a splendid knowledge base and create delightful experiences for your employees.
Do you want a free Knowledge Base Software?
We have the #1 Knowledge Base Software for delightful self-service help center starting at $0