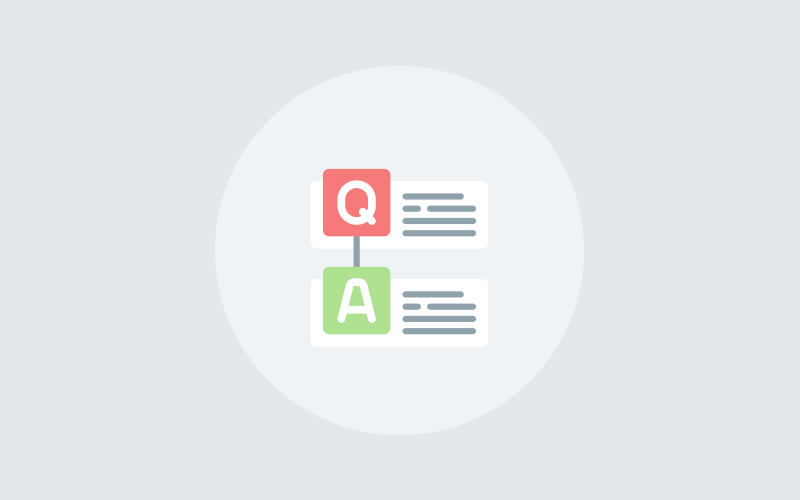 Creation of an FAQ page that will keep your visitors' attention is a complex process that requires a lot of effort. When creating this page, it's crucially important to pay attention to all those subjects visitor interest. On the other hand, it's equally significant not to overwhelm them with too much information. Finally, all the topics on your FAQ page should be logically organized, to make the process of searching for the information easier.
Once you're sure you've dominated all these aspects, you can sit back and relax, because that means you had made a great FAQ page.
To make the FAQ page creation process easier for you, we recommend you find a reliable FAQ software and we're showing you some of the best examples of FAQ pages that are built to take customer support to a higher level. Make sure to get the best of them!
Now let's check the best FAQ page strategies:
#1 Seriously simple yet perfectly efficient: 99designs FAQ page
The first FAQ page we found inspiring is the one coming from 99designs. This website is a contest-based marketplace for designers who want to share their works and get people to buy them.
What makes this FAQ page user-friendly is a really simple and minimalistic yet seriously professional division of information.
The first section is named Getting started and it's divided into several categories with the detailed information about the way the website functions. After you've familiarized yourself with elementary concepts, you get to choose among customers' and designers' FAQs. Again, you're offered a variety of precisely classified relevant subcategories.
In each of these sections, you'll be able to find the answers to both general and specialized questions. This means it's pretty likely you'll get any information you need in practically no time, without having to deal with contacting the customer service.
#2 Where FAQs go fun: McDonald's Canada FAQ page
Maybe the most interactive and visually the most interesting FAQ page is definitely the one at McDonald's Canada website.
Due to its incredibly responsive and visually attractive design consisting of videos and drop-down windows, this FAQ page is the one that'll surely keep your attention even after you've found your answers. Undoubtedly, the multimedia approach to customers' doubts and concerns is probably the highest quality of this page.
The answers are presented by videos or drop-down windows and additionally, each of the questions is personalized by naming the person who asked it. Additionally, you're always able to look for answers by asking questions in the search bar and sorting out the information based on the type of answer – whether it's a video, an image, or a brief text.
#3 Eye and user-friendly: SoundCloud FAQ page
SoundCloud's FAQ page is probably the best example of how practical yet how classy information can be organized. When you visit their help center, you'll find it divided into three comfortably organized main segments.
The upper part of the page has a nice visual featuring a search bar and links to the Help community and Status Blog. The central area of the page features four main visuals, each one taking users to a different topic of great importance for them, such as Get started, Your account, Copyright, and Payments and Billing. Each of them is supposed to take you to a different set of relevant subcategories.
Additionally, on the right, there's another list of categories offering more information about user experience and safety on the website. Finally, the lower part of the page's main area features promoted articles with the answers to the visitors' most frequent concerns.
This kind of FAQ page organization is not only pleasant to the eye but also a user-friendly and highly efficient way of organizing frequently asked questions and important accompanying information.
Read more: How to Optimize Your FAQ Section
#4 Comfortably comprehensive: Spotify FAQ page
What makes the Spotify FAQ page ideal for this list is the high level of organization, without overwhelming visitors with unnecessary information.
Practically, this page offers not only answers to the most popular questions, but it also provides users with brief guides on how to perform different actions. Step-by-step tutorials perfectly arranged drop-down menus, and screenshots are only some of the reasons why Spotify's FAQ page is considered both comprehensive and easy to navigate.
Probably the best thing about it is the fact tutorials are divided based on the model of device you use, no matter whether it's iPhone, Android, Windows Phone, or another platform.
#5 Seriously humoristic: 40/40 FAQ page
If you're interested in making a more personal relationship with your customers by introducing a relaxed informal attitude, 40/40 Creative FAQ page has the pattern you need the follow. When you visit it, you'll realize their style's completely different than anything you've seen by now, and not because of the flashy graphics or dazzling visuals.
Their humoristic way of answering questions on a pretty simply designed page and in a very straightforward way definitely stands out among numerous other FAQs of similar agencies.
Why should you do this?
If your business is to sell your creativity, this type of page will absolutely help you begin and strengthen your relationship with (potential) clients. There's a large number of people that prefer a casual approach, especially when it comes to businesses producing creative solutions.
That's why your potential clients will remember seeing your fun even on your FAQs page. The fact is – nobody wants to get into creative collaborations with people who cannot present themselves creatively.
Recommended Read: How to Write an FAQ Page that Will Help You Convert
Conclusion
No matter what approach to building your business FAQ page you choose, as you could see in this post, there are some easy patterns you can follow. In a way, they guarantee you won't mess up, so make sure to stick to one of them.
It's up to you to choose the one that fits your needs the best and create it with a reliable FAQ software, which is a vitally important tool for this process. That way, at the same time, you'll provide both a useful and an interesting FAQ page for your potential clients.
Which of the listed examples of FAQ pages would you pick? Let us know.
Do you want a free Knowledge Base Software?
We have the #1 Knowledge Base Software for delightful self-service help center starting at $0