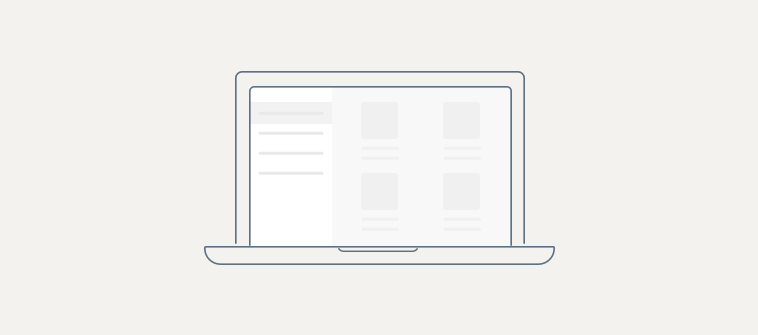 "The Future ain't what it used to be." – Yogi Berra
Wise words indeed.
I guess what Yogi Berra, the famous Baseball catcher, was saying at the time is that nothing is permanent. What was true yesterday may not hold significance today.
Change is inevitable, and it holds true in all spheres of life.
But there's one area that remains constant throughout, and that is our insatiable appetite for knowledge.
Leveraging Knowledge for Business Success
Nobody gets this better than Google.
In fact, Google understands it to such an extent that it ensures that knowledge forms the cornerstone of how its search algorithms function.
Google's approach looks for one major factor i.e., Authority, while deciding the ranking of websites.
And that's where knowledge base content comes in. Let's face it. People want to work with businesses having good knowledge and expertise about a subject.
But demonstrating your knowledge isn't just about getting more Google traffic. It is also about educating people and helping them make informed decisions.
When we talk about knowledge base content, the first thing that comes to mind is its quality.
We forget that providing readers with a variety of knowledge base content is as equally important as its quality.
In this article, we will look at some of the significant types of knowledge-based content that you should create to keep readers hooked to your knowledge platform.
Types of Knowledge Base Content
1. How-To Guides
People refer to a knowledge base for quick, easy answers to their questions. It would be counterintuitive for a knowledge base to consist of irrelevant and lengthy articles that do not teach them how to carry out a process or achieve a task.
A simple how-to guide is one of the essential types of knowledge base content. It provides readers with simple steps to resolve the issues they face while working. When creating a how-to guide, ensure that the content –
To the point and doesn't beat around the bush

Has simple vocabulary

Is free from jargon

Is accessible across devices and browsers
The beauty of how-to content is that it is evergreen and positions you as a helpful expert, patiently explaining concepts by providing clear and easy steps.
Divide the task into small manageable chunks and explain them bit by bit to make its consumption and comprehension easier for readers.
2. Definitive Guides
Definitive guides are lengthy, knowledge-intensive, and the best knowledge base content for your business. Their purpose is clearly to position you as 'The voice of your industry.'
Someone needs to represent your industry, so why not you?
Choosing a subject is the first thing you need to do while creating a definitive guide.
If you cover a wider subject like marketing you will be providing information difficult for readers to consume at a go. On the contrary, if you take up something too narrow, you will struggle to find enough content.
The sweet spot is something that addresses a particular need for a specific audience, for instance – Definitive Guide to Knowledge Base SEO Content.
Since such guides are lengthy, you might be of the view that it's impossible to write it manually. But you can do it easily by dividing the content into categories.
Create a table of contents for your guide with 8 to 12 sections, depending on the topic of your guide. For each section, you just need to write maybe 800 to 1000 words and set workflows to ensure that each article is reviewed before publishing. This will ensure that only error-free and relevant content goes live.
3. Comparison Content
Comparison content is an excellent way for your knowledge base to acknowledge other businesses that offer similar services while showcasing why yours is better.
It's an honest and transparent way to show visitors what they can get from your product, what they can get from other products and the benefits and downsides of both.
If your product or service works best when combined with another product, there's no reason to hide it. If you're not transparent with your customers, they're going to look elsewhere for something better.
Show them right from the start that there are some positives and negatives to your product or service, and they will be more open to working with your business.
When offering comparison content, take advantage of people's bias towards visuals by providing them with charts, graphs, and images. These should be unbiased interpretations of your product's capabilities and that of your competitors to give customers a fair understanding of the best ways to resolve their issues.
4. Video Content
Videos are a great way for people to learn how to resolve their problems without having to read lengthy articles. They might not benefit from a text-only how-to guide because they also need to experience how something works rather than just read about it.
Video content can play a crucial role in a knowledge base in two different ways. The first way is through tutorials guided by an expert within the company.
The second way is through user-generated content, where whoever manages the knowledge base uploads top youtube tutorials to give customers a glimpse of how a product works in real life.
This is especially useful for customers who are on their phones most of the time. They can simply start and stop the video whenever they want.
Videos are also a great way to target millennial customers who prefer experiencing the product visually to address issues than just read about it.
Look at how UNLEASHED places videos beautifully in its help center.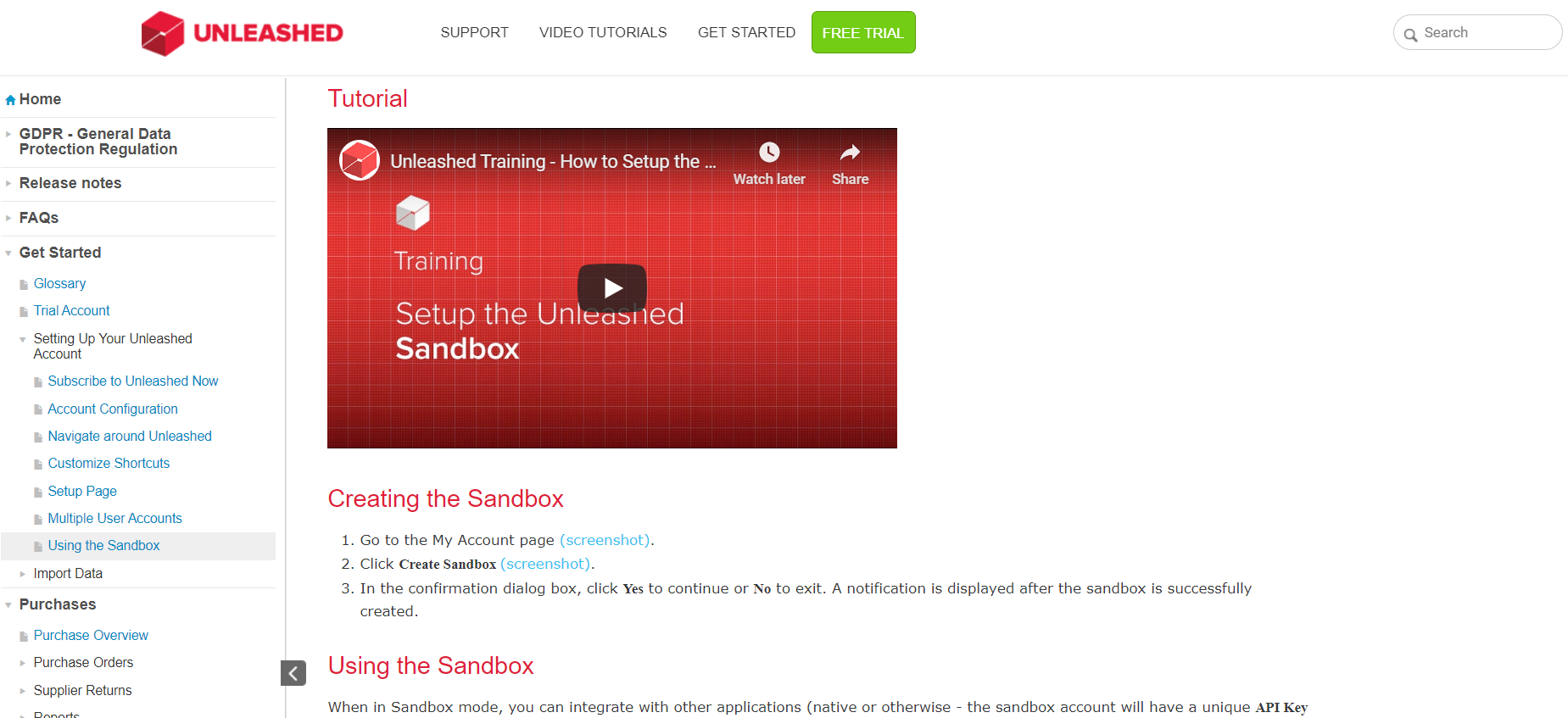 Source: UNLEASED Help Center
The help center of UNLEASHED is a rich blend of text, and videos, as shown in the image above.
5. Employee Handbook
An employee handbook or internal knowledge base is primarily for your employees. It provides everything your workforce needs to work efficiently. It can comprise of valuable business information such as –
Workplace policies

HR and employee policies

Work guidelines

Projects and clients

Firm's history and founders

Products and services

Training courses

Details about recently-hired employees

Details about company offices, divisions, and hierarchies
An employee handbook or an internal knowledge base comes in handy for your existing employees and new joiners.
It creates a culture of self-help in the organization, so your employees can self-train, and keep themselves informed about anything new happening in your company.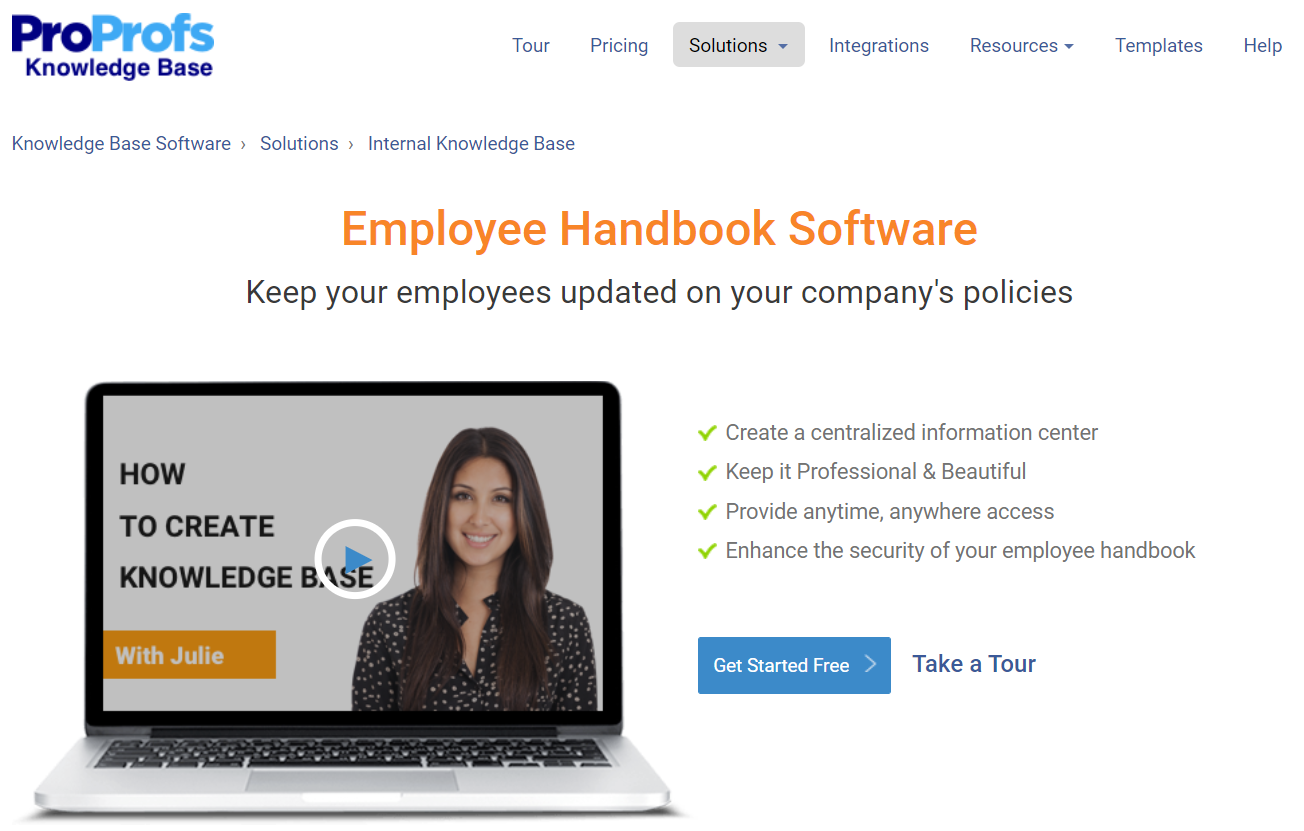 Also, an employee handbook works great for inducting new employees into your organization, acquainting them with your work culture, and the role they will play in your business.
Here's a short video to give you a glimpse of how you can create an internal knowledge base or employee handbook for your company using knowledge base software.

5. Online Wiki
Online wiki works as your company's in-house Google. Employees can search for anything they want in your company's wiki.
It's like a centralized platform with articles on a variety of topics such as –
how to apply for leaves

what is the procedure of taking work from home

what's the criteria for switching to a different department, and much more.
Basically, anything employees want is available here.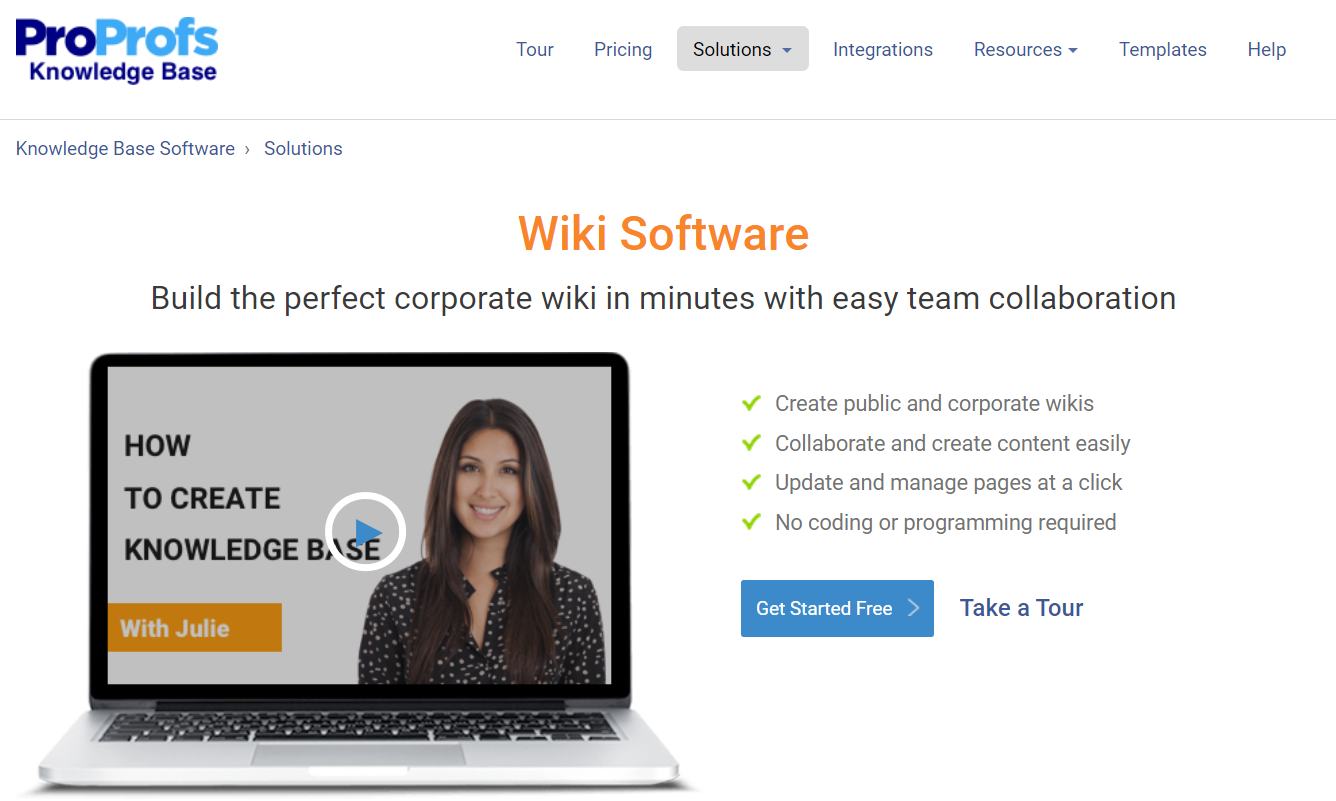 This repository of information is created and managed by your employees, so new topics are added regularly, and existing topics are improved based on feedback and suggestions.
Your corporate wiki also plays a major role in increasing collaboration among your employees and creating a culture of knowledge sharing in your organization.
Watch this short video on how to create an online wiki to get a better understanding of what a wiki is and how you can build one with the help of knowledge base software.

6. HR Documentation
This knowledge base content is specifically for your HR division. The HR team's work is data-intensive, as they have to ensure that the data pertaining to all your existing employees is stored safely.
Pulling out documents every time they have to create a new policy, or make business decisions, can be cumbersome. There should be a dedicated document in place that comprises all information about your existing as well as newly-hired employees, HR and employee policies, payment records, promotions, employee churn, and more.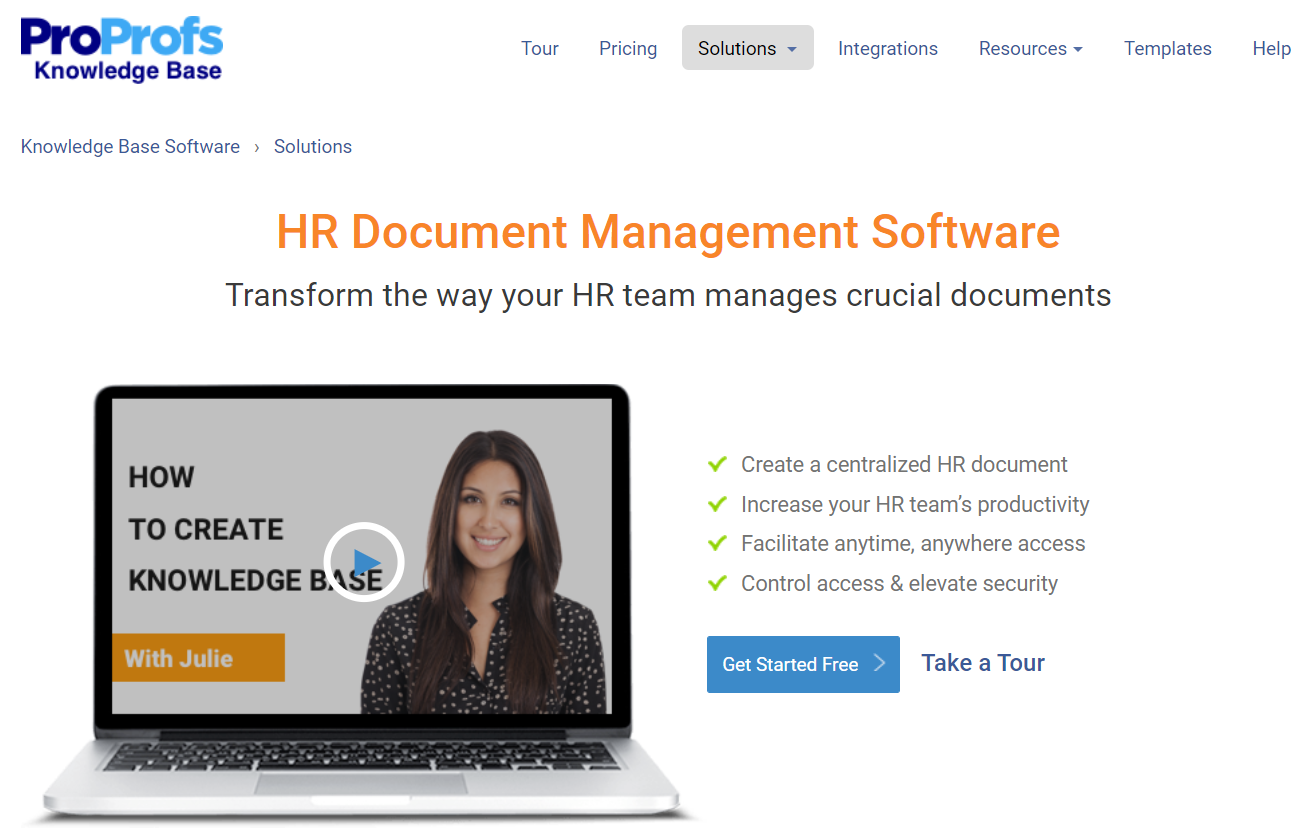 It's a great way to keep all your documents related to policies, procedures, code of conduct, employees' background and current work positions, performance management, recruitment, etc., at a centralized platform for easy access.
Running from pillar to post will no more be a necessity for your HR professionals, and they will be able to work smoothly right from their desks.
7. IT Documentation
If your IT desk is bombarded with internal support tickets, it's time you create a dedicated online IT document that can help your employees every time they have trouble using their computer systems.
This type of knowledge base content is essential to relieving your IT desk from repeated questions and trivial issues. When employees have a go-to document to find help, the question of calling your IT staff or reaching out to them via email or chat will not arise.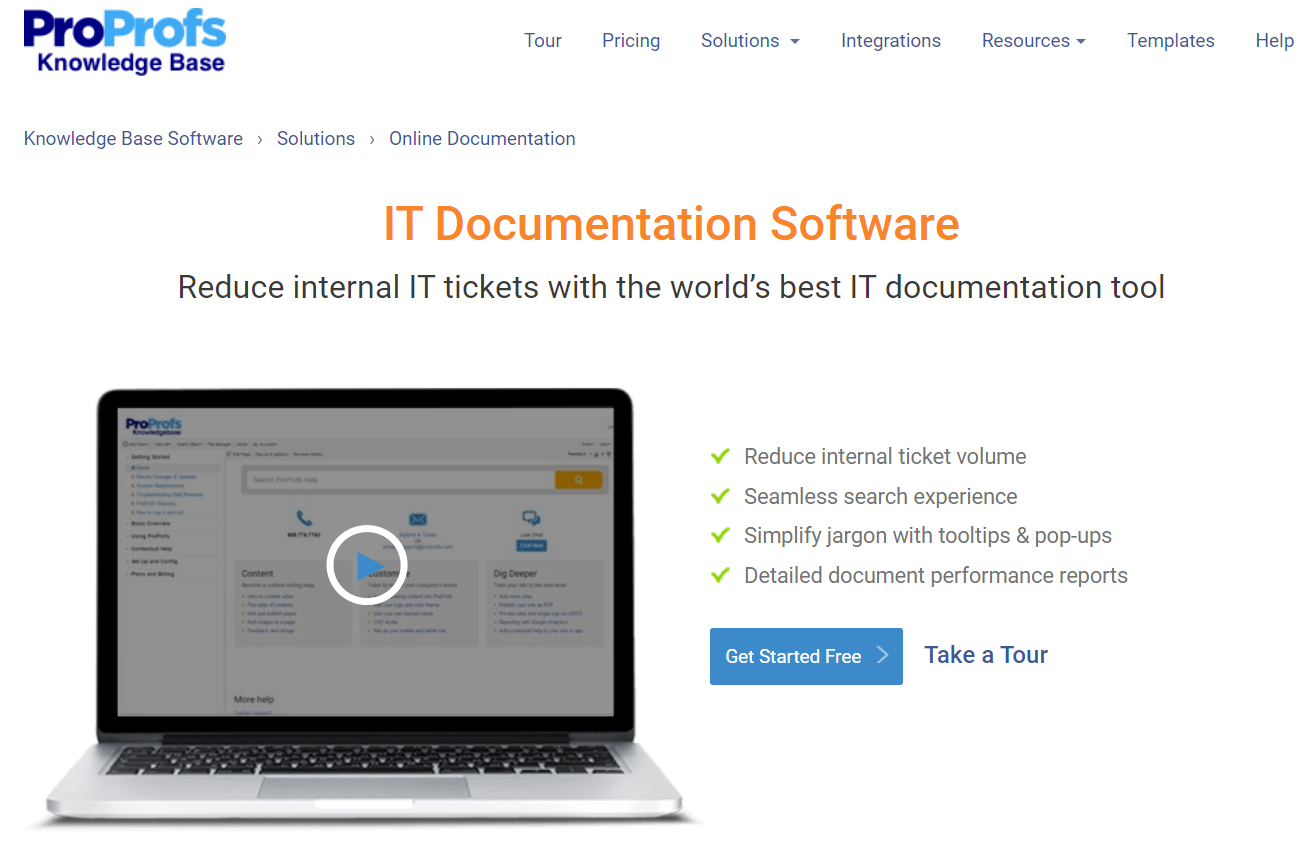 This will bring a significant difference in the workload of your IT staff, giving them more time to focus on serious issues raised by employees.
8. FAQs
Your knowledge base content can also take the form of frequently asked questions, either for your employees or customers.
FAQs are immensely helpful and provide accurate and quick answers to common questions visitors have.
Suppose you want to create FAQs for your customers. Try covering all questions that are frequently asked by customers via chat, email, or call. Get in touch with your marketing and sales team to extract information related to customers, interaction history, and the kind of questions asked.
Based on this data, create a list of questions along with their answers for your FAQ section.
Add multimedia wherever possible to explain concepts in a better way.
Wondering how to create FAQs?
Watch this video to find out.

There is no limit to the types of knowledge base content. A wiki for employees, an HR document for your HR team, a software document for your developers, or a product manual for your customers – you can create a knowledge base of any kind, depending on your objectives and target audience.
Try out the above mentioned best knowledge base content for your business, and keep improving them regularly for optimum results.
Do you want a free Knowledge Base Software?
We have the #1 Knowledge Base Software for delightful self-service help center starting at $0