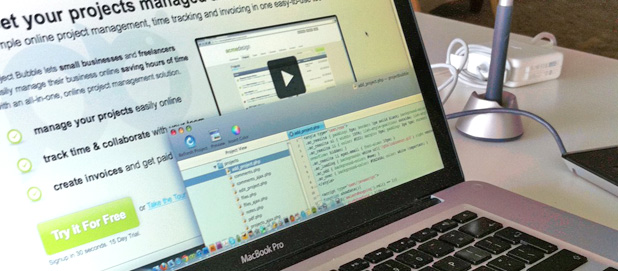 We are nearly a year and half old now. Business has been really good since we started charging in the Summer of last year and things are looking really good for ProProfs Project. I just wanted to share some of what goes on behind the scenes, what drives us and what make us good at what we do.
I started ProProfs Project in 2009 as a way to manage my own web development projects, and as often is the case with these types of things – a whole 'software as a service business' came out of it. It's been an absolute pleasure to see ProProfs Project grow and it's so exciting to be a part of it.
What sets us apart
Below are two of the main reasons why I think ProProfs Project gained initial traction and why it continues to be a very popular choice for freelancers and small businesses.
It had to be easy
One of the most important things with designing and building an online project management app was that it had to be really easy to use, almost without even thinking about it. At the time AJAX was still relatively new so I made full use of it, so page load times were reduced and everything was at your fingertips right when you needed it. I designed the whole flow of ProProfs Project to be quick, easy and self-learning, meaning that you learnt as you used the application.
Today we get feedback from lots of new users saying how easy the tool is compared to other apps out there. At the end of the day, you don't want to be spending your billable time trying to learn and use an interface which is supposed to be saving you time.
It had to have everything a small business needs
So that included project management, collaboration (sharing projects with contractors etc), estimates, invoicing and a mini-CRM for managing clients and contacts. I wanted to have everything together in one streamlined app. That is why ProProfs Project continues to have all these great features rolled in to one, for a great price!
We get testimonials saying how people chose ProProfs Project because it was one of the only apps out there that offered all of these features together. When we started we were one of the first to do this. Now as time has gone on we've had the time to improve each area making ProProfs Project really robust and solid for managing all of the main aspects of your business online.
What keeps us growing
Below are two cornerstones of our business and two of the main reasons I think we continue to succeed in this busy marketplace filled with project management apps.
We keep the development flowing
I was looking around at some of our competitors and noticed that in quite a few cases the development seems to have just dried up. Their blog entries are sometimes over a year old and their most recent update sometimes 18 months ago. Of course they still continue to provide their service, but there are no new features or plans for how they are going to improve their service and support.
If you look at our blog you will see that we have brought out a new feature almost every month, and we continue to look to build great features. This doesn't mean a whole new complicated change that's going to a mean everyone has to re-learn the interface, but can be really simple and small things like 'Reminder Emails' or 'Date Range for CSV Export'.
Though we're continually looking at developing new features, ProProfs Project will always be a fairly simple tool, so we'll never end up adding massive features like Gantt charts or Resource Booking and Allocation.
In the future once we're really happy with the feature set in ProProfs Project, we'll probably focus our attention on building in support for integrating with other 3rd party apps like QuickBooks and Highrise, and also official apps that integrate with our API like an iPhone Task Timer.
Personally I love developing, and as we grow so will our team as I'm hoping we'll make our first hire within the next year or so. We'll be looking for someone to handle the API and app side of the business because I think this will be really important. At the moment though there's still just the two of us making sure everything is wonderful for you!
"Customer service that all companies should strive for"
That was actually a quote from one of our users and we're really pleased that our customers are saying this (we hear it fairly often). We love our customers and we absolutely love helping them get their work managed and invoiced for quickly.
For me personally I know how frustrating it is to not be able to get hold of someone when you have an issue, so we try to make sure we reply to emails within the hour if possible. We also want to start making the most of actually calling people and talking to them about issues or concerns, whereas most web app companies will not do this.
So great support is another cornerstone of our business and one I hope we always maintain.
The future
We have a development roadmap we are working on and will make public shortly, which includes some great features and of course the re-build of the API which including Time Tracking. So development is always going to be a critical part of our growth.
Also we are excited about growing the team a little and our office space too. We now have offices in London and are looking to hire (as mentioned above) over the next year or so. We'll also be looking to improve our hardware (as always) by looking at co-location and CDN (content delivery network) to improve speeds.
Thank you for being a part of the project. Feel free to share your feedback if you want to 🙂
Stu & Jude
Do you want a free Project Management Software?
We have the #1 Online Project Management Software starting at $0