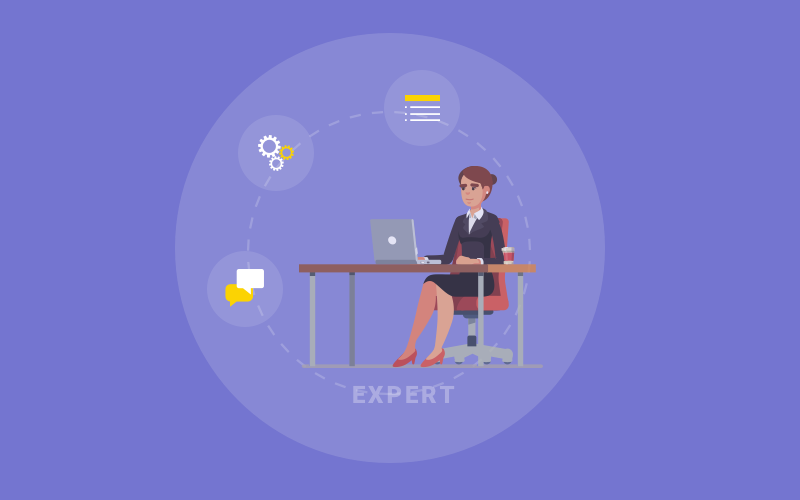 Project Management took giant leaps in 2017 as PMI reported that organizations spent 20 percent less on cost overruns, which is a remarkable feat.
Given that organizations can't do without a streamlined project management anymore, business owners need to keep up with upcoming trends that promise a never stagnating growth.
As 2017 comes to a close, here are a few trends that are most likely to shape 2020 and ensure that Project Managers stay on top of their game.
Quick Navigation – Experts Opinion on Project Management Trends for 2021
More Projects: with the current speed of change, products become commodities very quickly, so companies will be looking for new products and new sources of revenue much faster than in the past. That means many new projects and new opportunities for professional project managers.
Focus on Benefits and Impact: Technology and global competition are speeding up the way companies and products are developed. Product launches, successes, and failures are coming faster than ever. The negative side of that is that companies don't have the patience or ability to wait. In the past, a project might take three years to be completed, and about the fifth year, it would deliver its strategic benefit. That's not possible any longer. We must deliver faster, and our project approach has to evolve—not necessarily to agile or DevOps, but projects must especially now focus on benefits, and find ways to obtain them quickly. This is a significant shift in the way we run projects today in our organizations.
From Project Manager to Project Leader: Companies are looking for people who can bring growth, change, create value, bring discipline, work across the business, and develop high-performing teams. The more we as a profession focused on how our projects can contribute on those terms, the better. We should not ignore our project management frameworks and tools, like Gantt charts, but organizations want to know how you will contribute to the bottom line or the business strategy and benefits.

Investing in skills
There are training sessions for project management online, for all types of fields and departments. As we live and thrive in a technology-driven world, investing in skills that revolve around current trends has become a necessity.
Practicing Agile Methodology
Project management by default falls under the waterfall or cascade method. This means that the team works tirelessly to meet delivery and constant changes or updates to the project are not addressed precisely. Following agile methodology allows better relationships with the client or the customer and the internal team as well.
Flexible Management
Managers tend to understand employees better by staying away from micro-managing and being open to suggestions as well. Helping the team grow by leading through close relationships than being ego-centric towards their position is the trend that's slowly picking up. When employees feel closer and more responsible towards their job, they show higher performance rates. This is encouraged by managing flexibly and paying attention to suggestions.
3. Wes Brummette

Automation, Artificial Intelligence, and Machine Learning
Good project management software is already learning how your team works. It will soon be able to suggest assignees based on assignee workload and efficiency, as well as automate the workflow process of a task. In about a year these tools will begin replacing a lot of the tediousness of being a project manager. On the financial side, we will see automated resource planning and fewer mistakes.
Remote Working
Collaborative improvements will need to be made. Deep integrations with platforms like Slack are a must. Video conferencing and daily standup meetings will increase. Working from home is cheaper, saves time, and only enhances productivity is responsible teams. It's no wonder this trend is already apparent.
Social Project Management
The use of likes, comments, hashtags, and tags in our day-to-day lives has actually led to faster communication. Though less substantive, likes are a great example of how we can imply a variety of meaning with a simple tap or click. These tools have found their way into project management because social media has proven their power.
4. Bas De Baat

Understand – When you lead a project initiative on behalf of an organization a critical success factor is to understand their business context extremely well. You need to be able to relate the purpose of the project to the existence of the organization in the industry they play in.
Connect – Ensure you are building and maintaining the right relationships from the start. As a project manager by default, you are tasked to manifest change. That implies you have to go against the stream at times and need to call on trustworthy relationships with people around you for support
Patience – Senior leaders who run large organizations have to keep many balls in the air. As a project manager, you only see a slice of their reality. When due dates are looming and you need to get things done, keep your calm despite being hungry to deliver on-time, scope, and budget. Trust the process that you put in place. Things that get scheduled are the things that get done.

Agile – as evident as PMI putting in the Agile practices book together with the release of PMBOK6, many companies are now looking at Agile integration on their project management approach.
PMP Certification – as more and more individuals and organizations realize the importance of the PMI – Project Management Professional Certification, the growth on the interest of securing the credential will be another wave of a trend to look at. Particularly in some Asian countries, the inclusion of the PMP certification in various government projects as part of eligibility shows that more individuals and professionals will look at securing the credential more and more. In line with the release of the latest PMBOK edition, interests in pursuing the certification is continuously growing.
Strategic and Organizational Alignment – Project Management significance in organizational success is being proven more and more thus a more focused Strategic and Organizational alignment will become a trend in 2020.

New PMBOK – version applies to the PMP. This will be a major shift for those who hold the PMP certification.
Career path – A small number of organizations are winning by investing heavily in their people and project managers. Regardless of that trend, self-development will remain highly important. That's a major reason I wrote "Project Managers At Work."
Mega project opportunities -Aging physical and digital infrastructure will likely lead to increased pressure for projects. The pressure to deliver accurate cost estimates and stay on budget will be high.
Take Away
Although remote working and skill enhancement are most likely to emerge as hot trends in 2020, it's only a tip of the iceberg.
Unlike 2017, the impending year would witness a surge in the use of project management tools and new technologies around the corner such as Artificial Intelligence, Automation, and Machine Learning.
To carve a distinguished career in Project Management, professionals must embrace these changes and start preparing to smoothen the learning curve.
Do you want a free Project Management Software?
We have the #1 Online Project Management Software starting at $0