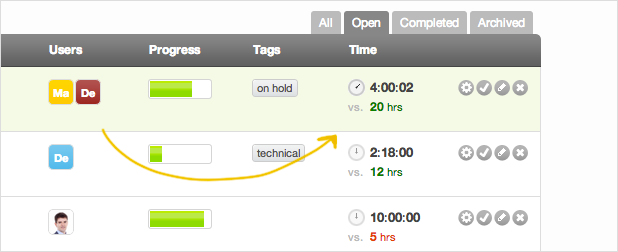 We are pleased to announce that Time Tracking is now a standard feature in Enterprise. We've improved it, added new features, and made it look prettier too.
When we first announced Enterprise a couple of months ago we hadn't fully manage to integrate time tracking, but since then we've been working on adding it back in and making it even better.
Now you can see who in your team is working on what, budget the amount of hours a task should take, and see how much time they are actually spending. It's the power and simplicity of Enterprise, with the classic time tracking features of ProProfs Project.
Filter to Task
You can now filter your time entries to task. It was a heavily suggested feature because lots of you would click on "View Time Entries" from the tasks page, and end up seeing all the other time entries for other tasks.
So we've improved this with the task filter. Just click on the options button, then click on "View time entries". We've also added this to the projects options button too.
Week View
We've added a new filter for your time entries, and that is 'week view'. This is just like the Month and Day views only it just shows the entries for the current week. Remember that you can change your start day (Sunday or Monday) from the My Company menu.
Because of this change, the Timesheets page has now been moved to its own tab titled 'Timesheets', so be sure to note that.
Estimated vs Actual Time Report
We've improved the way that Estimated Time works at a task level, so you'll notice that the "View entries' link has gone (it's now in the options menu) and instead you can see the estimated time underneath the timer. As before it will show in red if over budget and green if in budget.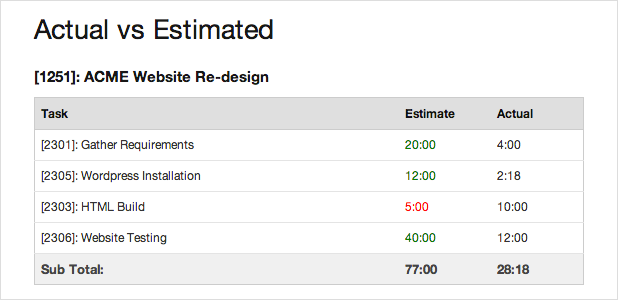 Along with this we've added the estimated time to the Time Summary report, which means that you'll be able to produce reports that show the estimated amount of time tracked on a task, vs the actual time tracked. All incredibly useful.
We've made various other little updates and enhancements too, which I'm sure you'll notice over time. As usual, if you have any questions just click the green help button when logged in.
Thanks and Happy New Year!
Can you believe that this year (2014) ProProfs Project will be 5 years old!?
Do you want a free Project Management Software?
We have the #1 Online Project Management Software starting at $0