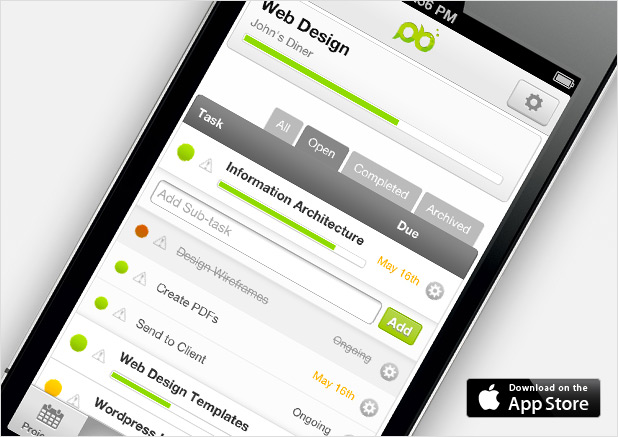 It's here! The official ProProfs Project iPhone app has finally arrived, available in the app store right now for you to download.
We're excited to announce the launch of our new iPhone app, which allows you to manage your projects and tasks on-the-go. With it you can:
Easily view your projects and tasks
Look at your notifications for what's due today and tomorrow
Manage due dates, user assignment, sub-tasks, status, importance and all the basic elements you need to manage your projects when not at your desktop
Track time with the mobile timer, which will keep timing even if you're offline
View and manage your clients
Make changes to your account
FREE for all users of ProProfs Project
And more…
We hope you enjoy using the app. We've been enjoying using it these last few weeks, and even used it to manage the app's own production!
As we write this version 1.0.0 is available in the app store. There may be the odd bug, so if you notice anything strange please let us know by contacting support. More updates to the app will follow, so be sure to keep following updates in the App Store. Further apps, e.g. iPad and Android will hopefully follow also.
X
MultiCopyPaste
Time to upgrade, it's free!
Simply click on the top left of the extension and register to get access to 10 shortcuts. Your email will remain secure, but we might get in touch for your feedback!
Do you want a free Project Management Software?
We have the #1 Online Project Management Software starting at $0