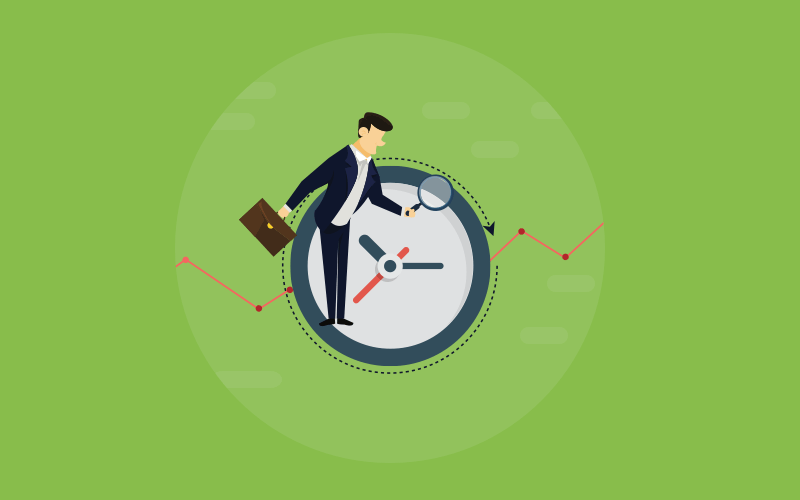 Managing time is one of the most tedious challenges faced by every project manager. In fact, only 31 percent projects are completed on time, owing to poor time management.
Though meeting the deadlines is a "dream come true" for PMs, it remains far from reality in most cases. Although this can happen on account of several factors, it's the Project Managers who take the blame in most cases.
This seems to be a never-ending race with the clock. Now, the question is: Is there a way project managers can stay on track? The blog post discusses 7 handy tips for project managers to effectively manage their time. Take a look.
1. Eliminate Time Killers
First and foremost, you need to identify time wasters that eat up your time and take a toll on the project deadlines.
Most project managers end up chasing deadlines not for the lack of time, but due to time spent in unproductive activities.
When you have spotted your time wasters, make sure it doesn't become a "blame game." The end goal is to simply identify activities that consume your time, without delivering any significant results.
Moreover, you shouldn't start cursing yourself for wasting time on the floor, when you must ideally be working or else, you will start feeling low and demotivated.
List down your primary time-wasters and take baby steps in eliminating them, one by one. For starters, here's what might be killing your time:
Casual conversations that include "grapevine"
Browsing Social Media too often
Frequent emails, meetings and ad hoc requirements
Aiming for "Over Perfection"
Procrastination
After you're done identifying your time robbers, you can start off with an elimination plan. Casual conversations and social media, for instance, is under your control and you can always set aside slots for them.
Emails and meetings, however, may not be totally under your control which is why you must ask for your immediate managers or supervisors for help.
2. Create a Project Baseline
Project management is all about setting and meeting targets on time, however, there is a flipside. Until you know the targets, meeting them is not possible. Even this Capterra report suggests that every 1 in 3 projects don't have a baseline at all.
This is when a project baseline comes to the rescue. A project baseline charts out the deliverables in detail, ranging from scope, schedule, work breakdown structure, key milestones, and dates. When you and the team members know exactly what and when to deliver, it really helps in cutting down the execution time of the project.
All in all, a project baseline helps in tracking any deviations from the expected course of the project to ensure timely modifications. After you create the baseline, you can perform weekly assessments to determine whether the project is performing as expected against each baseline.
You can start off with these baselines:
Schedule baseline
Cost baseline
Scope baseline
Quality baseline
After you compare the baselines, the results can be:
Positive
Proceed with the project.
Negative
Re-modify the baseline to catch up with the project deadlines.
3. Allocate Resources Effectively
Project managers must be aware of the core strengths of their team, for an effective execution of the project. This can include knowing essential skills of the team members and their pressure handling abilities. If you rope in the wrong resources at the right place, you are least likely to meet the deadlines for two reasons:
One, the resource may lack a particular skill that's a requisite for completing that task.
Two, they may lose interest in that activity, even when there are no gaps in skill set.
That said, interest mapping also plays a crucial role while allocating project resources. Now, what can you do to not go wrong on resource management:
Conduct open meetings to assess individual interests
Ask team members to volunteer for specific tasks
Introduce rewards or incentives for timely completion
When team members work on the tasks mapped to their interests, you no longer need to chase them for updates and can also be spared from:
Missed Milestones
Budget Overruns
Over or underutilization of resources
4. Practice Effective Delegation
Now that you know the core strengths of your team members, you can start delegating tasks matching their interests. While delegating tasks, make sure that you assign complete tasks to a person and not in chunks.
If team members are bombarded with subtasks one after the other, they may end up losing focus, thereby derailing the progress and missing the deadlines. Setting clear expectations right from the onset is the key in this case.
You can use a project management tool that not only makes task delegation easy but also helps in maintaining accountability by keeping a track of time on individual tasks. Other than that, conducting a weekly or biweekly review can also help you stay on track.
5. Set Realistic Goals
Setting realistic goals is imperative if you are to meet the deadlines. If you make tall promises to the stakeholders which your team is unlikely to fulfill, it can affect your bottom line and revenues.
Not only it hampers your reputation, but also puts a question mark on your chances with the stakeholder in future. The only way out is to create clear and actionable goals that your team members can fulfill on time with required precision. For that to happen, you can:
Analyze past project trends to get a fair idea about "real goals"
Ask team members to contribute their opinions
Arrange open discussions about goal-setting
Once you settle for a middle-ground that's acceptable to both the stakeholders and team members, you can save precious time and also accomplish the goals more efficiently.
Apart from setting realistic goals, you can also get started with the SMART Approach wherein:
S- Specific
M- Measurable
A- Attainable
R- Realistic
T- Time Bound
Complying to the SMART checklist can ensure that you never lose the track of time so that your project heads in the right direction.
6. Follow the Pareto Principle
Even though many project managers are already following this principle, it deserves a mention. The Pareto Principle sets an 80/20 rule that project managers can leverage to utilize their time better, without sacrificing quality at any stage of the project lifecycle. The prince says:
Spend 80 percent of your time in transformational activities, and
Only 20 percent in transactional activities
When you start working in accordance with this principle, 20 percent of your efforts can actually result in 80 percent of your results.
7. Go Beyond Status Updates
Most project managers end up conducting meetings, only to chase team members about progress reports and status updates; which shouldn't be the case. Since a team meeting is an open forum, it's an opportunity for the team members to raise their challenges and if possible, voice their opinions about the project. For example, if you are using tools to monitor your projects, to help you gather up status updates, such as a log analytics tool, you should challenge your team to talk about the issues arose and how to deal and prevent them in the future.
Ideally, you must discuss the risks, issues, and opportunities that may affect the bottom line of your project. Other than that, you can also brainstorm specific solutions and ideas during the meeting.
Moreover, you must also call only the concerned members to a discussion as involving non-relevant members is only a waste of time. Keep the meetings short and wind up as soon as possible to make sure that the deadlines aren't hampered.
Project Management Is a Marathon, Not a Sprint
Given the number of stages and workflows in a project management lifecycle, trying to accomplish everything overnight is next to impossible. If you try to fix the bottlenecks in time in a day, you are most likely preparing for failure.
You must take baby steps for now. To get started, you can use a project management tool. If you are already using one and still not winning the race against time, you probably need to reconsider the options. Go for a project management software that helps you do away your dependency on spreadsheets and can keep all team members on a single page.
Once you get started, things should start falling into place and then, you can accomplish more in your projects in fewer efforts.
Do you want a free Project Management Software?
We have the #1 Online Project Management Software starting at $0