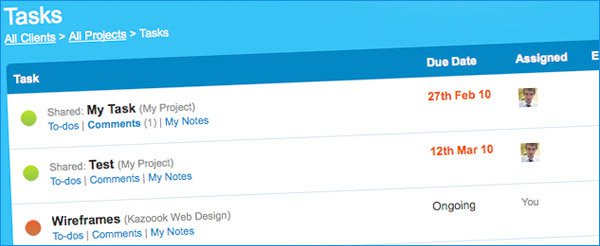 Collaboration has just been improved a little bit more. As you know you can share projects with collaborators, and with that you can share To-dos and leave comments with your team.
Previously only collaborators that you assigned to tasks would gain visibility of the tasks, which was fine when working with team members who only needed to see their own tasks. However if you had invited clients (or anyone who was not assigned to tasks) then they wouldn't see anything other than the project and the To-dos.
This has now changed. You can now assign different visibilities to your tasks, providing you have invited collaborators to the project.
By default your collaborators will see all your tasks (for new tasks that are created, not old ones in the system). Should you want to make the task private so that only you and the task owner can see it, then just select "Only visible to assigned collaborator".
This means that you can share all your tasks with a team, or with your clients, without them seeing the billing information or time spent.
Also New
Task Filter lets you filter out completed tasks or open ones
Push notification on comments sends emails out when there is a new comment
Other speed improvements and usability improvements (such as nicer buttons!)
Do you want a free Project Management Software?
We have the #1 Online Project Management Software starting at $0