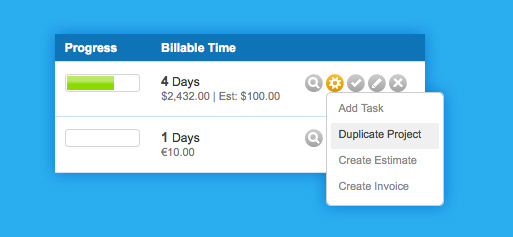 In our goal to constantly improve usability and listen to your requests here is a new feature that you will love.
Personally I love cool popup menus (as long as they are intuitive and don't get in the way). I've always wanted to make a little menu system like this. Now when you click the options button you will get a little menu that allows you to perform actions for a project.
The main option on this menu is a highly requested feature – Project Templates or 'Duplicate Project' functionality.
Duplicate Projects and Create Templates
This new addition is quite obvious to the un-trained eye. It simply creates a copy of the projects and tasks. Some might look at it and say "ah that might come in handy one day when I want to make a copy", but to the rest of you (those who highly requested this feature) it's an extremely useful tool.
Imagine that you always create a project that contains the same basic tasks, for example; a 'Web Design Project' that always contains the same 4 tasks – 'Wireframing', 'Web Design', 'HTML Build', 'Deployment'. They might all be ongoing tasks that have a basic fixed fee, and the Project always has the same currency and the same hourly/daily rates.
Normally you would have to re-produce these steps every time you started a new project for a client, but now all you need to do is create a template project with everything set up as you like and call it 'Web Design Template'. Then you just duplicate it every time you want to create a new project out of that template.
Sounds simple huh? There you go… enjoy!
A few notes: you can't duplicate the collaborators, you would need to re-assign these people for each project you create. Also, comments, to-dos, notes and statuses are not duplicated.
Do you want a free Project Management Software?
We have the #1 Online Project Management Software starting at $0