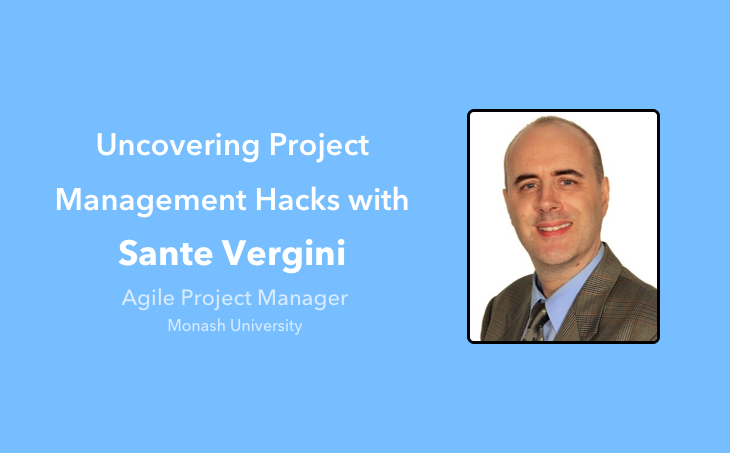 When it comes to successful project management, there are a lot of reasons why managers fall short.
Inefficient team communication and improper work management are two of the most common reasons that lead to project failure.
But, achieving perfection in project management is next to impossible.
The only way to ensure smooth project execution is to learn from your mistakes.
Speaking of learning, we sat down with Sante Vergini, a project management expert and asked him a few questions to uncover basic PM hacks.
Sante Vergini is one of the top 20 Influencers at projectmanagement.com and is a well-known Agile-certified Partitioner at the Project Management Institute. To top it all off, he is currently an Agile Project Manager at Monash University.
So, without further ado, let's head straight to our interview with Sante Vergini and uncover a few project management hacks!
Q1. How can managers measure the success of the final outcome of a project?
There are several ways managers can measure the success of a project's final outcome, but one key measurement for success is customer or sponsor acceptance of the product created.
Most project managers will measure the success of a project by checking the variations in budget or time schedule with respect to the original estimates.
However, a project can have zero variance while still failing in the eyes of the customer.
Therefore, clear and traceable outcomes need to be established for defining "success" to the customer, and project success will be measured against these outcomes.
Q2. What steps can managers take towards improving their project team's productivity besides having a task management software in place?
Happy teams make happy customers.
Managers need to make sure that team members are happy and comfortable in their work environment before they can hope to motivate them.
Herzberg's two-factor theory discusses this phenomenon in great detail.
Managers need to reduce 'hygiene factors' that cause dissatisfaction by ensuring the basic necessities of job security, compensation, working conditions, organizational politics and the quality of leadership.
More importantly, in order to motivate teams to improve productivity, we need to increase satisfaction factors including recognition, job satisfaction, career growth pathways, achievement, and role responsibility.
An additional requirement would be clear job role responsibilities and well-defined project deliverable/task ownership responsibilities.
Finally, pre-defined measures should be in place to track productivity, whether that be reduced product defects, less waste in processes, or simply doing more with less.
Q3. How can team members alert their manager about a project going off track?
If there is a culture of freedom not fear, if transparency is celebrated not suppressed, if leaders/managers are liberators not oppressors, then team members are far more likely to be open about when a project is ringing alarm bells.
Remember in today's Agile environments, we welcome the concept of "failing fast", so that we can identify the issue early and work to reduce or eradicate it.
Further, the concept of team ownership of a project makes everyone accountable to the team, not to management. Peer group pressure/respect is often a greater motivator than management overlords.
Q4. Many people suggest that risk assessment is quite a challenging task for project managers. But what other new challenges do you see emerging in a project lifecycle?
Risk assessment is challenging and difficult, especially if you deal with later in the project lifecycle.
Identify risks, issues and assumptions very early in the project. The way to do this is to engage every domain expert (and this can even include the customer) to identify what can go wrong, assess the severity and impact if that event does occur, and work out a plan to mitigate or eradicate that event.
Periodic checks of the level of severity/impact will alter that list, along with checking off the risks that did not happen.
Another key component is dependencies. One risk, issue or assumption may depend on another. Knowing these dependencies will give you an overall view of your risk landscape.
Finally, each and every risk must have an 'owner'; someone responsible for managing that event, even if they are not the ones acting the plan to mitigate or eradicate that risk/issue, but simply responsible for ensuring it happens.
Q5. Managers tend to skip the initiation phase of a project lifecycle. If so, is the success of their project at stake, and if not, then what all repercussions can they face?
The initiation phase is a key component of any project lifecycle.
In this phase, we discover why the project is necessary, who are the major stakeholders, who will be managing the project, and where we identify high-level budget, timeline, risk & assumptions, project key deliverables, success criteria, and so many other critical factors.
It is the foundation we use to begin the planning phase. Skipping the initiation phase is extremely detrimental.
If you proceed with a project without this phase, then project success is less likely to occur as a result.
So it is necessary to place a very clear and detailed risk/assumption list in the project documentation.
And there you have it! These are five of the most important project management hacks we have discussed with Sante Vergini, and with this knowledge, you too can deal with unanticipated situations or eradicate them altogether.
Do you want a free Project Management Software?
We have the #1 Online Project Management Software starting at $0