We'd like to introduce to you a brand new version of ProProfs Project, called Enterprise. It's better, faster, and simpler all at the same time.
Things have been a little quiet these last few months, and the reason why is because we've been really busy working away on a new version of ProProfs Project which we are very proud to announce. This new version makes managing projects and collaborating with your team even easier.
The new version is simplified, easier to navigate, easier to find and share files, easier to manage groups of users, faster, and prettier too!
We wanted to take ProProfs Project to the next level, and provide a way for large organizations, not just small teams, to easily manage their projects and collaborate online.
This is what we came up with…
Introducing Teams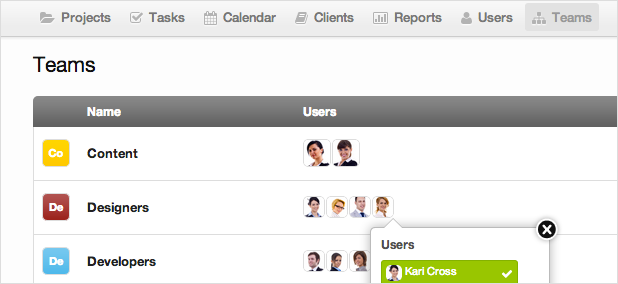 A powerful new feature we have added is called Teams, and it helps you organize your users in to groups which you can then assign to projects, tasks and sub-tasks. These teams can even stay separate to each other so your designers won't bother your developers, and your editors won't bother your writers.
Teams can be assigned to a project, much like a user, then when inside the project you can assign everyone in the team to individual tasks and sub-tasks. You can even assign teams to tasks if you want to as well.
The Teams feature means you can have a large number of users working on a single project. Whereas before it might have only been possible to have up to ten users working on a project or task, now it's possible (and easy) to have hundreds of people working together on the same project.
Activity Stream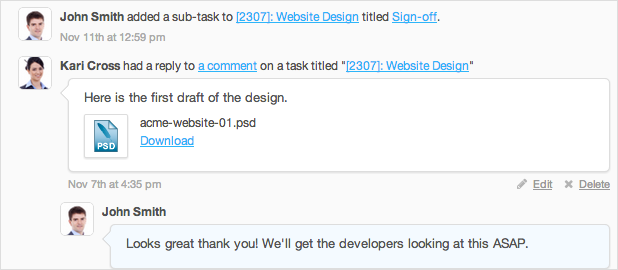 We've made it easier to find out what's going on at a global, project, task and even sub-task level now with the new Activity Stream feature. You'll never miss a single event that happens.
When you click on a project or a task you'll get an overview box appear that lets you view everything that's been happening inside of your project, including comments from team members, files that have been uploaded, private notes and events, e.g. completed tasks and sub-tasks.
Easier File Management

In the project and task overview window you can drag and drop multiple files in to the comments box. These files are then pushed securely to the cloud and made easily accessible from the newfile manager.
All the files for your project, including the tasks inside, are viewable from this new file manager so you'll never have to search around for your files again. You can download the files from here, and also see how many versions there are of the same file, if you work with multiple file versions.
Another new feature we've added is the ability to post comments and files on sub-tasks, which makes the sub-tasks feature now just as powerful as tasks.
Color Coding

Are you a very visual person who likes to make everything look colorful? Well you can now organize your projects and tasks by color with the new color coding feature.
Simply edit the project or task, click advanced and set the color from here, or just click on the color bar to the left hand side and edit it directly.
The colors you set will be carried over to the Calendar too, allowing you to set milestones that stand out, for example you won't forget to complete the pink task due on Thursday!
Get Started!
There's lots of other cool new features we've added, for example the global activity stream in the menu, charts and graphs in reports, an improved UI and navigation, the ability to attach files to emails, and an improved mobile site. But rather than bore you with the details we thought you would like to just get back to managing your projects.
We hope you really enjoy the new features and that they save you lots of time.
Note for existing users:
If you are an existing user and want to upgrade to the new version, let us know and we can migrate you over.
Do you want a free Project Management Software?
We have the #1 Online Project Management Software starting at $0