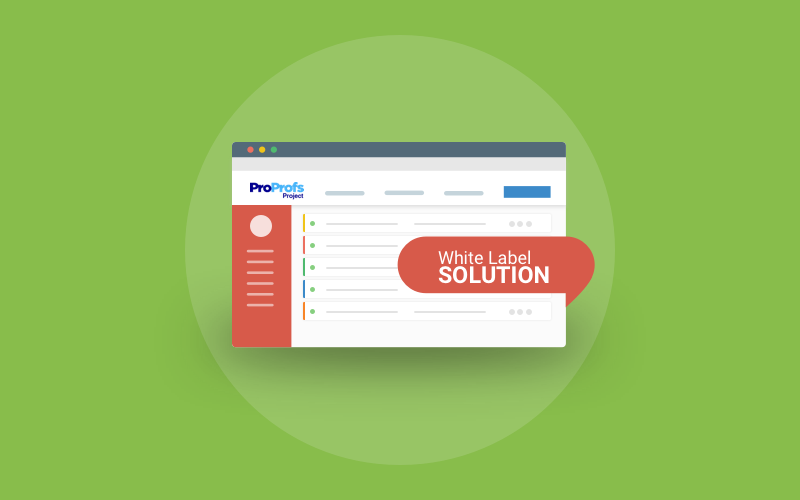 A while ago, I asked some of our users through an online poll that "whether a 'white label' branded version of ProProfs Project would be useful to you?". The outcome of that poll suggested that a lot of you would use this feature, if provided in the tool. Looking at the response, I decided to shelve this feature for future development and focus on building a strong single user version of this simple project management software.
But I guess my decision did not go down well. I received many messages from clients requesting the company to also make this feature a part of the software. So, due to the unending demand for the feature, I have decided to put it on the development roadmap.
How White Label Solution Helps You?
The white label solution allows you to create a sub-domain on ProProfs Project for your company. It helps you to direct your stakeholders at your own DNS records. What's more, you can remove the ProProfs Project URL completely and get something like http://projects.yourdomain.com.
With white label, you also get to add your own company logo in the interface, therefore helping you remove every mention of ProProfs Project hassle-free. So, whenever you add multiple users like team members or clients, they get to see your brand name on their respective invoices and reports.
The pricing has yet to be decided but it would be at least 3 times the price of the single user version of ProProfs Project.
Does it Break the Ethos of Keeping Things Simple?
No, I don't think it does. All we would be doing is allowing you to brand the interface, and use your own URL. Plus, we would allow you to add more than one user so your staff can get their own login.
It would be an upgrade that adds value, only if you want us to add this feature in your package. But in case you don't want to use, then it won't be added – simple as that.
When?
Based on the demand I can push this nearer in the development roadmap, or I can leave it where it is currently – planned for June/July.
Are you interested? Contact us in the link below or leave a comment and let us know if you would use this feature.
Do you want a free Project Management Software?
We have the #1 Online Project Management Software starting at $0