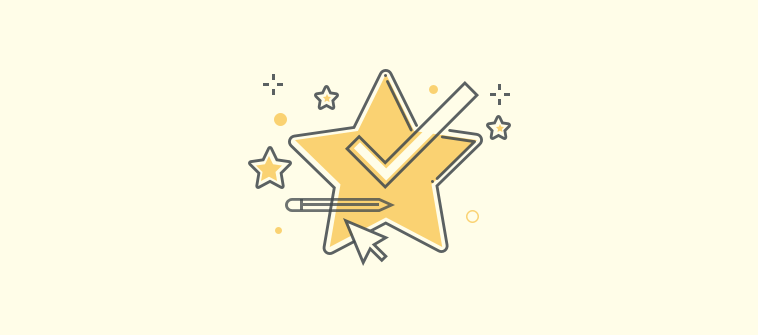 The increasing use of project management software has allowed many organizations to help their clients achieve their goals efficiently.
With the work management system in place, you get subjected to complaints from your clients. These can include:
a. How teams aren't able to deliver work systematically for quite some time.
b. How clients can't track the progress of their project regularly, thus missing out on opportunities to suggest changes.
Such situations are bound to put you in a bad light and impact your future endeavors with others as well.
Now, at this point, many would recommend you to get a project management software solution onboard. They would also suggest how to choose one(here's how).
And why not?
There are too many options available, each claiming to be feature-rich and the best in the market. You're sure to get confused. Except, there are certain features that you shouldn't miss if you plan to get one on board this year.
Let's explore the key features of project management software that you shouldn't miss while selecting one for your workplace.

Top Features to Consider in a Project Management Software
While time tracking and real-time collaboration are important features, you need to consider a lot more than that when planning to get a PM software for your workplace. Here's a list of project management software features that can help your project team provide deliverables on time:
#1: Gantt Chart View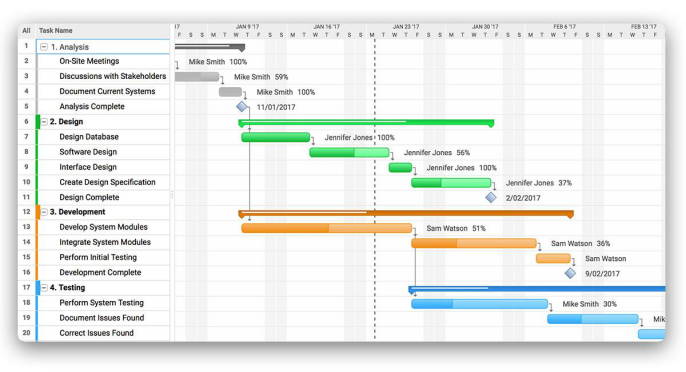 There are times when tracking various task dependencies become a cumbersome process, and this happens even when you have a project management software in place. To avoid such a situation, it is important that the tool you choose comes with a feature like the Gantt Chart view. Using a Gantt Chart view feature, you can:
Get better clarity on multiple assignments and break them down into individual tasks for your team members
Communicate status updates on various tasks that under progress
Maximize team's efficiency by visualizing the resource usage for every task
Schedule resources for your project and lower the risks of overburdening your team members
Track how the previous task is connected to the next one and understand the roadblocks that can hamper its progress
#2: Kanban

We all know how physical boards help to shape ideas and organize them better during an ongoing project. The same is achievable if you get the right project management tool for your workplace.
Planning, creating and tracking tasks under a project becomes a seamless process. Your team and you can visualize work, reduce the probability of too many tasks being under progress and improve each member's efficiency.
The Kanban board view allows you to assign the right amount of work to every team member.
It not only limits you to assign an equal amount of work to your team but also get it done within the set deadlines. Therefore, as you search for an easy-to-use PM software solution, make sure that it comes with such powerful features too. Check out the comparison of the best kanban tools.
#3: Reporting
A project manager must regularly provide a detailed update on an ongoing project to clients. Reporting to clients felt like a daunting task earlier, thanks to the use of numerous spreadsheets.
Now, when you move on to a unified platform, it becomes all the more essential to choose a project management software that comes with detailed reporting features. In short, the tool should allow you to create customizable reports for every client.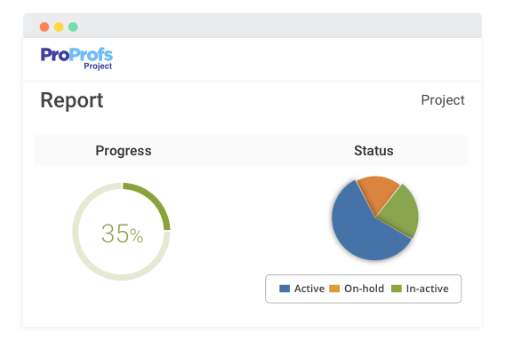 Other than updating clients, your PM tool should also allow you to track the performance of your team members. Doing so will help you to understand effortlessly how productive they have been in a project.
Once you understand how each employee is performing in a project, you can provide them training for areas where they lack expertise and also help your management evaluate their performance accordingly.
Try ProProfs Project to get access to insightful reports >>
#4: Task Delegation
A daunting task for any project manager is to assign tasks and then remember which team member is managing what.
This issue can further magnify if you do not have the right system to help you track tasks. Outcome? Your team can very well end up delaying your project deliverables, resulting in unsatisfied clients.
So, proper task delegation is a key feature that a project management software should have. Like in ProProfs Project, you can create tasks and subtasks under a project without switching from one window to another.
What's more, you can delegate those new tasks to different team members through the same view. Not only will you save time but are also able to track who is working on what. Such a task management system allows you to:
Monitor complete progress of a task in percentile

Manage multiple tasks at the same time

Collaborate with clients in real-time

Share files through designated tasks to keep team members in the loop
#5: Invoicing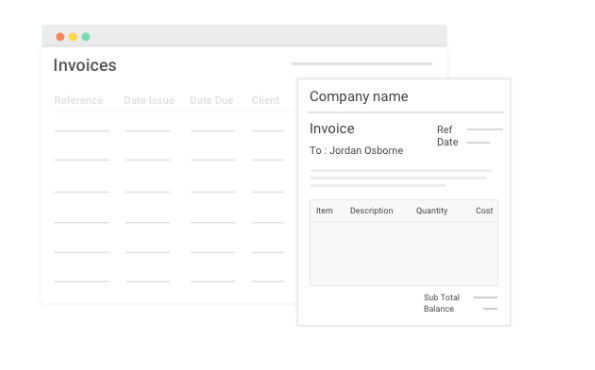 There are many project management tools that allow you to generate an invoice and send it to clients within minutes. But that's not all you'll need from it in the longer run. You'll soon realize that more functionalities are required other than just generating reports.
These feature requirements can include:
Creating a budget for an upcoming project

Calculating extra costs in case some deliverables get delayed

Sending quotes to clients before a project starts

Calculating billable hours and updating the client

Billing clients automatically once a project is marked as complete



We hope that this project management software feature list helps you invest in the best tool hassle-free. In case you have a point that you'd like us to write on, then comment below!
Do you want a free Project Management Software?
We have the #1 Online Project Management Software starting at $0