What a busy few weeks we have just had! I wanted to share some of the new features we've been working hard on that have just gone live. They are the ability to assign multiple users to tasks, plus some new and improved reporting features.
We get requests for new features almost daily and it's always hard trying to find the balance between keeping ProProfs Project simple and being packed with cool features. One fact that remains true is that we keep on developing and improving things here at ProProfs Project.
Since our last major update in May we've been looking at easy ways we can improve what we've got already (by the way that's super simple project management and billing in an easy-to-use interface). Aside from the obvious features in our development roadmap (API, Calendaring, Sub-tasks etc), there were a few updates we wanted to make this month that would take ProProfs Project to the next level and make it much more usable for large teams and organizations, and not just freelancers and micro teams.
Assign tasks to multiple users
One key feature that has always been missing is the ability to assign tasks to multiple users. We felt like this had to go in the next update because it just seemed obvious for new users coming in that you should be able to assign a task to multiple users in a team.
Simply click on the Edit or Add Task button, then click on each user to make them go green (which means they are assigned). You can do this for as many users as you like. Just as before, if you want to share the task with everyone just leave the users unselected, and if you want the task to be private then select "Only visible to assigned collaborators" from the dropdown.
Assigned tasks and individual task priority
The Tasks tab now shows you what your active and assigned tasks are (when you have no project selected). This is useful as it gives your users a quick and easy to read task list with the most important tasks of the day.
Users can drag and drop their tasks (as before) in to priority, however this priority list is now saved to the User and not shared with the team which means you won't get your task list messed up by other users any more. When you select a project the priority list is then grabbed from the project, which is set by the project manager or admin.
Administrators can now go in and view these priority task lists for any user and even change the order if they want to. This is useful for organizations who want to view what their users are actually working on and what order they have prioritized their list – if they want to override it they can.
Reporting
Before reporting has only been possible at a project level by just clicking the magnifying glass from the Projects page. We have now changed this and added a whole new Reporting system.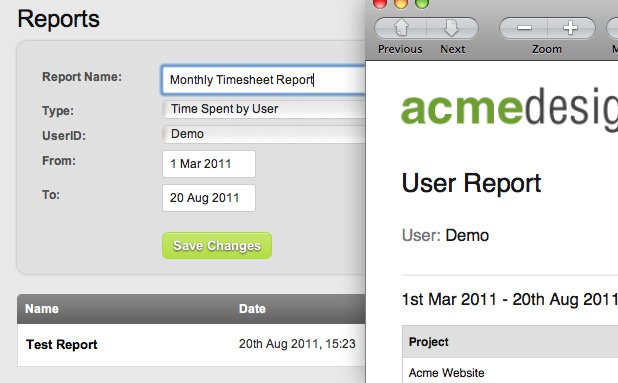 The Reporting tab is only viewable by administrators and basically allows them to generate time reports for users, projects and tasks within any date range. For example you might want to find out what your users have been working on and how many hours they've spent for the whole of August 2011, or perhaps even the whole of 2010.
Simply create a report, and then click the Download Report button. All reports are archived in your project for future reference. This is a powerful feature that again makes ProProfs Project much more useful to the larger organizations who need to produce reports for their managers.
Note that when clicking the magnifying glass now from the Projects tab you get a simplified public project page which you can share with your client. This project page contains the status of tasks and also an RSS feed but does not contain any time information – this is now done from the Reports tab.
Duplicating projects now duplicates invited users
Previously when you duplicated a project it would not duplicate the invited users. Now when you duplicate a project it will bring in the same users for that project, and all the tasks within. You no longer have to re-invite everyone.
Of course, you know about the new Amber Status feature that we added last week, and along with that we have fixed various bugs and made improvements like:
Increased speed of interface due to asset caching (Content Delivery Network)
Set up Postmark for improved email delivery (you'll never miss an email)
Improved database performance and speed (better load times)
We hope you enjoy and of course let us know if you have any comments!
Do you want a free Project Management Software?
We have the #1 Online Project Management Software starting at $0