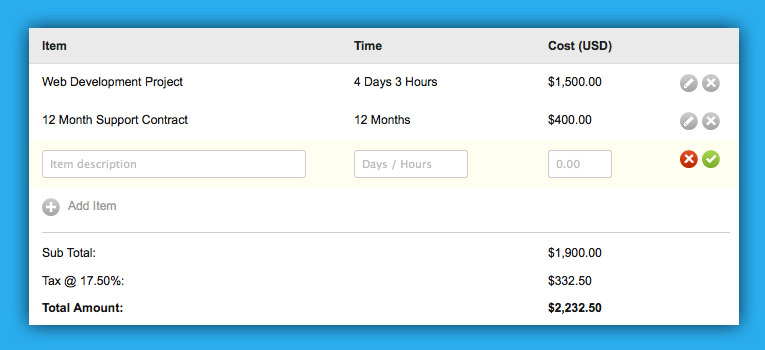 I'm very pleased to announce the latest feature, a complete rebuild of the invoicing system that you are going to LOVE.
Since project has been launched I've never really been completely comfortable with the way invoices were created, and some of you expressed similar views. The fact they were tied to projects meant you couldn't edit them easily, nor could you invoice for additional items such as Mileage. I always knew that it needed improving somewhere down the line.
With this new system you can now completely customize the items on your invoice with a really easy-to-use interface that just lets you add items and re-order them on the fly. You can even build invoices from scratch without tying them to projects (just select 'custom invoice' from the Project drop-down).
This new system always paves the way for the new Estimates system which a lot of you have requested. Again all of this goes with the project Ethos – "Project Management and Invoicing, Made Simple!". Hope you enjoy.
Note: the system is very new so if you notice anything wrong please let me know using the link in the footer. Also invoices should have been imported successfully and I've done a few tests but again let me know if your invoice hasn't imported.
Do you want a free Project Management Software?
We have the #1 Online Project Management Software starting at $0