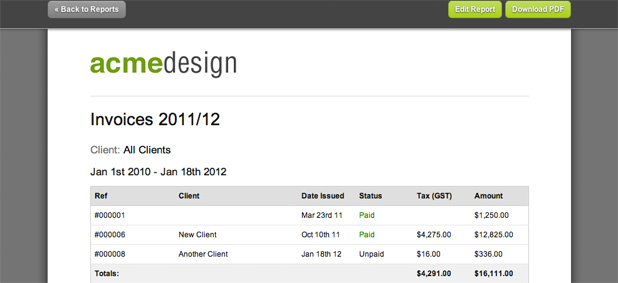 We've got some great new features for you to start the new year. We always listen to your suggestions and pretty much every new feature you'll read about is something you've suggested, so read on to see what's new.
Firstly, happy belated new year. We haven't posted much since Christmas because we've been busy developing these new features. ProProfs Project is always improving, and we love hearing your feedback about how to improve what's there already. Because of your suggestions there have been a few updates to existing features which will help you improve the way you work andsave you even more time!
Invoice Reporting
We know it's that time of year when you need to start doing your tax returns and reports for the year. So we've added a simple reporting tool for you to find out how much you invoiced for in a given time frame including the amount of tax.
The new Invoice Reports are an extra option when adding a report from the Reports tab. Simply select that option as your report and then select a time frame. We've made it easy for you to select by year as well in the reporting form.
Also you can now edit your reports directly from the report itself, so if you ever change your mind about what the report is for, or the date range, just click the Edit Report button at the top.
Project Reporting
Some of you requested the ability to see what projects you started within a given time frame, and the status of these projects. Simply select the Project Summary option when adding a report and set a time frame, and you'll be able to generate and share this type of report with your clients or staff.
The project report includes the project name, the client, the start and completion dates plus the status of the project.
Filter by All Tasks
Another great request was the ability to be able to filter by all tasks when looking at the Time Entries view. A lot of you (particularly project managers and administrators) said that you might want to scan all the tasks of all open projects and add time entries, and with the old system if the user wasn't assigned to the task then you couldn't add time entries easily.
So we added an "All Tasks (open projects)" filter for the Time tab and Tasks tab. Please note that we added the 'open projects' bit because otherwise the view would get filled up with all the tasks you ever worked on and not be very useful. So if your task isn't appearing make sure the project is open.
Tax Name
You can now specify whether your tax is 'VAT', 'GST', 'HST' or just 'Tax' by going to the My Company page and setting it in your preferences. This is useful for countries like Canada where depending on the region the tax can differ (for example between HST and GST). If your tax is not listed let us know and we'll add it.
Improved Tax Handling
When you create invoices now you can specify whether the line item in the invoice is taxable or not. Previously all items were taxable which was not helpful when adding expenses to invoices. By default expenses are not taxable but you can change this when you add the items.
This also applies to Estimates too, so you can specify tax at a line item level, not just for the whole invoice. We know a lot of larger companies who do a lot of taxable invoices will appreciate this feature, so thanks for the feature request.
Estimated Time Overage Indicators
Another request you suggested was the ability to clearly see if a task goes over the amount of budgeted hours. For example you might have estimated 50 hours, and the actual billable hours goes to 60. At that point the estimated figure will highlight in red (or green if in budget).
To get this to work make sure you have Autobill set up on the projects (the default option) and make sure you have added estimated hours by clicking the Advanced button when adding tasks. The indicator is based off billable hours that accumulate by all users who are assigned to the task.
Mark Time Entries as Billed
We've added the ability to manually mark or unmark time entries as 'billed' from the Day View in the Time tab.
Previously only the system could do this if you invoiced for a project. Now you can actually override the billed status of time entries by simply clicking the dollar icon next to time entries. This is useful if you want to manually mark an entry as billed, therefore making sure it doesn't appear on an invoice. Or you might want to bill for a time entry again.
Please note that we removed the same button from the Tasks page unless the task is a fixed price task. This was to avoid confusion. If you want to mark a task as paid it needs to be a fixed price task (advanced options), otherwise it will assume you are basing your billing on time entries.
API Changes
As a result of the recent updates we've had to make a few changes to the resources in the API, so please review the documentation in the Developers section if you are building apps on the API. The resources that have changed are the Invoices, Estimates and Expenses resources.
Please see our Facebook Group for more on this.
What's Next?
That's about all for now, but we've got more features planned. We're going to be spending some time looking at the importing and exporting abilities. A lot of you are moving from other tools and wanting to import your data so we'll be spending some time on that. We are also compiling an Apps directory for those that are building apps on the API, so stay tuned for that.
We hope you're enjoying using project! We're hoping for great things this year and love working with you and helping you save even more time!
Do you want a free Project Management Software?
We have the #1 Online Project Management Software starting at $0